Executive Order 6102 and How it Affects Bitcoin Today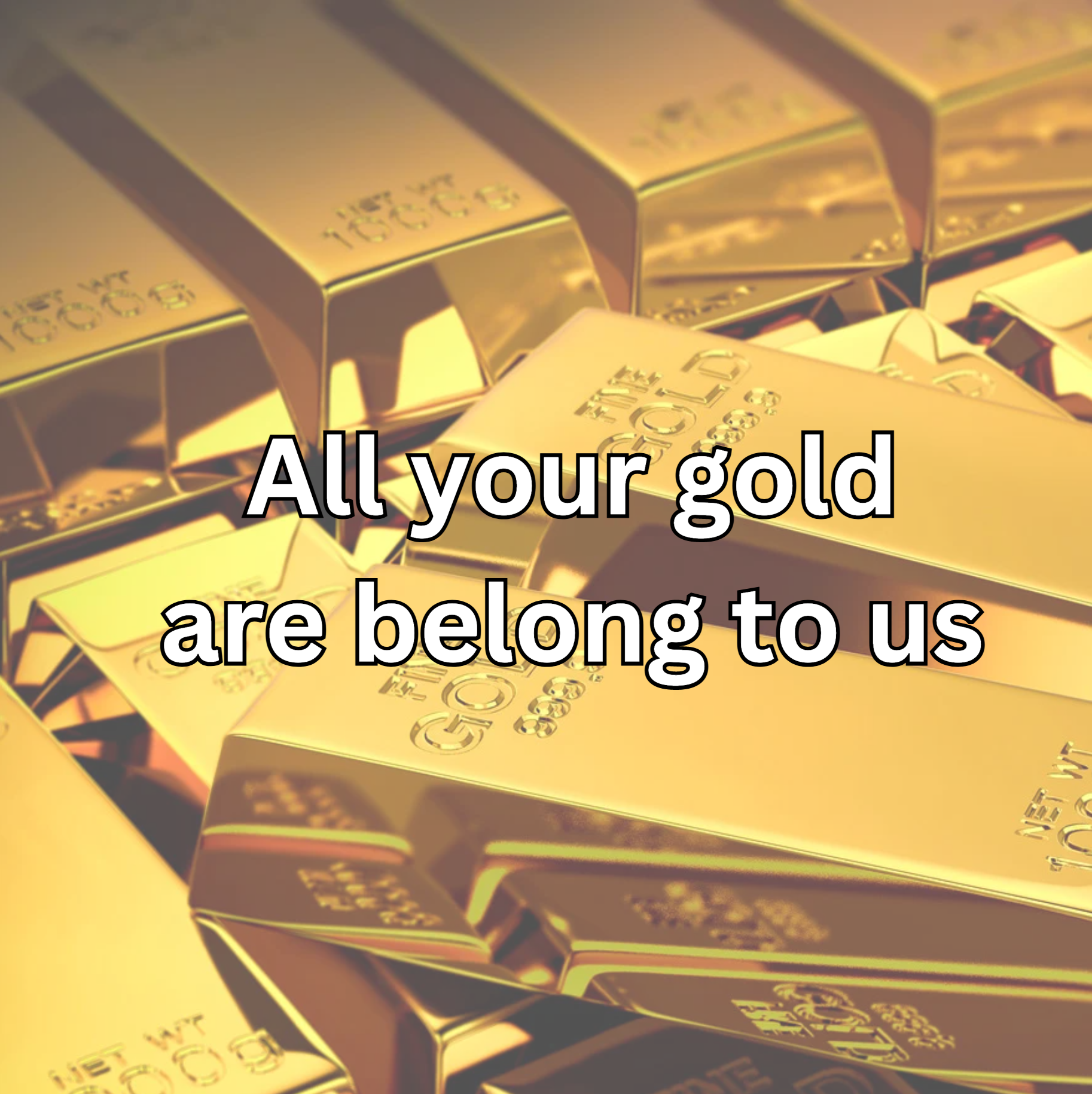 I spent some time this morning reading about Executive Order 6102. Balaji has been adamant about his $1M BTC bet and calling for hyperinflation in the U.S. He's also been sharing a ridiculous amount of links and historical references to back his claims.
Executive Order 6102 is one of the citations he's using to back his claims that the U.S. - and other anti-crypto jurisdictions - will bar the exits and try to prevent people from making their way into Bitcoin and other cryptocurrencies.
6102 is an executive order that was signed by President Roosevelt on April 5th, 1933 which forbid the hoarding of gold (coins, bullion and certificates).
Why Forbid People From Hoarding Gold?
The historical context for them doing this was the great depression. Back then, the U.S. was still on the Gold Standard - which means that the U.S. Dollar was backed by a reserve of gold.
Obviously, this is no longer the case. A funny side note: One question I love to ask normies is if they thing the USD is backed by gold. Most people who aren't in finance still believe that USD is backed by gold. Kind of crazy to think about and the look on their faces when you tell them that the dollar has been backed by nothing other than a promise and air is hilarious (and scary).
Anyways, the government was struggling throughout the great depression. They were trying to lift the economy and get out of the depression and one way to do this was issuing more money. The Federal Reserve Act required that USD was backed by 40% gold reserves.
"6102 required all persons to deliver on or before May 1, 1933, all but a small amount of gold coin, gold bullion, and gold certificates owned by them to the Federal Reserve in exchange for $20.67 (equivalent to $433 in 2021)[5] per troy ounce" wikipedia
The FED was getting close to their limit of how much money they could issue and such, they needed more gold... but people were "hoarding it" out of very similar fears that many people have today about the USD.
Devaluing the Dollar
In addition to requiring all persons to deliver their gold to the Federal Reserve for $20.67 per troy ounce, 6102 also coincided with changing the "gold content of the US Dollar from $20.67 to $35 an ounce".
This increased the value of gold... or so it seemed. It actually just devalued the U.S. Dollar against gold and this ultimately allowed the FED to print more money .
Interesting, right? This was a different set of economic policies and how the FED was able to issue more currency.
They've always had sneaky tricks, but back then they had to play by some book of rules in terms of backing the USD. They couldn't just openly create money without some direct correlation to doing something to the gold reserve backing and being somewhat conspicuous about it.
Today, they have an uncountable number of ways to issue currency, devalue the dollar and ultimately get more into circulation, expand their balance sheet yada yada.
How This Impacts Bitcoin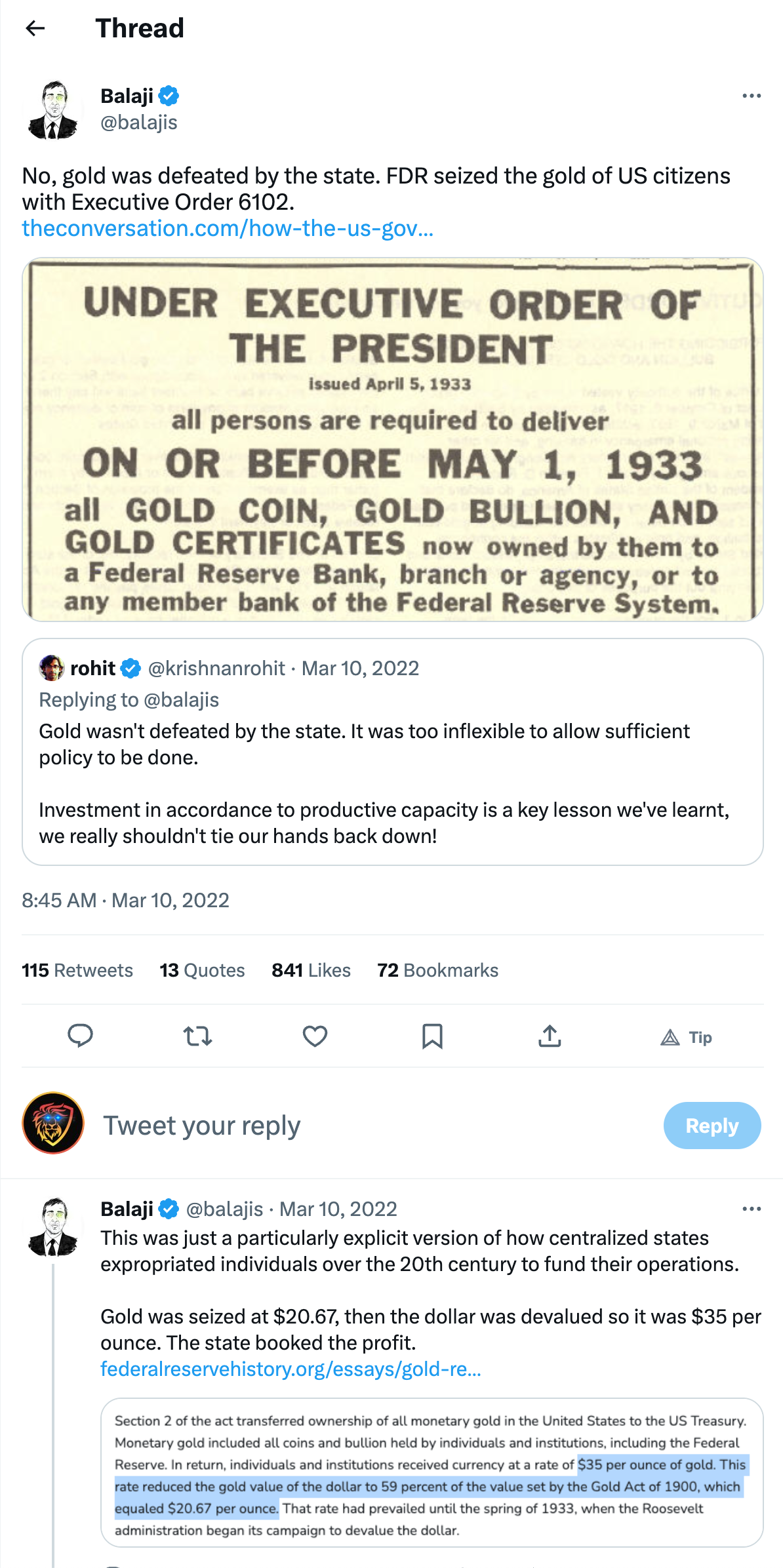 Balaji talked about Gold on Twitter and how 6102 sets a dangerous precedent - even for Bitcoin today.
In 1933, Roosevelt decided to take your gold away from you. You may have thought similar things that many people think today about how the USD operates.
You may worry about hyperinflation. You may want to keep some sort of asset liquidity and have your own control over it. Holding some gold bars in a safe in your house was the equivalent of holding private keys to a bitcoin wallet and self-custodying.
The gov decided to stop you back then. They actually arrested people and seized gold from those who refused to comply with 6102.
Balaji makes some great points about the impact of this both in the past, present and in the future if Bitcoin becomes a stronger store of value for the average human.

About LeoFinance
LeoFinance is a blockchain-based Web3 community that builds innovative applications on the Hive, BSC, ETH and Polygon blockchains. Our flagship application: LeoFinance.io allows users and creators to engage & share micro and long-form content on the blockchain while earning cryptocurrency rewards.
Our mission is to democratize financial knowledge and access with Web3.
Twitter: https://twitter.com/FinanceLeo
Discord: https://discord.gg/E4jePHe
Whitepaper: https://whitepaper.leofinance.io
Our Hive Applications
Join Web3: https://leofinance.io/
Microblog on Hive: https://leofinance.io/threads
LeoMobile (IOS): https://testflight.apple.com/join/cskYPK1a
LeoMobile (Android): https://play.google.com/store/apps/details?id=io.leofi.mobile
Delegate HIVE POWER: Earn 16% APR, Paid Daily. Currently @ 2.8M HP
Hivestats: https://hivestats.io
LeoDex: https://leodex.io
LeoFi: https://leofi.io
BSC HBD (bHBD): https://wleo.io/hbd-bsc/
BSC HIVE (bHIVE): https://wleo.io/hive-bsc/
Earn 50%+ APR on HIVE/HBD: https://cubdefi.com/farms
Web3 & DeFi
Web3 is about more than social media. It encompasses a personal revolution in financial awareness and data ownership. We've merged the two with our Social Apps and our DeFi Apps:
CubFinance (BSC): https://cubdefi.com
PolyCUB (Polygon): https://polycub.com
Multi-Token Bridge (Bridge HIVE, HBD, LEO): https://wleo.io
Posted Using LeoFinance Beta
---
---