Is Balaji Srinivasan Crazy?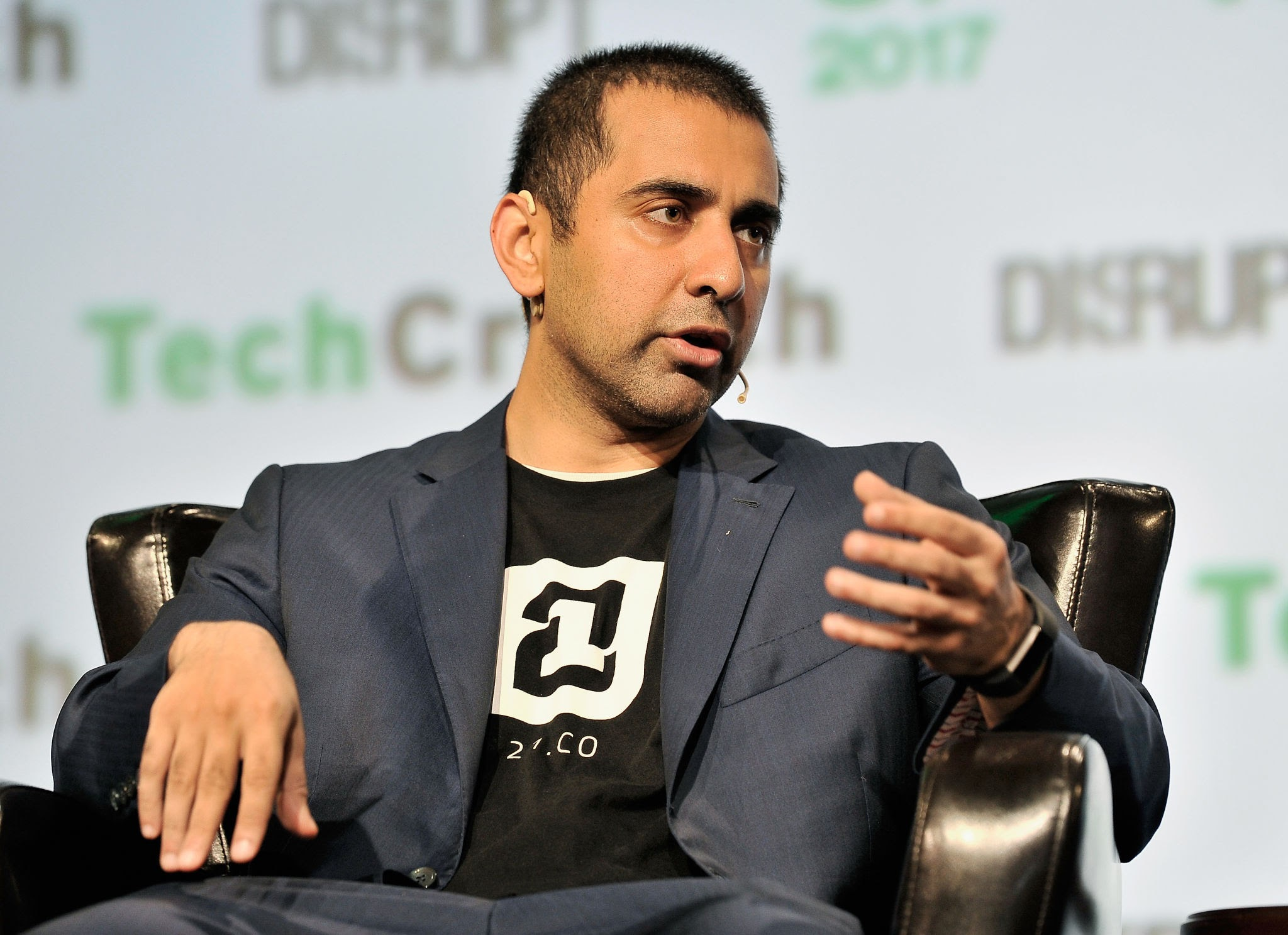 Balaji is an infamous character in the crypto space. He's a founder, a GP (general partner) at Andreesen Horowitz and most notably; the former CTO of Coinbase.
Balaji made a name for himself by calling out certain things and being a generally well known person on Crypto Twitter. He was early to call out Covid as being a virus from China and said many things that - at the time - were swatted by the public & news outlets. Now 3 years later, news outlets are actually saying the same things that he was saying in the early days of COVID.
Recently, he's made waves by making another call: Bitcoin is going to reach $1 Million per BTC in the next 90 days.
The absurdity of this timeline is what is catching all the eyeballs and making Balaji the most talked about person in crypto, yet again.
Some people think Balaji has completely lost his mind. Others think that he could be onto something. His Tweeting tirade has made me wonder if its a bit of both. In this post, I'll unpack what he's been saying lately and my thoughts on the whole situation.
Is Balaji Srinivasan Crazy?
Balaji has been making a lot of noise about his $1M bet that BTC will go the $1M.
In reality, the bet is more about hyperinflation than anything else - he's betting that the collapse of banks is going to lead to the printing of trillions of dollars. There is a huge debt gap in the banking system and to fill it, he thinks the central bank will print tons and tons of money and enter us into this state of hyperinflation.
If that happens, the world is going to be a lot more grim than it is today. Others like @taskmaster4450 are skeptical - he often cites that he's more worried about rampant deflation than inflation.
I land somewhere in the middle. Regardless, all of this has people asking if Balaji is crazy. When you read some of the tweets he's been firing off, it does look slightly manic. The only problem with that argument is that he's also a super smart, well spoken guy. He's not just tweeting stuff out of his ass either, all of his tweets have incredible citations leading to real data, charts and articles: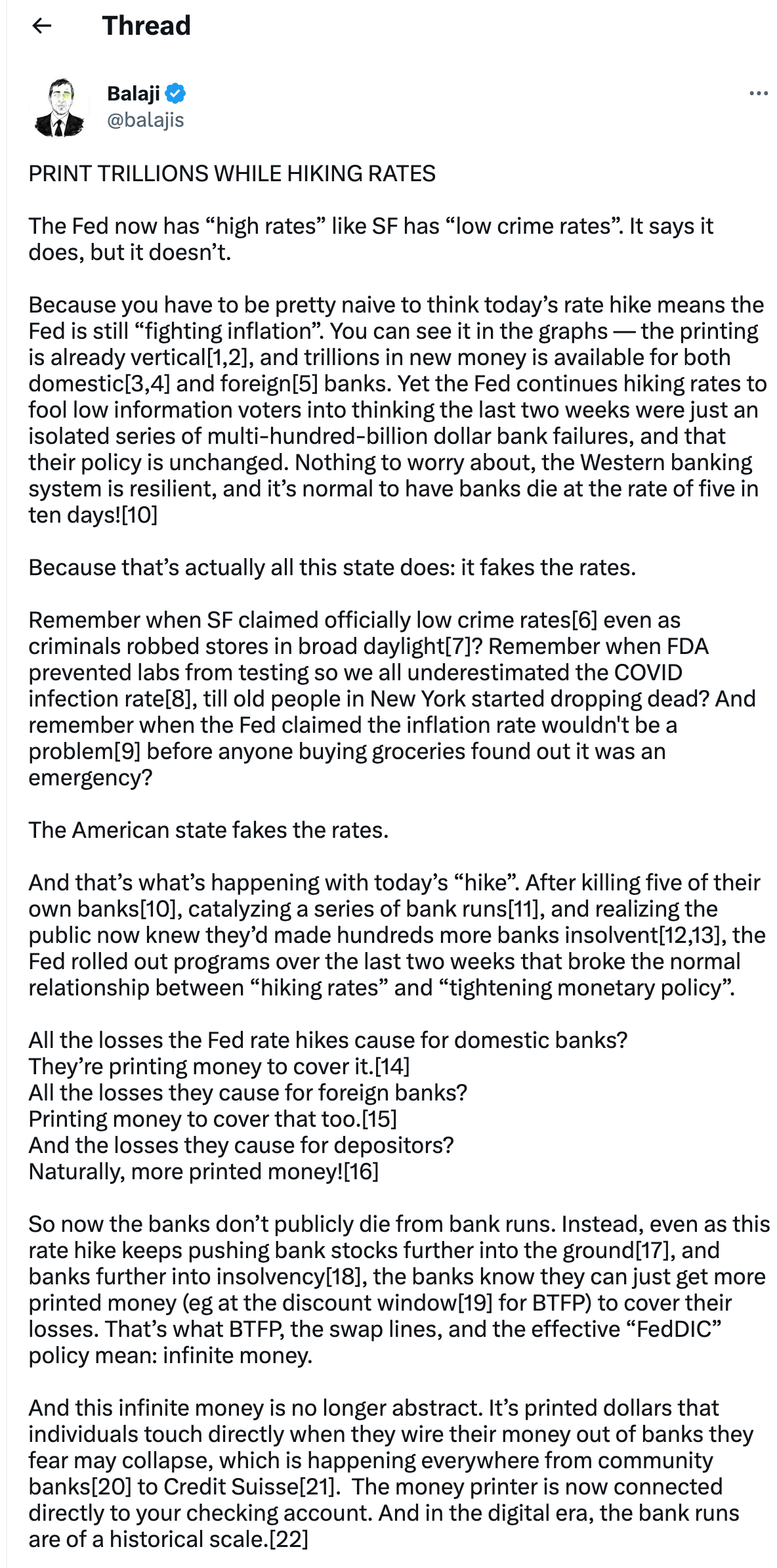 You can see the aggression in this tweet. When you look at others, you also see some level of "craziness" to it all. The question is: does it look crazy because of the content or because of the person writing it?
The citations have me leaning more toward it just seeming crazy because of the content and not that Balaji has actually lost it.
Hyperinflation
Do you buy into the idea that the USD could be hyperinflated? I personally don't buy into it. I think - yes - inflation is super high and I think we'll feel high inflation for a helluva lot longer than most people are willing to admit.
The FED printed more $$ during the COVID crisis than the prior 200 years of printing. It's nuts.
That kind of printing can't go without consequences. The consequences of the rate hikes is being felt now whether you're a massive hedge fund, top bank or just an average joe trying to buy some goods or get a loan for a house.
Hyperbitcoinization
Hyperbitcoinization is the idea that Bitcoin will be rapidly become the world's reserve currency and replace the USD.
Do I believe in this? I've flipped to both sides numerous times in my almost decade career in the crypto industry.
I love Bitcoin. I think there is a huge use case for Bitcoin as a store of value and a way to "bank outside of the system". I think it's use case is becoming readily transparent to everyone - even the largest financial players in TradFi - and this excites me.
At the same time, I don't necessarily buy into the idea that BTC will be the world's reserve currency... I would love it if that happened and I think everyone reading this post would love that as well, but I just have a hard time envisioning it.
Instead, I've often said that I believe Bitcoin will flip Gold from a Market Cap perspective. From there, I think BTC will continue to gain adoption and the volatility of BTC will start to drop (it already has dropped over the years - becoming less volatile and "a bit" more predictable).
Conclusion
Is Balaji Crazy?
Are we going to see hyperinflation?
Are we going to see hyperbitcoinization?
Is BTC going to be $1M in the next 90 days?
No
No
No
No
Those are my answers to the above. I land somewhere in the middle of pragmatism and optimism. I don't buy into the maxi talk of hyperbitcoinization but I do believe BTC will be one of the largest asset classes in the world and serve as "digital gold" of the future. I believe in unbanking a % of your net worth by being in crypto but I also still believe in TradFi markets to a degree.

About LeoFinance
LeoFinance is a blockchain-based Web3 community that builds innovative applications on the Hive, BSC, ETH and Polygon blockchains. Our flagship application: LeoFinance.io allows users and creators to engage & share micro and long-form content on the blockchain while earning cryptocurrency rewards.
Our mission is to democratize financial knowledge and access with Web3.
Twitter: https://twitter.com/FinanceLeo
Discord: https://discord.gg/E4jePHe
Whitepaper: https://whitepaper.leofinance.io
Our Hive Applications
Join Web3: https://leofinance.io/
Microblog on Hive: https://leofinance.io/threads
LeoMobile (IOS): https://testflight.apple.com/join/cskYPK1a
LeoMobile (Android): https://play.google.com/store/apps/details?id=io.leofi.mobile
Delegate HIVE POWER: Earn 16% APR, Paid Daily. Currently @ 2.8M HP
Hivestats: https://hivestats.io
LeoDex: https://leodex.io
LeoFi: https://leofi.io
BSC HBD (bHBD): https://wleo.io/hbd-bsc/
BSC HIVE (bHIVE): https://wleo.io/hive-bsc/
Earn 50%+ APR on HIVE/HBD: https://cubdefi.com/farms
Web3 & DeFi
Web3 is about more than social media. It encompasses a personal revolution in financial awareness and data ownership. We've merged the two with our Social Apps and our DeFi Apps:
CubFinance (BSC): https://cubdefi.com
PolyCUB (Polygon): https://polycub.com
Multi-Token Bridge (Bridge HIVE, HBD, LEO): https://wleo.io
Posted Using LeoFinance Beta
---
---