Is it Time to Give Thorchain (RUNE) Another Look?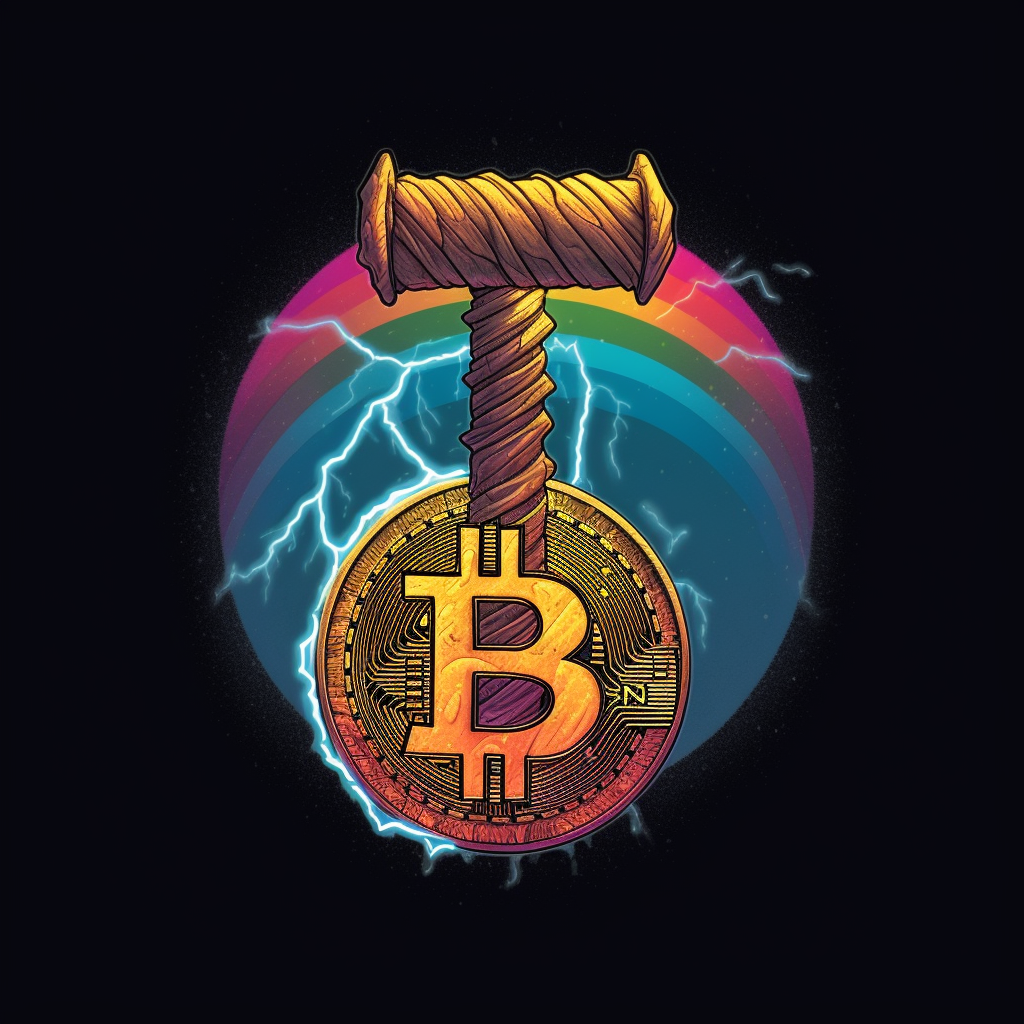 I've been an avid investor in RUNE (Thorchain) for quite a while now. It's been a few years since @shanghaipreneur, @jk6276 and @nealmcspadden started talking about RUNE. A group of us here on LeoFinance started buying all the way back when it was around $0.25.
A lot has changed for Thorchain, LeoFinance and the broader Crypto industry since then. Belief in Thorchain seems to have waivered a bit. When you look at Twitter sentiments, you can get a feel for this. There were a few hacks and the price went down because bear market.
This has led a lot of surface-level retail investors to dump their RUNE and move on. Thinking that the project would never return to the glory it once had.
When you look at the fundamentals of Thorchain, a much different picture comes into focus. I find it incredibly interesting.
Trading Volume & Liquidity, The Lifeblood of RUNE

Thorchain is an exchange protocol. When examining the fundamentals of a project like this, you need to take a deep look at the exchange aspect of "the business".
Is liquidity growing? Is liquidity declining?
Is swap volume growing? Is swap volume declining?
There has been $1.7B traded on the Thorchain protocol across 2M total swaps since the beginning of 2023. This is incredible. I still remember when we were on Chaosnet and the dream of mainnet is what pushed many of us to buy RUNE and hodl.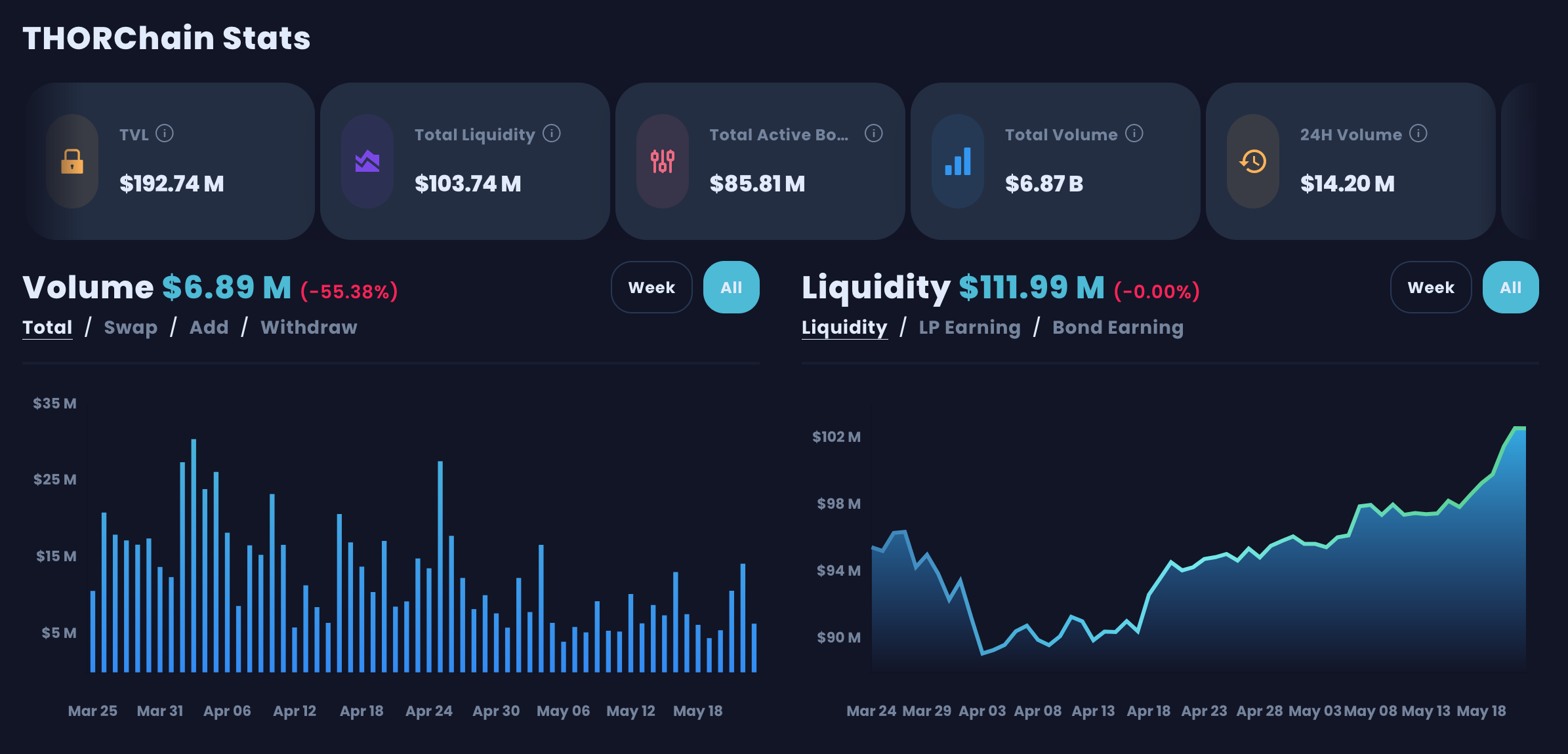 There are millions of dollars being swapped on a daily basis. The average over the past week is around $7.5M per day.
Liquidity is sitting at $111M as of this writing. The peak Liquidity on Thorchain's Mainnet was $542 Million on April 6th, 2022. The price of $RUNE at the time was ~$10. The price as of this writing is 1/10th that.
Despite a 98% drop in the price of RUNE (along with similar drops in almost all Altcoins), TVL hasn't seen exactly as big of a hit. We've seen TVL stabilize above $100M.
Why is RUNE's Price Hurting so Badly?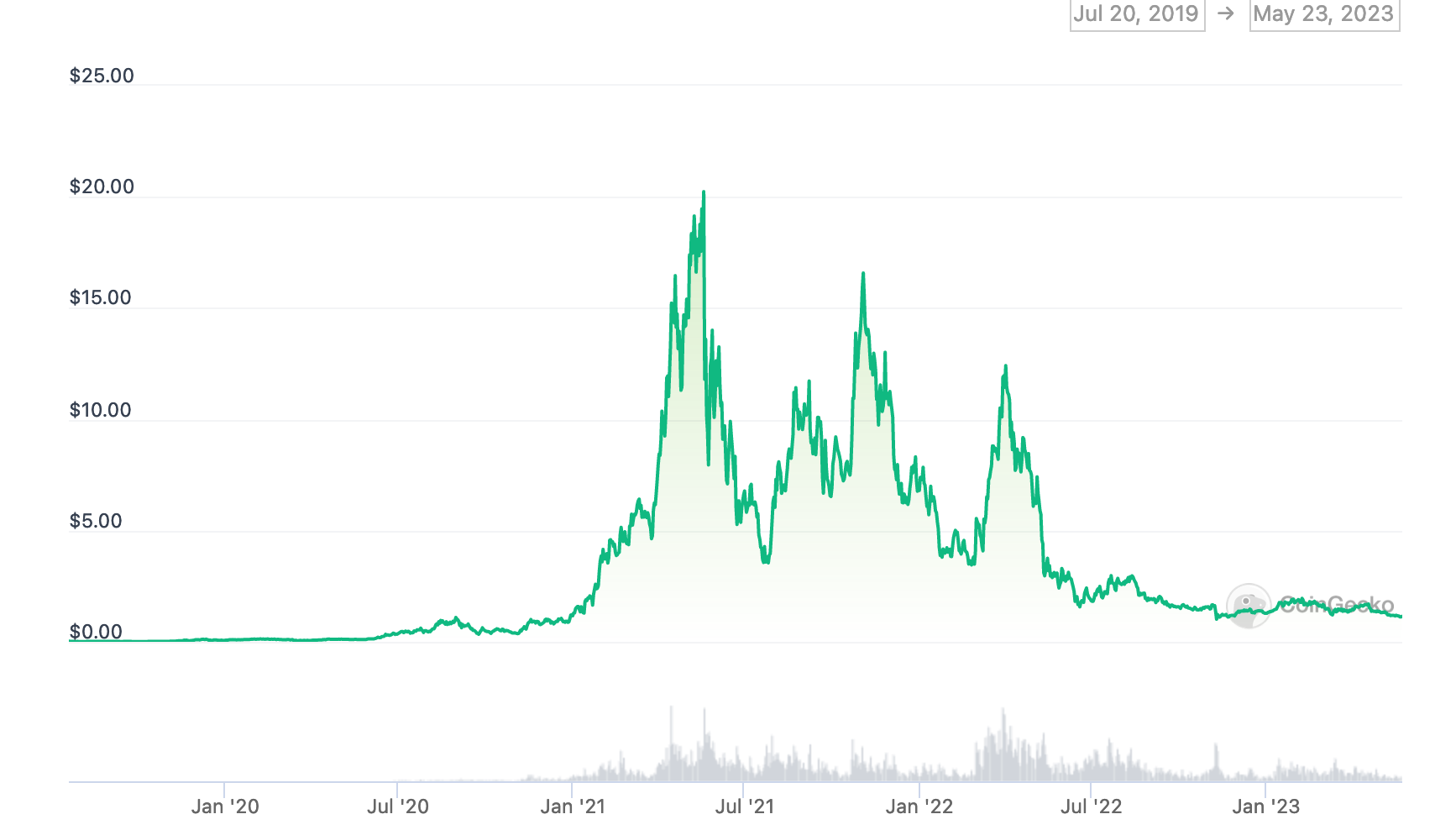 There were 2 notable hacks of the Thorchain protocol. IIRC, all LPs were made whole by the protocol treasury but some damage was done to the reputation of Thorchain.
I like to remind people that there were several huge negative events in all major cryptocurrencies. Bitcoin had the MTGOX event. Ethereum had the DAO blow up and subsequent hard fork of the network.
Regardless, this hurts sentiment around providing liquidity to the network. People are afraid of rugs and getting their money hacked. Dealing with money is a hard business as people have a lot of emotions tied to it.
Coincide that with the general bear market. RUNE has been no stranger to the fate that almost all Altcoins shared throughout this bear market: a 90%+ drop in price is not uncommon.
The Real Question
As an investor, there is a major question lingering here: will RUNE ever recover from the fate it's seen these past several months?
The current price of RUNE is $1.09. The current marketcap is $329M. RUNE's all-time high was $20.87. We are currently sitting at the bottom of the bear market for RUNE (the lowest low of this bear was $1.01).
Despite some positive price action in the broader crypto market (Mainly, BTC and ETH), RUNE hasn't really enjoyed much appreciation at all. This is a similar story for some altcoins out there but not all of them.
The question remains: will it ever recover?
Warren Buffett famously said to buy when there is blood in the streets. RUNE has never been more bloody. As Bitcoin has gone up but RUNE remained stagnant, there is mounting negativity around the token.
That being said, the protocol's fundamentals still look solid. There has been $1.7B swapped since the beginning of this year. There is over $100M In TVL on the swap protocol.
Native token swaps are still a unique quality to Thorchain.
Single-asset staking went live and currently has over $26M saved in it by 4,382 unique wallets.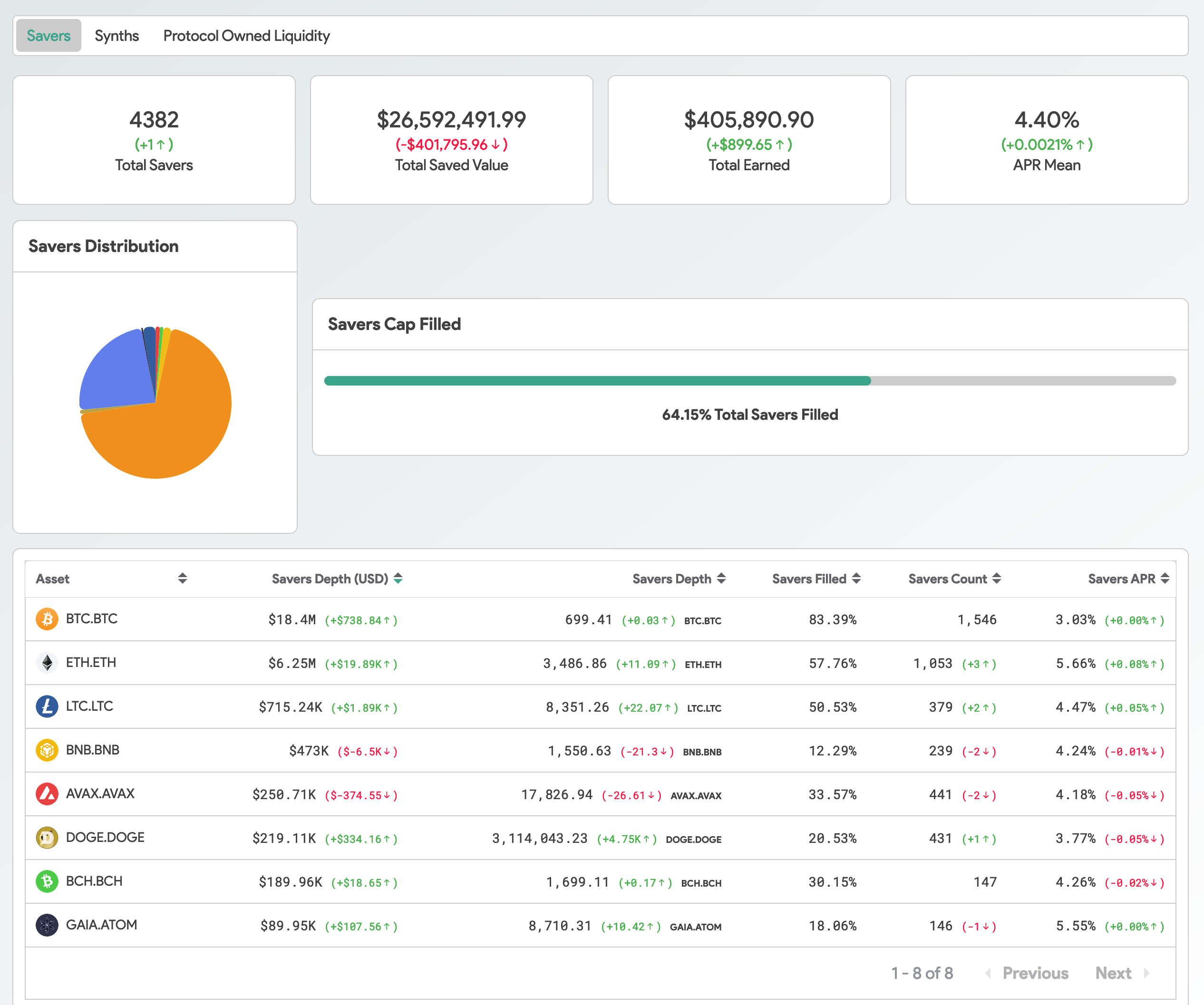 I have been slowly and steadily DCA'ing into RUNE at these low prices.

While I can't say that RUNE is a 100% guaranteed success in the future, I do believe that it's a highly asymmetric risk/reward trade right now. I believe in the tech that Thorchain is building. I love the community on Thorchain.
I also see that the fundamentals are still looking solid. They are not dropping off a cliff like the price is. There seems to be some disparity there.
I also see that collateralized lending is on the way. Along with more chain integrations like BSC.
The future is looking bright for Thorchain from a technical and fundamental side. The price of RUNE might look a little more grim, but that either means the project will fail or it will be a massive homerun success of a trade. Buying when there's blood in the streets means that you are going to have to take that risk of being wrong and weigh it against the upside of being right and potentially seeing RUNE return to it's ATH's of $20+.
I've had my head down building LeoFinance heavily these past few months and haven't been able to look around much at Thorchain and dive into the nitty gritty. I have been DCA'ing and keeping a loose eye on the developments and my sentiment hasn't changed much since I originally started buying around $0.25-$0.50 back in the early days of the project.
NFA, DYOR. All of that.
I'm sure I'll write a bit more about Thorchain in the coming weeks. A lot is about to change for the protocol and I'm excited about its future.

About LeoFinance
LeoFinance is a blockchain-based Web3 community that builds innovative applications on the Hive, BSC, ETH and Polygon blockchains. Our flagship application: LeoFinance.io allows users and creators to engage & share micro and long-form content on the blockchain while earning cryptocurrency rewards.
Our mission is to democratize financial knowledge and access with Web3.
Twitter: https://twitter.com/FinanceLeo
Discord: https://discord.gg/E4jePHe
Whitepaper: https://whitepaper.leofinance.io
Our Hive Applications
Join Web3: https://leofinance.io/
Microblog on Hive: https://leofinance.io/threads
LeoMobile (IOS): https://testflight.apple.com/join/cskYPK1a
LeoMobile (Android): https://play.google.com/store/apps/details?id=io.leofi.mobile
Delegate HIVE POWER: Earn 16% APR, Paid Daily. Currently @ 2.8M HP
Hivestats: https://hivestats.io
LeoDex: https://leodex.io
LeoFi: https://leofi.io
BSC HBD (bHBD): https://wleo.io/hbd-bsc/
BSC HIVE (bHIVE): https://wleo.io/hive-bsc/
Earn 50%+ APR on HIVE/HBD: https://cubdefi.com/farms
Web3 & DeFi
Web3 is about more than social media. It encompasses a personal revolution in financial awareness and data ownership. We've merged the two with our Social Apps and our DeFi Apps:
CubFinance (BSC): https://cubdefi.com
PolyCUB (Polygon): https://polycub.com
Multi-Token Bridge (Bridge HIVE, HBD, LEO): https://wleo.io
Posted Using LeoFinance Alpha
---
---