On How the Market Misprices Assets | HIVE, RUNE and LEO
Markets are an incredible human invention. Some people look at stock brokers and people on wall street and think that they are nothing but bloodsuckers.
What they see are people who just fiddle with numbers on screens and don't add any value to the world.
Those of us who are more financially savvy know that there is more going on beneath the service. In a society that is interwove and cooperative, markets are as key a feature as having a way to trade value (currency).
Crypto is a fascinating industry because it takes both of these ideas and combines them. We have something that is both connected in terms of currency (trading value) and we have something that is connected in terms of markets (valuing things).
What is equally fascinating is the human nature that underpins markets. Markets are not always efficient. The smaller the market, the less efficient it is. You need market makers. You need liquidity providers. You need large buyers and large sellers. You need short sellers. You need retailers... You need... market participants.
But market participants don't always get it right. In fact, the breakdown is likely such that the majority of participants get it wrong. How is that possible?
That answer may lie at the end of a rainbow. The goal of investing however, is to figure out how to not be wrong and end up on the right side of the trade.
On How the Market Misprices Assets | HIVE, RUNE and LEO
It should come as no surprise that I am immensely bullish on 3 assets. These 3 assets comprise a very large % of my portfolio. I believe firmly in the future of these assets and while many people may not see what I see, I do believe that there is a huge opportunity here for each one.
The marketplace is not efficient on assets this small... Market making, liquidity, etc. all are low. Especially in a bear market.
I also tend to believe that there is a larger inefficiency taking place. Here is where we - as retail investors - can gain an edge over long timeframes.
Fundamentals and Valuation
Valuing a company is a lot easier than valuing a crypto project. If you want to put a valuation on a company, look at their financial statements.
When you look at their financial statements - if you know what to look for - you can get a general sense of how healthy their business is:
are they bringing in lots of cash?
what are they doing with that cash?
is their business generating more cash over time (growing)?
A crypto project just ain't that simple. The transparency of public reporting is a very important aspect of traditional markets.
Market Mispricing of RUNE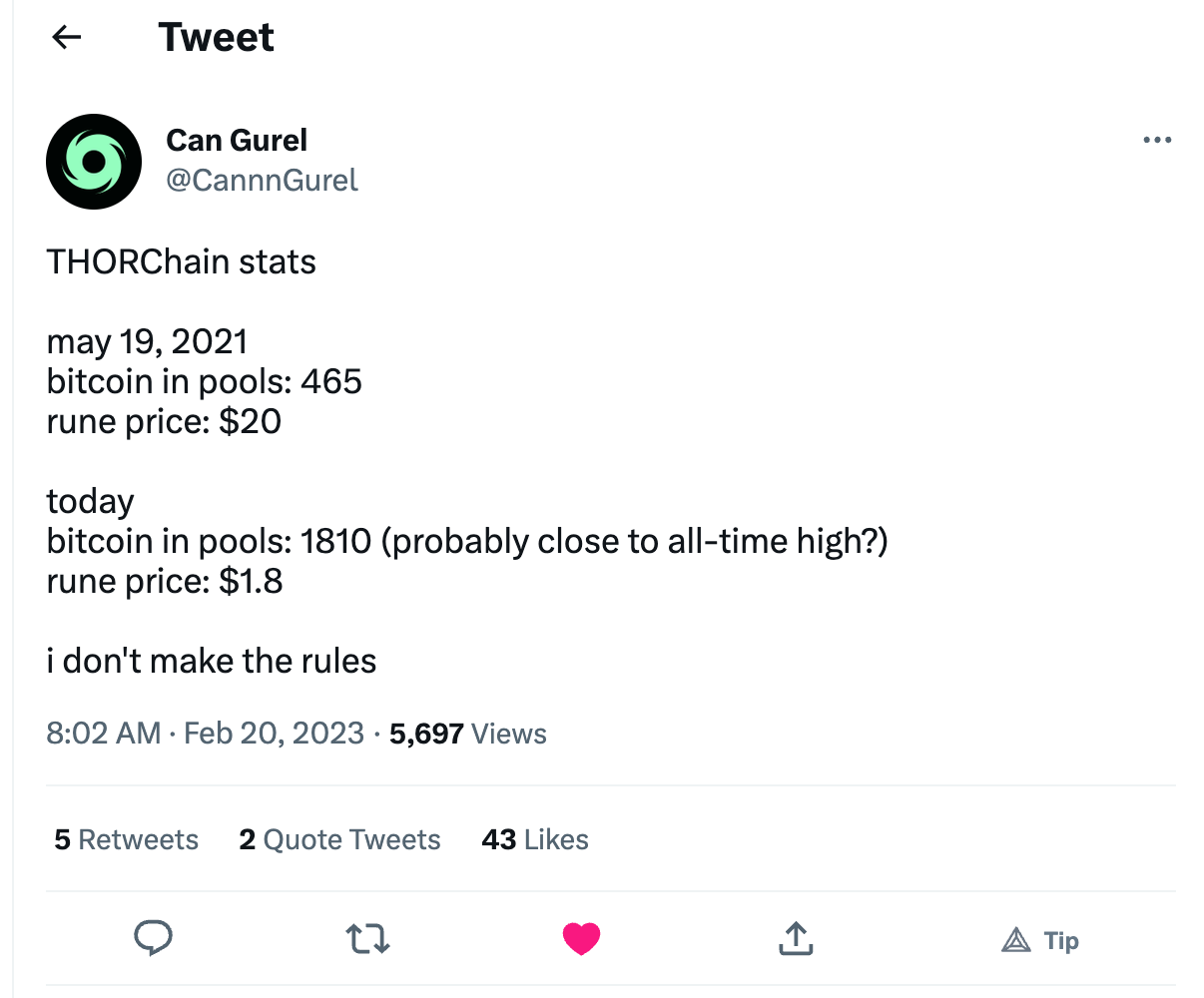 This tweet in conjunction with some things I've seen about Hive lately is what prompted me to write this article. RUNE's fundamental metrics are at all-time highs. Since the launch of savers (single-sided savings vaults for native BTC, ETH and others), Thorchain has seen a massive influx of liquidity. They now have more liquidity than they did at peak bull market.
That being said, RUNE is underperforming against other crypto assets. It's down in SATs and other altcoins have pulled way past it.
So what gives? Why is RUNE being beaten and battered in the marketplace? is it a bad coin to invest in?
Well, one of two things:
The market isn't properly pricing RUNE and there is a huge potential investment here
The market is properly pricing RUNE and there is something going on that I don't know about. Perhaps the project isn't as healthy as it seems on the surface. Perhaps big stakeholders are unraveling
#1 is the one to be weary of. Don't get too confident in thinking that you know everything. Despite being bullish and thinking there is a mispricing in the markets, you should constantly question and re-evaluate.
I am investing because I believe #1 to be true but I am - almost on a daily basis - considering if I am missing something. That's where my research time is spent: trying to figure out if/what I missed.
Market Mispricing of HIVE
Taking a similar lens as we did with RUNE, I believe HIVE is also mispriced. Again, I will constantly question this assumption and wonder if I am missing something.
I believe the market cap of HIVE is far below what it is truly worth. I wrote a much lengthier explanation of this in an article, so rather than reiterate what I said there, I recommend you give it a read: Is Hive Worth $1 Billion Dollars?.
Market Mispricing of LEO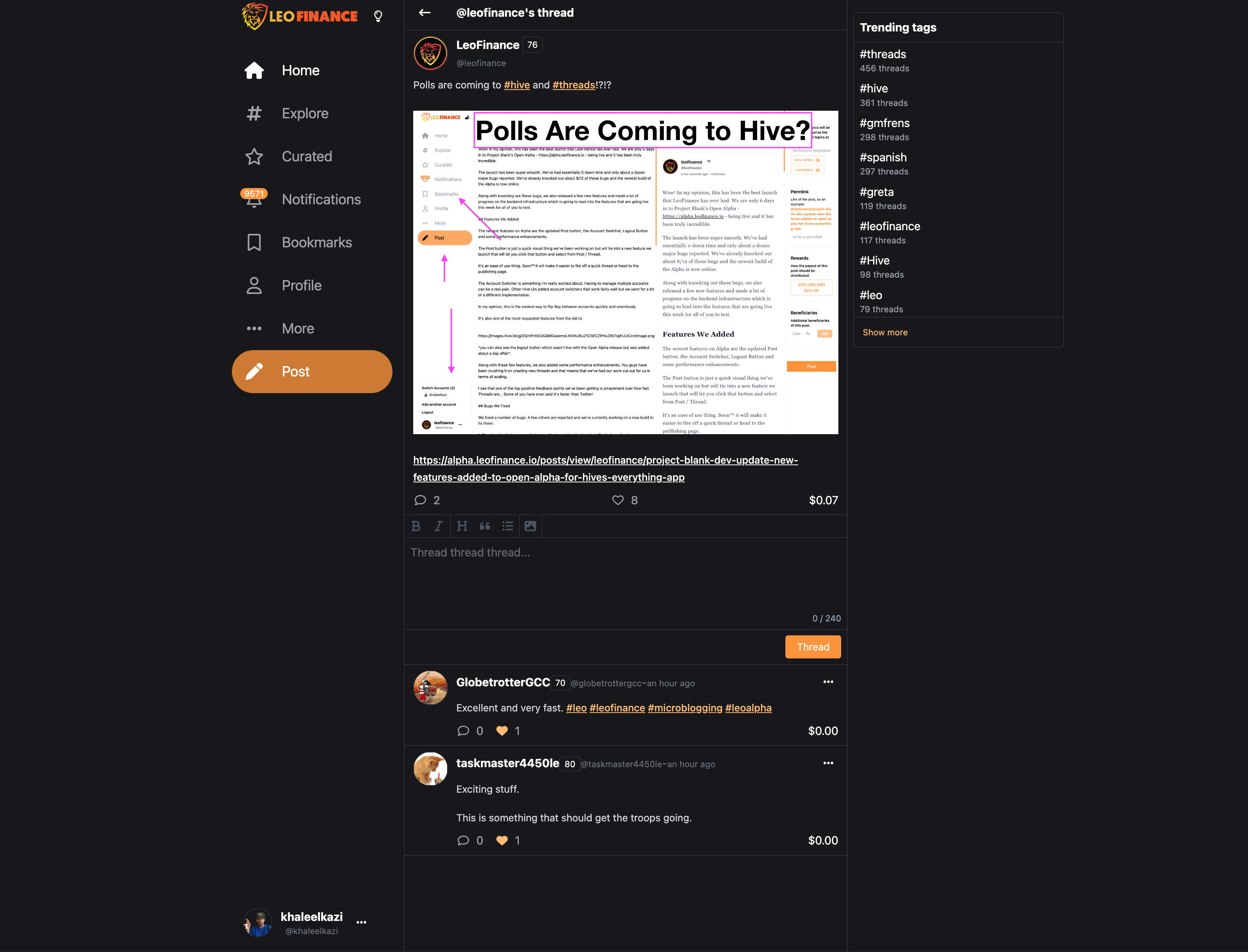 LeoFinance just launched Project Blank into open alpha 6 days ago. Threads activity has skyrocketed and is up 5x in just the last month.
Native, in-line ads are going to be added to the UI. This is a completely revised ad system where we will also accept other advertising partners.
Ads will look similar to how Twitter/Facebook, etc. do them. They are natively in-line with your feed. You almost don't realize they're an ad until you see the little icon that says "Ad". This will increase views, clicks and overall I believe it will 10x ad revenue even at current page views.
I brought in a marketing analyst who looked at our ad program and told us how horrendous it is. He gave us amazing pointers on how to make our ads more efficient. A site at our size should be driving in 10x more ad revenue than we actually are. He could not believe how little we were making for the size that we are.
This is partly due to the ad partner we have but mostly due to the way we show ads (they are kind of hidden off and out of the User Experience. Separate from content).
The convergence of Project Blank's UI being a smashing home run and a more efficient LeoAds program has me uber bullish on LEO. I think we're on the verge of a major break out and I don't think this is priced in. But again - question assumptions.. Constantly!
Conclusion
Draw your own conclusions from this. What I think you should take home is a healthy skepticism for firmly held beliefs.
Investing is about being contrarian. About being a skeptic. If you follow the herd, you'll get their results (and they ain't the results you want).
RUNE, HIVE and LEO to da moon, just in my personal opinion. Not to be taken as financial advice :)

About LeoFinance
LeoFinance is a blockchain-based Web3 community that builds innovative applications on the Hive, BSC, ETH and Polygon blockchains. Our flagship application: LeoFinance.io allows users and creators to engage & share micro and long-form content on the blockchain while earning cryptocurrency rewards.
Our mission is to democratize financial knowledge and access with Web3.
Twitter: https://twitter.com/FinanceLeo
Discord: https://discord.gg/E4jePHe
Whitepaper: https://whitepaper.leofinance.io
Our Hive Applications
Join Web3: https://leofinance.io/
Microblog on Hive: https://leofinance.io/threads
LeoMobile (IOS): https://testflight.apple.com/join/cskYPK1a
LeoMobile (Android): https://play.google.com/store/apps/details?id=io.leofi.mobile
Delegate HIVE POWER: Earn 16% APR, Paid Daily. Currently @ 2.8M HP
Hivestats: https://hivestats.io
LeoDex: https://leodex.io
LeoFi: https://leofi.io
BSC HBD (bHBD): https://wleo.io/hbd-bsc/
BSC HIVE (bHIVE): https://wleo.io/hive-bsc/
Earn 50%+ APR on HIVE/HBD: https://cubdefi.com/farms
Web3 & DeFi
Web3 is about more than social media. It encompasses a personal revolution in financial awareness and data ownership. We've merged the two with our Social Apps and our DeFi Apps:
CubFinance (BSC): https://cubdefi.com
PolyCUB (Polygon): https://polycub.com
Multi-Token Bridge (Bridge HIVE, HBD, LEO): https://wleo.io
Posted Using LeoFinance Alpha
---
---