Should I Panic Sell All My Bitcoin?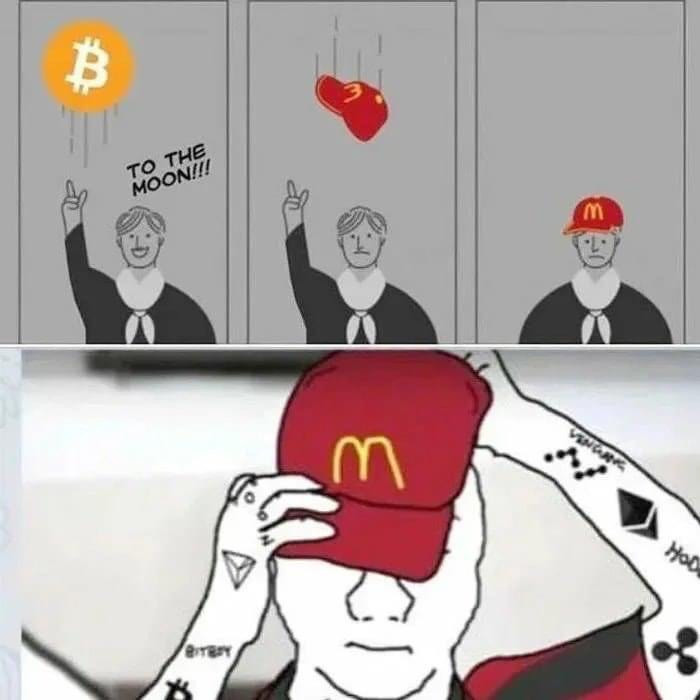 For many who bought the peaks of BTC and some altcoins in this bull cycle, being down 30-60% is not uncommon. As someone who's been in crypto for 3 cycles now, it's interesting to be a third-party and see other people going through similar emotions that I experienced back in 2018.
In 2018, I experienced - vividly - the crash in BTC and altcoins after we busted through $20k and came hurtling down in the months that followed. It was a wild rollercoaster ride of emotions but it was very educational.
Back then, my focus was primarily on price. I was all-in on crypto and I watched my net worth deplete rapidly as crypto prices tanked.
I knew that there was a better way. I knew that I would not get caught again in the next cycle.
This Cycle
This cycle is interesting. There are far more players in the space. There are far more things that you can do in the crypto industry and "metaverse "web3" as some are calling it.
Regardless of what you call it, the industry has changed but many of the same emotions remain. For anyone who learned from the last cycle, your emotions likely have matured and you had some sort of preparation.
We all wanted to see BTC hit $100k by the end of the year and the fact that it didn't should not have shaken your long-term belief. The miss sucks, but it's not the narrative of what's happening in this space.
For me, my focus has shifted largely away from price and more toward development. In the past 2 cycles, I'd say 90% or more of my focus was on the price fluctuations of crypto. I was always worried about the value of my portfolio, the measurement of my income from yield investments in the space, from blogging on Hive, etc.
In this cycle, I've seen a complete shift in the way my attention is oriented: my past self was focused 90% on price and 10% on "work" or "development" (back then more-so on work and freelancing in the space). My current self in this cycle is the opposite: 10% on price and 90% on development of LeoFinance.
With LeoFinance occupying my day-to-day lifestyle, I feel much less impacted by price. I am more impacted by the stresses and successes that come with developing products and building community.
But What About Other People?
With so many other people getting into the space - new and otherwise - what should they focus on? 99% of them are not going to go out and build their own project and start hiring on development talent and expanding operations and looking for holes to fill in the industry.
Instead, I urge them to find something of interest in the Web3 Universe. I truly believe the potential here in Web3 is utterly amazing. For creators. For consumers. For builders.
Web3
With the LeoFinance Whitebook getting published (the first few pages, anyway) last week, I have been reading feedback through the comments of the @leofinance post and seeing the discussions people are having in Discord and Twitter about it.
The vision we have for LeoFinance has changed quite dramatically - while the core remains true, the industry has reshaped itself and we have not been shy in evolving alongside it.
Focusing on this revamped mission statement has been a renewing focus for the project and it's been amazing to see us achieve so many aspects of our long-term roadmap throughout 2021.
This focus on Web3 has taught me a lot about what this crypto industry at large is turning into.
Actually, we're seeing a refocusing back to one of the most fundamental aspects of the creation of Bitcoin itself: democratization of opportunity.
Opportunity
7 billion people in the world today. All with varying levels of access, success, societal status, education, etc.
Bitcoin and the crypto industry represent democratized opportunity and it's happening right before our eyes. I think focusing on the price too heavily will lead you to become one of the people (at least, in emotional spirit) who asks "should I panic sell all my Bitcoin?"
If you find yourself there or close by, then I urge you: focus on building something in Web3. Whether that's posting content on Web3 via LeoFinance or engaging with content by consuming and curating or using DeFi products or learning about NFTs...
There is so much to do in this space outside of worrying about the volatility of crypto prices. Head down and buidl in the bear markets. That's where the fortunes are made!

LeoFinance is a blockchain-based Web3 community that builds innovative applications on the Hive, BSC, ETH and Polygon blockchains. Our flagship application: LeoFinance.io allows users and creators to engage and share content on the blockchain while earning cryptocurrency rewards.
LeoFinance | CubFinance | Hivestats | LeoDex | LeoFi
Delegate HP & Earn 16% APR, Paid Daily. Currently @ 2M HP
---
LeoMobile Open Beta is Now Live! Join The Fastest Growing Web3 Community:
IOS / Android

Posted Using LeoFinance Beta
---
---