Sometimes It's Great to Be the Underdog | A Bullish Case for HIVE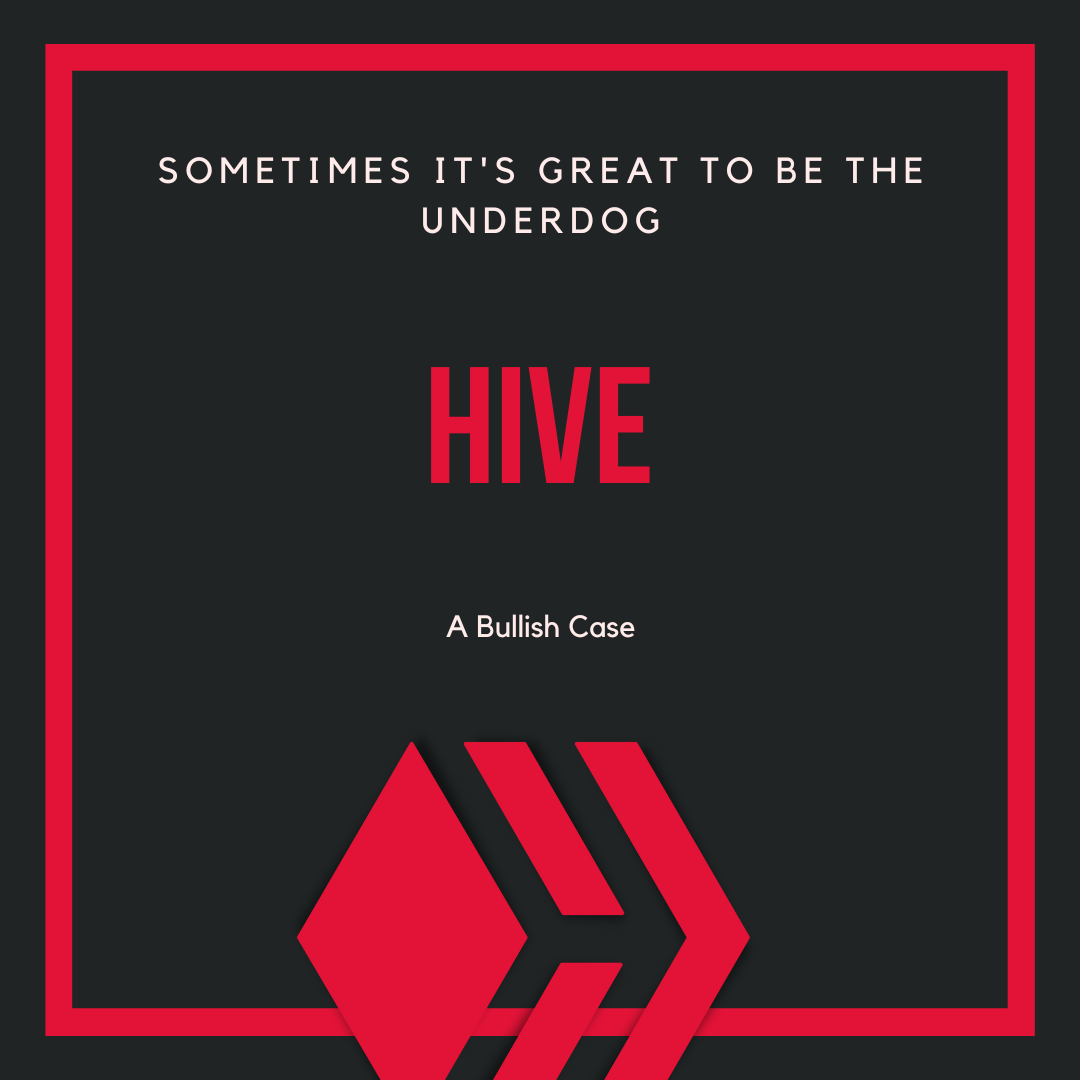 The narratives of this bear market have been flowing around and chaotic. When are they not? This is exactly like the bear market of 2018, the only difference is that Crypto is now much more in the public eye than it was in the last cycle. Now Crypto is a household name and everything that happens in it is being heard by the average human being.
5 days ago, I wrote a post titled: Is Now A Good Time to Buy HIVE ($0.35)?. It may seem like I've turned into the ultimate HIVE shill, but today we'll talk about another reason to be bullish on the Hive ecosystem and one of the many reasons why I'm buying massive quantities of HIVE right now (upwards of 100k HIVE per week, as of late).
$337k Traded on the DECENTRALIZED Internal Market
@taskmaster4450 just posted the following Thread. He shows the last 24 hours of volume on the Internal market. The internal market is a fully decentralized, on-chain and transparent marketplace for trading HIVE->HBD and HBD->HIVE.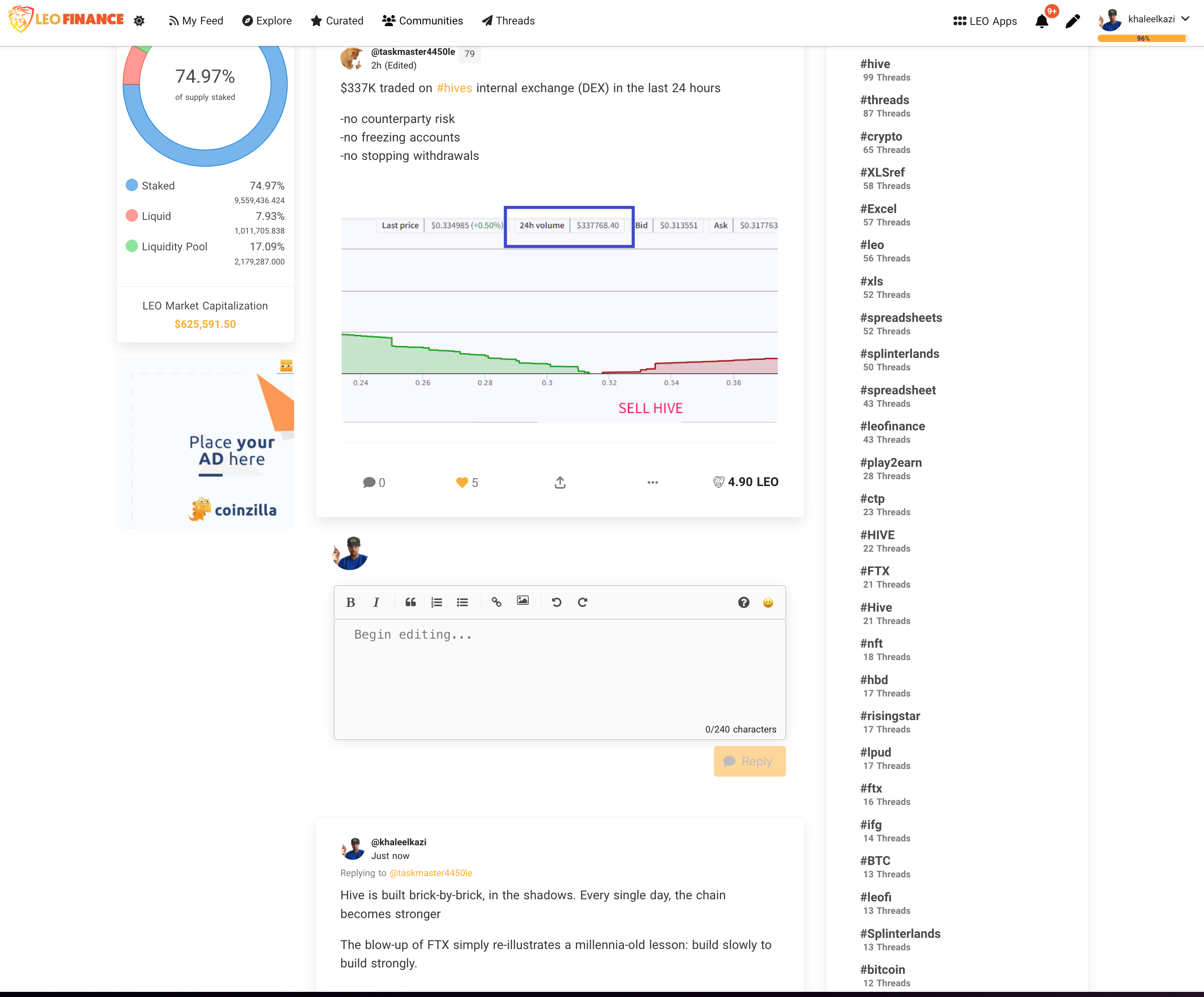 Nested in his Thread, you can see my reply.
The internal market is growing. This is a fully decentralized, on-chain and transparent marketplace for HIVE & HBD. The significance of this cannot go understated. It is one notch in the multi-faceted decentralized operation of the Hive ecosystem.
$337k is a drop in the bucket. It is absolutely meaningless to the broader crypto space and even more meaningless to the broader financial space.
The growth of this number is what is meaningful. Slow and steady. Building brick by brick. The Hive ecosystem has always been in a state of expansion. Whether that is in the number of dApps being built here or the technology at the blockchain level. We're always seeing improvements and we're completely unknown to the broader crypto space.
Many of us think that being unknown is a bad thing. I'm here to tell you why it is also a great thing.
Sometimes It's Great to Be the Underdog
When you're the underdog, nobody cares about you. Nobody is out to get you. Nobody is plotting your demise.
When you're the underdog, you can quietly and diligently build your castle. Brick by brick. You can spend enormous time and resources building the foundations of your castle such that nobody could knock it down in the future.
Eventually, people will come calling for your head. The longer you remain unknown, the longer you have to prepare. You can build something that will last the ages, as long as you work diligently and without distraction.
One of the many strengths of Hive is that it is being built in the shadows. Just like BTC in the early days, the foundations of Hive are being built when nobody really gives a shit. This is an incredible superpower that BTC had in the early days and now Hive has it as well.
A big dog came for Hive once. His name was Justin Sun. He tried to buy a company and a blockchain but what he was really after was a community. It didn't take long for him to realize that this community he came after had spent years in the trenches together, building resources and building the foundational architecture that could seed a prosperous future.
A big dog came for the underdog. He walked away with his tail between his legs and nothing to show for it but a dead company, a dead blockchain and tens of millions of dollars lost.
The underdog prevailed. The underdog was seen as weak at the top layer. But when someone came and tried to disrupt the underdog, the foundations were found to be rock solid. Immovable. Unbeatable. Indestructible.
Hive is Undervalued

Hive has built indestructible foundations. The core community will never leave this blockchain. Whether HIVE is $0.32 or $0.0000032.
Value investing is about looking at a company and evaluating if it is cheap on a relative basis to its true value. Determining the true value of a company is typically done by looking at its balance sheet, it's market advantage, the quality of its product, the revenue and profits it generates. Determining future revenue potential, etc.
When looking at something like Hive, a whole new lens must be used. You can't look at cash flows. You can't look at a balance sheet.
Instead, you look at the foundations of it. You look at the bedrock that is holding the chain together. If that bedrock is found to be unstable, then you should look elsewhere.
When you look at what lies beneath Hive, you'll find an immovable object. Something that is almost mystical in nature. Someone came to move it once. In fact, many people have tried over the years. But they were unable. They could not win. Despite having hundreds of millions of dollars to deploy, they could not destroy the foundational architecture of something that was built by thousands of people around the world over several years.
We are building in the shadows. We are unknown to the outside world. The foundations we are constructing will be here for the decades to come.
When you see Hive, do you see these foundations? Do you see killer applications being built? Do you see the core chain technology progressing? Do you see more nodes and witnesses coming online? Do you see more exchange and decentralized exchange connections? Do you see more decentralized volume being generated?

About LeoFinance
LeoFinance is a blockchain-based Web3 community that builds innovative applications on the Hive, BSC, ETH and Polygon blockchains. Our flagship application: LeoFinance.io allows users and creators to engage and share content on the blockchain while earning cryptocurrency rewards.
Our mission is to put Web3 in the palm of your hands.
Twitter: https://twitter.com/FinanceLeo
Discord: https://discord.gg/E4jePHe
Whitepaper: https://whitepaper.leofinance.io
Our Hive Applications
Join Web3: https://leofinance.io/
Microblog on Hive: https://leofinance.io/threads
LeoMobile (IOS): https://testflight.apple.com/join/cskYPK1a
LeoMobile (Android): https://play.google.com/store/apps/details?id=io.leofi.mobile
Delegate HIVE POWER: Earn 16% APR, Paid Daily. Currently @ 2.8M HP
Hivestats: https://hivestats.io
LeoDex: https://leodex.io
LeoFi: https://leofi.io
BSC HBD (bHBD): https://wleo.io/hbd-bsc/
BSC HIVE (bHIVE): https://wleo.io/hive-bsc/
Earn 50%+ APR on HIVE/HBD: https://cubdefi.com/farms
Web3 & DeFi
Web3 is about more than social media. It encompasses a personal revolution in financial awareness and data ownership. We've merged the two with our Social Apps and our DeFi Apps:
CubFinance (BSC): https://cubdefi.com
PolyCUB (Polygon): https://polycub.com
Multi-Token Bridge (Bridge HIVE, HBD, LEO): https://wleo.io
Posted Using LeoFinance Beta
---
---