The Hive Blockchain is the Only Place to Build Web3 Social Apps
If you've listened to any of the content I push out through the LeoFinance podcast and my own personal blog, then you'll know that I'm a huge advocate for the idea of a "multi-chain" future.
I believe that the future isn't just in the Bitcoin blockchain. It isn't just in the Ethereum Blockchain. It isn't just in the Hive blockchain.
It's the convergence of all of these blockchains that creates the future that we all want to see... A future of Web3.
Projects that leverage the ability to go multi-chain - one of my favorite examples being Thorchain which enables multi-chain swaps - will gain massive traction in the coming years as people begin to realize this multi-chain future.
But this post is not about the Multi-Chain Future... Actually, it's a bit counterintuitive to that idea.
The Hive Blockchain is the Only Place to Build Web3 Social Apps
Despite believing in a multi-chain future I also believe that Hive is currently the only practical place to build Web3 social applications.
Why?
Fast, fee-less and decentralized transactions.
Not to mention scalable af.
I'm a huge fan of @dalz's reports. He puts out the best stats in the game so go and give him a follow and some votes if you've got some spare time, he deserves it. Yesterday he posted some stats about the Hive blockchain and transactions over the course of 2022.
In it, he relayed that the Hive blockchain did 967M transactions - nearly 1 Billion - in 2022. On Ethereum that would have collected billions of dollars worth of fees.
On Hive, can you guess how many fees were paid for those nearly 1 Billion TXs? $0.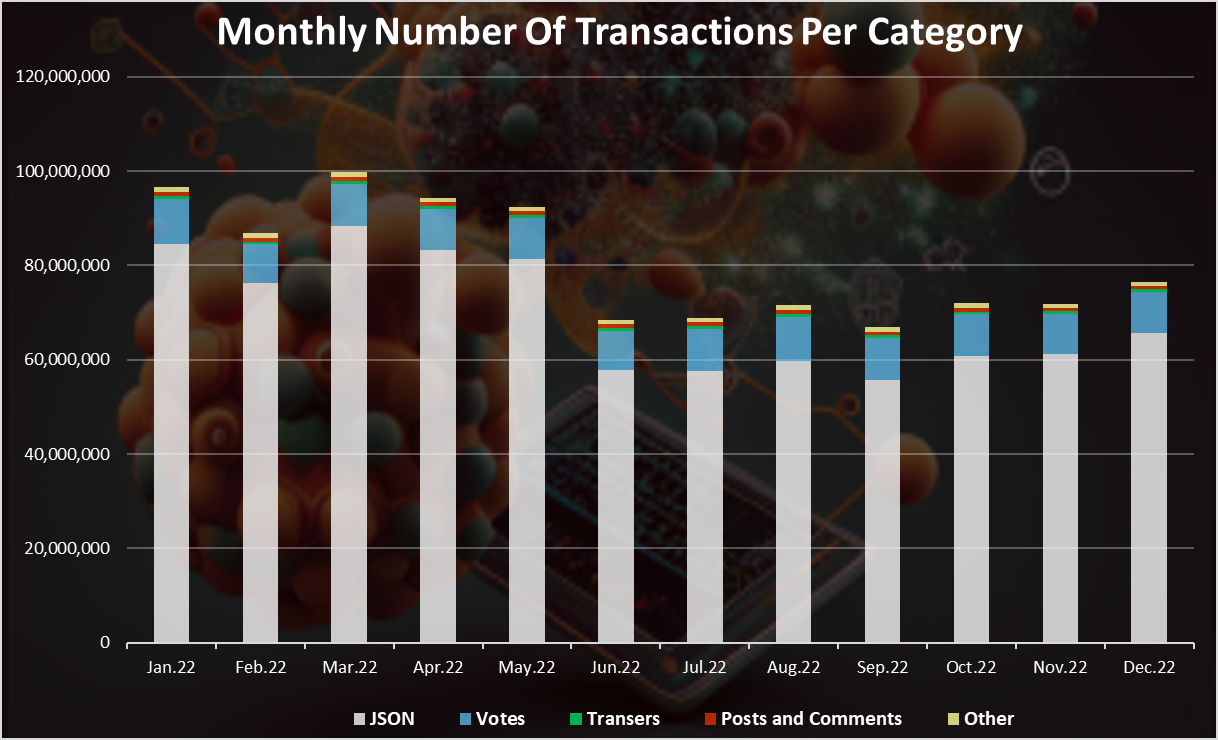 Scalable Web3
LeoFinance itself does tens of thousands of transactions per day on the Hive blockchain. Could you imagine if we had to pay even a few cents per transaction?
Building and scaling our Web3 business model would be nearly impossible! We'd need massive VC funding just to pay for blockchain fees.
Instead, we build on Hive. We build in an environment where we pay $0 for blockchain fees.
... but there must be a cost, right? We all know basic microeconomics, there is no free lunch!
Rechargeable Blockchain Credits
Ahhhh Resource Credits aka rechargeable blockchain credits, that's how we pay for fees.
Look to a project like Splinterlands which has already reached a high degree of scale. They make up a very large % of yearly transactions on the Hive blockchain. How do they pay for this space? There is a cost to deploying data on this blockchain but that cost isn't one that you simply pay via token.
Instead, you pay it by owning the chain's native currency: HIVE.
We all know this. You own HIVE, you power it up and then you get rechargeable credits called Resource Credits that allow you to "borrow" the resources of the blockchain in order to deploy data to it.
It's actually quite genius.
What's the Point?
The point is: Hive is truly the only place to build Web3 Social Apps. When you're building an application, you must be prepared to do hundreds of thousands of transactions on a daily basis.
Even when you reach these numbers - and LeoFinance is quickly approaching them - you are still the smallest of smallest fish in the pond of social media.
So what happens if/when you start pushing numbers like Twitter, Facebook or Instagram?
Over 500 Million Tweets are posted on a daily basis on Twitter. This doesn't include the other billions of interactions per day like "liking" or "retweeting".
BILLIONS OF TXs PER DAY.
Social media is transacting at scale and the only blockchain I've seen that can transact at scale in both an efficient and effective way is the Hive blockchain.
I am an investor so I am inclined to always find the upside in everything and attempt to exploit it for asymmetric upside.
Where's the upside here? What's the play?
The play is: if Hive is able to attract enough apps like Splinterlands, 3Speak, LeoFinance, etc. then the value of Resource Credits will continue to rise - supply & demand, people! - as RCs become more and more useful to have and sought after, HIVE will have to rise in price.
People need RCs to transact. Right now RCs are cheap and widely available. What happens if a dozen applications bring tens of thousands of users? Suddenly, RCs aren't so cheap and aren't so widely available. People need HIVE to get more RCs.
Conclusion?

About LeoFinance
LeoFinance is a blockchain-based Web3 community that builds innovative applications on the Hive, BSC, ETH and Polygon blockchains. Our flagship application: LeoFinance.io allows users and creators to engage & share micro and long-form content on the blockchain while earning cryptocurrency rewards.
Our mission is to democratize financial knowledge and access with Web3.
Twitter: https://twitter.com/FinanceLeo
Discord: https://discord.gg/E4jePHe
Whitepaper: https://whitepaper.leofinance.io
Our Hive Applications
Join Web3: https://leofinance.io/
Microblog on Hive: https://leofinance.io/threads
LeoMobile (IOS): https://testflight.apple.com/join/cskYPK1a
LeoMobile (Android): https://play.google.com/store/apps/details?id=io.leofi.mobile
Delegate HIVE POWER: Earn 16% APR, Paid Daily. Currently @ 2.8M HP
Hivestats: https://hivestats.io
LeoDex: https://leodex.io
LeoFi: https://leofi.io
BSC HBD (bHBD): https://wleo.io/hbd-bsc/
BSC HIVE (bHIVE): https://wleo.io/hive-bsc/
Earn 50%+ APR on HIVE/HBD: https://cubdefi.com/farms
Web3 & DeFi
Web3 is about more than social media. It encompasses a personal revolution in financial awareness and data ownership. We've merged the two with our Social Apps and our DeFi Apps:
CubFinance (BSC): https://cubdefi.com
PolyCUB (Polygon): https://polycub.com
Multi-Token Bridge (Bridge HIVE, HBD, LEO): https://wleo.io
Posted Using LeoFinance Beta
---
---