Wen Weak Paws Become Diamond Paws | Meme Contest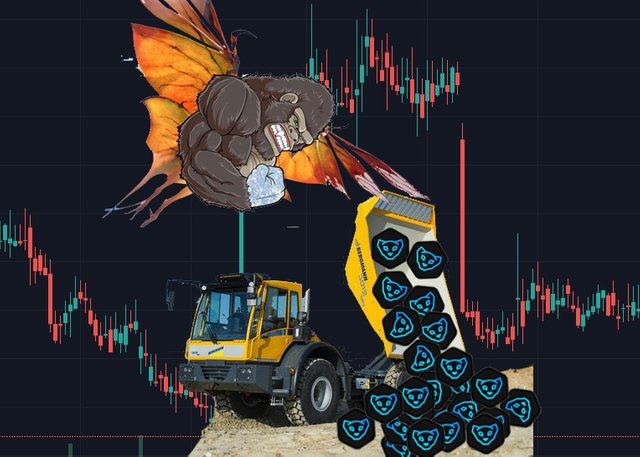 Been a minute since I've posted. The layers of development we have coming are unprecedented. Fun times but busy times.
To have more fun times and raise awareness for CUB, I'd like to see more memes about the platform.
@acidyo suggested that I launch a quick post asking for CUB memes to get the ball rolling.
Wen Weak Paws Become Diamond Paws
The last CUB reward halvening just took place and we're seeing the volatility impacts of this. The BSC apes who gamble on 2,000%+ yield have left the building and now it's time to focus on our sustainable DeFi thesis (see: https://leofinance.io/@leofinance/cub-block-reward-halvening-upcoming-features-and-our-mission-for-sustainable-defi).
In short, we're seeing weak paws shake out as Diamond Paws take over. @edicted has done a nice job in tracking this.
Meme Contest
Any CUB meme goes. I have a few ideas for weak paws turning into Diamond Paws but you don't have to follow that theme for this contest.
I'll be upvoting all the comments and then the top 3 memes will get some LEO prizes from me:
#1 - 100 LEO
#2 - 50 LEO
#3 - 25 LEO
Considering that LEO is also hovering around $1, this feels pretty good. I think the last time I made a post, LEO was $0.60.
Winners will be chosen subjectively based on my taste in memes when this post reaches payout.
I Need Help
This will be the title of my next post. I need to hire on some more help for LeoFinance. Not just devs but also some administrative/organizational help.
We've been so swamped with workload, my DMs are piling up and our pets heads are falling off.
The first thing I have in mind is hiring someone to run the #tech-support channel in Discord. I've created a doc with frequently asked questions from tech support, so the job of whoever we bring on would be to monitor the channel for questions.
When a question comes through and the answer is in the doc, just relay that answer to the user. When they ask something that isn't in the doc and you know the answer, then help them out.
When they ask something that isn't in the doc and you don't know the answer, drop a line to me so I can step in and help.
I don't think this tech-support position would entail much work. Maybe a few hours a week as you'll just monitor this channel in discord and most people ask questions that already have answers / need to be passed to a Leo team member to handle (i.e. issuing a return TX when BSC nodes blow up, etc.). We can work out a weekly/monthly payout of LEO or your preferred crypto. If you're interested please ping me on Discord!

LeoFinance is a blockchain-based social media community that builds innovative applications on the Hive, BSC and ETH blockchains. Our flagship application: LeoFinance.io allows users and creators to engage and share content on the blockchain while earning cryptocurrency rewards.
Earn a 16% APR on HIVE POWER and Support LeoInfra's Onboarding Efforts by Delegating HP to @leo.voter (Currently at 3M HP). We Use this to Claim Accounts and Delegate RCs to Newly Onboarded Users + Daily LEO Payouts to Delegators
Posted Using LeoFinance Beta
---
---