Budgeting In Cryptocurrencies: Do You Need To And How Can You Start?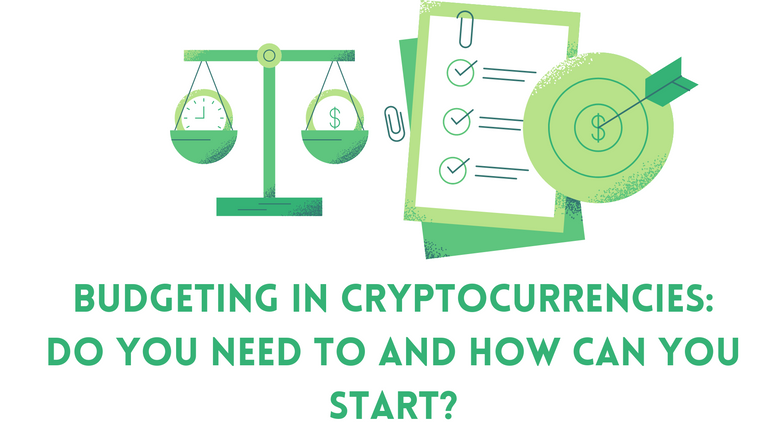 I was recently scrolling on TikTok when I decided to check out @khaleelkazi account because I had seen a lot of people on leofinance recently speaking on it.
When I found the account, the first video I clicked on was one where he was speaking about "how to get your first 1000 dollars in crypto" and he said that it can easily be done by investing 10 dollars daily into bitcoin which over time will grow.
Now, this got me thinking because while I have been interested in investing more and growing my portfolio, I never really thought about investing little by little, and I always thought that it would be better to invest bigger amounts which have proven almost impossible for me.
I realized while watching his video that while I might not be able to invest daily due to earnings and other factors, I will be able to use this same system and make it work for me which is where budgeting comes in.
Do you need a budget to invest in cryptocurrencies?
When most people think about budgeting, I don't think they go as far as thinking about investments, instead, they focus on expenses and savings and while that is good, it is also necessary to budget your investments, especially as someone who is looking to start growing their portfolio.
I feel like when investments are thought about, most people feel like you have to be wealthy to invest but, that is not so and if we are looking forward to retiring on crypto, we have to start budgeting from now on how much we are investing and how often we are spending our cryptocurrencies and this doesn't only apply to bitcoin but also, to hive, HBD, Leo, and other tokens.
Also, while budgeting in cryptocurrencies, it is important to not only budget the overall investments but how much is going where and when because this can be very pivotal for growth and profit.
How do you start budgeting in cryptocurrencies?
The first thing to do when starting a budget is to sit down, get a piece of paper, or maybe use your laptop to write down your budget.
Now for cryptocurrency, it is important to have a general knowledge of what you want to invest in and when the right time will be to invest in that coin.
After figuring this out, it is necessary to try to find multiple currencies you can invest in and this part is specific to you because while I will prefer investing in a stable coin, you might want to in something more volatile but with high returns.
After doing that, it will be time to spread the money which you have kept aside for investment, now you don't have to spread it and you can simply put it in one place but, I prefer doing that.
Finally,
It is crucial to know that while budgeting and investing in cryptocurrencies, you do not need millions or thousands and you can simply start small which I know a lot of people did.
---
---
Posted Using LeoFinance Beta
---
---