CREATIVE BLOGGER TAG: Learning About Each Other and Making Hive a Better Place
The creative blogger tag was prompted by @jongcl in her post here and in this tag, we will get to answer some questions that will enable us to get to know each other here on hive and also know how we can contribute to the hive community.
I want to say a thank you to @starstrings01 for tagging me to participate in this tag and you can check his post here also.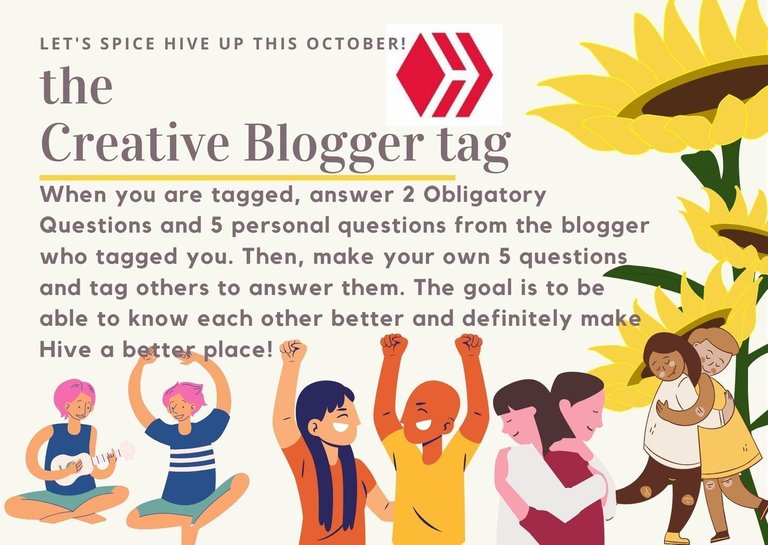 design made by @jongcl
As the image above states, I would have to answer two obligatory questions by @jongcl and five personal questions created by @starstring01.

obligatory questions by @jongcl

Obligatory Question 1. How would I add value to hive?

I believe that I can add value to hive by creating quality posts and content that can add knowledge to the hive community. I know that hive is an encyclopedia of knowledge and if I can write something that could be of aid to even one person then I have added a bit of value.
I would also want to bring more people of value to hive which I am currently working on by increasing my HP so I could delegate to those that I bring.

Obligatory Question 2. How can I make hive a better place?


I can make hive a better place by avoiding plagiarism and making original content.
I can also do this by staking certain tokens, and supporting other creators here on hive which has been very important to me.


Now to answer the personal questions created by @starstring01.


Personal Question 1. What is the one thing you would change in your life if you have the power to? And why?
If I had the ability to change one thing right now, it would probably be my location, and the reason would be that I have been tired of staying in my state for a long time, and recently I have been figuring out a way to leave.
Personal Question 2. If you are to meet 5 Hivers in person, who would they be and why so?
If I were to meet 5 hivers, they would be @josediccus, @selfhelp4trolls, @kemmyb, @nonsowrites, and @starstrings01 and I would love to meet these people because they are constantly a motivation to me here on hive, I follow them closely and I have learned a lot from them.
Personal Question 3. What are your best qualities as a person?
People always say that my best qualities are that I am very loyal and I hardly give up on people.
Personal Question 4. What Superpower would you love to have and why?
As a superhero geek, this question is one of my favorite and I know that a superhero power I would want to have is mind reading/control cause I feel like the ability to control and know what people are thinking would be amazing. I would ace so many tests and interviews, achieve so many things and I know this power would come in handy.
Personal Question 5. How do you wish to spend the forth coming Christmas if all your wishes are to be granted?
Even if my wishes are granted I would still be spending Christmas the way that I have spent every year which is with family and friends, I think my idea of Christmas would always include my family.


Finally, I have successfully answered @starstring01's questions so it is now time for me to create my own.
1. Are you where you saw yourself five years ago and what would you want to change about your life right now?
2. Do you have financial goals you would want to achieve and what steps are you taking to achieve them?
3. Are you in a relationship? If not and why aren't you? And if yes, what have you learned in your relationship.
4. Are you career-minded or business-minded and why is that?
5. Do you have any regrets in life and what are doing to change them?
Finally, I would be tagging some of my hive friends to participate in this creative bloggers tag and I hope to read their entries soon.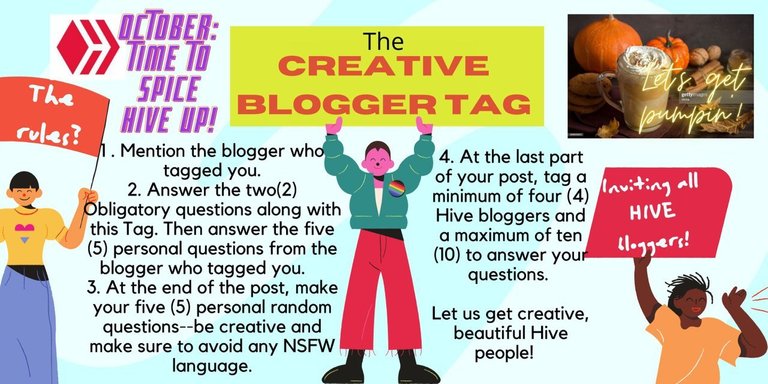 rules for the creative blogger tag designed by @jongcl
---
Thank you for opening this box of passion
---
---