WHY YOU SHOULD TEACH YOUR CHILDREN ABOUT FINANCES

Growing up in a Nigerian household meant one thing; money wasn't a subject of discussion and as a child, I barely knew what money was.
Of course, I had the luxury of all my needs being catered for but I didn't know how it was being done or how much debt my mother had run into just to be able to afford it which made me grow up in a bubble that life was waiting to burst.
The process of getting into university was one that opened my eyes, I was privileged to get into a private university through a scholarship but that meant I was in school with a lot of "rich kids" that could basically afford a lot while I would starve most days.
At that point, It dawned on me how important money was and how little I had of it and I often wondered if things would have been easier if I had prior knowledge of money and finances.
SO SHOULD YOU TEACH YOUR CHILDREN ABOUT FINANCE?
Well, I believe that every child at a particular age should be taught about money to an extent, of course, you wouldn't want to burden them by telling them certain information but an overall view of finance could be essential.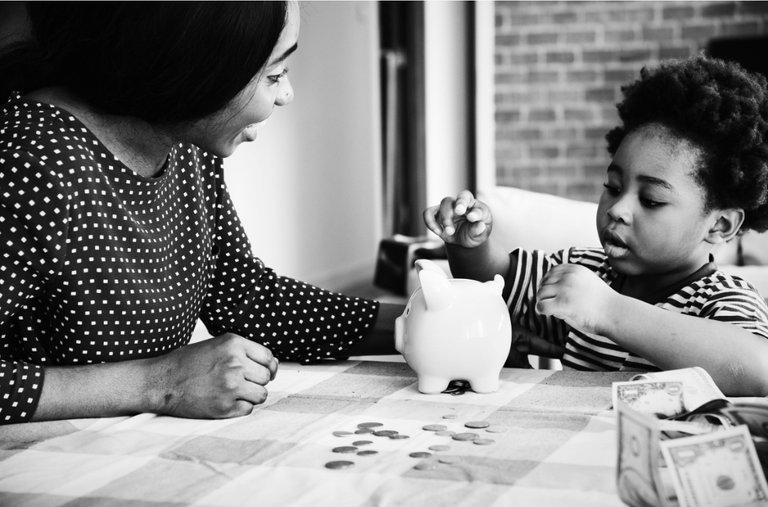 source
This is important because it will teach them to have a positive relationship with money as they grow and they will have an understanding of the basic concepts of money.
AT WHAT AGE SHOULD YOU START TEACHING THEM?
For me, the moment my children can understand simple terms I will begin teaching them about certain financial terms, and from there I will start training them to save which is important because a lot of adults barely have the self-control to save and I know that it is very essential.
I will also want to create a reward system which I saw on TikTok and it caught my eyes and this would be to teach them the process of earning and working.
Of course, at this point, it is easy to make a child "money-focused" but I will try to avert that as much as I can.
IN CONCLUSION
You might be thinking, "why not let a child be a child" but I believe that certain values should be installed when children are younger and in the times we live in, knowing about finance is an essential skill that everyone needs to know, and the saying "the younger, the better" is something I stand by.
Now, just because I plan to teach my children about finance doesn't mean you have to, I know that everyone has the way they will want to raise their kids so to each their own.
---
THANK YOU FOR OPENING THIS BOX OF PASSION
Posted Using LeoFinance Beta
---
---