HIVE & Golden Cross | Are You Ready
HIVE
Hive one of our favorite gem (Ranked in top 200 cryptos by Market Cap), has multiple faces & communities. Some of us create blogs, comment, curate and interact with content daily. This also pays of in terms of Hive rewards that come from inflation. Others spend time creating/developing new dapps, services or improving existing infrastructures. Rest play and enjoy games and are dragged by @splinterlands gaming experience to hive without knowing hive is lot more than just a blockchain. It's a way of life & time spent here is remembered, especially who have been striving to improve it. There are investment tokens, tribes and a lot of different aspects. Who knows this can become the future of metaverse.
Bullish Indicators
There is a lot of things happening around, but today we are exploring some key metrics that are forming bullish signals for hive price growth.
First one is how much hive is stored on exchanges. This is an important parameter in crypto market when someone is doing technical analysis and looking for market trends. When BTC or ETH or any top crypto is going to pump, the first signal is there supply on exchanges. If that is drastically reducing over weeks or months, means a price pump is on way. This seems to be the case with HIVE as well.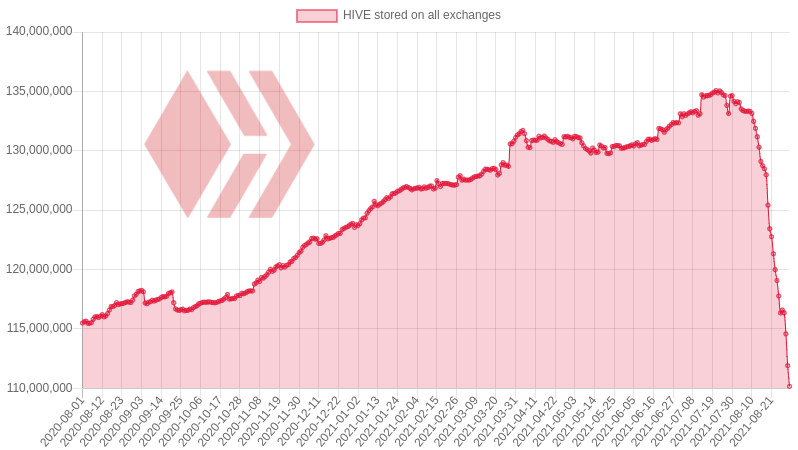 Source
In last month more than 25 Million hive has been moved out of exchanges. This has broken a massive uptrend which has been rising since hive was born. More Hive on exchanges means a constant selling pressure. or Price will be harder to pump as it will soon be followed by dump. This has been the case in past where we see short term spikes and then a price suppression, forming long wicks on candle charts.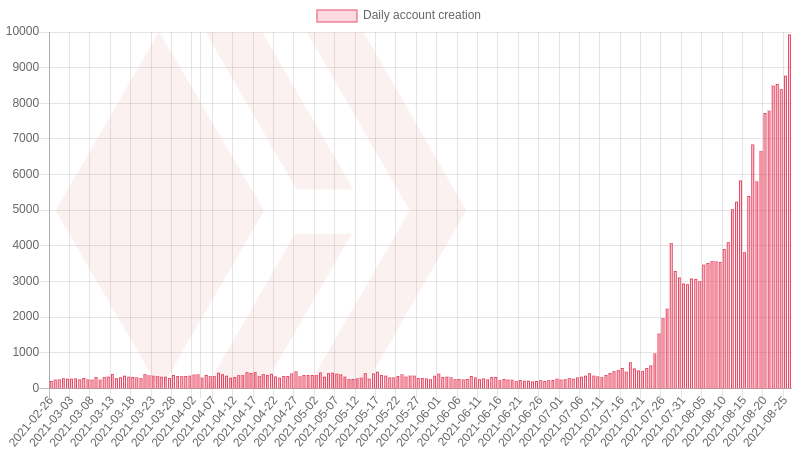 Source
Next one is daily account creation or new wallets joining in. This has been increasing exponentially since the release of governance token for @splinterlands. As splinteralnds is going through an immense growth, hitting around 150K Daily active players is currently ranking 3rd on DappRaddar. It is expected to beat 200k user mark in next few weeks, and heading towards the goal of 1 Million total players. This has been pushing daily account creation on hive as splinteralnds uses hive blockchain as base layer to perform and verify all transactions. We just hit 10K new account creation per day which seems to be rising consistently over last few weeks.
Charts
If we move towards charts to see what this could mean for hive price. We see an uptrend on daily chart since last two months with small hiccups, which are just part of the game. We are going to see a Golden Cross on HIVE /USDT pair on Binance in a couple of days. This seems the case for HIVE/KRW pair on Upbit as well. Time will tell what this will bring , but in log run this means uptrend will continue more stronger. 0.70-0.756$ seems to be next resistance level followed by 1$ a psychological and near all time high level. If hive can break this during the next phase of bull run, 2-3$ hive can be expected for a few weeks, before we test some of these level again or just never look back and go straight to 8$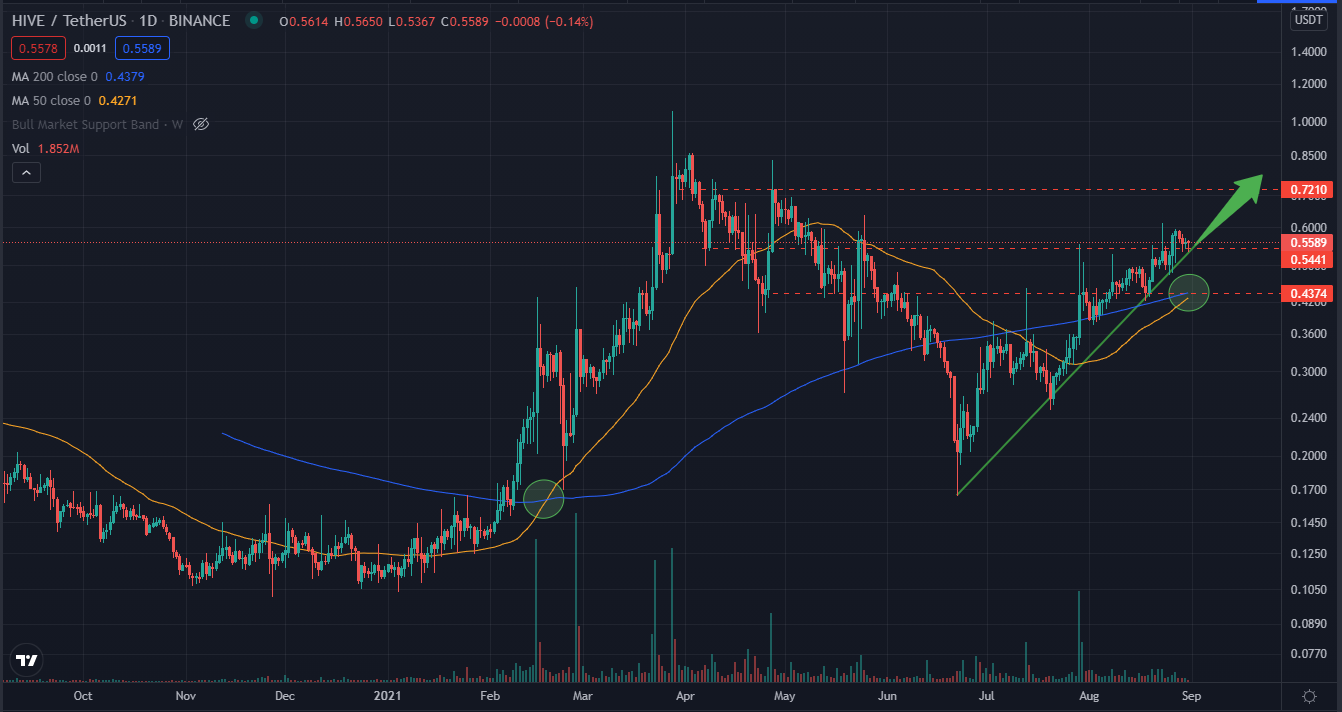 Source
HIVE/BTC pair on weekly charts looks bullish as hell. Hive really had some strong resistance maintaining 1000 sats target but seems it is now maintaining it. We are also above a BULL MARKET support band (21 week EMA & 20 week MA COMBO), which can be a bullish case. Now all eyes are on BTC that it stays above 200 Day MA or at least 20 week MA for few more weeks to prepare for next massive run.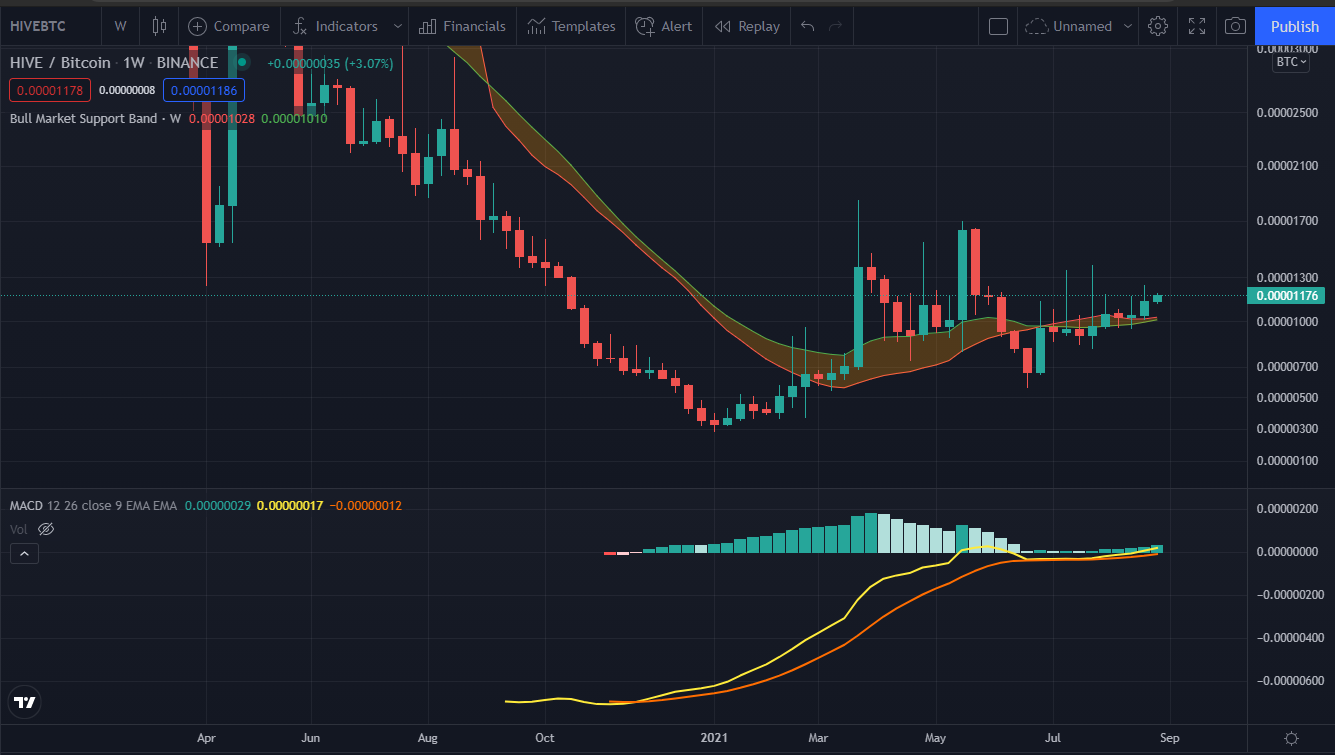 Source
This is not a financial advice but my own thoughts. Please share what you love most about hive is comments bellow.
-Khan
Vote for @leofinance as witness by clicking on the below banner if you believe they are bringing value to Hive & Crypto world.

Posted Using LeoFinance Beta
---
---