RUNE (THORCHAIN) - Analysis (Long-term)
Fundamental
Thorchain is a cross-chain liquidity DEX. It's native token is RUNE. Rune has major updates coming in Q1 of 2022. DOGE will be integrated in it in January. LUNA is also in works and hopefully we can get it on dex in Feb. Thorchain is still in BETA testing, this means that mainnet is not launched yet. This was planned for end of 2021 but because of security challenges & 2 hacks which caused chain to be down for 3 months caused delays. It is expected that mainnet will be launched in Q1 with LUNA & DOGE going live and bringing more Liquidity.
You can read about THORCHAIN ACHIVEMENTS in 2021.
Technical (USD)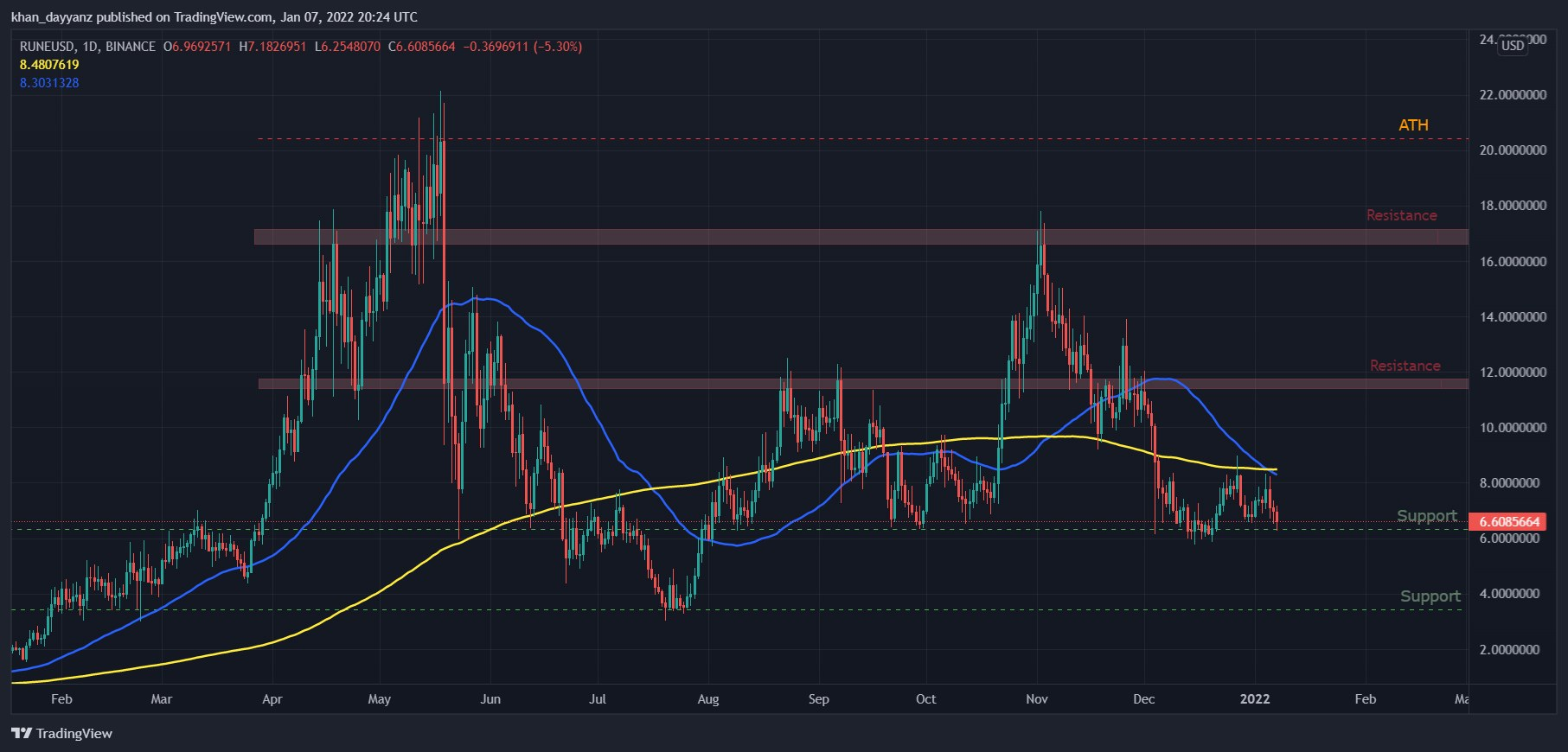 Rune has been buried in dips and lows for a while. After May crash, it crashed from 21$ to 7$ in few days. Then hacks happened causing it to dip to 3$ which was really a good time to grab it cheap. As BTC recovered rune gained value and was around 10$ range. When chain was resumed it went to a local top of 17$ but now it is back to sandbox of 6-7$ range with BTC dipping. You can see the chart with support and resistance levels. We are seeing a death cross which is a lagging indicator for price dips.
Technical (BTC)
I normally don;t care about USD value of a coin because USD value isn't the true picture of Tops/Bottoms. It is affected by BTC pumps and dumps which causes TA on USD charts doubtful because you can see a pattern there and it will be ruined by BTC action.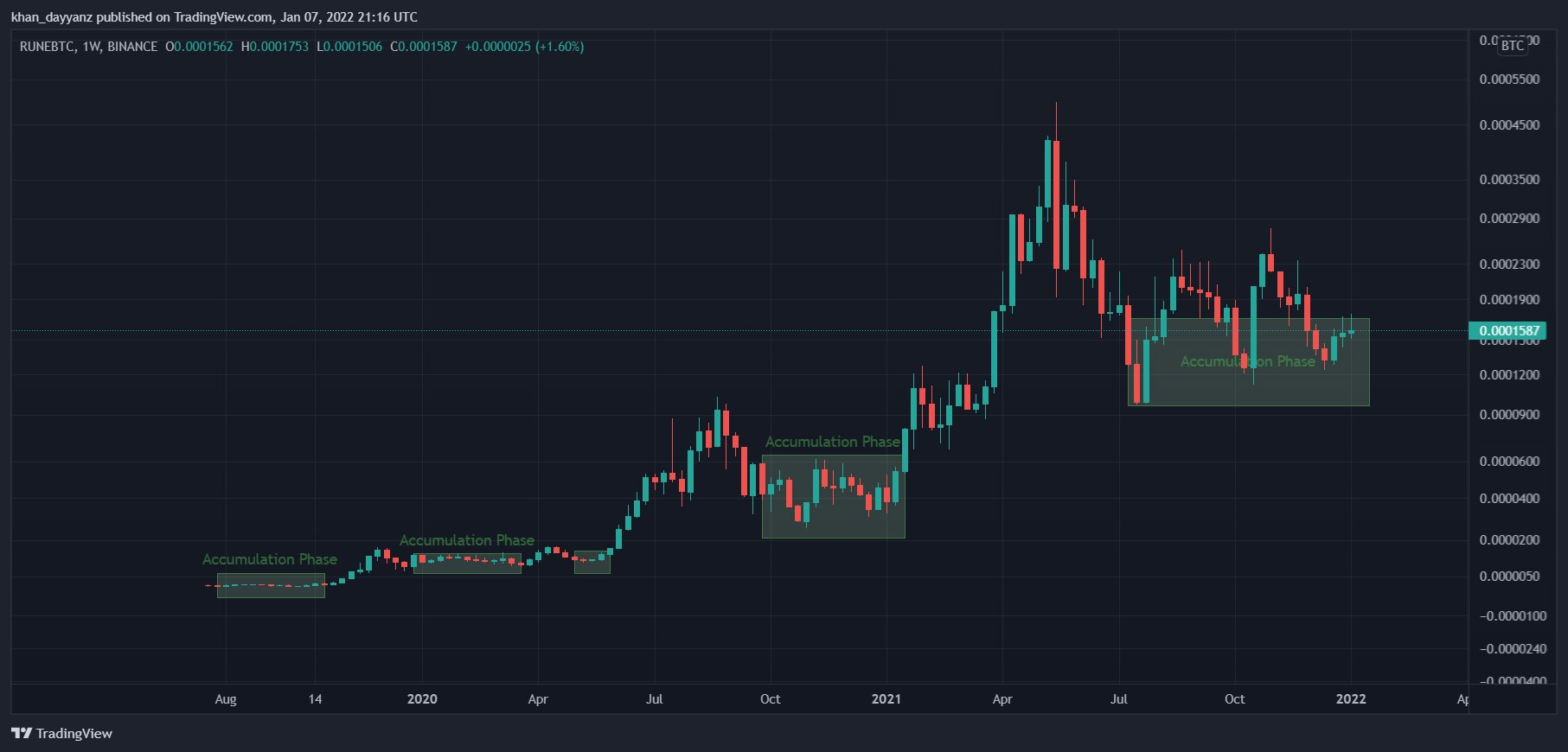 Real value of coin is when it is gaining against BTC pair. If we see Rune all time history we can observe that it is in a long uptrend against BTC. In the uptrend there are phases when RUNE is valued lowest against BTC. This is accumulation or buy zone. If you buy coins when they are valued lowest against BTC and see them when they are at high value against BTC, you will not only maximize your BTC holdings but also earn exponential gains when BTC pumps.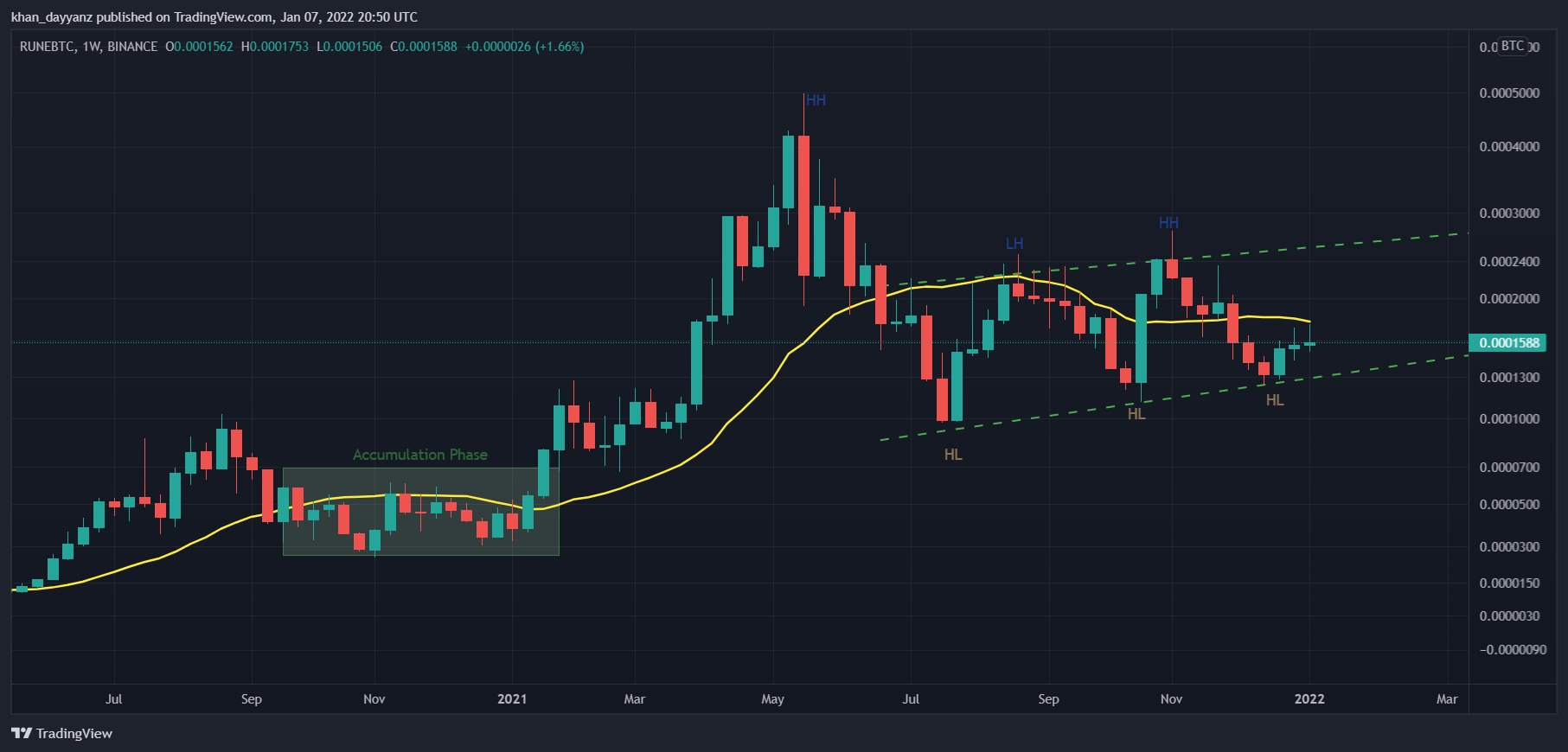 If we see last 3 months, RUNE is forming a Higher High & Higher Low against BTC which is a bullish pattern. Also it is already in accumulation phase. If you can HOLD coins for months or years, then this is right strategy to buy and exchange tokens for maximum gains. Never rush in buying & always invest money you don't need.
This is not a financial advice & is for education purpose only.
Posted Using LeoFinance Beta
---
---