Have You Played Tricky Towers?
If you follow my Have You Played series of articles, you probably realized by now that I mostly do two kinds of topics. Games that I think are absolutely fabulous and that you totally should get and games that failed miserably and that you won't ever be able to play because they already shut down. Incidentally, 98% of all games that I've ever played are in between these two extremes, so I thought it would be fun to also look at some of these other games. Games that are somewhat fun and entertaining, but that never made it to the top, often times only providing entertainment for a weekend or are only great with friends. The game I want to take a look at today certainly falls into the second category. Have You Played Tricky Towers?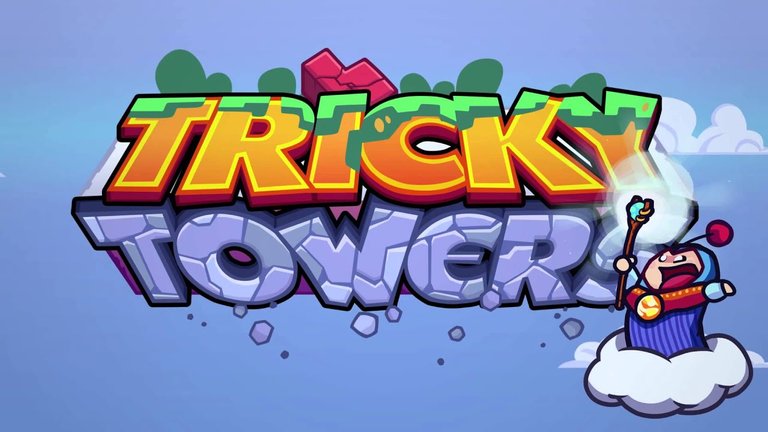 All images taken from Steam
Every few months, I get together with some of my old friends, everybody bringing their PC and then we just play for the whole weekend. One of the games that often gets played during these days is Tricky Towers and while it's a game we usually only play a round or two, it's always a lot of fun and one of these games that just don't seem to get old. So what exactly is Tricky Towers? Well basically, it's Tetris only that you are building an actual tower complete with a physics engine and instead of trying to remove as many rows as possible you now try to climb as high as possible. Thanks to the physics engine, you'll have to make sure that your tower is built as tight as possible or it will eventually collapse, taking half of what you built so far with it.
While the game offers several single player options, it's a lot more entertaining to play it with your friends, especially so if they are sitting within shouting range. There's nothing like somehow getting your tower to the finish line by just stacking these last bricks on top of each other and your tower miraculously standing still for the full 3 seconds it needs to survive before you win the game.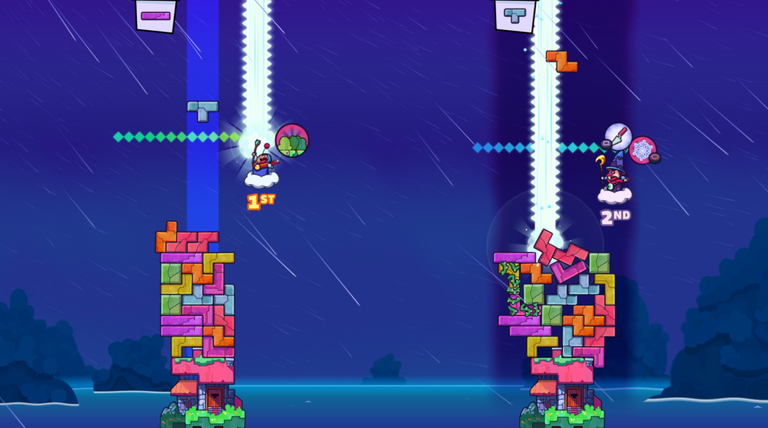 The game is pretty fast paced and offers three different game modes each with three different difficulty levels.
In Race it's all about getting to the top the fastest. The higher the difficulty the further you have to build before winning the round. On the higher difficulty it's a lot about slowly growing a solid tower that can survive at big heights while at the lower difficulty it's mostly about getting to the top as fast as possible before your tower inevitably collapses.
In Survival it's a mix of using up all your blocks as fast as possible but without your tower ever crumbling. Each player starts the game with 3 lives and whenever a stone falls to the ground, you loose one. If all but one player runs out of lives the surviving player wins. But if one player manages to place all his stones first, he wins. So it's always a mixture of watching how your friends are doing and trying to not loose a live for as long as possible.
In Puzzle finally, you are given a somewhat odd starting area to build your tower around. This game mode fully revolves around placing as many blocks as possible before crossing a given line. Whenever you let a stone fall down, though, the line will come down a bit so you have to carefully balance the rocks against each other to get as many in as possible.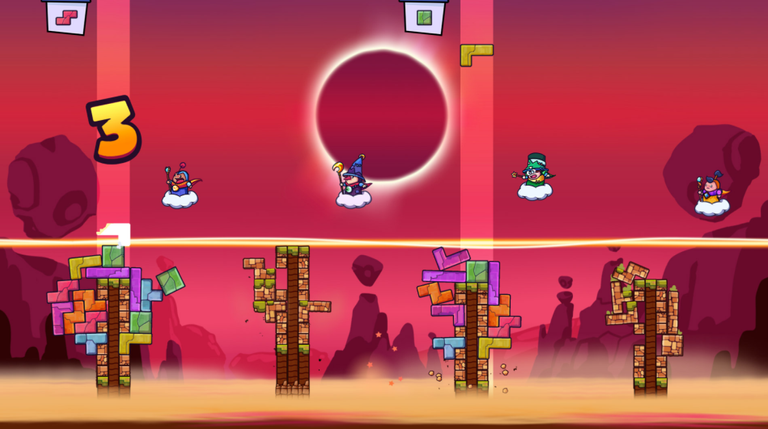 There are also a lot of different items in the game that allow you to either gain a benefit for yourself or to disrupt what your opponents are doing. Change their blocks to ice which naturally has zero grip and makes it a lot harder to build anything on top of it. Prevent them from flipping stones for a while or spawn a new platform for yourself. These items are what really make the game so fun and we've been screaming at each other a lot over some overly abusive use of these tricks.
You can either choose to play any given game mode at any given difficulty or you can just opt in to play a full fledged tournament. In that format, the winner will gain 3 points, place 2 will get 2 points and place 3 will get one point. The first player to reach a certain amount of points wins the tournament and up until then, each new round is of a random play mode and random difficulty. Getting through a whole tournament with 4 players usually takes us about 30 minutes, making Tricky Towers the perfect game to play in between larger, more time consuming games. A lot of the time the conversation goes back and forth between different options available and when we can't seem to decide what to play next, we usually just end up playing Tricky Towers instead.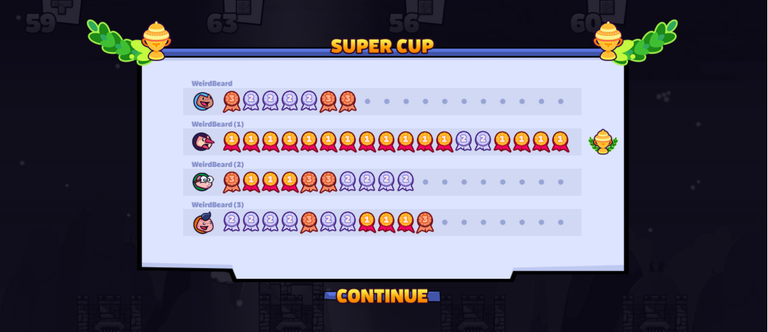 During our gaming weekends, we usually fire up the game once or twice each day, play through a tournament or two and get back to playing something else. The maximum number of players is four and that certainly is the sweet spot. For each additional player, more items will be used throughout the game, making things less predictable and more chaotic. What I like the most about Tricky Towers is how it takes a proven concept and takes it to the next level, creating a really entertaining new game in the process. Nevertheless, it's no game that I would play for hours upon hours. So far, I'm sitting at close to 20 hours of game time and every few months, one or two hours are added to that. At 14.99€ or something around 18$, though, I feel like it's a fair asking price for great entertainment in small doses. The game has a 90% positive rating on Steam and I feel like that's pretty spot on. It's not the best or most complex game in the world, but it's perfect at what it is. A fun and engaging multiplayer game that will make you scream at your friends more often than you are willing to admit!
And that's all from me for today. Thank you all for reading and see you next time!
---
---