(DE/EN) Ein kleiner Fisch entwickelt sich - Hive Power Up Day August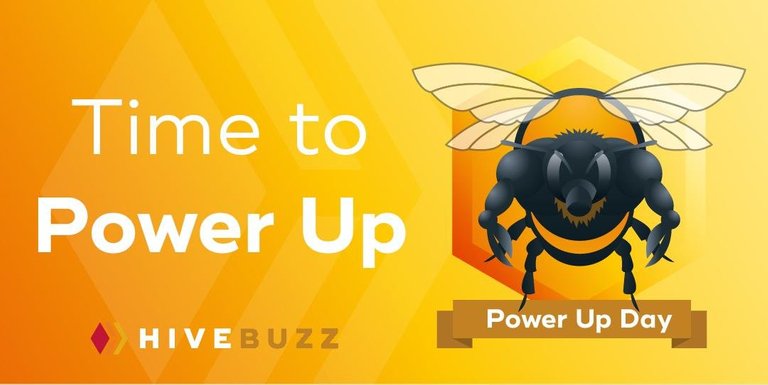 Intro
In meinem Artikel zum HPUD April habe ich mir das Ziel gesetzt bis Ende des Jahres 1.000 HP zu sammeln.
Aufgrund des gesunkenen Hive Prices habe ich mir darüber hinaus das Ziel gesetzt Ende 2022 HP im Wert von mindestens 700 $ zu besitzen.
Heute ist es an der Zeit zu schauen, wo ich Anfang August stehe, ob das Ziel noch sinnvoll ist und was nun zu tun ist.
Meine spielerischen / finanziellen Erlebnisse werde ich in meinem monatlichen Portfolio Update verarbeiten.
Darum werde ich mich hier eher kurz halten.
Hive Entwicklung im Juli
Der Hivepreis im Juli war etwas stabiler als im Vormonat.
Trotzdem gab es die ein oder andere Gelegenheit günstig an Hive zu kommen. Ich habe im Juli für 100 € Hive bei etwa 0,45 $ gekauft.
Gegen Ende des Monats hat sich der Hive Preis oberhalb von 0,5 $ etabliert und beendet den Monat laut coinmarketcap.com bei 0,53 $.
Der Peak am Ende des Screenshots it der Pump der heute stattgefunden hat. Mal schauen, wie nachhaltig dieser sein wird. Für alle Berechnungen dieses Posts halte ich mich lieber an die 0,53 Cent.
Intro
In my HPUD April article, I set a goal to collect 1,000 HP by the end of the year.


Due to the drop in Hive Price, I also set a goal to have at least $700 worth of HP by the end of 2022.
Today it's time to look at where I am at the beginning of July, whether the goal still makes sense, and what to do now.
I will process my gambling / financial experiences in my monthly portfolio update.


That's why I'll keep it rather short here.
Hive development in July
The hive price in July was a bit more stable than in the previous month.
Nevertheless, there were one or two opportunities to get Hive cheaply. I bought €100 worth of Hive in July at around $0.45.
Towards the end of the month, the Hive price established itself above $0.5, ending the month at $0.53 according to coinmarketcap.com.
The peak at the end of the screenshot it the pump that took place today. Let's see how sustainable this one will be. For all calculations of this post, I prefer to stick to the 0.53 cents.
---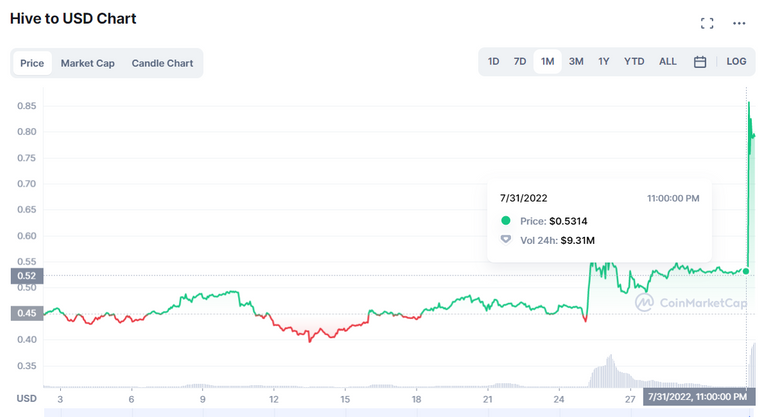 ---
HP Entwicklung Juli
Durch mein Power Up am 1. Juli hatte ich Anfang des Monats 700 HP.
Für August kalkuliere ich nun mit einem leicht höheren Hive Preis von 0,53 $ und somit einem Ziel von mindestens 1.321 HP zum Jahresende.
Nach 7 von 12 Monaten sollte ich also 771 HP im Account haben.
Stand 01.08.22 vor dem Power Up
Ich habe am 01.08. vor meinem Hive Power Up 851,5 HP.
Somit habe ich im Juli 151,5 HP auf PeakD erschrieben bzw. kuratiert oder gestaked.
Da ich aufgrund von Problemen mit der neuen Actifit App aufgehört habe tägliche Actifit Posts zu machen, habe ich an sieben Tagen ein Power Up von jeweils 2 Hive durchgeführt, um trotzdem meinen HPUM für July zu erhalten.
Damit habe ich also während des Monats 14 Hive gestaked und 137,5 HP durch PeakD erhalten.
Besonders bedanken möchte ich mich an dieser Stelle bei @solarwarrior, für seine regelmäßigen Upvotes im July, die mich deutlich voran gebracht haben.
Ein weiterer Dank gilt der @hiq.redaktion, sowie @starthilfe und allen, die mich hier regelmäßig mit größeren, aber auch kleineren Upvotes unterstützen.
Ihr seid Klasse!
Aufgrund dieses erneut guten Ergebnisses liege ich nun Ende July deutlich vor meinem Ziel und kann mir eventuell einen etwas ruhigeren August mit Urlaub genehmigen.
HP Development July
Due to my power up on July 1, I had 700 HP at the beginning of the month.
For August I now calculate with a slightly higher hive price of 0.53 $ and thus a goal of at least 1,321 HP at the end of the year.
So after 7 of 12 months I should have 771 HP in the account.
Status 01.08.22 before Power Up
I have 851.5 HP on 08/01 before my Hive Power Up.
So I have written respectively curated or staked 151.5 HP in July.
Since I stopped doing daily Actifit posts due to issues with the new Actifit app, I did a Power Up of 2 Hive each on seven days to still get my HPUM for July.
I staked 14 Hive during the month and received 137.5 HP through PeakD.
I would especially like to thank @solarwarrior, for his regular upvotes in July, which helped me advance significantly.
Another thanks goes to the @hiq.redaktion, as well as @starthilfe and all who support me here regularly with larger, but also smaller upvotes.
You are great!
Due to this again good result I am now at the end of July well ahead of my goal and can possibly allow myself a somewhat quieter August with vacation.
---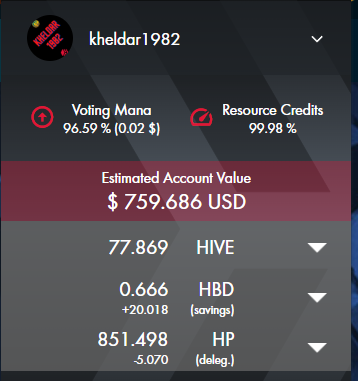 ---
Mein Power Up im August
Auch wenn ich vor meinem Ziel liege, will ich trotzdem einen Power Up im August machen.
Um etwas Puffer für den Urlaub zu haben, runde ich meine HP auf 875 auf.
Das bedeutet ein Power Up in Höhe von 23,502 Hive.
My Power Up in August
Even though I'm ahead of my goal, I still want to do a Power Up in August.
To have some buffer for the vacation, I round up my HP to 875.
That means a Power Up in the amount of 23,502 Hive.
---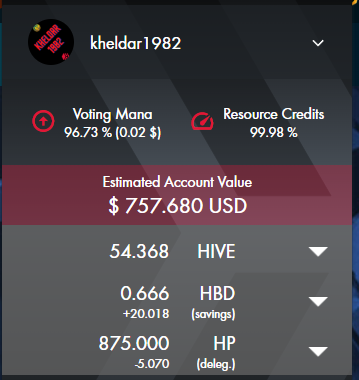 ---
Spendenaktionen
Letztes Wochenende habe ich zum ersten Mal einen Spendenaufruf über Hive gestartet, der mit einer eigenen Spende hinterlegt war.
Auch hier nochmal vielen Dank, an alle die mitgemacht haben. Die Spende geht diese Woche noch an die Keller Ranch. Ein Post dazu wird folgen.
Ich denke, das werde ich nun fortsetzen und regelmäßig für die ein oder andere Organisation Spendenposts aufsetzen, um Gelder aber auch Sichtbarkeit für diese Organisationen zu erzeugen.
Fundraisers
Last weekend, for the first time, I started a fundraiser on Hive that was backed by a donation of my own.
Again, thank you to all who participated. The donation goes this week to the Keller Ranch. A post about it will follow.
I think I will continue this now and regularly set up donation posts for one or the other organization to generate funds but also visibility for these organizations.
---
---