(DE/EN) Legendary Raptors brawling in Tier 2 - Step by step to the Top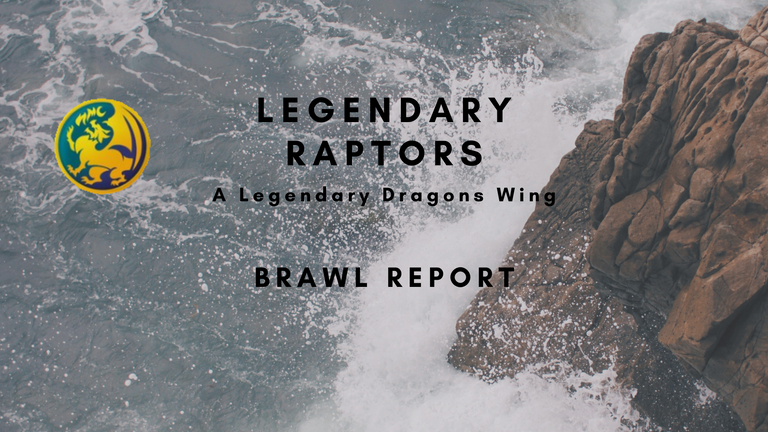 Angekommen im Tier 2
Nach einem eher rauen Start im Tier 2 haben wir Raptors uns nun etabliert.
Der Trend geht in Richtung 2. bis 3. Platz je nach Gegnern.
In letzter Zeit war zwar auch wieder mal der 5. dabei, aber jeder kann mal einen schlechten Tag haben.
Es ist auf jeden Fall eine positive Entwicklung zu sehen.
Arrived in Tier 2
After a rather rough start in Tier 2, we Raptors have now established ourselves.
The trend is towards 2nd to 3rd place depending on the opponents.
Lately there was also 5th again, but everyone can have a bad day.
In any case, a positive development can be seen.

Stück für Stück nach oben
Unser Gildenaufbau läuft aber sogar noch weiter. Um bereit zu sein, die SPS Rewards, die es bald in den Brawls geben soll, voll mitzunehmen, bauen wir als nächstes unsere Arena aus und können dann an Tier 3 Brawls teilnehmen.
Warum Tier3 wenn wir noch nicht regelmäßig Tier 2 gewinnen?
Es gibt nicht viele Gilden, die bereits im Tier 3 unterwegs sind. Es kann also gut sein, dass die Konkurrenz im Tier 3 sogar geringer ist.
Darüber hinaus gibt es deutlich mehr Rewards (Tier 2 = x3 / Tier 3 = x4), so dass ein niedrigerer Platz nicht gleichbedeutend mit weniger Rewards ist.
Wir werden es auf jeden Fall ausprobieren.
Unser letzter Brawl
Beim letzten Brawl haben wir es auf Plartz 3 geschafft und dafür auch eine schöne Anzahl Merits und Crowns erhalten.
Piece by piece upwards
Our guild build is going even further though. In order to be ready to take full advantage of the SPS Rewards that will soon be available in Brawls, we are next building out our Arena so we can participate in Tier 3 Brawls.
Why Tier3 if we are not yet winning Tier 2 on a regular basis?
There are not many guilds that are already in Tier 3. So it may well be that there is even less competition in Tier 3.
In addition, there are significantly more rewards, so a lower rank does not equate to fewer rewards.
We will definitely try it out.


Our last Brawl
In our last brawl we made it to rank 3 and got a nice number of merits and crowns for it.
---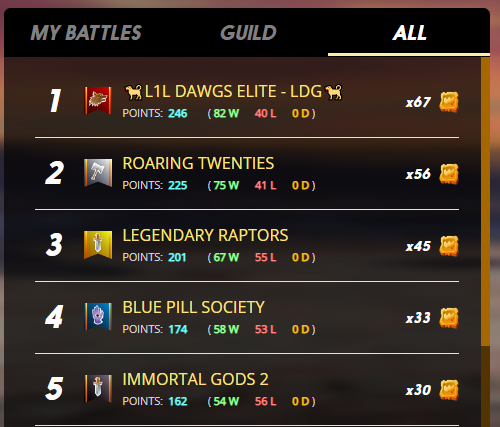 Meine 9 Spiele
Nach einem kurzen Ausflug in den Silber CL only Fray spiele ich nun wieder wie gewohnt Fray 5 (Bronze CL only).
Das ist zwar etwas langweilig, da viele Fähigkeiten auf Bronze einfach nicht verfügbar, und die Battle Conditions teilweise ätzend sind, aber es ist auch eine Herausforderung, wenn man sonst in Gold unterwegs ist.
Ich würde gerne in Zukunft den Silber Fray spielen, aber am Ende bin ich dort, wo die Gilde mich braucht.
Mit 6 Siegen und 3 Niederlagen ist der Brawl auch aus meiner Sicht gut gelaufen. Auch wenn die ein oder andere Niederlage vermeidbar gewesen wäre.
Lasst uns also in die einzelnen Matches reinschauen:
My 9 games
After a brief foray into Silver CL only Fray, I'm now back to playing Fray 5 (Bronze CL only) as usual.
It's a bit boring though, as many abilities just aren't available on Bronze, and the Battle Conditions suck in places, but it's also challenging when you're otherwise in Gold.
I'd love to play Silver Fray in the future, but in the end I'm where the guild needs me to be.
With 6 wins and 3 losses, the Brawl went well from my perspective as well. Even if the one or other defeat could have been avoided.
So let's take a look at the individual matches:

Match 1 Niederlage / Loss
https://splinterlands.com/?p=battle&id=sm_pO8fXHGAJVsmLQYWvRnZ
29 Mana - Noxious Fumes & Even Stevens - Water / Earth / Dragon
---
Mein Gegner setzt auf Obsidian und da wir Quora gesperrt haben, auf Tatiana. Bis Runde 3 sieht alles gut aus. Dann verfehlt mein Deeplurker leider Tatiana und fällt ihr und dem Gift zum Opfer.
Das hätte mit etwas Glück auch anders ausgehen können.
My opponent bets on Obsidian and since we have Quora locked, on Tatiana. Everything looks good until turn 3. Then, unfortunately, my Deeplurker misses Tatiana and falls victim to her and the poison.
With a little luck, that could have turned out differently.

Match 2 Sieg / Win
https://splinterlands.com?p=battle&id=sm_axsswAcbUxJWiYG4C3or&ref=kheldar1982
36 Mana - Armored Up & Equalizer - Fire / Life / Death / Dragon
---
Aufgrund von armored up rechne ich mit Magieangriffen und darauf, dass mein Gegner sich eventuell dagegen schützt.
Also wähle ich als Tank Legionniare Alvar und Sloan als Summoner.
Katie ist mein Gladiator und dahinter den Arbalest und Prismologist für den Schaden.
Mein Gegner rechnet wohl leider damit und wählt selbst Quix, was meine Fernkämpfer etwas behindert.
Durch die höhere Geschwindigkeit kann die gegnerische Katie meine ausschalten und ich verfehle meinen Gegner leider recht häufig.
Dennoch setzt sich am Ende mein Team, welches konstant aus fast allen Positionen feuern konnte durch. Blast war hier ein echter Matchwinner.
Due to armored up I expect magic attacks and that my opponent might protect himself against them.
So I choose Legionniare Alvar as tank and Sloan as summoner.
Katie is my Gladiator and behind her the Arbalest and Prismologist for damage.
Unfortunately, my opponent probably expects this and chooses Quix himself, which hampers my ranged fighters a bit.
Due to the higher speed, the opponent's Katie can take out mine and I unfortunately miss my opponent quite often.
Still, in the end my team, which was able to fire consistently from almost all positions, prevails. Blast was a real match winner here.
Translated with www.DeepL.com/Translator (free version)

Match 3 Niederlage/ Loss
https://splinterlands.com?p=battle&id=sm_9eDaO4GteY8PAKcPzkwP&ref=kheldar1982
13 Mana - Earthquake & Broken Arrows - Fire / Water
---
Die Idee war simple. Der Sethropod, hält den Gegner ein wenig auf, während der Lurker den Schaden reinhaut.
Leider hat mein Gegner die bessere Idee und Bloodlust hat hier am Ende das Spiel entschieden.
The idea was simple. The Sethropod, stops the opponent a little bit, while the Lurker hits the damage in.
Unfortunately, my opponent had the better idea and Bloodlust decided the game in the end.

Match 4 Sieg / Win
https://splinterlands.com/?p=battle&id=sm_e2gZe9Voidx0nFwynkRT
23 Mana - Armored Up - Fire / Earth / Life
---
Armored Up mit middle Mana ist ein gutes Setup für Obsidian mit einigen Magiern (Queen Mycilia) und Hill Giant und Fungus Fiend als Blocker.
Mein Gegner wählt ebenfalls Obsidian setzt aber nur den Goblin Psychic und ansonsten hauptsächlich Nahkämpfer ein, die darüber hinaus den Schaden auch noch streuen (Sneak und Opportunity).
Somit hatte mein Lineup, welches einen Gegner nach dem anderem auf Position 1 eliminiert, klar von Anfang bis Ende die Oberhand.
Armored Up with middle mana is a good setup for Obsidian with some mages (Queen Mycilia) and Hill Giant and Fungus Fiend as blockers.
My opponent also chooses Obsidian but only uses the Goblin Psychic and otherwise mainly melee fighters that also spread the damage (Sneak and Opportunity).
So my lineup, which eliminates one opponent after another at position 1, clearly had the upper hand from start to finish.

Match 5 Sieg / Win
https://splinterlands.com?p=battle&id=sm_FbE4WVGquHIKvh8zdd7V&ref=kheldar1982
23 Mana - Target Practice & Spreading Fury - Fire / Earth / Life / Death / Dragon
---
Bei 23 Mana setze ich gerne auf Obsidian. Bei Target Practice habe ich aber die Sorge, dass meine Magier an Pos 2-x zu schnell erledigt sind und der Mycelic Slipspawn ist für 23 Mana zu teuer.
Die Idee ist also auf Tarsa und Grum als Tank zu setzen, unterstützt von ein Tenyii und Orella als Sneaker. Zum fangen eines Opportunity oder Magieangriffs gibt es den Chaos Agent.
Orella ist immer ein kleines Risiko, ob er Gegner ausschalten kann, bevor er selbst zu stark getroffen wird.
Hier ist es gut gegangen. Am Ende sogar sehr gut. Da der gegnerische Acid Shooter direct meine Orella trifft, und ihn verwundet, hat dieser von Anfang an einen Schadens und Geschwindigkeitsvorteil.
Grum fängt den Magieschaden und mein Fiend den Opportunityschaden gut ab.
Wenig Chancen für meinen Gegner, der ebenfalls seinen Schaden zu stark gestreut hat.
At 23 mana, I like to go with Obsidian. But with Target Practice I'm worried that my mages at pos 2-x are done too fast and the Mycelic Slipspawn is too expensive for 23 mana.
So the idea is to rely on Tarsa and Grum as a tank, supported by a Tenyii and Orella as sneakers. To catch an Opportunity or Magic attack there is the Chaos Agent.
Orella is always a bit of a risk to see if he can take out opponents before he gets hit too hard himself.
Here it went well. In the end, even very well. Since the enemy Acid Shooter directly hits my Orella, wounding him, the latter has a damage and speed advantage from the start.
Grum absorbs the magic damage and my Fiend absorbs the opportunity damage well.
Little chance for my opponent, who has also spread his damage too much.

Match 6 Sieg / Win
https://splinterlands.com?p=battle&id=sm_6jVKQyq3wMglNSGXwObj&ref=kheldar1982
52 Mana - Silenced Summoners und Noxious Fumes - Water / Death
---
Mein Gegner und ich setzen beide auf Kelya und Relenor.
Generell haben wir ein sehr ähnliches Setup uns unterscheidet nur der Tank (Diemon Shark gegenüber Legionnaire Alvar) sowie meine River Nymph (Cleanse) gegenüber River Hellondale, den ich auf Bronze und erstrecht bei Noxious Fumes nicht gerne spiele.
Ein so ähnliches Setup bedingt ein enges Ergebnis. Am Ende habe ich zwei Monster mit jeweils einem Lebenspunkt übrig.
Dazwischen sah es einige Male aus, als würde ich verlieren. Allerdings nie für lange.
My opponent and I both rely on Kelya and Relenor.
In general, we have a very similar setup, the only difference being the tank (Diemon Shark versus Legionnaire Alvar) and my River Nymph (Cleanse) versus River Hellondale, which I don't like to play on Bronze, especially with Noxious Fumes.
Such a similar setup necessitates a close result. In the end, I have two monsters left with one life point each.
In between, it looked like I was going to lose a few times. Never for long, though.

Match 7 Sieg / Win
https://splinterlands.com?p=battle&id=sm_9qLyfpvq8tcgXzg9uqyg&ref=kheldar1982
54 Mana - Equal Opportunity & Melee Mayhem - Water / Life
---
Ich wähle ein ähnliches Setup wie die Runde zuvor. Nur diesmal tausche ich die River Nymph gegen einen Legionaire Alvar, den ich aufgrund Opportunity an Position 2 stelle.
Ich stelle Relenor bewusst an Position 3, damit er Opportnuity nutzt und nicht Range, wobei ich mir nicht sicher bin, ob er das nicht auch an Position 2 getan hätte. Ich wollte aber auch Nummer sicher gehen.
Mein Gegner hat ein ähnliches Setup setzt aber statt auf Diemon Shark auf den Disintigrator.
Gerade zu Anfang hemmt dessen Demorolize Fähigkeit mein Team und ich mache weniger Schaden. Gerade dadurch kommt es aber dazu, das die ersten Kill beide auf Relenor entfallen.
Somit ist dieser gestärkt und kann gut austeilen.
Ganz zum Schluss steht nur noch meine Nerissa komplett unberührt auf dem Feld.
Zu diesem Sieg gehörte in der Tat auch ein wenig Glück.
I choose a similar setup as the round before. Only this time I swap the River Nymph for a Legionaire Alvar, which I put in position 2 due to Opportunity.
I deliberately put Relenor at position 3 so that he uses Opportnuity and not Range, although I'm not sure he wouldn't have done that at position 2. But I also wanted to play it safe.
My opponent has a similar setup, but instead of Diemon Shark he uses Disintigrator.
Especially in the beginning the Disintigrator's Demorolize ability hinders my team and I do less damage. But because of this, the first kills are both on Relenor.
So he is strengthened and can deal out well.
At the very end, only my Nerissa is left completely untouched on the field.
Indeed, a little luck was also part of this victory.

Match 8 Sieg / Win
https://splinterlands.com?p=battle&id=sm_LrbRZ6SerWRECP2s5oPD&ref=kheldar1982
52 Mana - Earthquake - Fire / Water / Earth / Life / Death / Dragon
---
Kelya zum 3. Erneut setze ich auf das bisher erfolgreiche Team und tausche nur den Legionaire Alvar durch den Chaos Mage.
Mein Gegner macht den Fehler die Schadenstypen wieder zu stark zu mischen. Darüber hinaus hat Kelya aufgrund der Rüstung und der Monster mit höheren Lebenspunkten bei Noxious Fumes oder Earthquake oftmals die Nase vorn gegenüber Obsidian.
Zumindest gilt das für CL only.
Kelya for the 3rd time. Once again I rely on the so far successful team and only replace the Legionaire Alvar with the Chaos Mage.
My opponent makes the mistake of mixing the damage types too much again. In addition, Kelya often has the edge over Obsidian because of the armor and the higher health monsters on Noxious Fumes or Earthquake.
At least that is true for CL only.

Match 9 Niederlage / Loss
https://splinterlands.com/?p=battle&id=sm_0Fi1bFzIq61K2E29dS3g
14 Mana - Equal Opportunity & Reverse Speed - Fire / Water / Earth / Life / Death
---
Die einzige Niederlage in diesem Brawl über die ich mich wirklich ärgere.
Nicht weil ich ähnlich verloren habe wie in Spiel 3. Ich habe das Ruleset komplett ignoriert.
Warum nehme ich bei Equal Opportunity einen Opportnunity Gladiator?
Warum nehme ich schnelle Monster und einen Summoner der die Geschwindigkeit erhöht.?
Mein Gegner hat ein sehr einfaches Setup gewählt und vollkommen zurecht gewonnen.
Das war vermeidbar.
The only defeat in this Brawl that I am really angry about.
Not because I lost similarly to game 3, but because I completely ignored the ruleset.
Why am I taking an Opportunity Gladiator in Equal Opportunity?
Why do I take fast monsters and a summoner that increases speed?
My opponent chose a very simple setup and won completely rightly.
That was avoidable.

Preise
Für diesen Brawl erhielten die Raptors 45 Kronen und jeder einzelne von uns 2250 Merits.
Seit dem letzten Bericht, habe ich diverse Gladius Packs geöffnet. Dieses hier hatte keinen besonderen Inhalt.
Ich bin aber in der Zwischenzeit stolzer Besitzer meiner ersten legendären Gladiatorenkarte, die ich gerne mit Euch teile.
Prizes
For this Brawl, the Raptors received 45 Crowns and each of us received 2250 Merits.
Since the last report, I have opened several Gladius Packs. This one had no special content.
However, in the meantime I am the proud owner of my first legendary gladiator card, which I am happy to share with you.
---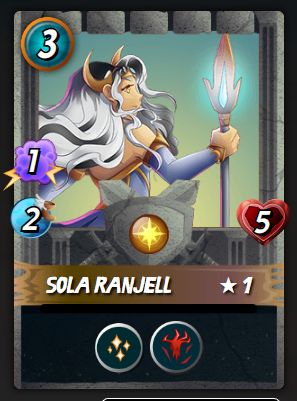 Du spielst noch kein Splinterlands?
Dann probiere es kostenlos aus mit diesem Link:


https://splinterlands.com?ref=kheldar1982
Wenn Du Spaß am Spiel haben solltest und dich entschließt, das Zauberbuch für 10 $ zu kaufen, bekomme ich von Splinterlands einen kleinen Betrag als Belohnung. Nimm Kontakt mit mir auf und ich werde Dich bei Deinen ersten Schritten in Splinterlands mit 500 DEC und ein paar delegierten Karten unterstützen.
You are not a Splinterlands player yet?
Than give it a try by signing up to this game for free using this link:

https://splinterlands.com?ref=kheldar1982
If you have fun playing the game, and decide to buy the spell book for 10 $ I will get a small cash back from Splinterlands. Get in touch with me and I will support you in your first steps in Splinterlands with 500 DEC and by delegating few cards.
---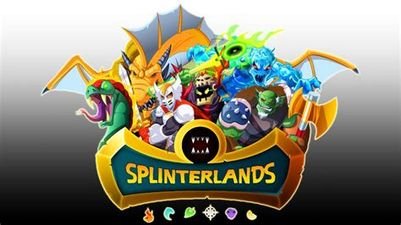 ---
---