(DE/EN) Season 82 review - Staying alive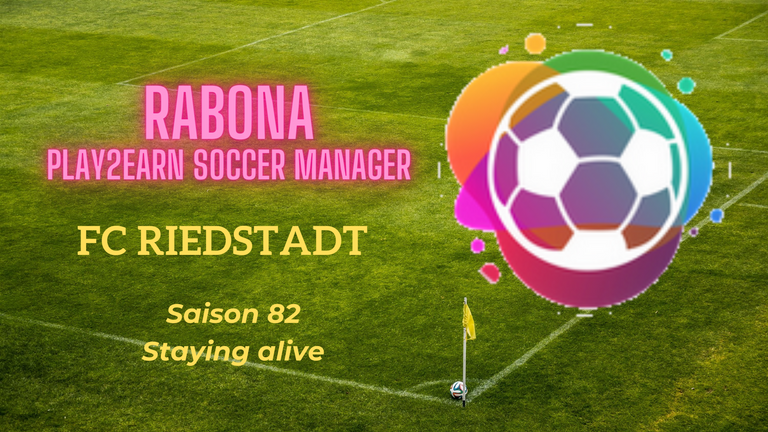 Intro
Staying alive war das Motto von Saison 82.
Ziel war es nur irgendwie in Liga 1 zu bleiben und nicht direkt wieder abzusteigen.
Kleiner Spoiler - ich habe es geschafft und mehr...
Intro
Staying alive was the motto of season 82.
The goal was to somehow stay in league 1 and not to get relegated again.
Small spoiler - I made it and more...

Sportliche Leistungen
Nachdem ich in Saison 80 in Spiel 14 meinen ersten Sieg holen konnte, war ich diesmal auf das schlimmste gefasst.
Es lief aber überraschend gut. Ich schaffte es regelmäßig zu punkten. Gegen Teams wie "FC Krumfuss 21" oder "OaJookKroo", die später die Meisterschaft holten, habe ich verloren. Dafür gewann ich gegen viele, die mich in Saison 80 noch geschlagen haben.
Am Ende der Saison stehen 48 Punkte und ein 7. Platz. Das ist deutlich besser als das Saisonziel.
Geholfen hat natürlich, dass zwei Teams über nicht genügend Spieler verfügten.
Ich hatte aber auch den Eindruck, dass gegenüber Saison 80 meine Gegner berechenbarer waren. Mit 3-5-2 und 4-4-2 konnte ich gut Punkten.
Bei einigen Gegner war die sicherere Variante 4-5-1 angebracht. Das führte aber eher nur zu Unentschieden oder Niederlagen.
Wenn Saison 83 so läuft bin ich mehr als zufrieden.
Sporting achievements
After getting my first win in Game 14 in Season 80, I was prepared for the worst this time.
But it went surprisingly well. I managed to score regularly. I lost against teams like "FC Krumfuss 21" or "OaJookKroo", who later won the championship. Instead, I won against many teams who still beat me in season 80.
At the end of the season I have 48 points and a 7th place. That's much better than the goal for the season.
Of course, it helped that two teams didn't have enough players.
But I also had the impression that my opponents were more predictable than in Season 80. I was able to score well with 3-5-2 and 4-4-2.
With some opponents the safer variant 4-5-1 was appropriate. But that only led to draws or defeats.
If season 83 goes like this, I'm more than satisfied.
---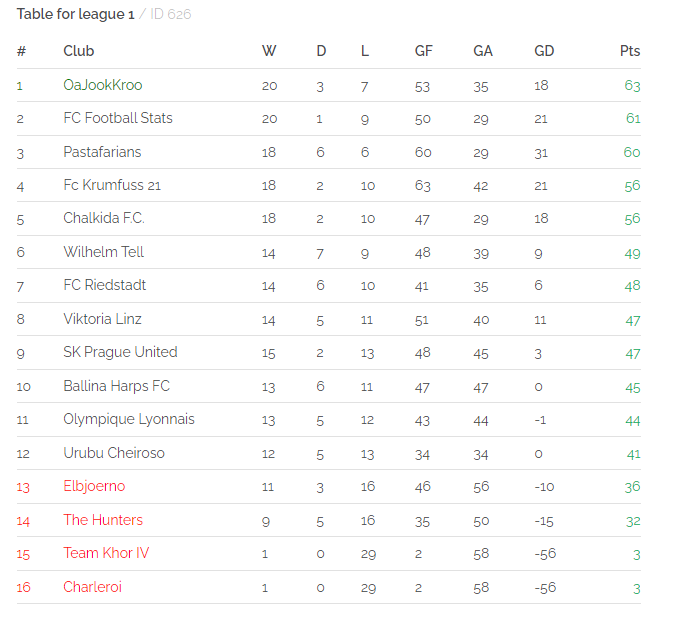 Teamentwicklung
In Saison 81 wurden aufgrund eines Bugs wieder einige Spieler gegen meinen Willen verlängert.
Saison 82 standen diverse Verteidiger und Mittelfeldspieler sowie mein zweiter Towart zur Verlängerung an.
Ich habe nur drei neue Spieler verpflichtet und meinen Kader so verkleinert.
Neu hinzu kamen "Dennis Brandstatter" und "Haru Kato" in der Verteidigung. Sie ersetzten "Ross Buckley" und "Arseni Maximov".
Arseni war mein bester Verteidiger und ich hätte ihn gerne gehalten, aber seine Gehaltsvorstellungen waren jenseits von gut und böse.
Im Mittelfeld verstärkt "Ignacy Jarosz" unsere Reihen. Nach dem Weggang von Juice Guzman, wird er im defensiven Mittelfeld agieren und hoffentlich unseren Spielaufbau stärken.
Trainiert wurde Endurance, 3-5-2 sowie 4-2-3-1.
Team development
In season 81, due to a bug, again some players were extended against my will.
In season 82, several defenders and midfielders as well as my second towart were up for renewal.
I signed only three new players and thus reduced my squad.
New additions were "Dennis Brandstatter" and "Haru Kato" in defense. They replaced "Ross Buckley" and "Arseni Maximov."
Arseni was my best defender and I would have liked to keep him, but his salary demands were off the charts.
In midfield, "Ignacy Jarosz" strengthens our ranks. After the departure of Juice Guzman, he will operate in the defensive midfield and hopefully strengthen our game structure.
Trained was Endurance, 3-5-2 and 4-2-3-1.
---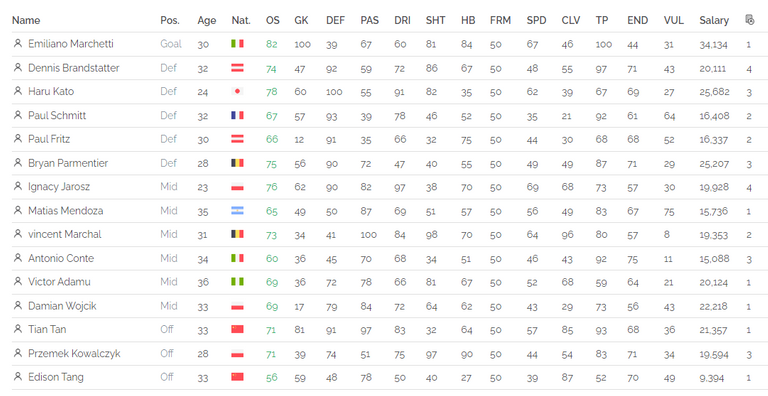 Entwicklung des Stadions
In der Saison 82 habe ich bei 35 RBN Eintritt gegen Ende der Saison 9.000 Zuschauer gehabt.
Meine Einnahmen in den Heimspielen übertreffen in der Zwischenzeit meine Ausgaben.
Bei Auswärtsspielen sieht das natürlich anders aus. Aber es geht gut voran.
Da viele meiner Gegner ihr Trainingscenter ausgebaut, und somit einen Heimspielvorteil haben, habe ich nun ebenfalls begonnen dies zu tun. Vorerst nur auf Level 1, aber ich werde es Stück für Stück in den kommenden Saisons hochziehen.
Der Ausbau des Caterings sollte Anfang Saison 84 abgeschlossen sein. Ich hatte kurz mit den Essenspreisen auf 4 RBN experimentiert, aber da brach der Verkauf komplett zusammen. Ich werde in Saison 83 nun wieder bei 3 RBN beginnen und mich hocharbeiten, damit alle Würstchen und Beer auch weggehen.
Development of the stadium
In season 82, I had 9,000 spectators with 35 RBN admission toward the end of the season.
My income in the home games exceeds my expenses in the meantime.
At away games, of course, it's a different story. But things are going well.
Since many of my opponents have expanded their training center, and thus have a home game advantage, I have now also begun to do so. For now only on level 1, but I will bring it up piece by piece in the coming seasons.
The catering expansion should be completed by early season 84. I had briefly experimented with food prices at 4 RBN, but that's when sales completely collapsed. I will now start again at 3 RBN in season 83 and work my way up so that all the sausages and beer will also go.

Fanentwicklung
Die positive Entwicklung der Fans setzt sich fort.
Ich habe 62.113 Fans hinzugewonnen. Das sind knapp 25 % Zuwachs.
Prozentual schwächt sich das Wachstum damit ab, aber ich bin ja auch in der letzten Saison aufgestiegen. Wenn ich jede Saison um 25 % wachsen sollte, habe ich mein Einnahmenproblem bald gelöst.
Fan development
The positive development of fans continues.
I have gained 62,113 fans. That's an increase of just under 25%.
In percentage terms, growth is slowing down, but I was promoted last season. If I grow by 25% every season, I'll soon have solved my revenue problem.
---


Finanzielles & Hive Reward
Meine Einnahmen sind in Liga 1 sehr stark gestiegen. Von 3,74 MRBN in Saison 81 auf nun 5.88 MRBN in Saison 82. Selbst verglichen mit den bereits starken Einnahmen aus der Liga 1 in Saison 80 von 4.5 MRBN ist das eine tolle Steigerung.
Aufgrund meines aufgeblähten Kaders sind meine Kosten natürlich ebenfalls von 7.8 MRB auf 9.8 MRBN gewachsen.
Mein Verlust reduziert sich dennoch leicht auf wieder 3.96 MRBN.
Auch wenn das Gehalt des ein oder anderen Spielers leicht gestiegen ist, habe ich 2 Spieler weniger unter Vertrag. Das sollte sich positiv auf die Gehälter nächste Saison auswirken.
Darüber hinaus erhalte ich in Saison 83 einen besseren Sponsorenvertrag, der mir statt 0,4 nun 1,6 MRBN pro Saison einbringen wird.
Das reicht noch lange nicht, um die Lücke zu schließen, aber da auch die Hive-Rewards mit 0.572 Hive nun deutlich höher sind, passt das aus meiner Sicht.
Financial & Hive Reward
My income has increased very strongly in League 1. From 3.74 MRBN in season 81 to now 5.88 MRBN in season 82. Even compared to the already strong income from league 1 in season 80 of 4.5 MRBN, this is a great increase.
Of course, due to my bloated squad, my costs have also grown from 7.8 MRB to 9.8 MRBN.
Nevertheless, my loss is slightly reduced to 3.96 MRBN again.
Even if the salary of one or the other player has increased slightly, I have 2 players less under contract. This should have a positive effect on the salaries next season.
In addition, I get a better sponsorship deal in season 83, which will now bring me 1.6 MRBN per season instead of 0.4.
That's still nowhere near enough to close the gap, but since the hive rewards are now also significantly higher at 0.572 hive, that fits from my perspective.
---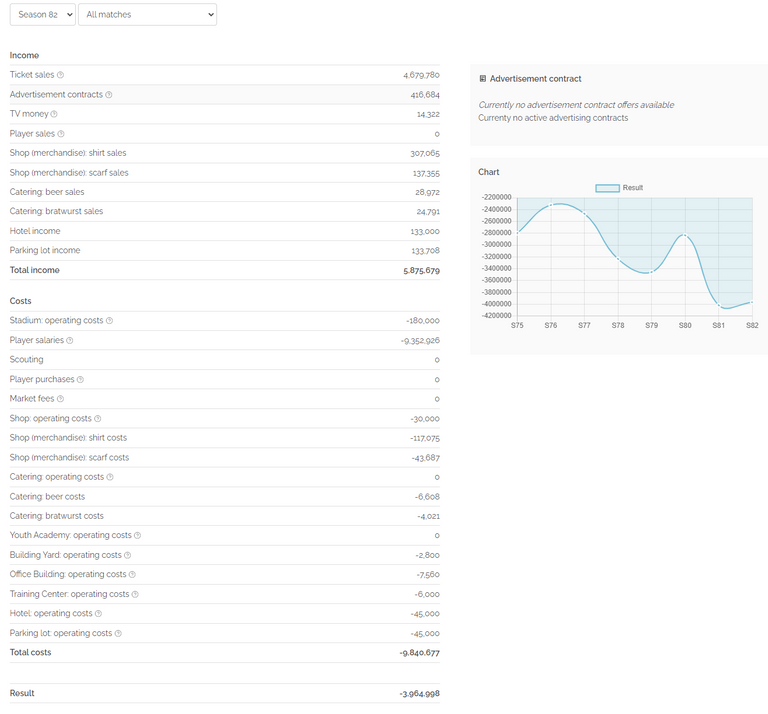 Pläne für Saison 83
Auch in Saison 83 ist das Ziel nicht abzusteigen.
Aufgrund der guten Performance in Saison 82 sehe ich hier aber eigentlich gute Chancen.
Darüber hinaus will ich nun ein paar MRBN über Hive kaufen. RBN waren schon seit einiger Zeit günstig, aber gerade jetzt bekommt man sie komplett nachgeworfen.
Mit dem Geld will ich etwas Puffer für die kommenden Saisons schaffen und den weiteren Ausbau des Stadions finanzieren.
Plans for season 83
The goal in season 83 is also not to be relegated.
Due to the good performance in season 82, I actually see good chances here.
In addition, I now want to buy a few MRBN via Hive. RBNs have been cheap for a while, but right now you get them completely thrown at you.
With the money I want to create some buffer for the coming seasons and finance the further expansion of the stadium.

Outro
Ich hoffe, mein Saisonbericht hat dir gefallen, und du konntest etwas für dein eigenes Rabonateam mitnehmen.
Wie immer freue ich mich über jedes Feedback und Kommentare zum Bericht, oder meinen Plänen. Ich bin noch am lernen und für jeden Kommentar bzw. Tipp dankbar.
Wir lesen uns nächste Woche.
Dein
Kheldar1982
Outro
I hope you enjoyed my season report, and were able to take away something for your own rabonate team.
As always, I welcome any feedback and comments on the report, or my plans. I am still learning and appreciate any comments or hints.


See you next week.
Yours
Kheldar1982

Du willst mehr wissen?
Der beste Weg ist der Rabona Discord Server. Hier erhältst du Antworten auf nahezu alle deine Fragen.
Ansonsten gibt es diverse Strategieartiekl und Erfahrungsberichte zu Rabona auf PeakD unter dem #rabona oder in der Hive Community Rabona Official.
You want to know more?
RThe best way is the Rabona Discord Server. Here you can find answers on all your questions.


Otherwise, there are various strategy articles and reports about Rabona on PeakD under the #rabona or in the Hive Community Rabona Official.

Bereit zum spielen?
Wenn du durch meinen Artikel Lust bekommen hast selbst Rabona zu spielen, dann verwende doch gerne meinen Referall Link: https://rabona.io?ref=kheldar1982
Registrierst du dich über diesen Link erhalten wir beide einige zusätzliche RBN, die wir sicherlich gut gebrauchen können.
Are you ready to play?
If my article made you want to play Rabona yourself, feel free to use my referral link: https://rabona.io?ref=kheldar1982


If you register through this link, we will both get some extra RBN that we can certainly put to good use.
---
---