(DE/EN) Season 86 review - Back to business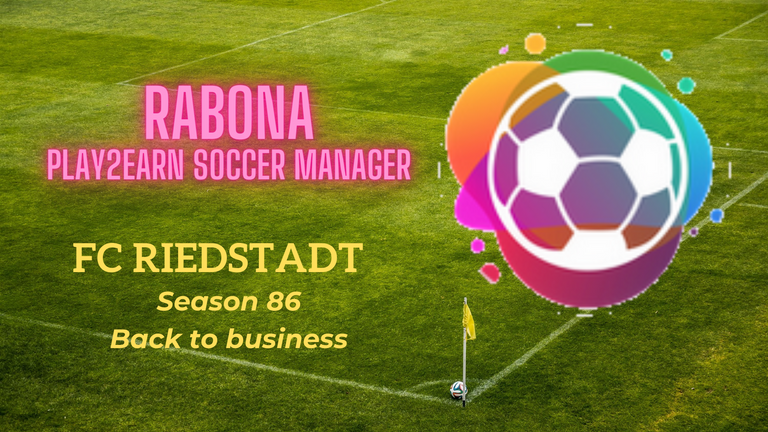 Intro
Endlich wieder in Liga 1 wrden die Spiele interessanter und knapper.
Vorweggenommen - ich bin nicht abgestiegen, sondern habe mich nach einem etwas holprigen Start im Mittelfeld eingefunden.
diese Saison war aber wieder alles dabei. Große Siege, seltsame Niederlagen, neue Spieler und natürlich eine finanzielle Weiterentwicklung.
Intro
Finally back in League 1, the games are getting more interesting and closer.
To anticipate - I didn't get relegated, but after a somewhat bumpy start I found myself in the midfield.
This season, however, everything was there again. Great victories, strange defeats, new players and of course financial development.

Sportliche Leistungen
Alle 16 Teams waren aktiv und die meisten variieren auch ihre Taktiken. Somit gehört auch immer etwas Glück dazu, die richtige Taktik zu wählen.
Man muss immer einmal mehr um die Ecke denken, als der Gegner. Das macht diese Liga so spannend.
In dieser Saison ist mir das ganz gut gelungen. Ich beende Saison 86 mit 41 Punkten auf dem 7. Platz mit 11 Siegen, 8 Unentschieden und 11 Niederlagen.
Spannend aus meiner Sicht, dass ich gerade gegen das Top Team sehr gut abgeschnitten habe (Unentschieden und Sieg) während an dem ein oder anderen irgendwie kein Vorbeikommen war.
Egal am Ende zählt die Platzierung, die Einnahmen, die zusätzlichen Fans und die Weiterentwicklung des Teams.
Sporting achievements
All 16 teams were active and most of them also varied their tactics. So it always takes a bit of luck to choose the right tactics.
You always have to think more around the corner than your opponent. That's what makes this league so exciting.
I've managed to do that quite well this season. I finished season 86 with 41 points in 7th place with 11 wins, 8 draws and 11 losses.
Exciting from my point of view, that I did very well against the top team (draw and win) while the one or the other somehow couldn't be passed.
In the end, it's the ranking, the revenue, the additional fans and the further development of the team that counts.
---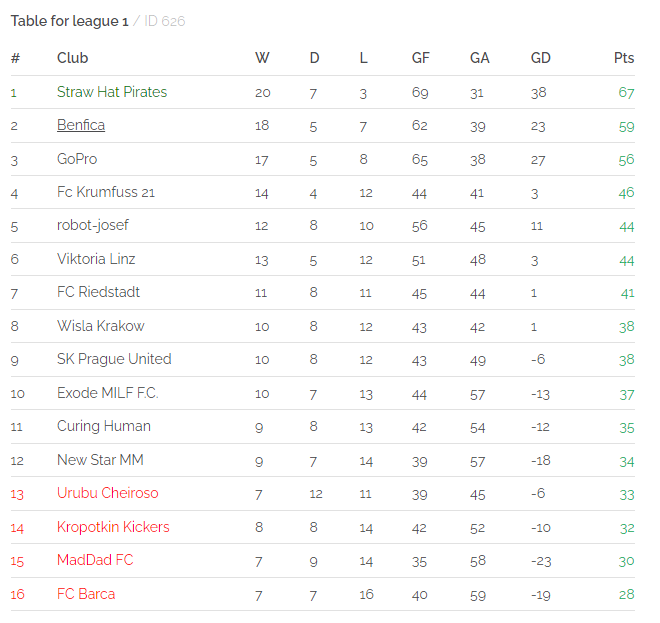 Teamentwicklung
4 Verträge standen zur Verlängerung an, aber nur Jose Campos habe ich verlängert.
Ignacy hätte ich gerne gehalten, aber seine Gehaltsvorstellungen waren einfach zu hoch. Vincent Marchal wollte ich ohnehin nicht verlängern, da er einer der Schwachpunkte in Mittelfeld war.
Die beiden wurden ersetzt durch Gianmarco Riva und Jecson Salazar, die mit ihren hohen Defense Werten das defensive Mittelfeld beleben werden.
Darüber hinaus ist ihr Passspiel und ihr Dribbelfähigkeiten ansehnlich und Jecson bringt einen ordentlichen Schuss mit.
In der Abwehr ersetzt Christian Schwarz - Dennis Branstatter dessen Vertrag aus Altersgründen nicht verlängert wurde.
In der kommenden Saison wird es auf allen Positionen, allen voran dem Tor und dem Sturm neue Optionen geben.
Ich habe es diese Saison geschafft nicht ein Training zu verpassen. Trainiert wurden, 3-5-2, 4-4-2 Speed und Endurance.
Letzteres gerade nach der Neuverpflichtung der Spieler.
Team development
4 contracts were up for renewal, but I only renewed Jose Campos.
I would have liked to keep Ignacy, but his salary expectations were simply too high. I didn't want to extend Vincent Marchal anyway, as he was one of the weak points in midfield.
The two were replaced by Gianmarco Riva and Jecson Salazar, who will liven up the defensive midfield with their high defensive values.
In addition, their passing and dribbling skills are respectable and Jecson brings a decent shot.
In defense, Christian Schwarz replaces - Dennis Branstatter whose contract was not renewed due to age.
In the coming season there will be new options in all positions, especially the goal and the forward.
I have managed this season not to miss a training session. We trained 3-5-2, 4-4-2 Speed and Endurance.
The latter especially after the new signing of players.
---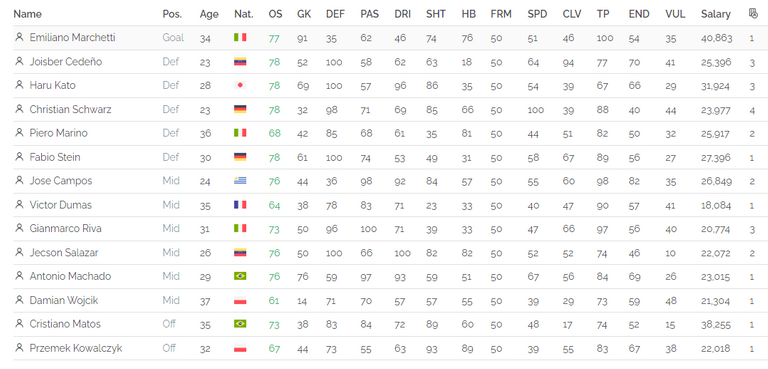 Entwicklung des Stadions
In der Saison 86 habe ich den Eintrittspreis wieder auf 40 RBN erhöht und die komplette Saison über so belassen. Gegen Ende lag ich damit bei ca. 13.500 Zuschauern.
Bei einem Preis von 3.5 RBN für Wurst und Beer verkaufe ich 6.000 Einheiten pro Spiel. Ich baue nun das Catering aus und werde bis dahin die PReise erneut leicht anheben.
Auch mit dem Fanshop mache ich in der Zwischenzeit über 1 MRBN Umsatz im Jahr und einen Gewinn von ca. 0,5 MRBN. Auch hier wurde am Ende der Saison ein Ausbau in Auftrag gegeben.
Development of the stadium
In the 86th season, I raised the admission price again to 40 RBN and kept it that way for the entire season. Towards the end, I had about 13,500 spectators.
With a price of 3.5 RBN for sausage and beer, I sell 6,000 units per game. I am now expanding the catering and will again raise the PReise slightly until then.
In the meantime, I am also making over 1 MRBN in sales per year with the fanshop and a profit of about 0.5 MRBN. Here, too, an expansion was commissioned at the end of the season.

Fanentwicklung
Eine Verdopplung der Fans stand diese Saison nicht auf dem Programm.
Dennoch konnte ich die Anzahl meiner Fans um knapp 31 % auf über 1,1 Million erhöhen.
Fan development
Doubling the number of fans was not on the agenda this season.
Nevertheless, I was able to increase the number of my fans by almost 31% to over 1.1 million.
---


Finanzielles & Hive Reward
Sehr erfreulich ist auch die Entwicklung der Finanzen. Zwar wird immer noch ein Verlust von 1,1 MRBN eingefahren.
Die Einnahmen konnten aber deutlich auf ein Rekordniveau von 11,7 MRBN ausgebaut werden.
Die Kosten wuchsen deutlich langsamer von 11,9 auf 12,8 MRBN an.
Damit ging die Einschätzung den Verlust deutlich zu reduzieren auf.
Die Rewards lagen wieder höher bei nun 0,572 Hive, was einem Gegenwert von ca. 28,5 MRBN entspricht.
Financial & Hive Reward
The development of finances is also very pleasing. Although a loss of 1.1 MRBN is still being incurred.
However, revenues were significantly expanded to a record level of 11.7 MRBN.
Costs grew at a much slower pace from 11.9 to 12.8 MRBN.
This was in line with the estimate to reduce the loss significantly.
Rewards were higher again at now 0.572 hive, which corresponds to an equivalent of about 28.5 MRBN.
---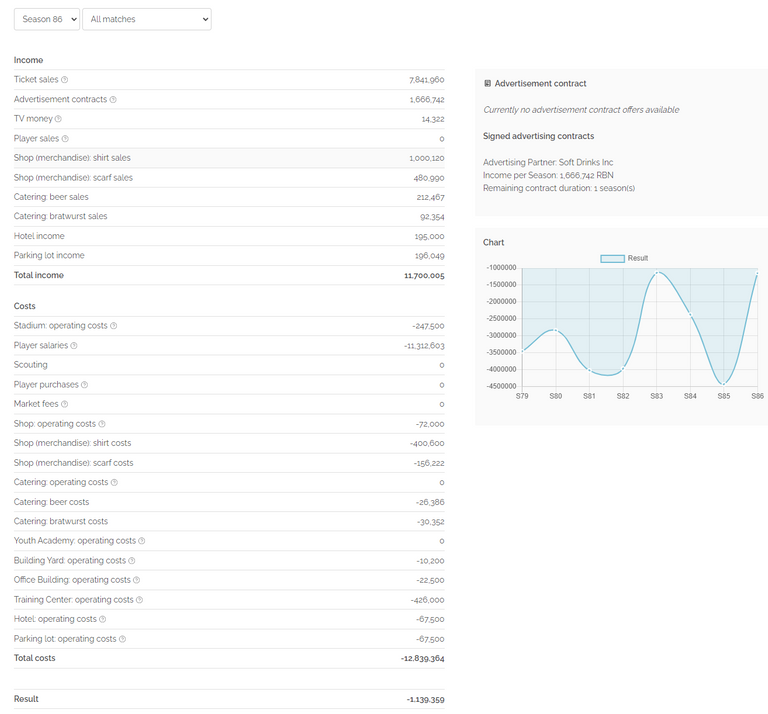 Pläne für Saison 87
In Saison 87 möchte ich das Team weiter voran bringen.
Ich gehe davon aus einen besseren Torwart zu verpflichten. Meiner hat zwar einen GK Wert von über 90, aber dennoch hält er zu wenige Schüsse (oftmals 0 Goals saved). Da erwarte ich einfach mehr.
Auch im Sturm ist Potential für einen zweiten Top Stürmer, jenseits der 70 oder vielleicht sogar 80.
Da mein Sponsorenvertrag in der nächsten Saison ausläuft, ist es sehr wichtig, nicht abzusteigen, da ich sonst in Saison 88 nur 0,4 MRBN als Sponsoring angeboten bekomme, was ich dann ausschlagen würde, um nicht für 5 Saisons gebunden zu sein.
Plans for season 87
In season 87 I would like to bring the team further forward.
I expect to sign a better goalkeeper. Mine has a GK value of over 90, but still he holds too few shots (often 0 Goals saved). I simply expect more.
Also in the forward is potential for a second top striker, beyond 70 or maybe even 80.
Since my sponsorship contract expires next season, it's very important not to get relegated, otherwise I'll be offered only 0.4 MRBN as sponsorship in season 88, which I would then refuse in order not to be tied down for 5 seasons.

Outro
Ich hoffe, mein Saisonbericht hat dir gefallen, und du konntest etwas für dein eigenes Rabonateam mitnehmen.
Wie immer freue ich mich über jedes Feedback und Kommentare zum Bericht, oder meinen Plänen. Ich bin noch am lernen und für jeden Kommentar bzw. Tipp dankbar.
Wir lesen uns nächste Woche.
Dein
Kheldar1982
Outro
I hope you enjoyed my season report, and were able to take away something for your own rabonate team.
As always, I welcome any feedback and comments on the report, or my plans. I am still learning and appreciate any comments or hints.


See you next week.
Yours
Kheldar1982

Du willst mehr wissen?
Der beste Weg ist der Rabona Discord Server. Hier erhältst du Antworten auf nahezu alle deine Fragen.
Ansonsten gibt es diverse Strategieartiekl und Erfahrungsberichte zu Rabona auf PeakD unter dem #rabona oder in der Hive Community Rabona Official.
You want to know more?
RThe best way is the Rabona Discord Server. Here you can find answers on all your questions.


Otherwise, there are various strategy articles and reports about Rabona on PeakD under the #rabona or in the Hive Community Rabona Official.

Bereit zum spielen?
Wenn du durch meinen Artikel Lust bekommen hast selbst Rabona zu spielen, dann verwende doch gerne meinen Referall Link: https://rabona.io?ref=kheldar1982
Registrierst du dich über diesen Link erhalten wir beide einige zusätzliche RBN, die wir sicherlich gut gebrauchen können.
Are you ready to play?
If my article made you want to play Rabona yourself, feel free to use my referral link: https://rabona.io?ref=kheldar1982


If you register through this link, we will both get some extra RBN that we can certainly put to good use.
---
---