(DE/EN) The sneakiest snake of the Splinterlands - Splinterlands Share your battle challenge - Silent Sha-Vi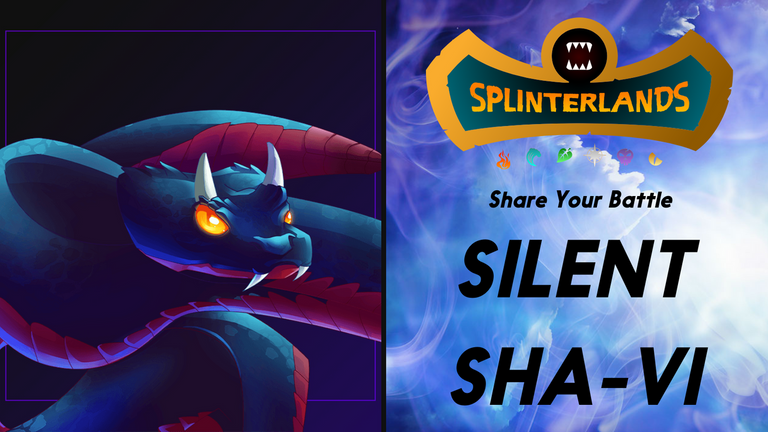 All ingame pictures are from Splinterlands.com
Intro
Seit einem Monat habe ich nicht an der Share your Battle challenge teilgenommen. Immer war etwas anderes wichtiger, oder ich habe einfach kein schönes Match mit dem gesuchten Monster hinbekommen.
Doch jetzt ist es wieder soweit. Ich präsentiere die hinterhältigste Schlange der Splinterlands...
Intro
I haven't participated in the Share your Battle challenge for a month now. Something else was always more important, or I just couldn't get a nice match with the monster I was looking for.
But now it's time again. I present the sneakiest snake of the Splinterlands...
---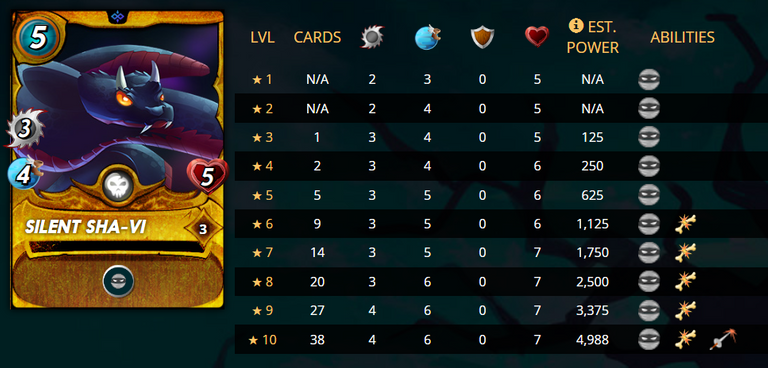 Silent Sha-Vi
Silent Sha-Vi ist eine gewöhnliches Monster Karte aus der Chaos Legion Edition. Sie gehört zum Death Splinter. Mit 5 Mana gehört Silent Sha-Vi preislich zur Mittelklasse und kann in vielen Battles zum Einsatz kommen.
Außer in absoluten Low Mana Battles setze ich Silent Sha-Vi auch wirklich fast immer ein.
Trotz der derzeit niedrigen Kartenpreise kostet Silent Sha-Vi immerhin noch 0,15 $ für einen BCX. Gelevelt ist sie bereits ab 0,11 $ zu bekommen. Der Preis für 1 BCX in Gold liegt bei etwa 2,18 $.
Bereits auf Stufe 1 ist Silent Sha-Vi rin guter Allrounder für die hintere Reihe. Mit 2 Nahkampfschaden, einer Geschwindigkeit von 3 und 5 Lebenspunkten ist Silen-Sha-Vi je nach Kampfbedingungen entweder in mitten der hinteren Reihe, oder als zweiter Tank oder auch zum Schutz der letzten Position geeignet.
Auf Bronze erhält sie noch einen Punkt Geschwindigkeit und vor allem auf Level 3 einen weiteren Punkt Nahkampfschaden hinzu.
Auf Silber gewint Sie erst einen Lebenspunkt und dann einen weiteren Punkt Geschwindigkeit. Für viele Gegner ist sie nun bereits schwierig zu treffen, und selbst trifft sie sehr häufig.
Auf Gold erhält sie zuerst die Fähigkeit Cripple, die es gegnerischen Heilern schwerer macht, Sha-Vis Opfer wieder zusammenzuflicken. Anschließend einen weiteren Lebenspunkt und das Upgrade auf die Endgeschwindigkeit von 6.
In Diamant beißt Silent Sha-Vi dann bereits für 4 Punkte Schaden zu und durchdringt auf Level 10 sogar die Panzerung (Piercing).
Das schöne an Silen Sha-vi ist, dass sie egal auf welchem Level nur hinzugewinnt. Sie verliert zwischendrin keine Lebenspunkte, oder Geschwindigkeit.
Darüber hinaus hat sie keine wirklichen Schwächen. Die einzige Position, wo Silen Sha-Vi nichts taugt ist als Fronttank. da gibt es definitiv bessere Optionen, wie z.B. Cursed Windeku oder Harklaw.
Gefechtsbedingungen wie "Back to Basics" oder "Fog" machen Silent Sha-Vi, wie fast alle Sneak Monster nahezu unbrauchbar. Sonst ist sie jedoch sehr gut einsetzbar.
Silent Sha-Vi
Silent Sha-Vi is a common monster card from the Chaos Legion Edition. It belongs to the Death Splinter. At 5 mana, Silent Sha-Vi is mid-range in price and can be used in many Battles.
Except in absolute low mana battles I use Silent Sha-Vi almost all the time.
Despite the current low card prices, Silent Sha-Vi still costs $0.15 for a BCX. Leveled it is already available for $0.11 $. The price for 1 BCX in gold is about $2.18.
Already on level 1 Silent Sha-Vi is a good allrounder for the back row. With 2 melee damage, a speed of 3, and 5 health, Silen-Sha-Vi is suitable either in the middle of the back row, or as a second tank, or even to protect the last position, depending on the battle conditions.
On bronze, she gains another point of speed and especially on level 3, she gains another point of melee damage.
On silver she first gains a point of health and then another point of speed. For many opponents she is now already difficult to hit, and even she hits very often.
On gold, she first gains the Cripple ability, which makes it harder for enemy healers to patch up Sha-Vi's victims. Then another health and the upgrade to the final speed of 6.
In Diamond, Silent Sha-Vi then bites for as little as 4 points of damage and even pierces armor (Piercing) at level 10.
The nice thing about Silen Sha-vi is that no matter what level she is at, she only gains. She doesn't lose any health or speed in between.
Beyond that, she has no real weaknesses. The only position where Silen Sha-Vi is useless is as a front tank. There are definitely better options, such as Cursed Windeku or Harklaw.
Combat conditions like "Back to Basics" or "Fog" make Silent Sha-Vi, like almost all Sneak Monsters almost useless. Otherwise, however, it is very usable.

Die Aufstellung
40 Mana ist für ein Battle in der Silber Liga durchaus viel Mana.
Unprotected läd geradezu ein Death zu spielen und Stampede steht dem zumindest nicht im Wege.
Thaddius Brood ist zwar nicht der perfekte Summoner für dieses Setup, aber ich habe keinen anderen Death Summoner.
#1 Cursed Windeku L2
Das Windeku ist immernoch mein Standard Tank bei Death. Falls kein Meelee erlaubt ist, ersetze ich ihn auch einmal durch Riftwing, oder Djinn Murat. Aber ansonsten ist das Windeku einfach gesetzt.
#2 Venari Bonesmith L2
Der Bonesmith hat wenig Schaden und Lebenspunkte, aber Life Leech. Meistens stirbt er mir jedoch weg, bevor er viele LEbenspunkte einsammeln kann. Im schlimmsten Fall fängt er aber einen Angriff für die wichtigeren Monster ab.
#3 Silent Sha-Vi L3
Der Star des Abends. Heute auf einer Position, die ihm möglichst lange die Möglichkeit geben soll, die gegnerische Backline zu beharken.
#4 Dhampir Stalker
Der Stalker soll zusammen mit dem Windeku und dem Bonesmith seinen Schaden auf den gegnerischen Tank fokussieren und diesen möglichst schnell aus dem Spiel entfernen.
#5 Lira the Dark L1
Lira ist einfach unheimlich gut. Sie sucht sich gezielt, die schwächsten Gegner raus und entfernt diese aufgrund ihrer hohen Geschwindigkeit zuverlässig. Gleichzeitig weicht sie dem ein oder andern Angriff mit ihrer Geschwindigkeit von 6 aus.
#6 Magi Necrosi
Wenn nicht gerade Blast gespielt wird, ist der Magi Necrosi auf der letzten Position ziemlich sicher und kann seine 2 Magieschaden jede Runde auf die verwundbare Backline des Gegners schleudern und dort Magier, Fernkämpfer oder Heiler ausschalten.
The Lineup
40 mana is a lot of mana for a Silver League battle.
Unprotected just invites you to play Death, and Stampede at least doesn't get in the way.
Thaddius Brood isn't the perfect summoner for this setup, but I don't have another Death summoner.
#1 Cursed Windeku L2
Windeku is still my default tank in Death. If no Meelee is allowed, I also replace it once with Riftwing, or Djinn Murat. But otherwise the Windeku is simply set.
#2 Venari Bonesmith L2
The Bonesmith has little damage and health, but life leech. Most of the time, though, he dies on me before he can collect many Life Points. At worst, though, he intercepts an attack for the more important monsters.
#3 Silent Sha-Vi L3
The star of the evening. Today in a position that should allow him to ravage the opposing backline for as long as possible.
#4 Dhampir Stalker
Together with the Windeku and the Bonesmith, the Stalker is supposed to focus its damage on the opponent's tank and remove him from the game as quickly as possible.
#5 Lira the Dark L1
Lira is just incredibly good. She specifically picks out the weakest opponents and reliably removes them due to her high speed. At the same time, she dodges one or two attacks with her speed of 6.
#6 Magi Necrosi
When not playing Blast, the Magi Necrosi is pretty safe in the last position and can hurl its 2 magic damage each turn at the enemy's vulnerable backline, taking out mages, ranged fighters or healers there.

Battle Report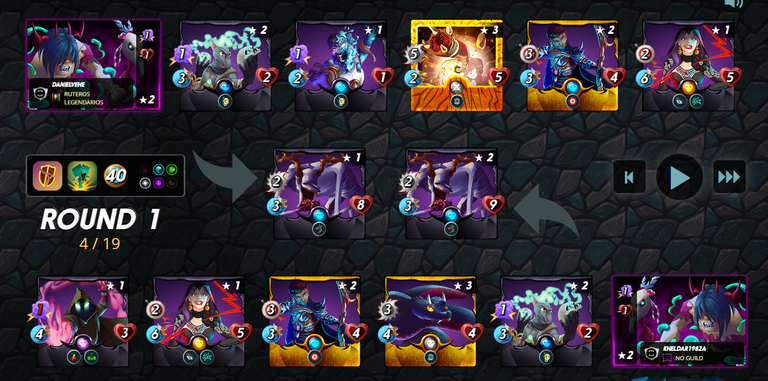 Mein Gegner setzt ebenfall auf Brood mit einem ähnlichen, aber doch an entscheidenden Stellen veränderten Setup.
Statt Silent Sha-Vi und Magi Necrosi setzt er auf Life Sapper und Sandworm.
Als ich das gesehen habe, und das mein Magie Necrosi auch noch auf 1 Magieschaden reduziert wurde, war ich mir sicher, das Match zu verlieren.
My opponent also uses Brood with a similar setup, but one that has been changed in some crucial places.
Instead of Silent Sha-Vi and Magi Necrosi he uses Life Sapper and Sandworm.
When I saw that, and that my Magic Necrosi was also reduced to 1 Magic damage, I was sure to lose the match.
---
Bereits die erste Runde ist brutal. Die Liras nehmen jeweils einen Life Leecher aus dem Spiel. Die Tanks haben jeweils nur noch einen Lebenspunkt.
Der Sandworm verfehlt Gott sei Dank meine Lira. Einen Nachteil muss das Vieh mit seinen 5 Schaden ja haben.
Mein Silent Sha-Vi trifft die gegnerische Lira allerdings bereits für 3 Schaden.
The very first round is brutal. The Liras each take a Life Leecher out of the game. The tanks each have only one life point left.
The Sandworm misses my Lira, thank God. The beast must have a disadvantage with its 5 damage.
However, my Silent Sha-Vi already hits the enemy Lira for 3 damage.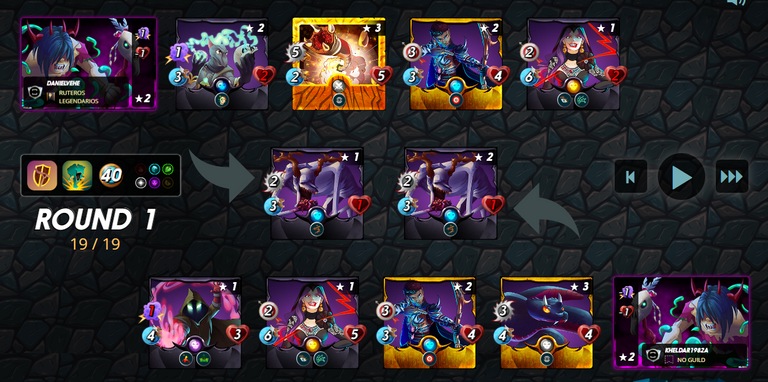 In Runde zwei erledigen die Liras jeweils das gegnerische Cursed Windeku.
Silent Sha-Vi eleminiert den Bonesmith und muss gleichzeitig einen Treffer von Dhampir Stalker einstecken.
Mein Stalker trifft den Sandworm, der erneut verfehlt und so meinen Silent Sha-Vi verschont.
In round two, the Liras each finish off the enemy Cursed Windeku.
Silent Sha-Vi eleminates the Bonesmith while taking a hit from Dhampir Stalker.
My Stalker hits the Sandworm, which misses again, sparing my Silent Sha-Vi.
Meine Lira macht kurzen Prozess mit dem gegnerischen Sandworm, der keinen dritten Versuch bekommt, Schaden anzurichten.
Die gegnerische Lira erledigt leider meinen Silent Sha-Vi.
Mine Lira makes short work of the enemy Sandworm, which doesn't get a third attempt at damage.
Unfortunately, the enemy Lira finishes off my Silent Sha-Vi.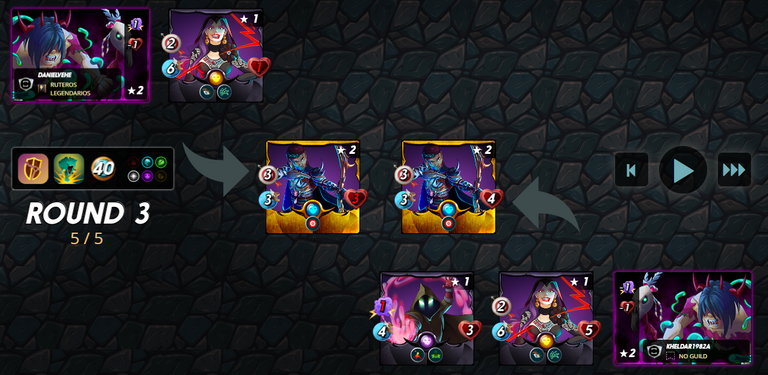 In Runde 4 geht die gegnerische Lira endlich vom Feld. Bevor in Zug 5 dann auch der Dhampir Stalker das Zeitliche segnet.
On turn 4, the enemy Lira finally leaves the field. On turn 5, the Dhampir Stalker finally dies as well.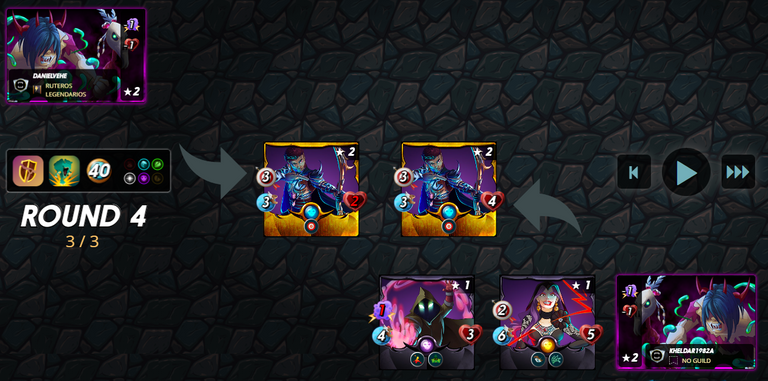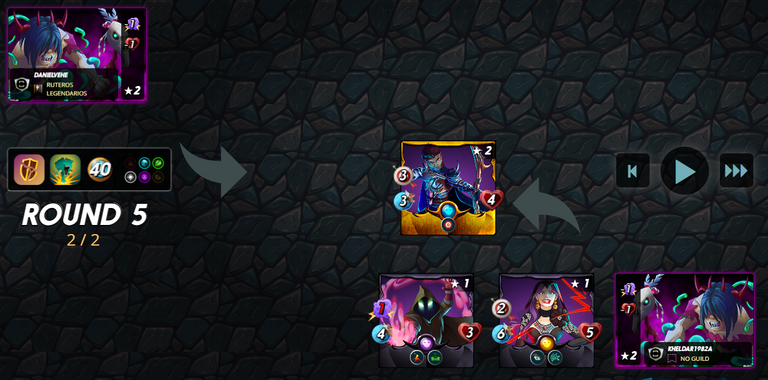 Für den Sieg erhalte ich 3 DEC, 3453 RP und dank meiner Siegesserie 38 Ratingpunkte.
For the victory I get 3 DEC, 3453 RP and thanks to my winning streak 38 rating points.
Den gesamten Kampf könnt ihr Euch hier anschauen:
You can watch the complete battle via this link:


---
https://splinterlands.com?p=battle&id=sl_ffbc1ab13f152f19717a20bae6e1d960&ref=kheldar1982a

Zusammenfassung
Der Plan ging auf. Auch wenn der Magi Necrosi, nicht wirklich viel beitragen konnte, so hat er doch den ein oder anderen Kill für Lira the Dark vorbereitet.
Der große Unterschied in den Setups, war jedoch die Geschwindigkeit meines Silent Sha-Vi gegenüber der Geschwindigkeit des Sandworm.
Während ich getroffen habe, hat der gegnerische Sandworm zweimal verfehlt und wurde dann zerstört.
Lira hat bis auf den gegnerischen Bonesmith alle Monster selbst ausgeschaltet.
Ein gutes Match, um zu zeigen, dass Geschwindigkeit ein sehr wichtiges Attribut bei Splinterlands ist.
Summary
The plan worked. Even though the Magi Necrosi couldn't really contribute much, it did prepare a kill or two for Lira the Dark.
The big difference in the setups, however, was the speed of my Silent Sha-Vi versus the speed of the Sandworm.
While I was hitting, the enemy Sandworm missed twice and was then destroyed.
Lira took out all the monsters herself except for the opposing Bonesmith.
A good match to show that speed is a very important attribute in Splinterlands.

Du spielst noch kein Splinterlands?
Dann probiere es kostenlos aus mit diesem Link:


https://splinterlands.com?ref=kheldar1982
Wenn Du Spaß am Spiel haben solltest und dich entschließt, das Zauberbuch für 10 $ zu kaufen, bekomme ich von Splinterlands einen kleinen Betrag als Belohnung. Nimm Kontakt mit mir auf und ich werde Dich bei Deinen ersten Schritten in Splinterlands mit 500 DEC und ein paar delegierten Karten unterstützen.
You are not a Splinterlands player yet?
Than give it a try by signing up to this game for free using this link:

https://splinterlands.com?ref=kheldar1982
If you have fun playing the game, and decide to buy the spell book for 10 $ I will get a small cash back from Splinterlands. Get in touch with me and I will support you in your first steps in Splinterlands with 500 DEC and by delegating few cards.
---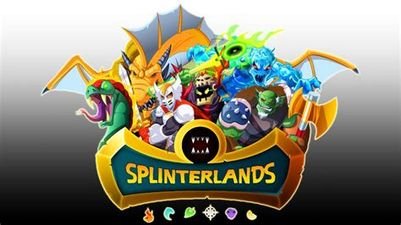 ---
---