Total Value locked In DeFi Records 936% Increase In One Year⚡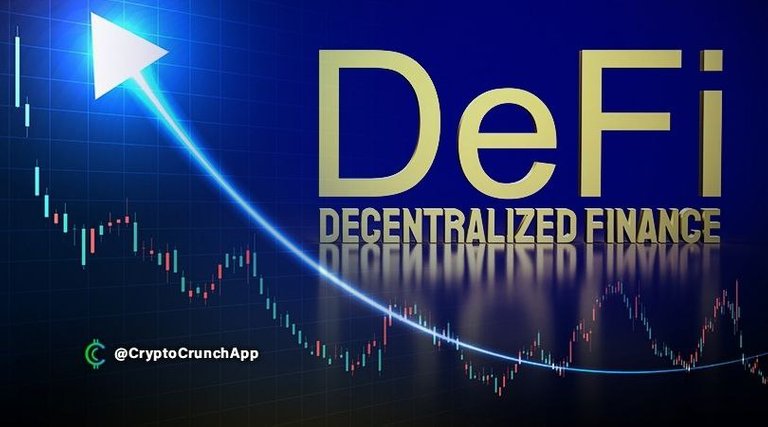 The "Value Flow Report" from the analytics platform DappRadar reveals the growth of the decentralized finance and nonfungible token (NFT) markets since this year, showing tangible value growths. The reports shows a total value of $114.8 billion locked which is equivalent to an increase of 936% from the exact time last year, also the industry's TVL saw 75% growth from July 23 to September 5 touching $195 billion high across all chains.
Read full news:🔸url 🔗⬇️
https://cryptocrunchapp.com/news/total-value-locked-in-defi-records-936-increase-in-one-year
Last week's list of top curators:
@onealfa @onealfa.leo @leo.voter @pishio @urun @r0nd0n @trasto @leovoter @diego1306 @chekohler @oakshieldholding @meta.condeas @summertooth @oldtimer @brofund-leo
Thank you all, I appreciate your support :)
Please feel free to share your thoughts & Thank you so much for reading this post.
Disclaimer:-
The information provided is not to be considered as a recommendation to buy or invest in certain assets or currencies and is provided solely as an educational and information resource to help traders make their own decisions, do your own reasearch before any type of investment.


New to HIVE?
Want to know more about HIVE?
In short Hive is an innovative decentralized blockchain and ecosystem, Lightning-fast processing times and fee-less transactions.
About Hive : https://hive.io/about
Hive is one of the leading Web3 blockchains used by people around the world. Over hundred projects have been build by the Hive community.
Hive Ecosystem : https://hive.io/eco
To create Hive wallet :https://hive.io/wallets
To know everything about transaction, account & blocks details : https://hiveblocks.com
You can see all the tokens in the Hive Engine: https://hive-engine.com/
Some tokens of Hive Engine-
LeoFinance or #leo
Issued by : @khaleelkazi
URL : https://leofinance.io
Proof Of Brain or #pob
Issed by : @proofofbrainio
URL : https://proofofbrain.io/
#ARCHON
Issed by @upfundme
URL :https://www.archonapp.net
#PALNET or #pal
Issed by @minnowsupport
URL: https://palnet.io/
#SPORTS or #sportstalk
Issed by @sportsrewards
URL : https://www.sportstalksocial.com/
#STEM
Issed by @stemgeeks
URL : https://stemgeeks.net/
#CTP
Issed by @jongolson
URL : https://www.ctptalk.com/
Not only that they're so many more like #cent, #actifit, #pizza, #foodie, #chary, #battle, #diyhub , #ccc , #hustler, etc
---
---