"Who Shows Love More?"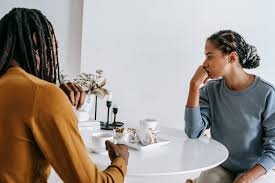 Image source
This comes down to who should pay on the first dinner date?" Who should help out in chores?" Can both parties switch jobs and still be fine?" Who should make certain sacrifices for the other?" Would you want your man or your woman to provide and as well manage the household?" Do you feel like you grind a lot and you get upset that your partner isn't doing the same thing you do or as much energy you put into what you do?"
You know what will end this and will it be nice if you do that?" That's a question you must ask yourself, it's nobody's fault that you feel you work harder but you overthink every single thing… if you feel you need to talk anybody, feel free to because acts like this only makes the union less stronger… This isn't a matter of who is loving the more or who is doing much better than the other but a complete understanding, you could be doing what you do and be comfortable with it… That's just how it's supposed to be and it's either you accept it or be different, meanwhile if you swapped jobs I'm sure nobody will tell you to rethink before doing that.
Love shouldn't be based on the number of work you do and that means you show more affection, that mindset though. We should all see ourselves as people who wants the best for each other and if time permits do some additional things to what was already built..
Just a little thing to stop you from making a huge mistake that can be avoided with complete and full understanding.. We must see things differently and not just on one direction cause that's when we act blindly towards the people that mean a lot to us.. observe before you react and then mend if you've acted wrongly..
One thing we must not do is listen to peoples wrong suggestions, they will come like they want to help but only make things worse than it is.. nothing stops the men from assisting their ladies and nothing stops the ladies from helping out as well..
In terms of who manages, support each other always.. if you could do a certain thing better don't complain but do it immediately to help in your home. But y'all should make sacrifices and don't feel insecure about it. I watched a movie where a guy actually asked to go on a date and after that was over his lady rushed to pay the bills, I don't see anything wrong with trying to be supportive..
This is where I will end this, so sorry if I wasn't able to read some articles yesterday... will most definitely catch up today. Love you all.
27th AUGUST 2022
I remain your friendly writer, a student and a hive learner... will link some of my recent articles below with other write ups... have a beautiful weekend
---
---