Aprende a preparar Joroches Yucatecos/Learn how to prepare Yucatecan Joroches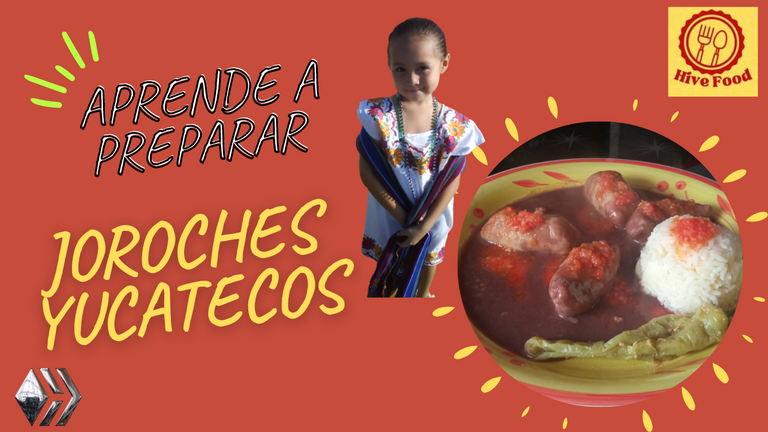 Hola a todos nuevamente en esta gran comunidad de Hive Food, deseándoles un excelente inicio de semana, el día de hoy les traigo una receta que es muy conocida en Yucatán, no se si en algún otra parte del país se haga, la he aprendido de unas tías y la verdad le gusta mucho a mi familia.
Es una receta que no preparo muy seguido, pero en esta ocasión la realicé debido a que es práctica y puedo ocuparla para dos días, ya que al ser enfermera procuro realizar comidas que pueda consumir dos días haciéndole algunas modificaciones.
Los Joroches son un platillo que generalmente no la encontramos en ningún restaurante debido a que es una receta casera.
En esta receta voy a ir paso a paso ya que se debe guisar de igual manera los complementos.
Hello everyone again in this great community of Hive Food, wishing you an excellent start of the week, today I bring you a recipe that is well known in Yucatan, I do not know if in any other part of the country is done, I have learned it from some aunts, and the truth is that my family likes it very much.
It is a recipe that I don't prepare very often, but this time I made it because it is practical and I can use it for two days, since as a nurse I try to make meals that I can eat for two days, making some modifications.
Joroches is a dish that is not usually found in any restaurant because it is a homemade recipe.
In this recipe I am going to go step by step since the complements must be cooked in the same way.
---
Iniciaré con la cocción de los frijoles.
Ingredientes:
1/2 kg. de frijol negro.
1/2 pza cebolla.
1 ramita de epazote
Sal.
Preparación:
Se limpian los frijoles, se lavan y se ponen a cocer con suficiente agua, cuando estén cocidos se les agrega la cebolla, el epazote y sal, al estar cocidos, se apaga y se dejan enfriar.
I will start with cooking the beans.
Ingredients:
1/2 kg. black beans.
1/2 onion.
1 sprig of epazote
Salt.
Preparation:
Clean the beans, wash them and put them to cook with enough water, when they are cooked add the onion, epazote and salt, when they are cooked, turn off and let them cool.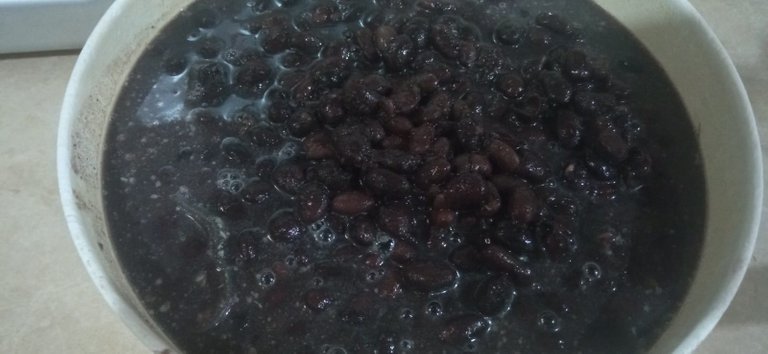 ---
En una sartén se guisa la carne molida de la siguiente manera:
Ingredientes:
1/2 kg. de carne molida de cerdo.
1/2 cebolla
2 o 3 dientes de ajo
4 jitomates
1 chile Xcatic o pico de paloma
1/2 pimiento morrón
Consomé de pollo en polvo
3 cucharadas de aceite
Pimienta
The ground beef is cooked in a frying pan as follows:
Ingredients:
1/2 kg. of ground pork.
1/2 onion
2 or 3 cloves of garlic
4 tomatoes
1 chile Xcatic or pico de paloma (pigeon's beak)
1/2 bell bell pepper
Chicken bouillon powder
3 tablespoons of oil
Pepper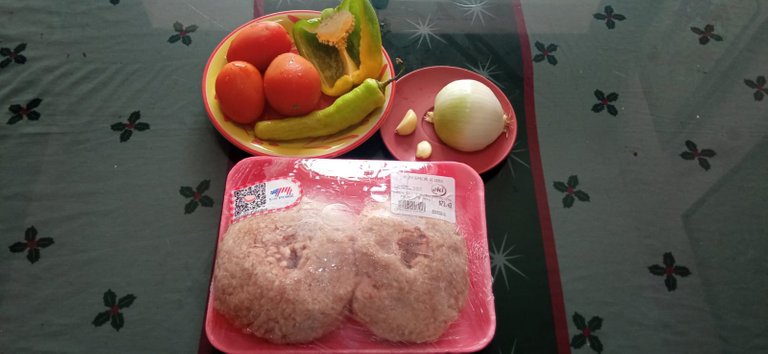 Preparación:
Se pica en pequeños cuadros el ajo, la cebolla y el pimiento morrón y se sofríen con el aceite, junto con el chile xcatic, cuando se haya dorado la cebolla, se añade el jitomate picado y cuando se vea como una salsa se agrega la carne molida, en mi caso en vez de sal uso consomé de pollo en polvo y le agrego pimienta al gusto, dejar coser por completo y se reserva.
Preparation:
Chop the garlic, onion and bell bell pepper into small squares and sauté them with the oil, along with the xcatic chili, when the onion has browned, add the chopped tomato and when it looks like a sauce add the ground beef, in my case instead of salt I use chicken bouillon powder and add pepper to taste, let it sew completely and set aside.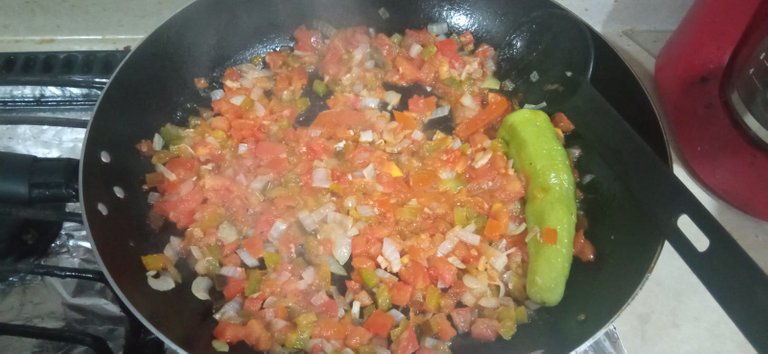 ---
Prepararemos también un arroz blanco de guarnición
Ingredientes:
1 taza de arroz
1 diente de ajo
1/4 de cebolla blanca
2 cucharadas de aceite
consomé de pollo en polvo
2 1/2 tazas de agua
We will also prepare a white rice as a garnish.
Ingredients:
1 cup of rice
1 clove of garlic
1/4 white onion
2 tablespoons of oil
chicken bouillon powder
2 1/2 cups of water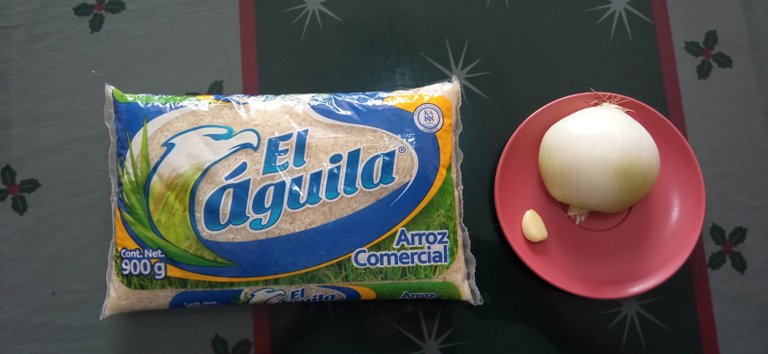 Preparación:
Se lava y escurre el arroz, se pica el ajo y la cebolla.
se sofríe el ajo y cebolla, se agrega el arroz y se fríe hasta que este dorado, se añade el agua y el consomé de pollo en polvo, se pone a fuego lento y se tapa hasta que se haya cocido.
Preparation:
Wash and drain the rice, chop the garlic and onion.
Stir-fry the garlic and onion, add the rice and fry until golden brown, add the water and the chicken bouillon powder, put on low heat and cover until it is cooked.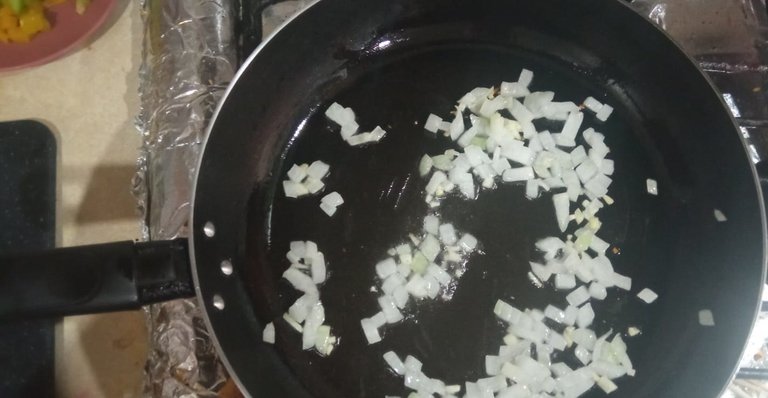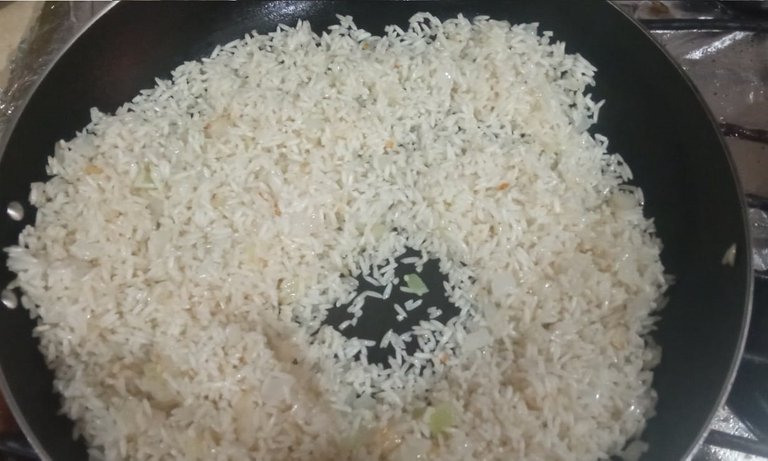 ---
Continuamos con la elaboración de los joroches.
Los frijoles cocidos se licuan y se cuelan para hacer una especie de crema y se deja hervir.
Por otro lado se prepara masa con harina de maíz, agua y sal.
En caso de no querer realizarlos con carne molida se pueden hacer unos tipo dedales de masa y se van agregando al frijol colado, se hacen la cantidad necesaria para toda la familia, pueden ser de 5 a 6 piezas por persona.
We continue with the preparation of the joroches.
The cooked beans are liquefied and strained to make a kind of cream and boiled.
On the other hand, dough is prepared with corn flour, water and salt.
In case you do not want to make them with ground meat, you can make a kind of dough thimbles and add them to the strained beans. The necessary amount is made for the whole family, it can be 5 to 6 pieces per person.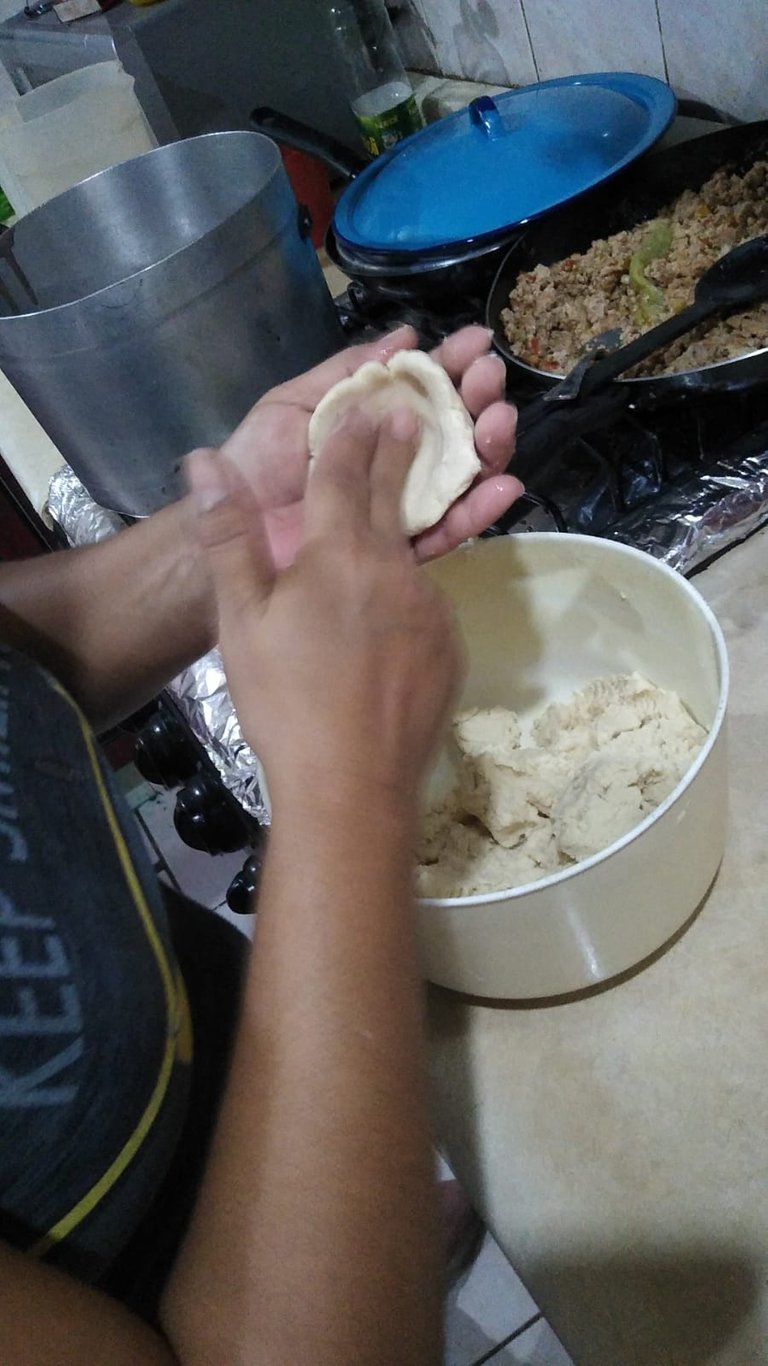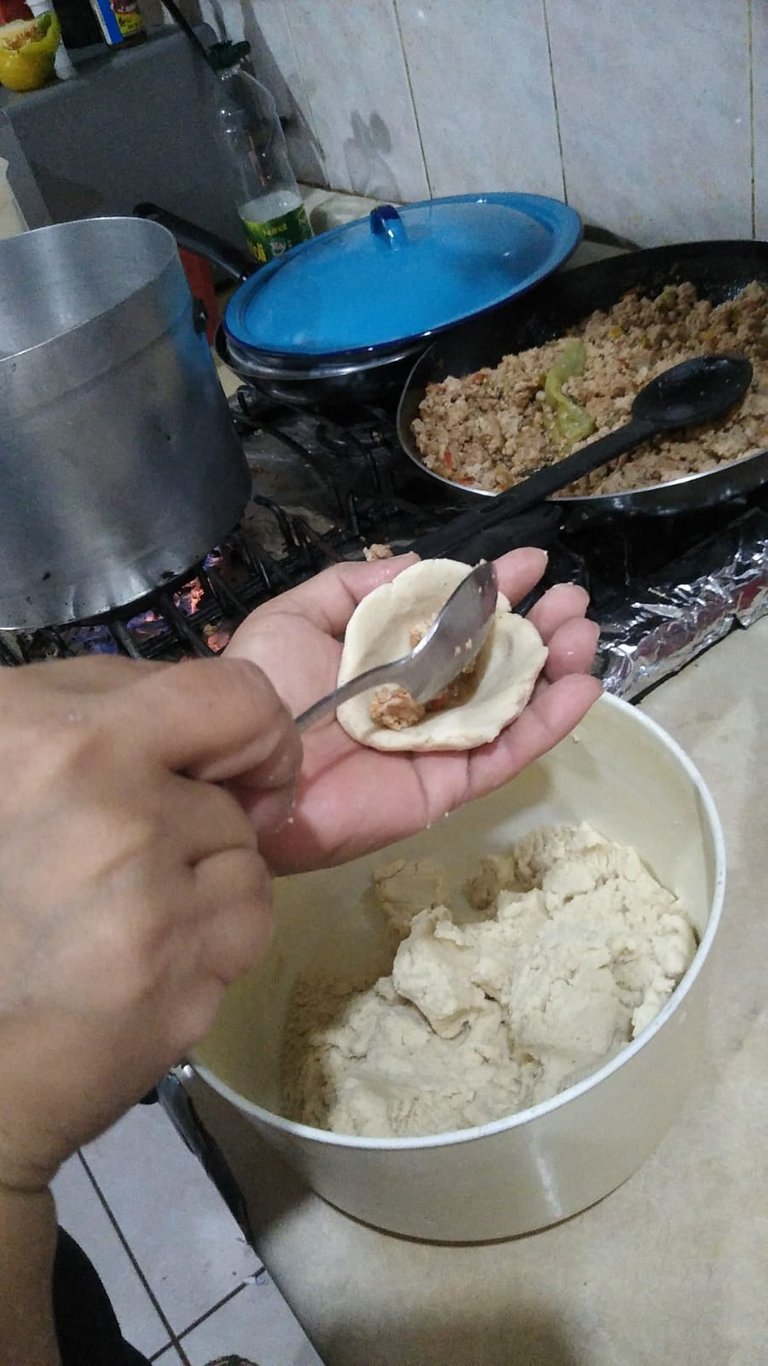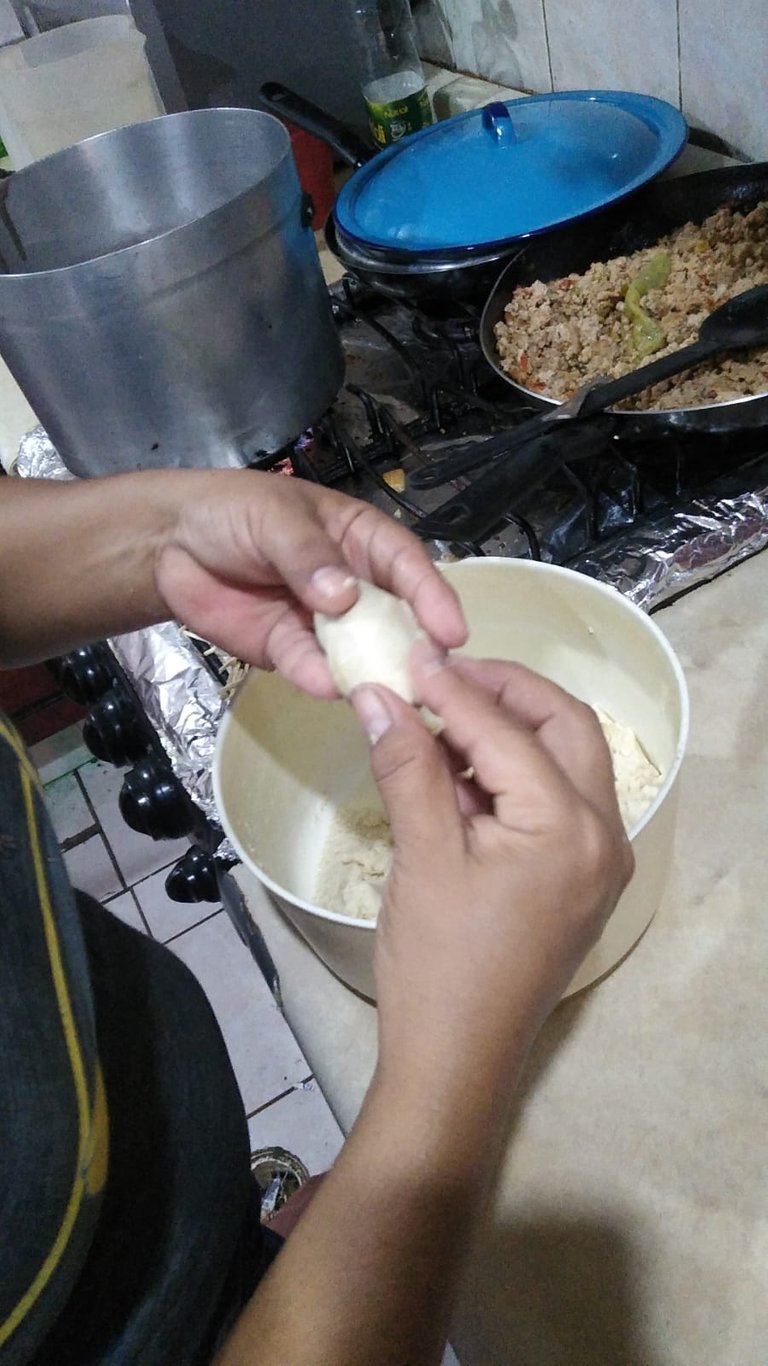 En caso de querer hacerlo con carne molida se realizan unas pequeñas empanaditas con la carne y se agregan al frijol colado y se dejan cocer por aproximadamente 10 min, de la misma manera 5 o 6 por persona.
Aparte en una ollita se prepara una salsa de jitomate, que es con la cual se sirve.
If you want to make it with ground meat, make small patties with the meat and add them to the strained beans and let them cook for approximately 10 minutes, in the same way 5 or 6 per person.
Separately, a tomato sauce is prepared in a small pot and served with it.
---
Ingredientes:
5 jitomates
1/4 de cebolla
1 diente de ajo
2 cucharadas de aceite
1 chile habanero
sal
Preparación de la salsa:
Se licuan los jitomates, la cebolla y el ajo, se pone a calentar el aceite en una cacerola y se fríe el chile habanero entero, y se agrega el jitomate licuado anteriormente y se le pone su punto de sal se reserva y se deja enfriar. (una disculpa, no tomé foto)
Ingredients:
5 tomatoes
1/4 onion
1 clove of garlic
2 tablespoons of oil
1 habanero chile
salt
Preparation of the sauce:
Blend the tomatoes, onion and garlic, heat the oil in a saucepan and fry the whole habanero chile, add the previously blended tomatoes and add salt, set aside and let it cool (sorry, I did not take a picture).
---
Hasta este momento hemos completado todas las preparaciones y ha llegado el momento de servir de la siguiente manera:
Se sirve una porción de arroz, 4 o 5 joroches acompañados con el frijol colado y encima se le pone un poco de salsa, si te gusta el chile puedes servirlo a un costado y listo para degustar.
Up to this point we have completed all the preparations and it is time to serve as follows:
We serve a portion of rice, 4 or 5 joroches accompanied with the strained beans and on top we put some sauce, if you like chili you can serve it on the side and ready to taste.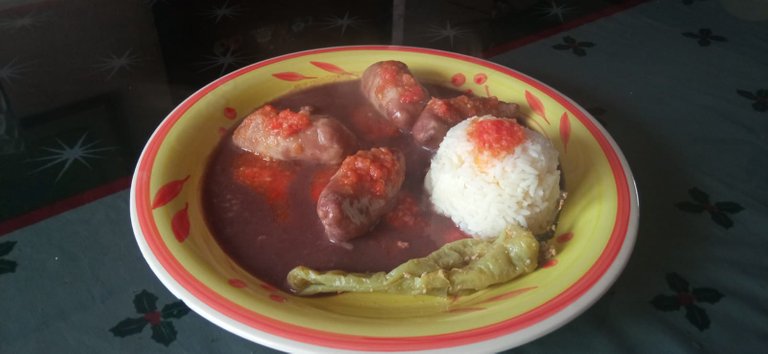 Como es muy poca la cantidad de carne que se le pone a cada jorch la restante la podemos reservar y utilizar otro día para hacer empanadas o guisarla con huevo.
As the amount of meat that is put in each jorch is very small, the remaining meat can be reserved and used another day to make empanadas or stew it with egg.
Amigos, espero les haya gustado esta receta, y se atrevan a probar el sazón yucateco.
Friends, I hope you liked this recipe, and dare to try the Yucatecan seasoning.
Portada realizada con canva e imágenes de tomadas con un celular Xiaomi Redmi9./Cover made with canva and images taken with a Xiaomi Redmi9 cell phone.
Traducido con DeepL Translate./Translated with DeepL Translate.

---
---