High-Yield Saving Accounts and its advantages
High yield accounts are one of the best and safest investments for 2023, when the global economy and all other projects are under pressure. The year 2023 will be pivotal in terms of investment and how you invest your money.
We must plan for the safest investments in 2023, where we can earn good returns and a secure passive income. We must invest in the money market so that your money does not depreciate and you can increase your wealth.
According to my research, the best investment for the year 2023 is a High yield saving account, which is an online account that allows you to earn good interest returns. This type of online high yield account is accessible via the internet, and you can deposit funds for a higher income.
HIGH-YIELD SAVING ACCOUNTS WITH HIGHER INTEREST RATES
Savings accounts with a higher interest rate than a typical savings account are known as high-yield savings accounts. They can be a great way to increase the interest you receive on your savings and are typically provided by online banks or credit unions. Among the advantages of high-yield savings accounts are:
Compared to standard savings accounts, high-yield savings accounts typically offer higher interest rates. This implies that over time, you can increase the return on your savings.

Most FDIC or NCUSIF-insured high-yield savings accounts provide up to a certain amount of deposit insurance in the event that the bank fails.

You can easily withdraw your money from high-yield savings accounts if you need it.

Online account opening and management make it simple to access and manage your high-yield savings account from any location.

Fees on high-yield savings accounts are frequently low or nonexistent, allowing you to keep more of your earnings.

Many high-yield savings accounts don't have a required minimum deposit, which makes it simple for those with little money to start saving.
High-yield savings accounts, as their name suggests, typically offer better returns than conventional savings accounts, which can speed up the growth of your savings.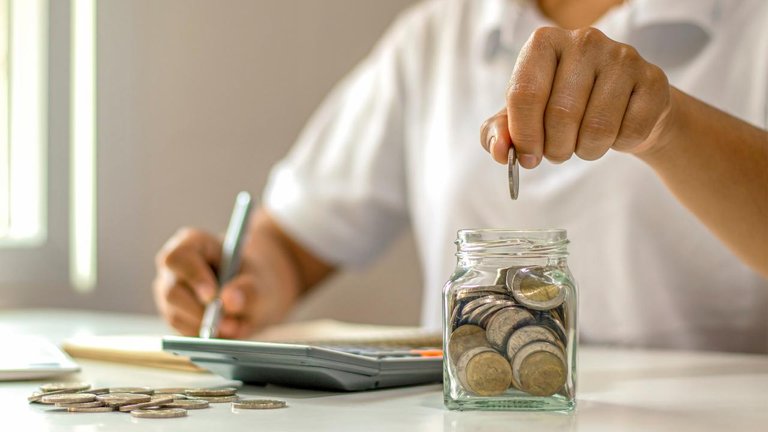 CANVA
It's important to keep in mind that high-yield savings accounts have some limitations, including a cap on transactions and variable interest rates. To find the best option for you, it's also crucial to compare the interest rates and costs of various high-yield savings accounts.
Online banks, also referred to as digital or internet banks, are financial institutions that only conduct business online and do not maintain physical branches. They can offer higher interest rates because they are more cost-effective than conventional brick-and-mortar banks in terms of overhead. The members of credit unions own and run these non-profit financial institutions. In comparison to traditional banks, they frequently provide better rates for savings and checking accounts.
By conducting an online search for "high-yield savings account" or "online savings account," you can locate these accounts. Numerous websites compare the interest rates and costs of various high-yield savings accounts, making it easier for you to choose the best one for you.
It's crucial to compare the interest rates and fees of various high-yield savings accounts as well as the bank's FDIC or NCUSIF insurance status when looking for a high-yield savings account. It's also crucial to read the account terms and conditions to ensure you comprehend the constraints and prerequisites of the account.
Also, before investing your money, make sure to read the rules and regulations. There are many different types of fixed and variable savings to avoid losses. There are people who invest blindly and later learn about the disadvantages.
I hope this post is informative and helpful to all those who are looking to invest. Please keep in mind that I am not a financial advisor and have only suggested the best investment for the year 2023.
Thank you all!
Posted Using LeoFinance Beta
---
---