First four-time World Champion, Dina Averina
The beauty and dominance of the Russian women has prevailed in Japan, the country where the rhythmic gymnastics world championship was held.
Russian Dina Averina has managed to impose herself in the rhythmic gymnastics world championship held in Kitakyushu, Japan, becoming the first rhythmic gymnast tetra champion of the world. This world championship adds to the ones she won in 2017, 2018 and 2019. What a dominance this girl is showing off.
The Russian Averina has gone down in history with this record as I repeat she is the first gymnast to do so. This victory she has achieved almost without any problem and with a wide margin with a final score of 108,400 points, 3500 points more than the Belarusian Alina Harnasko and 5,200 points more than her twin sister, Arina Averina.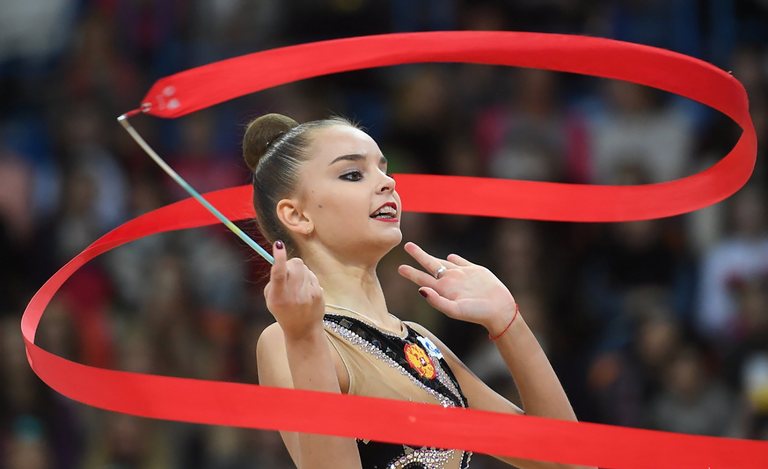 Source
La belleza y el dominio de las rusas se ha impuesto en Japón, país donde se desarrolló el campeonato mundial de gimnasia rítmica.
La rusa Dina Averina se ha logrado imponer en el campeonato mundial de gimnasia rítmica que se disputan en Kitakyushu, Japón, convirtiéndose en la primera gimnasta rítmica tetracampeona del mundo. Este campeonato mundial se le suma a los que consiguió en 2017, 2018 y 2019. Vaya dominio que está luciendo esta muchacha.
La rusa Averina ha pasado a la historia con este record pues vuelvo a repetir es la primera gimnasta en hacerlo. Esta victoria la ha conseguido casi que sin ningún problema y con una amplio margen con una puntuación final de 108,400 puntos, 3500 puntos más que la bielorrusa Alina Harnasko y 5,200 puntos más sobre su hermana gemela, Arina Averina.
Perhaps it can be said that rhythmic gymnastics has worthy representatives for many years to come as Dina and her sister is only 23 years old and has already made history in this sport.
A small parenthesis. I started to like gymnastics when I did my professional internship in a channel in my country where I had the opportunity to record the training of kids who practice this sport and although the level is not even remotely similar, I started to watch and investigate about the best athletes in this sport.
With this victory Dina managed to break the triple tie between the gymnasts who have won the most world championships, as she was tied with the Bulgarian Maria Gigov and Maria Petrova, in addition to the also Russian Ugenia Kanaeva and Yana Kudryavtseva, from today gymnastics has only one queen of the sport, her name is Dina.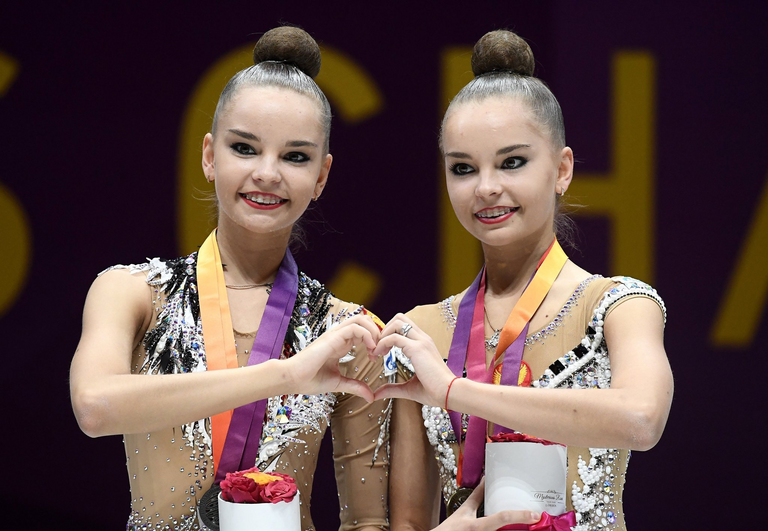 Source
Quizás se pueda decir que la gimnasia rítmica tiene dignas representantes por muchos años pues Dina y su hermana tiene apenas 23 años de edad y ya ha hecho historia en este deporte.
Un pequeño paréntesis. A mí la gimnasia me comenzó a gustar cuando hice mis prácticas profesionales en un canal de mi país ahí me tocó grabar los entrenamientos de chicos que practican este deporte y aunque el nivel no es ni remotamente similar comencé a ver e investigar sobre los mejores atletas de este deporte.
Con esta victoria Dina logra despegarse del triple empate que había entre las gimnastas que más han ganado campeonatos mundiales, pues estaba empata con las búlgaras Maria Gigov y Maria Petrova, además de las también rusas ugenia Kanaeva y Yana Kudryavtseva, desde el dia de hoy la gimnasia tiene a una sola reina de este deporte su nombre es Dina.
Russia is a power in this sport of course, it is the tenth consecutive rhythmic gymnastics world championship won by the Russians, who seem to have specialized in this sport in addition to chess of course.
What this girl has done is a real madness in this world championship because she has won everything, it is really incredible because she has won the gold medals in the hoop and ball circuits. In addition to winning the gold medal in the final of the mallet exercise with a final score of 27, 100 and the second place was her twin sister with 26,400.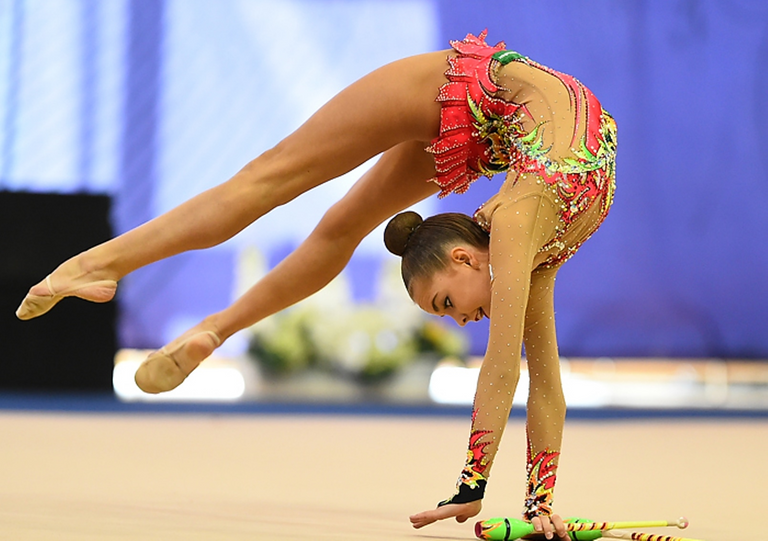 Source
Rusia es una potencia en este deporte claro está pues, es el décimo campeonato mundial de gimnasia rítmica consecutivo que han obtenido las rusas, que parece que se han especializado en este deporte además del ajedrez por supuesto.
Lo que ha hecho es chica es una auténtica locura en este campeonato mundial pues lo ha ganado todo, es realmente increíble pues ha obtenido las medallas de oro en los circuitos de aro y pelota. Además de ganar la medalla de oro en la final de ejercicio de mazas con una puntaje final de 27, 100 y el segundo lugar fue su hermana gemela con 26,400. Vaya par de hermanas no.
The Olympic medal of controversy
Well in those Olympic games Dina Averina also participated the result was... can you predict it? Ok you were wrong as the Russian got the silver medal on that occasion, but maybe it was not due to anything wrong with her but to a controversial referee ruling that deprived her of the Olympic gold.
Russia expressed their dissatisfaction on that occasion because they believe it was a "flagrant injustice" because for them and for many Dina should have won the gold because in the final she beat the Israeli Linoy Ashram, who was the great absentee in this world championship, who in the final after a lack of concentration dropped the ribbon, which is a serious mistake in gymnastics.
On the other hand, Dina did an impeccable performance and deserved to win the gold, because she had done a clean round without any inconvenience, however, the judges saw the Israeli winning by 0.150 points, which is considered a refereeing mistake and a sporting scandal. How is it that someone who has an impeccable round loses and another who makes mistakes is the winner? Already Russia in other occasions has denounced alleged abuses against them. I don't know if that was intentional or not, what I do know is that they are already working to help judges to solve these problems because I already talked about it in another post that you can read here, where artificial intelligence will help judges to give fairer rulings.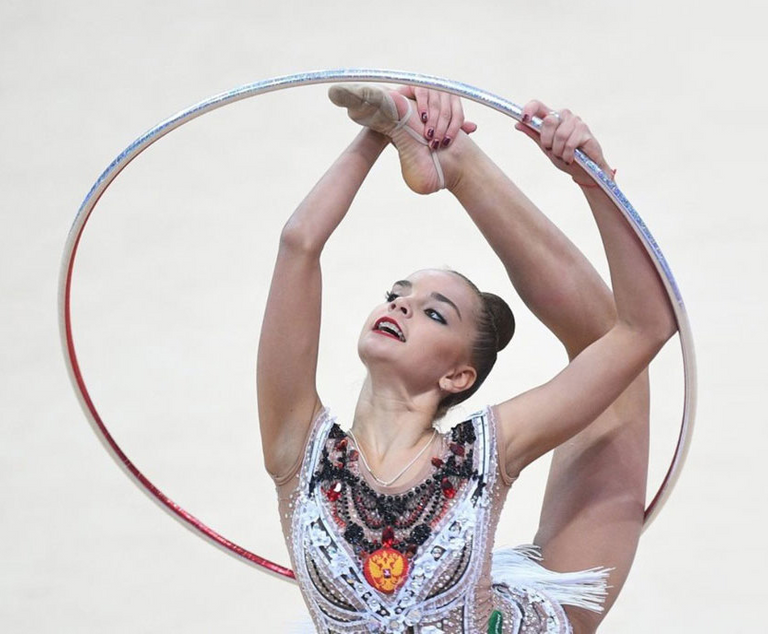 Source
La medalla olímpica de polémica
Bueno en esos juegos olímpicos Dina Averina también participó el resultado fue… ¿lo puede predecir? Ok se equivocó pues la rusa obtuvo la medalla de plata en aquella ocasión, pero quizás no se debe a nada malo en ella sino a un polémico fallo arbitral que la privó del oro olímpico.
Rusia manifestó su descontento en aquella ocasión pues creen que fue una "flagrante injusticia" pues para ellos y para muchos Dina debió obtener el oro pues en la final venció a la israelí Linoy Ashram, quien fue la gran ausente en este mundial, quien en la final tras una desconcentración dejó caer la cinta, lo que supone un grave error en la gimnasia.
Por su parte Dina hizo una actuación impecable y merecía ganar el oro en pues había hecho una ronda limpia y sin ningun inconveniente, no obstante los jueces vieron ganar a la israelí por 0,150 puntos, lo que se considera como un fallo arbitral y escandalo deportivo. ¿Cómo es que alguien que tiene una ronda impecable pierde y otro que comete errores resulta como el ganador? Ya Rusia en otras ocasiones ha denunciado supuestos abusos contra de ellos. Yo no sé si eso fue adrede o no, lo que si se es que ya se está trabajando para ayudar a los jueces a solucionar estos problemas pues ya hable al respecto en otro post que lo puede leer por acá, donde la inteligencia artificial ayudará a los jueces a dar fallos más justo.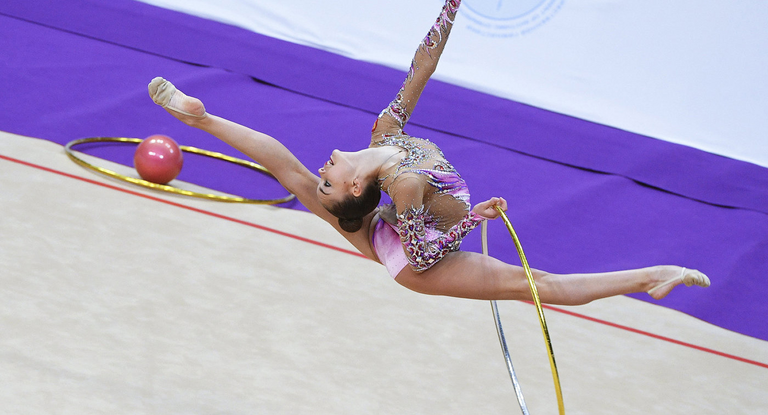 Source
This is Dina's 22nd world medal if you also add the apparatus and team finals, this girl was born to be the Russian queen of the sport.
Esta es la vigesima segunda medalla mundial para Dina si se le agrega también las finales por aparatos y las de equipo, esta chica nació para ser la reina rusa de este deporte.
---
---