Does Leothreads Stand a Chance to Overthrow Twitter?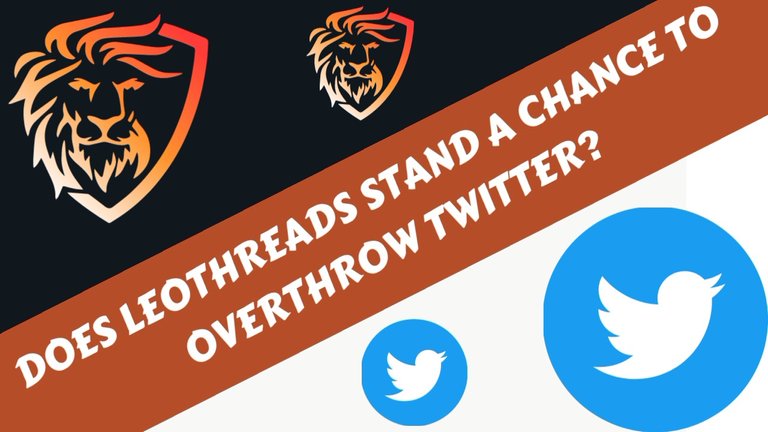 The advent of micro-blogging feature to the social media space created an avenue for people to share their thoughts, broadcast information and communicate through this "new medium" that promotes short, brief and direct posts. This medium has also been beneficial to businesses and individuals as it has helped them and their content/service gain wide audience, and to connect with their customers and potential customers.
Twitter, which is the most popular micro-blogging platform today, records an increased number of daily/hourly engagements and activities, and this has proven to be an effective medium for learning, informal communication and growth of businesses, albeit it has also become a home for graphic content and media bullying.
However, aside these obvious benefits and fun side, Twitter seemingly carries a defect as a Web 2.0 product. Put differently, as a Web 2.0 product, Twitter runs via a centralized body that grants users a partial holding of their account; this partial holding can be either suspended or cut short permanently. In other words, as Twitter users (account holders), you do not have freedom to own your account.
As an attempt to reshape the micro-blogging world, and to respond to this detrimental defect of Twitter and other Web 2.0 micro-blogging platform, Leothreads has emerged from the Leofinance Community, a Second Layer Community built on Hive.
Hence, in this piece we shall discuss if Leothreads stand a chance to overthrow Twitter, the "King" of Micro-blogging world. To do this, we shall discuss what Leothreads is and its benefits to Hive Ecosystem, then we shall consider both the present condition and future of both platforms (Leothreads and Twitter).

---
☆ LEOTHREADS ON HIVE
---
Leothreads is a micro-blogging feature that was released by Leofinance Community on Thursday, 4th August 2022. I was privileged to have "threaded" my first "thread" within 30 minutes after Khal sent the info on the Discord Channel that it was officially live.
Just like I said in my post on $POSH Rewards in #Leo-threads?, Leo-threads is a place for sharing your "short posts" (unlike the standard 200-300 words blog posts for Hive), your thoughts, ideas or questions. You can thread about your pet, about funny stuffs, your boring life (like mine), your love life (like @starstrings01), sports, games, contests or advertise your product or contents.
Leothreads, unlike twitter and other Web 2.0 microblogging platforms, is decentralized and running on Web 3.0. As a user, you enjoy full ownership of your account, total freedom and you can also earn LEO tokens as author or curation reward from it.
Leothreads is a product of Leofinance Community. Leofinance Community is a community that enjoys the Leofinance Web 3.0 application built on Hive blockchain. It is a project that has so many layers and these layers are geared towards the actualization of a long-term multi-chain decentralized finance (DeFi) project.

---
☆ BENEFITS OF LEOTHREADS TO HIVE ECOSYSTEM
---
Whereas certain people feel that leothreads is just an avenue to bring more traffic to Leofinance, I strongly oppose this as I believe that leothreads is beneficial to Hive Ecosystem in the following ways:
Through Leothreads, we can onboard microbloggers who want to enjoy freedom, true ownership of account, decentralization and ability to earn. Hence, when we onboard them to leothreads, it implies that we have onboarded them to Hive, as well.

This is because, if you onboard a user via Leofinance, you will get the private keys to your Hive account, which can be used to access all Hive frontends.

For users to enjoy the benefit of threading non-stop, they need to power up Leo so that they do not run out of Resource Credit. Thus, in powering up Leo, they are investing more in Leo Tokens, and this in turn will benefit Hive Ecosystem.
Hence, leothreads has the potency to draw more users to Hive, and to bring more investors to Hive Ecosystem.

---
☆ LEOTHREADS AND TWITTER: THE PRESENT LOOK
---
Leothreads is still a "baby" (29 days old) as compared to the "Mighty King" Twitter, however, it is a notable thing to see that with just 4 weeks of public existence, Leothreads can actually be comparable to Twitter.
At the present moment, Twitter houses about 200 million active users, and from that wide audience lots of engagement happens on different fields and niche. Leothreads is just a "baby" and does not have up to a million active users daily, at this present moment.

At the present moment Twitter is the best and fastest medium for advertisement, growing of brand and a perfect spot to meet intending investors and customers because of its wide audience. Leothreads has fewer audience at the present moment.

Twitter is accessible in a mobile application with great user interface that gets updated frequently. On the other hand, Leothreads is still in her development stage and is still accessible via Leofinance.io web (or application), at the moment.

But, as a "baby" Leothreads enjoys the Web 3.0 benefit of Leofinance Community and Hive; leothreads is a decentralized micro-blogging platform, unlike Twitter that is centralized.

In the same vein, Leothreads grants its owners full ownership and privacy of their accounts, unlike Twitter that grants users partial ownership, one that can be suspended or terminated at will.

Leothreads also grants author and curation reward to its users no matter your influence or celebrity status; on the other hand, Twitter only grants earning possibility to influencers and celebrities with wide audience.

---
☆ LEOTHREADS AND TWITTER: THE FUTURE LOOK
---
So far, we have assessed the present look of Leothreads and Twitter. It is noteworthy to mention that Leothreads is just in its developmental stage and has great potential to become great in the nearest future.
I believe Khal and the entire development team are working assiduously to make Leothreads a force to reckon with in the world of social media and in the world of blockchain. Hence, I believe the Leothreads has the potency to become "Twitter-Superior."
I believe that the immediate future of Web must be integrated with Blockchain if that Web Product intend to be durable and sustainable. Hence, in as much as it will remain in its centralized form, Twitter may not grow beyond changing wears and tears, or cosmetics surgery. Thus, its growth may be in terms of adding more features for engagement of its users and to attract more investors.
On the other hand, Leothreads has the greatest advantage over Twitter by being decentralized, built on blockchain, free and ownership guaranteed, and has the earning ability for users. Hence, I believe Leothreads just need to vamp up its user friendliness and cosmetics.

---
☆ RECOMMENDATION FOR LEOTHREADS IN THE IMMEDIATE FUTURE
---
It is a gradual process, I believe. Yet, I believe Khal and the entire development team should work on the possibility for users to see their past threads, as it will make it easier for one to go back to engage or reply in threads. As it is now, it is pretty difficult except when one has a comment on the thread.

There should also be an option for viewing the threads of my followers. I believe this is in progress already.

I look forward to a "rethread" button… hahahaha

Also, in as much I don't oppose the unavailability of an "edit" button, I strongly recommend the addition of a "delete" button. Maybe, it can be available for only 1 – 12 hours, and after that, it ceases to exist. This will stop unnecessary repetition of contents.

I also hope for more lightening and speed in loading.

While this is necessary in the immediate future, I believe the team is also looking forward to having a Mobile Application that may contain many and more of the features in Twitter.
So, YES! LEOTHREADS STAND A CHANCE TO OVERTHROW TWITTER IN THE NEAREST FUTURE!

---
This post is an entry for LEO Contest by LeoFinance & HODL Community.
Designs created with Canva Mobile App
Links of some key terms from @leoglossary
---
Have you read these posts by me?
☆ DIARY OF A CONTENT CREATOR ON HIVE
☆ Did you know that there are more than 10 ways to Earn on Hive?
☆ SAY THANK YOU TO YOUR MENTOR ON HIVE
☆ Unravelling my Favourite Hive Author: The Story between the Storyline
---

---
I AM KSAM
---
I may not be your favourite author, but you can journey with me to help me develop my writing skills. I am always open to criticism, correction and learning 🥰.
Posted Using LeoFinance Beta
---
---