Hive makes you think like a Bull during the Bear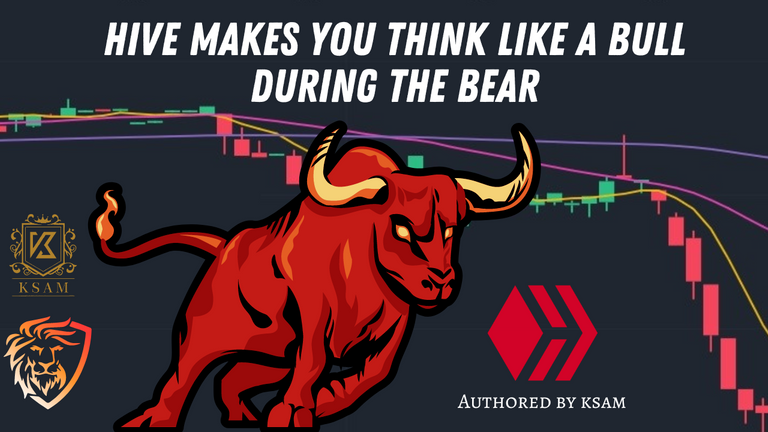 ---
☆ RED BLOOD 📈
---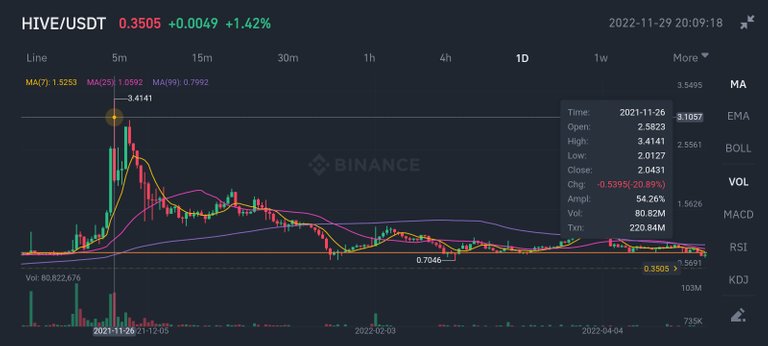 26th November 2021, Hive was worth $3.4141 according to Binance, but today the entire crypto Market is crying blood, and Hive is worth less than a dollar. From $3.4141 to present day value of $0.358 is a whopping -89.5141% percentage difference.
Mhen!
The entire crypto market is experiencing a massive hit and the value of all currencies are down. But the value of $Hunger and $Poverty keeps increasing.
Dang! I should have invested in those coins (tears).
FTX, BlockFi and other crazy crypto NEWS are doing great jobs by keeping the momentum low and enabling more people to sing the psalm of "Crypto is dead!"
Goodluck to them! But, not so much of a good news to us because the Bull really needs that momentum to run and hit another ATH. But, sadly, we are not done yet, we will still experience downward movements.
Who knows when this bear market will be over?

---
☆ THINKING $HIVE
---
In as much as the entire market is crying blood, many of us have found this as a perfect time to think about $Hive. Yea, for us, it is a perfect time to keep stacking Hive little by little to ensure that when the bull starts running, we won't be left behind.
The fact is that there are so many things that make us think about Hive in seasons like this. Thinking about Hive amounts to thinking like a Bull even in this Bloody Bear season.
Here, I'll share some of my thoughts. Hehehe, they are my thoughts and not a Financial Advice. If you need financial advice, meet a certified Advisor.
---
DEVELOPMENTS ON HIVE
---
While we complain about the Crypto market going down and how people are afraid to trust Crypto, the people of Hive still think it is business as usual. Can you imagine?
They still have the guts to develop things on the ecosystem.
Honestly, it amazes me how Hive keeps building and growing amidst the obvious "blood in the market." In almost every niche or sector of the ecosystem, different developments and initiatives are springing up.
Leo is coming up with a total re-design of the Leofinance UI, to give us that Everything App which Elon Musk is incapable of meeting up with. Heard about Project Blank? Go and read it up.
CTP just built a task app on Hive called Veews. It is a content discovery platform on Hive, using AI to make things easier.
Reverio brings up an amazing development into Hive; bringing Quora.com experience into Hive.
Hive Keychain is getting stronger each day, making necessary updates to improve service.
Peakd launched it's internal Decentralized Exchange: hivehub.dev
@sagarkothari88 is also working assiduously on the mobile version of 3speaks and making the UI better.
@blocktunes has created an amazing frontend for Musicians to upload and promote their musical content.
V4app lightning speed kills faster than thunder and lightning!
@Ragnarok is still building and coming up in a fierce way.
@psyberx Pre-Alpha game testing is ongoing by those who got the Founder Status by acquiring the NFTs or purchasing Commercial plots or as early investors.
The Cub staking kingdom of Leo is performing wonders.
If I continue to list them, I will pass the 300 word count limit that I intend to write (coughs).
Why won't you think long term when you have a community that is confident in it's potentials?
Keep Building Hive!
---
HIVE REWARDS FROM OTHER TOKENS
---
There are some amazing second layer tokens that give Hive rewards weekly when you own them or stake them. Such tokens include, BRO, UTOPIS and BXT.
If you have am idea of other tokens, please mention in the comment section below.
Investing in such tokens kinda make sense, you know? They help you stack up more Hive little by little. I think LEGION (LGN) token will offer same benefit, but I am not sure.
---
BLOCKCHAIN GAMES
---
Yea, I am a big fan of games, and more so Blockchain games where you play games for FUN and earn from it as well. I have also written a lot about Games on Hive.
I just learnt Rising Star game last week since I had to tutor the Newbies for Newbies Initiative program about this game. It is really easy to play and understand. Will I be serious with it? I am not sure.

I am thinking of being serious with Dcrops game. One of the so many reasons is that staking up Crops tokens in the game grants you Hive rewards also.

It has been a while I played Splinterlands game. The last time I played it, I lost about 10 battles without winning a single battle. hahahaha... what have they done to Splinterlands game? I hope I get back to it. Although making Splinterlands content is actually stressful for me because of the time I take for markdown, images and beautification.

I am hopeful that PsyberX and Crypto-shot games would come out really nice. I need a breathe of fresh air in the world of blockchain games. I need something engaging... something shooooootingggg.
---
$MUSIC
---
I am happy with the creation of the Blocktunes frontend and $MUSIC token by @blocktunes. This has become a sought after token for me since I am musically inclined and I run a music community also (Afri-tunes). I foresee that we will include the $MUSIC token as part of the reward token to the best artist of the week; making it a total of Hive, Ecency Points, Leo and $Music token... weekly! Hehe! We are doing well.

Don't mind me, I am talking too much, right?
Yea!
Hive makes you think like a Bull during the Bear MARKET.
---
Logo Collage property of: Hive Learners, Ecency, Leofinance, Hive, 3speak and Ksam
Designs created with Canva Mobile App
Screenshot from Binance mobile application
---
I AM KSAM
---
I may not be your favourite author, but you can journey with me to help me develop my writing skills. I am always open to criticism, correction and learning 🥰.
Posted Using LeoFinance Beta
---
---