Lessons from the Stock Market, sorry Stock Fish Market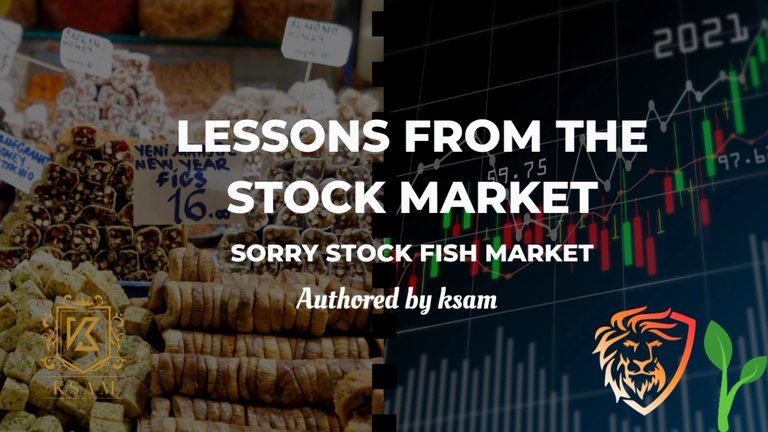 ---
☆ LIFE AND IT'S HURDLES
---
You know they say when life gives you lemons, you make lemonade out of them lemons. And when life throws stones at you, you use those stones to build your house.
Well, I don't know how true the second quote is because if it were true then I should be building my 3rd Twin-Duplex with the stones I get everyday.
These quotes, whether factual or not, urge us to remain positive minded in the midst of Calamities; they push us to create sense out of Nonsense, something out of nothing; and encourage us never to give up.
Indeed, no one has immunity or VIP tickets if life chooses to treat your fuck up. You have the choice to either succumb and be defeated, or struggle to keep your heads up high amidst the obvious challenging situation.

---
☆ THE UNFAVOURABLE MARKET
---
While life painstakingly chooses to be brutal to us, the market does not spare us. No! It doesn't, infact they collude!
They are after our lives!
They don't want us to breath in peace!
The market is something we cannot run away from; the same with the hurdles of life.
Can you do without food?
Can you do without water?
Can you do without clothing?
If your answer is YES, then...
abracadabra!
You asked for it!
---
However, if you can tell yourself the truth, then you know that these are our needs as humans, they are sine qua non to our fruitful and least comfortable existence as humans.
Hence, since we cannot but depend on the market to satisfy these needs, the Market has taken it as a point of duty to make sure that we do not get things very easy.
She is just harsh on us!
I mean the market

---
☆ STOCKS OR STOCK FISH?
---
Yes, I mean the market! She is really hard on us!
Be it the physical commodity market or the financial market, none of them wish to give us a free hand.
When you move around the market to get food items to cook your meals, you'll realise that the prices of food stuffs are afraid of getting low. There is a steady increase, such that the prices of food items always find a new All Time High every week.
On the other hand, the financial market keeps on searching for a new Low and Lower Lows every week. When you think the Ethereum 2.0 drive will make the Crypto market skyrocket, the market will purposely do whatever it pleases.
But, but, but, what have we done to you (Oh Market)?
Both the "Stocks" (representing financial markets) and "Stock Fish" (representing physical commodity market) Market seem to always go against what will favour us.
Why do they want us to always struggle for what to eat?
Why do they derive pleasure in making my heart skip a beat when the red blooded candle dances all around the market?
---
☆ CAN YOU DRAW A LESSON FROM THIS?
---
To be sincere, this isn't fair, at all!
What lesson does this show to us?
Do you know?
If you do, please I'd like to hear from you, because it is quite appalling.
However, on my own part, all I can say is that the Market is so cruel!
It teaches us to devise newer means that will help us to benefit a little from the harsh situation, while she never fails to plunge us back into a deep mess.
---
Please share your thoughts in the comment section below!
Hoping to hear and learn from you.

---
Designs created with Canva Mobile App
---
Have you read these posts by me?
☆ Can I convert my $LEO, $POB, $LOH and $NEOXAG Tokens to Hive? And Can I buy them with my Hive? (A Step-by-Step Newbies Guide)
☆ Does Leothreads Stand a Chance to Overthrow Twitter?
☆ Did you know that there are more than 10 ways to Earn on Hive?
☆ ☆ Playing with Tags: Practical Exercise, Use and Application of Tags in your Hive Posts (B)
---

---
I AM KSAM
---
I may not be your favourite author, but you can journey with me to help me develop my writing skills. I am always open to criticism, correction and learning 🥰.
Posted Using LeoFinance Beta
---
---