LPUD: The Beauty of Staking Up LEO – LEO & HODL Contest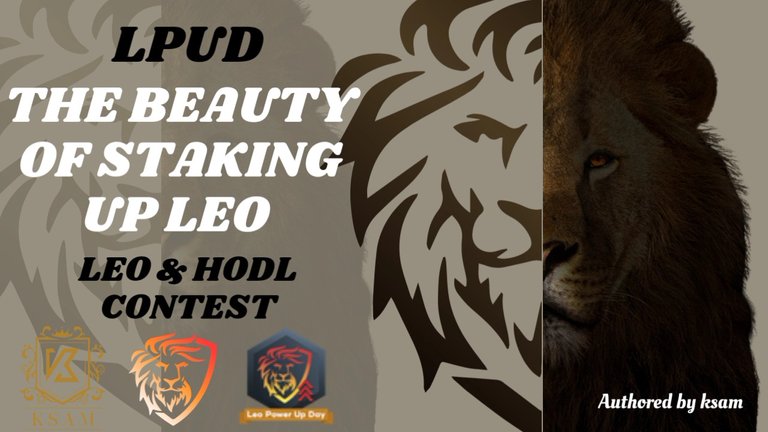 ---
DID YOU MISS OUT ON THE LEO POWER UP DAY (LPUD) FOR SEPTEMBER 15, 2022?
Oh No! You shouldn't have missed out on this great event.
Those of us who participated in this month's LPUD event received a badge to confirm our participation, and this is the first of its kind.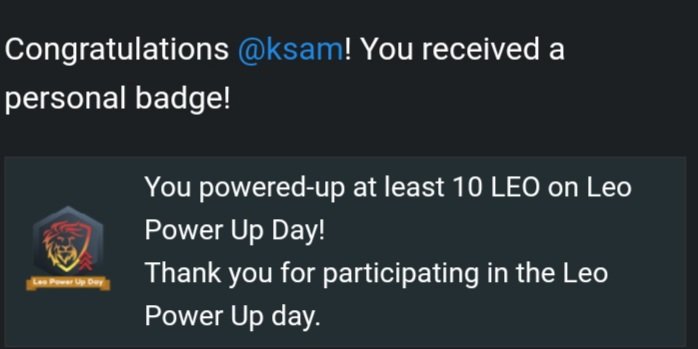 ---
☆ MY LPUD EXPERIENCE FOR AUGUST AND SEPTEMBER 2022
---
Last month's LPUD was the first time I participated in the LPUD event, and it was a remarkable one for me. I powered up 1000+ Leo, most of which I received as reward from few contests I participated in.
Powering up 1000+ LEO has been beneficial to me in so many ways:
It increased my Leo Power (LP),

it added more weight to my Leo Vote Value,

it enables me earn better curation rewards when I curate quality Leo contents,

it grants me the privilege of earning sweet LEO curation reward when I delegate my Leo to Leo delegation projects like @hodlcommunity and @india-leo,

and it made me realize that by staking up my LEO tokens I am investing more in the Leofinance Community, hence I believe more in the Leo Projects and I play my own part in supporting the progress of the LEO projects.
---
For this month, I powered up 200 LEO tokens to give a round figure of 1,300 LEO Tokens.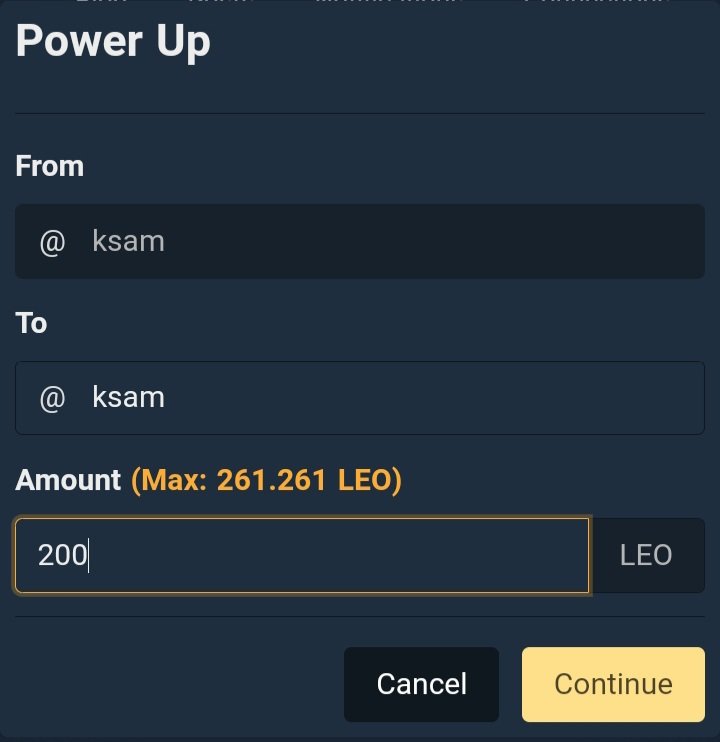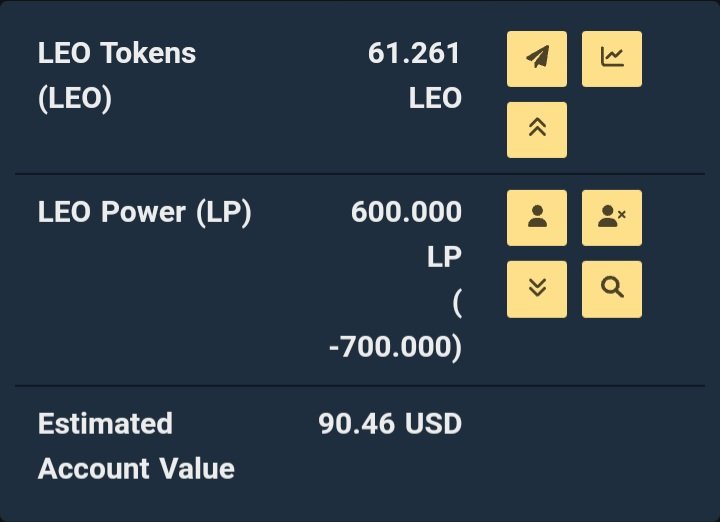 600 LEO Staked and 700 LEO Outgoing Delegation
---
I will continue to build up my Leo tokens by creating quality contents, participating in contests and purchasing LEO from time to time.

---
☆ WHAT THE LEO POWER UP DAY (LPUD) IS ALL ABOUT?
---
Are you just hearing about the Leo Power Up Day (LPUD) event for the first time?
If you are, then no need to worry, I've got you all covered.
Just like I said in my post on My First Leo Power Up Day: Standing Strong, the Leo Power Up Day (LPUD) is a day set aside by the Leo-Finance Community dedicated to Powering Up or Staking Up Leo. The Community sets aside the 15th day of every month to celebrate this special event.
---
☆ HOW TO PARTICIPATE IN LPUD
---
If you didn't participate in the event yesterday, it means you have missed this Month's edition. But, don't worry, you can still accumulate more Liquid LEO and participate in Next Month's edition.
To Participate in LPUD follow these 3 simple steps:
---
Have at least 150 Liquid LEO tokens before the 15th day of every Month

You can accumulate the Leo tokens by creating quality contents and posting in the Leo Community (using the leofinance.io frontend)
You can also accumulate the Leo tokens by creating quality financial related contents in any community, but do well to use the #leofinance tag
You can participate in amazing contests like the LEO & HODL Contest, contests from leogrowth, india-leo contests, and other amazing contests on Leofinance community where you can earn LEO tokens
And you can purchase Leo tokens from Leodex or Hive engine (you can read my post here to learn how to make this purchase in your Hive engine).

Make sure you power up at least 150 Leo Tokens on the 15th day of every Month

Share your LPUD experience via Hive post and on #leothreads

---
☆ HOW SPECIAL IS THE LPUD EVENT?
---
Just as I have always believed, this event is special to the LEO community and the Lions and Cubs that participate in the event.
---
☆ TO THE LEO COMMUNITY
This special day set aside for this communal event is significant to the LEO community as it shows the oneness, participation and support of each member of the LEO community in fulfilling the desired goal of the Leo-finance project.
By Powering Up our LEO tokens we tell the LEO Finance community with our actions that we are interested in the project and that we support it. By extension we add value to the Leo Community and to Hive Blockchain.
And just like I also said, actions like this motivate the community to embark on many amazing projects and keep on the development on different aspects of the community and her tokens.
And this is the absolute amazing truth!
We hear of different amazing projects going on in the LEO Community concurrently; from #Leothreads to #leobridges, sweet APR on #Cub tokens to #Leoglossary, and many more. When the founders and developers get motivated by the support of the community behind them, they will be impelled to do more and get better.
---
☆ TO THE LIONS AND CUBS WHO PARTICIPATE IN LPUD
For the Lions and Cubs who participate in Leo Power Up Day, you are not left out of the fun and massive benefit for participating in this special event.
By powering up and sharing your posts or experience about your LPUD via Leo Posts or Leo threads, you can get Leo author rewards for your post or/and thread
The more you power up LEO, the higher your LEO stakes; and the Higher your LEO stakes the higher your LEO voting Power. With higher Voting Power, you gain higher Curation reward.
When you have staked LEO, you can easily delegate it to a LEO Delegation project and you earn 100% Liquid LEO curation reward.
I heard from someone that Having more LEO increases your visibility in the LEO Finance Community. I am not so sure about this, however, this is an opportunity to confirm from older Lions and Cubs in the Community, so that a new cub like me will know better.
The LEO Community also offers delegation rewards to certain participants who powered up their LEO on that day. There is a special and unbiased way of choosing the winners and you may end up having 2k or more LEO delegated to you for participating in this special event.
Finally, a recent benefit is the introduction of the LPUD badge for the month of September. I received my badge; did you receive yours?
---
☆ ADDITIONAL BENEFIT FOR LIONS AND CUBS WHO PARTICIPATED IN SEPTEMBER LPUD
The @leofinance community @leogrowth and @hivebuzz are looking out to award amazing Lions and Cubs with HiveBuzz Badge Support, 200k LEO, 20k Prizes and More! Ensure to fulfil the special requirements; you can read about them from this post

---
☆ LEO POWER UP DAY IN THE HIVE ECOSYSTEM
---
We cannot overemphasize the importance of the LEO Power Up Day to the LEO Community and to the Hive Ecosystem, by extension.
Leo Power Up Day is a special event for the Leofinance Community, and the Leofinance Community is a community that enjoys the Leofinance Web 3.0 application built on Hive blockchain. It is a project that has so many layers and these layers are geared towards the actualization of a long-term multi-chain decentralized finance (DeFi) project.
Hence, as an amazing project in the Hive Ecosystem, the LPUD represents the Leofinance Community's Commitment towards the growth of the Hive Ecosystem, by making it more scalable.
By this special event, Lions and Cubs invest more in the Leo project, which is a second layer project on Hive. Investing in Leo, helps in the expansion of the Hive Ecosystem by improving it's efficiency and output without affecting the activities on Hive.
In this way, the Leo projects like LeoBridge, Leothreads and Leoglossary, among others, assist the Hive ecosystem in a special way.

---
This post is an entry for LEO Contest by LeoFinance & HODL Community Week 3
I invite @hopestylist @obaro @onos-f to learn more about the LEO and HODL contests, as well as to participate in it.
---
Designs created with Canva Mobile App
Screenshot from my Hive Post and LEO Wallet
LPUD Personal badge from @hivebuzz
Links of some key terms from @leoglossary
---
Have you read these posts by me?
☆ Can I convert my $LEO, $POB, $LOH and $NEOXAG Tokens to Hive? And Can I buy them with my Hive? (A Step-by-Step Newbies Guide)
☆ Does Leothreads Stand a Chance to Overthrow Twitter?
☆ Did you know that there are more than 10 ways to Earn on Hive?
☆ ☆ Playing with Tags: Practical Exercise, Use and Application of Tags in your Hive Posts (B)
---

---
I AM KSAM
---
I may not be your favourite author, but you can journey with me to help me develop my writing skills. I am always open to criticism, correction and learning 🥰.
Posted Using LeoFinance Beta
---
---