My First Leo Power Up Day: Standing Strong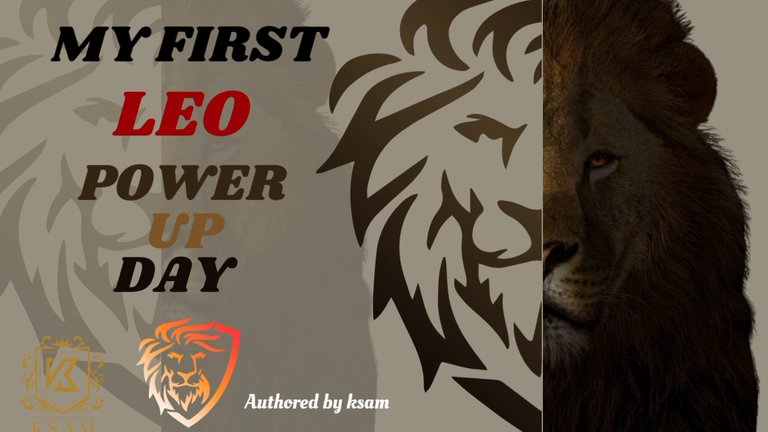 Having been on Hive Blockchain for more than a year, I found it difficult to make my very first post on Leofinance Community. This was neither because I knew nothing about finance nor because I was scared of making a finance related post: "I didn't have the balls for it yet - not literally though (hahahaha).
My encounter with my Grand Mentor during the Hive Meetup in Lagos on Easter Saturday on April 16, 2022, made things easier for me. He made me understand that writing a financial related post isn't really difficult. He reminded me that we are humans and finance is part and parcel of our existence. Thus, finance cuts across the food we eat, our money in the bank, the salary increase, how we spend and manage our financial life and how we escape "SAPA"(extreme case of poverty). Put differently, it is sine qua non to our existence as humans living in the human society.
George of the Jungle also had to deal with starvation, feeding and finding food, so whereever you are, so long as you are human, it is indispensable.

---
THE JOURNEY to LPUD
---
On May 10, 2022, I began my journey on Leofinance Community with my first post titled WILD THOUGHTS ON FINANCIAL UNCERTAINTIES. Ever since then, it has been a wonderful journey of unlearning, learning and relearning. I have read so many wonderful posts by great authors and pillars on Leofinance and I have benefitted greatly from them. The interactions, conversations and guidance have been enriching as well.
I had the opportunity of participating in Leofinance #threadstorm contest organized by @leogrowth and I was among the 5 participants who won the contest. I was awarded 1000 Leo Tokens and that has been my biggest win on Hive so far. I sincere appreciate all those who engaged on the thread I made. You all are too wonderful ❤ and your engagement made this possible.

I was held up in a dilemma: on the one hand, I thought about using a part of it to settle a financial challenge that needed urgent response, and on the other hand, I saw this as the best opportunity to stack up my Leo Coin since I have always wanted to have such amount in my wallet.
While this battle was fought in my mind, as the battle ground, I was able to settle the financial challenge somehow. With this, saving up the coin won the battle.
I also participated in India-Leo Contest hosted by @indiaunited and my small article titled: Investment isn't Fun: The Conversation you don't want to have, won the third place.

NB: I was able to participate in all these Contests because the Hive Contest Compiler Project (which I began) helped me to take record of these contests and it also served and still serves as a reminder.
All these happened up till 15th August 2022, the LEO POWER UP DAY.

---
"JUST HEARING OF LEO POWER UP DAY?"
---
To begin with, Leo Power Up Day is a day set aside by the Leo-Finance Community dedicated to Powering Up or Staking Up Leo. This Special day for the Community is on the 15th of every month.
For me, I believe this action is significant to the community as it shows the oneness, participation and support of each member of the community in fulfilling the desired goal of the Leo-finance project. It benefits both the Community and the individuals who power up.
Remember what I said in my article on Did you know that there are more than 10 ways to Earn on Hive? Earning from tribe tokens is part of the ways I mentioned there. And I mentioned there that you can earn tribe tokens via:
Author reward (posting using tags)
Curation reward (the higher your stake the higher your reward)
By Delegating or receiving Delegation
By earning them as reward for contest (just like I did)
Hence, when you power up your Leo Tokens, you have a higher LEO stake and with this you can give out higher votes and earn higher curation rewards. You can also delegate and earn APR on your delegations.
On the other hand, the LEO Community also benefits from this Power Up because we tell the LEO Finance community with our actions that we are interested in the project and that we support it. By extension we add value to the Leo Community and to Hive Blockchain.
Actions like this motivate the community to embark on many amazing projects and keep on the development on different aspects of the community and her tokens. That is why the Community also offers delegation rewards to certain participants who powered up their LEO on that day.

---
MY FIRST LEO POWER UP
---
Prior to the day I received the 1000 Leo reward, I never believed I will be participating in the Leo Power Up Day for this month because I didnt have up to 150 Leo to Power Up. Since I knew the importance of Powering Up Tokens, I usually Power Up my second layer tokens anytime I recieve them as rewards. Hence, I had already powered up 56.315 Leo over time.
Thus, with the 1,000 Leo and newer tokens received as payout of my posts I got 1,018.887 Leo. Huge right?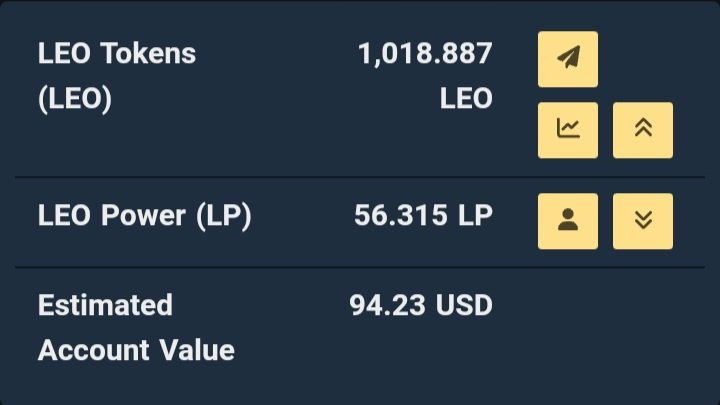 Then I got the reward for the publication I made on the India-leo Contest. Also, seeing the reward, I bought some more Leo so that I can round the total Stake reward to a 1,100 LEO.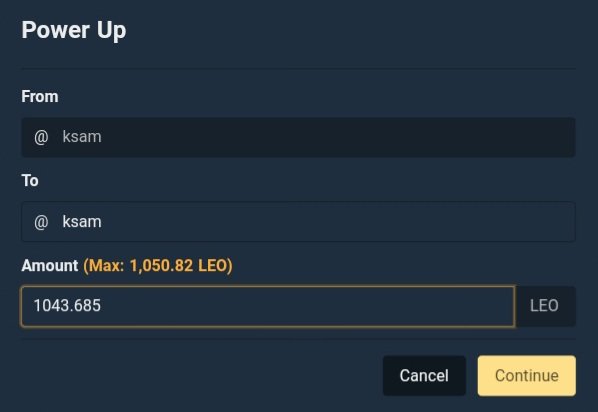 Hence I made the power up and it gave me this.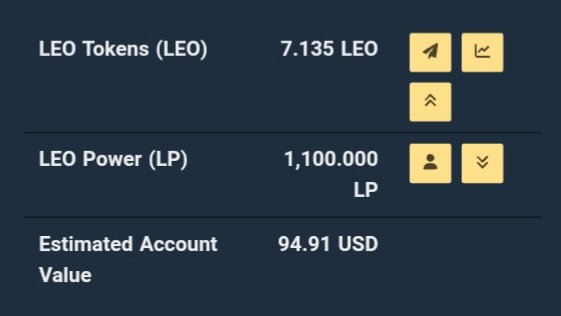 With this power up my LEO voting power increased from 0.003 LEO to 0.061 LEO

And I remembered this great thread by @adedayoolumide I decided that it will be the very first Thread or Leo Post that I will reward with this new Super Powers because of his creative design.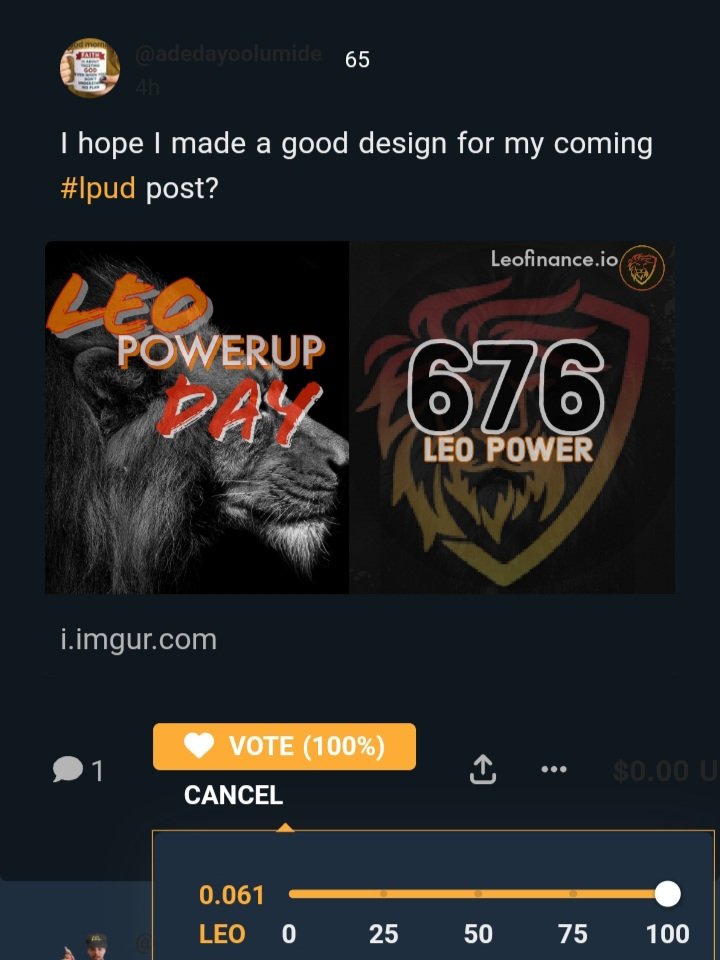 All these happened yesterday 15/08/2022 and I made interesting Threads about them. I also got engagement from the Lovely Leo Family Threading.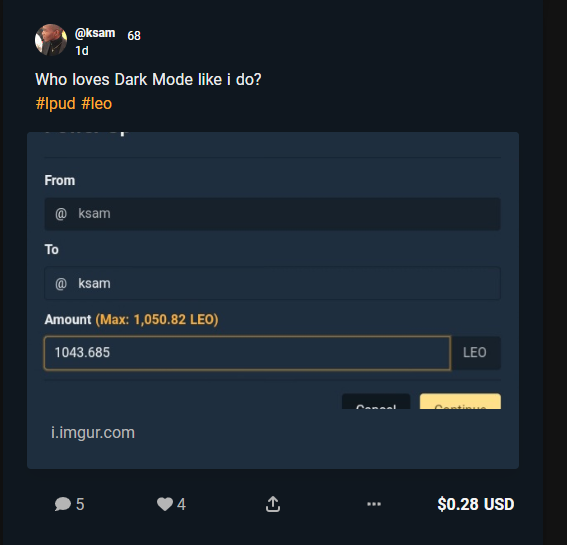 One of my many threads yesterday, and you can find it here
If I may ask: Why aren't you threading yet?
Micro-blogging is a goal!
Expect massive updates from the development team.
---
This is a run down of my Leo-finance Journey, culminating at this point I am writing this post in celebration of my First Leo Power Up Day, where I am Standing Strong like the song by the Nigerian Artist Davido titled STAND STRONG.
I also explained what Leo Power Up Day is and how it is beneficial to the Leo Finance Community and to the individuals who Power Up.
Feel free to drop your comments and suggestions in the comments section below.
All designs were made by me using Canva Mobile Application.
Screenshot was taken with my Samsung Galaxy A12
---
Have you read these posts by me?
☆ Unravelling my Favourite Hive Author: The Story between the Storyline
☆ DIARY OF A CONTENT CREATOR ON HIVE
☆ Did you know that there are more than 10 ways to Earn on Hive?
☆ INFLATION: FROM THE LOCAL MAN POINT OF VIEW
☆ Buying, is not the Solution!
---

---
I AM KSAM
---
I may not be your favourite author, but you can journey with me to help me develop my writing and creative skills. I am always open to criticism, correction and learning 🥰.
Posted Using LeoFinance Beta
---
---