Crypto-Shots : Doomsday in Space (Game Review)

---

Hello 🕹 Gamers 🎮 and 'UnGamers'!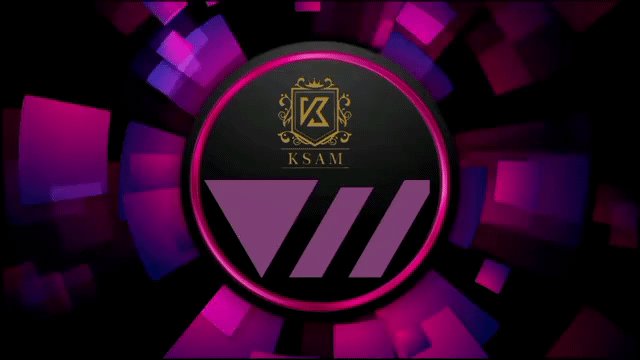 Welcome to my Gaming blog on Hive. Don't go away, walk with me and enjoy my fun Crypto-Shots Game Review
---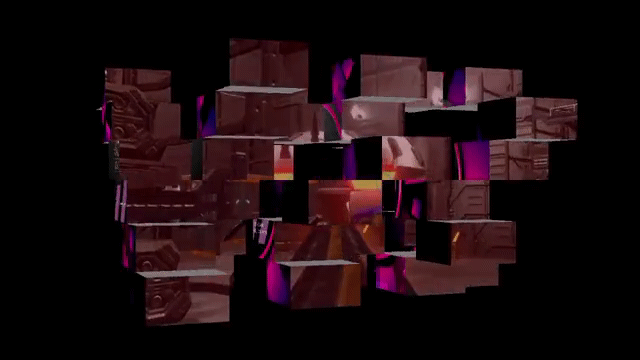 ---
INTRODUCING CRYPTO-SHOTS
---
Games are for fun, enjoyment, interaction, and relaxation. You know, right?
And now that blockchain technology has been incorporated into the gaming industry, players have a wider range of opportunities to earn real money (in-game crypto) as well as to profit from and own their in-game assets.
In the realm of blockchain gaming, the First-Person Shooter (FPS) Action game genre is uncommon. However, only a few projects have recently embarked on the monumental challenge of developing first-person shooter games and giving fps game enthusiasts the same privilege as other blockchain players, namely, the ability to "play to earn" (P2E).
One of the rare 3D first-person shooter games, Crypto-shots, is built on the Hive (and WAX) blockchains. Players in the gameverse of Crypto-Shots do missions on several planets, eliminate drones to earn Dot Omega (DOOM), and their gaming equipment, such as weapons, ammo, and characters, are NFTs ("owned" assets which could be rented out or sold).
Crypto-Shots also aims at expanding the gameverse to include more exciting features.

---
CRYPTO-SHOTS' GAMEPLAY
---
To explore the gameverse and gameplay of Crypto-Shots and contribute their experiences with the community in order to improve the project, Crypto-Shots has invited the league of Hive Gamers.
In accordance with the contest's rules as they are laid out, I would like to give my review of the Crypto-Shots Game, starting with my gameplay experience and moving on to an analysis of the game.
---
MY GAMING EXPERIENCE
---
We were invited to play a free version of the Crypto-Shots game which has the following limitations:
No potential to earn DOOM (or BOOM on WAX) from the game,
No potential to own game assets,
Only 3 minutes of game test,
Cannot refill weapons with armoury.
---
Here are some key moments in my gameplay
---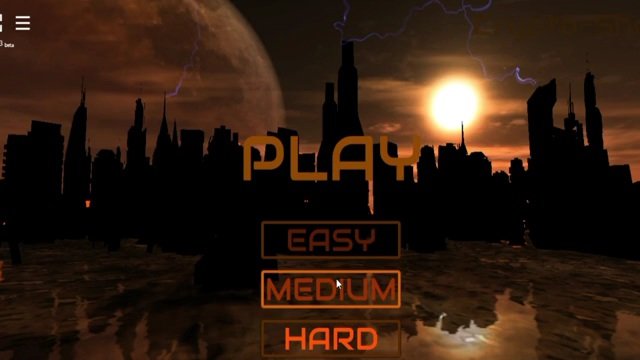 Out of the three levels, I chose the Medium level to make my video. I had earlier played the Easy level, but it was too easy for me, and the Hard level was quite difficult for me since I didn't have a game pad close-by (as I would have preferred it).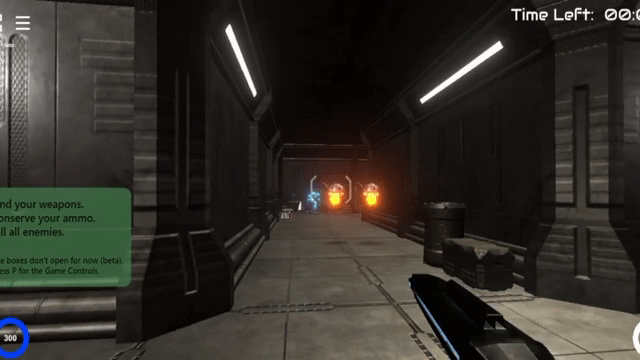 This was my first kill in the game, and to make this kill, I aimed the target and "brought it closer in sight" with the right click in-built mouse button, and I shot with the left click.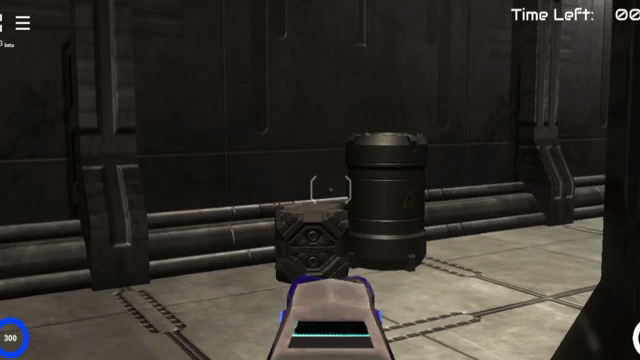 Here, I laid ambush for the drones to make it easier to kill them without getting a single shot from them.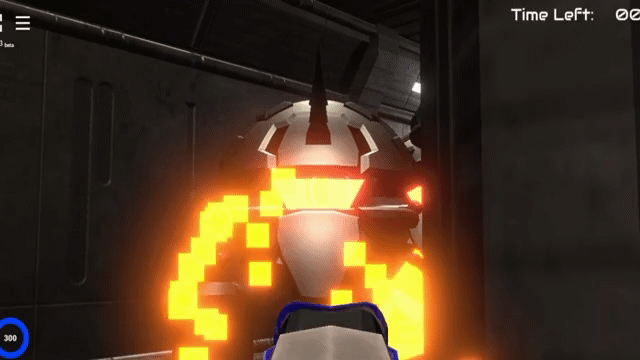 Oops! I ran out of bullets. My riffle was empty!!!!
Guess what I did next?
I ran for my dear life... hahaha
I remembered that a saw a weapon at one point in the game, so I ran to find the weapon. When I found it, I took hold of it.....
FEAR ME!!!!
Ha ha ha ha Villian laughter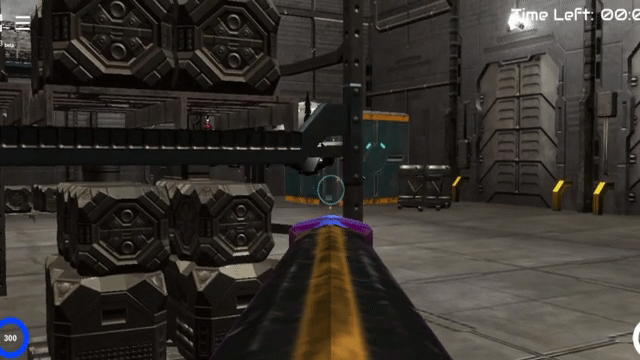 Again, I did the ambush thingy!
This weapon is a beast!
With one shot, the drones get blasted. It isn't surprising, because while the first riffle has 50 bullets, this new riffle has only 10 bullets.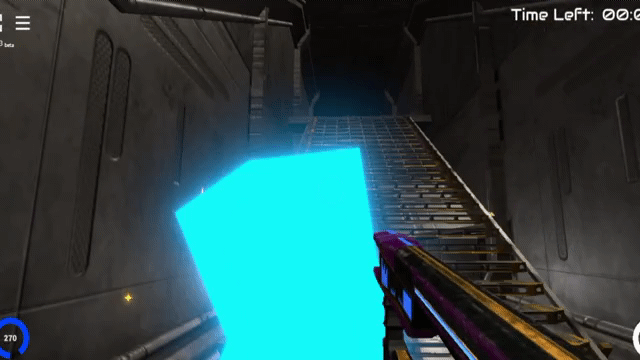 This was my best shot in the game.
Bear in mind that those blue objects increases your health.
---
Some Important Info in the Game
---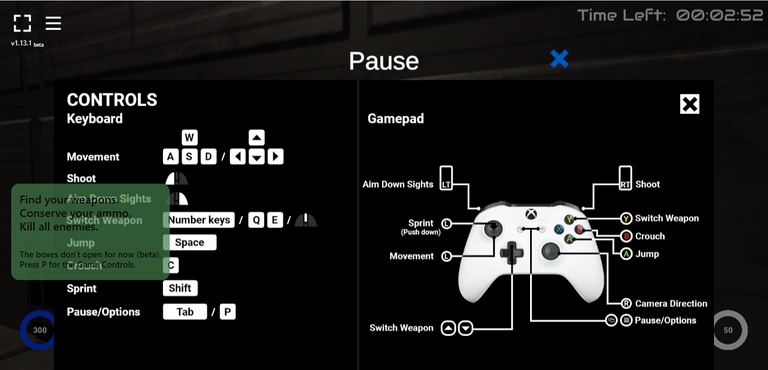 The game control helps you understand the buttons you need to perform certain actions. Pardon me, the green section refused to give way for clear shot.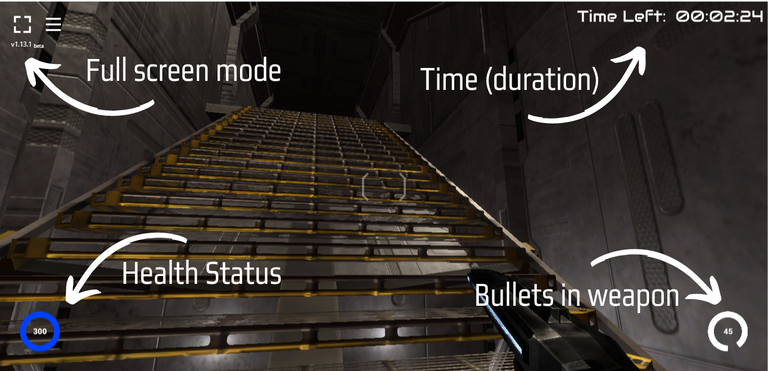 These are also important information to know. They will help you understand the gameplay better, and increase your playing experience.

---
CRYPTO-SHOTS' GAME ANALYSIS (MY VIEW)
---
Having shared my game experience, I believe you'd agree with me that it was quite fun. Yes, you must agree with me... hahaha
Well, for this analysis, I'd love to explore some key gaming themes in respect to Crypto-Shots game.
---
☆ STORY LINE
According to what I have seen and read so far, the characters in the Crypto-shots game are in space, on many planets. They carry out missions on other planets and will have the chance to engage in combat with one another in different arenas.
Aside from the information provided above, I haven't read any character or background stories for Crypto-Shots. However, this contest offers a chance for people with a creative bent to develop fantastic lore.
---
☆ GRAPHICS/VISUALS
The graphics and visual information in the game is a good one. The arena is, most probably, a space ship, and the information there depict such.
Although it may not count as the best in the fps gaming world, but it gives it a shot. Although, one notably weak point is the effect from riffle shots and shots from the drones.
---
☆ SOUND
One of the great features that motivates Gamers in game is sound. The differnt sounds of the various riffles, bombs and how it hits the target create an "I GOT YOU" impression for Gamers. Likewise, the background music relating to the theme of the game, also adds an amazing effect.
While Crypto-Shots has a good sound effect, I feel a lot more can be done to make the Gamer's experience better.
---
☆ DIFFICULTY LEVELS
There are 3 difficulty levels in the game:
Easy: this category is the best for people like @hopestylist who know nothing or little about games and want to try it out... hahaha, Hope... you must learn it ooo
Medium: Suitable category for people like me who play games but get killed faster in Hard levels... hahaha.
Hard: For Veterans and OGs in the shooting gaming world. I salute you all
---
☆ PLAYABILITY
Presently, the game is playable in browsers via https://play.crypto-shots.com/. You can use your phones or laptop to access the site.
However, I would recommend that you use your Laptop (PC) to play it since the control is suitable for it. You will find it difficult to play with your phones. But the good news is that it will soon be available for mobile use.
But, Wen soon?
After the 3rd level launch, the team will continue working on it.
---
☆ IN-GAME ASSETS
This is an important feature for contemporary games. Prior to the integration of Blockchain, games like Call Of Duty offers in game services where you purchase in game assets (like weapons, skins and characters) with your credit card. However, these assets are useless outside the game and you do not own them (as your property) neither can you trade them.
However, for Crypto-Shots, the game assets are NFTs such that they are your property, they can be used in the game, "rented out for PASSIVE income" I am not really sure about this or sold out for MASSIVE income.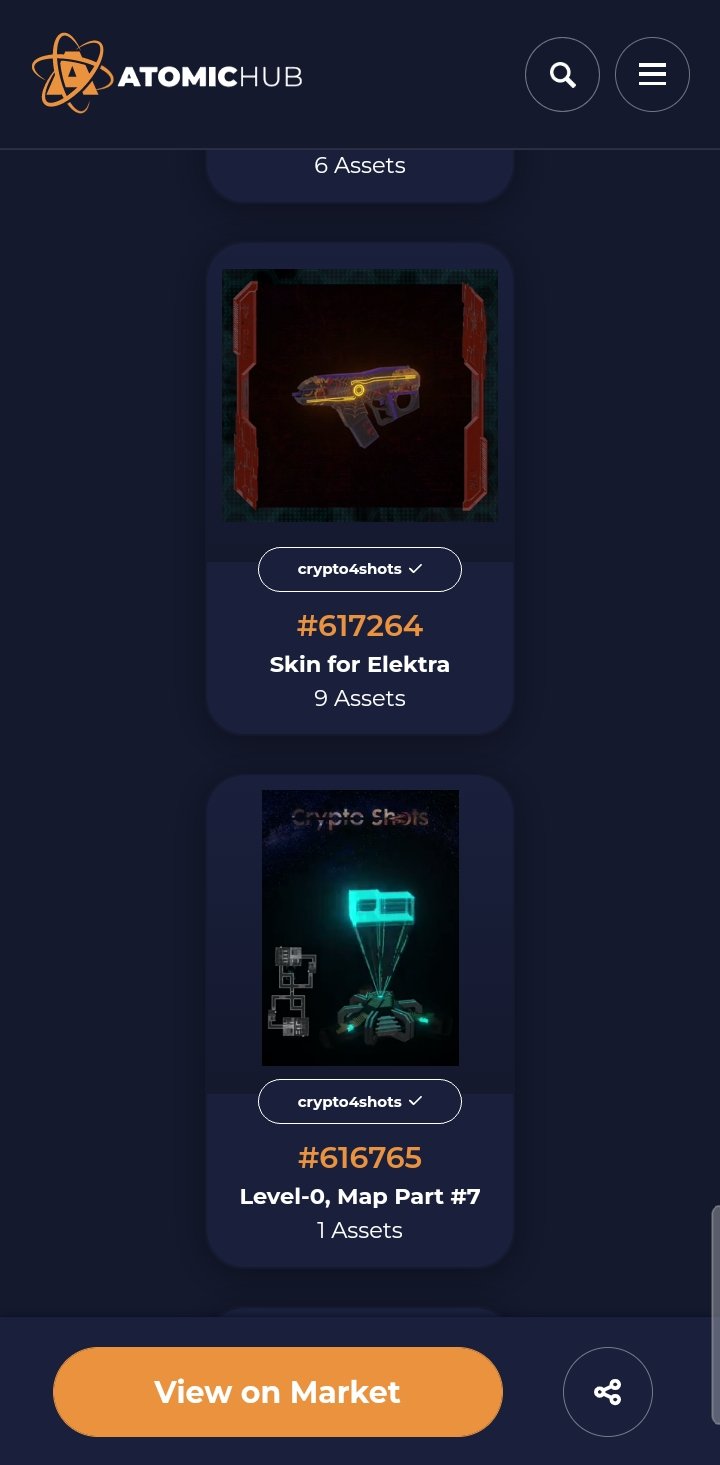 Image is a screenshot from Crypto-Shots Collection on Wax Market
These are assets in the game, and they are Undoubtedly NFTs.

---
PROS AND CONS OF CRYPTO-SHOTS' GAME
---
POSITIVE SIDES OF CRYPTO-SHOTS
Crypto-Shots is a fun game for lovers of FPS games.
It is among the very few projects that has dared to integrate blockchain into First Person Shooter game genre.
As a game that is built on the blockchain, it offers gamers the possibility to earn cryptocurrency and trade game assets as NFTs.
The blockchain offers a service that would rid off third party in terms of keeping indelible records or taking transactions.
As a game built on Hive, the Scalability and speed of Hive will enable quick transactions for Hive game players.
---
NEGATIVE SIDES OF CRYPTO-SHOTS & SUGGESTIONS
The graphics and music could be improved on to a better standard
Shock effect could be implemented so that gamers can have a first hand experience as though they were inside the game. I dont know if game pad users already experience this.
The pvp (Player vs player) mode will be a better mode to dive into quickly.
---
CRYPTO-SHOTS IN COMPARISON WITH OTHER GAMES
In the world of games, Crypto-shots belongs to the genre of First Person Shooter action games.
In comparison with all games in the Fps genre, Crypto-shots stands high above games that aren't integrated into blockchain.

This is due to the fact that Blockchain grants endless possibilities to earn and own game assets, as I have already expressed.
However, in comparison with AAA games like COD and fortnight, Crypto-shots falls short in terms of its graphic and engagement qualities.

In comparison with FPS P2E games on the blockchain, Crypto-shots stands tall, at par with some games and lower in graphics quality in comparison with some other games.
On Hive Blockchain, Crypto-shots' closest Competitor or ally would be the PsyberX game by @psyberx. It is also an FPS P2E game, but with AAA quality. It has a good Storyline, Graphics and has the possibility to switch between first person and 3rd person dimensional view, amongst other qualities. The game play is already released and I believe both games will continue to grow, and grow the Hive blockchain also.

---
So far, so good. I hope my gameplay experience and analysis of Crypto-Shots enabled you to enjoy the game with me and discover all of its wonderful potential.
I would recommend this game to gamers, and I also suggest using your PC to improve your gaming experience.
On a scale of 1 to 10, I'll give it a 7.5 as well.

Yes, the game is highly intriguing and has room for improvement; a game that I'd enjoy playing repeatedly.
---
You can watch my gameplay in the above
---
This is my entry for the OCD & Crypto-Shots Contest organized by @ocd and @crypto-shots @cryptoshots.nft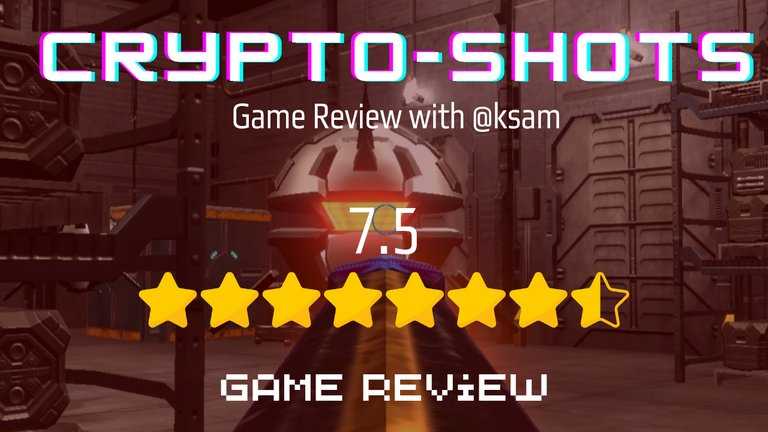 ---
I played the game via my PC's Google Chrome Browser
Screen video record via Bandicam Software
Screenshot via the PC's snipping tool.
.gifs were created from the video.
Screenshot of Wax Marketplace from my mobile.
Other designs created by me using Canva Mobile App
Video edited Via Powerdirector Mobile App.
Songs used in the video are not from the game, but from the video editor. However, the title and author names are shown.
---

---
I AM KSAM
---
ksam is a "uniquely creative" Hive lover who combines his musical, writing, linguistic, video and audio editing skills to promote creativity and ideas in the Hive Community. He is a "crytopreneur" and a game lover. You can follow him to view more tutorials and critical analysis of Splinterlands and PsyberX games.
---
▶️ 3Speak
---
---