Thinking Like a Scammer: The Art of Self-Defense (An Effective way to Protect oneself from Crypto scam)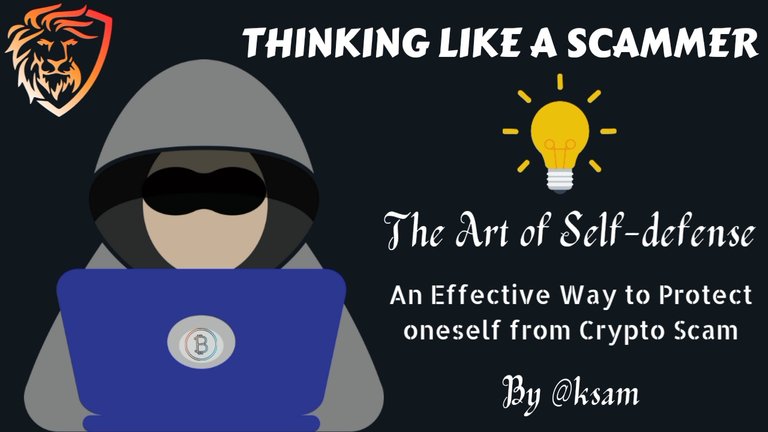 One of the worst experiences in "Cryptoverse" and "Cryptodom" is getting scammed off your hard-earned Crypto coins.
It hurts so bad!
No matter the worth of the coins lost; no matter the quantity or quality, no one wishes to have such a painful experience.
An experience filled with pain and regrets.
In the same way, on Hive, we try as much as possible to remind ourselves on the need to always safeguard our private keys and to avoid falling prey for scammers. Well, most times our greed make us explore more, and sometimes we fall victim of these scam-traps by letting our guards down.
To this extent, I believe one of the most efficient ways to defend ourselves from crypto scammers and hackers is by thinking like a scammer. In other words, we should attempt to answer the question:
If You Were A Scammer, How Would You Scam People?
I believe that when we understand a little of how these scammers operate, it will be easier for us to protect our crypto assets.

---
☆ IF YOU WERE A SCAMMER, HOW WOULD YOU SCAM PEOPLE?
---
If I were a crypto scammer, these are some of the methods that I will use to scam my prospective victims:
---
1. PHISHING SCAMS
---
The Phishing method is one of the oldest hacking techniques. If I were to use this method to scam @onos-f, this is what I will do:
With my fair knowledge of html, css and javascript, together with the public open source code, I will create a new website that resembles proofofbrain.io. I will focus on creating only the SmartLock Setup New Account page.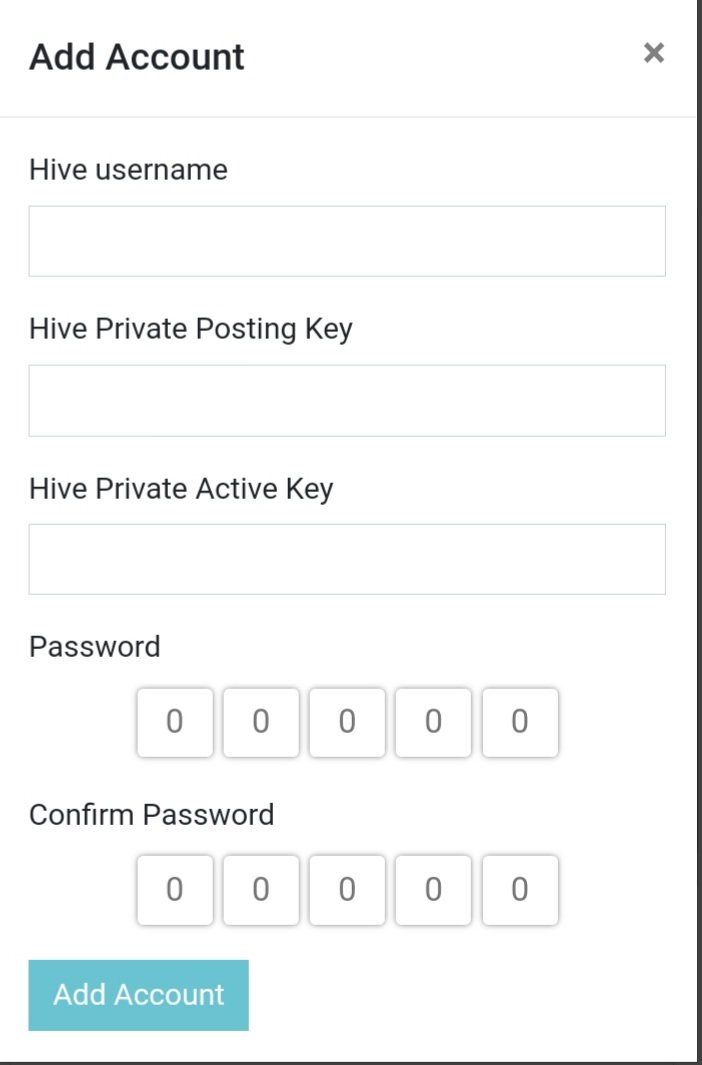 A page that will require you to fill your Hive username, Private Posting Key and Private Active Key.
I will host this page on a different website, maybe I will name it proofofbrain.xyz or proofofbrain.oo. I may use something that your mind will not easily suspect that it is a scam.
When I have hosted this page, I will embed this link to certain comments or posts. Or I will advertise a huge bonus going on in proofofbrain community, one that will be enticing and you may just wanna check it out. When you click on the link, it will direct you to this page. If you are not attentive, you will fill all your private details there and once you click on the send button, your passcode will be sent to my database, and this will give me full access to your Hive Wallet, since it will show me your Private Posting and Private Active keys.
---
---
For this method, I will definitely need to put some sugar or honey in my mouth to make my words "sweet to the ears."
I will give you the sweetest information about an investment scheme that has 150% Guarantee. I may even claim that acidyo and theycallmedan are in full support of this investment, and they would have carried out the advertisement themselves only that they are so occupied with OCD, POSH, 3Speaks, CTT and many other activities on the chain and in their personal lives. Hence, they entrusted the responsibility to me.
I will put out different categories of investment amount, the higher the amount, the higher the capital. And guess what? You will get a 50% profit within a week.
You may decide to try it out with your tiny 1 HBD or you may decide to go all in with you 100 HBD.
In any case, if I have 10 people putting in 1 HBD, 2 people investing 10 HBD and 1 person investing 100 HBD, my hard work will not be in vain at least.
---
---
I could also start up a sweet investment scheme and tell you that you need to begin with only 5HBD. You don't need to be afraid, it has only 5 levels and you just need to bring only 2 persons.
Level 1 – when you pay 5 HBD, 2 people will pay you 5 HBD each = 10 HBD
Level 2 – when you pay 7.5 HBD, 4 people will pay you 7.5 HBD each = 30 HBD
Level 3 – when you pay 15 HBD, 8 people will pay you 15 HBD each = 120 HBD
Level 4 – when you pay 60 HBD, 16 people will pay you 60 HBD each = 960 HBD
Level 5 – when you pay 480 HBD, 32 people will pay you 480 HBD each = 15,360 HBD
Wow! With only 5 HBD, you can get 15,360 HBD in just 5 levels. Isn't that amazing?
Wondering how I got this idea?
I'm a genius, right?
---
4. RUG PULL ON A NEW PROJECT
---
I can claim to start up a new token or a new project on Hive. I may decide to act as though it were a genuine project. I may be very active on the chain to make people trust me so much that they can confidently put in money to buy the tokens. After a while, I may act as though the project is going smoothly, but for me it isn't. Then when I feel I am satisfied with the outcome; I will sell off all the tokens and the price of the tokens will move from $0.1 for 1 to $0.000000000001 for 1.
O boi! That's dirty mhen!
---
5. GIVEAWAY SCAMS
---
I may decide to do some Friday giveaway and pick my winners randomly. When I pick my winners, I may direct them to a link or a site, and then use the phishing technique on them.
O well, greed can make you keep asking for more while paying blind eyes to the red flags.

---
☆ HOW DO I PROTECT MYSELF FROM SCAMMERS?
---
I believe we now have an idea of how these scammers operate. Understanding this gives us a lead, as it will be easier for us to protect ourselves from these scammers.
---
1. PROTECTING ONESELF FROM PHISHING SCAMS
---
The easiest way to protect oneself from phishing scams is by avoiding untrusted sites
Don't click on unverified links
Don't put your Private Passwords in any site that looks like any Hive frontend; VERIFY THE SITE BEFORE PUTTING YOUR PASSWORDS
Always check to be sure that the website you are on is accurate: take note, we have peakd.com, leofinance.io and neoxian.city. So, be sure to confirm whether one uses .com or .io or .city.
---
2 PROTECTING ONESELF FROM SCAM INVESTMENTS SCHEMES
---
Watch your greed level...

Watch your greed level.....

Watch your greed level........

Greed can make you lose focus such that you fail to make adequate research and confirmation before making such investment.

Don't fall for fake images and words of endorsement from popular figures; they may be fake endorsements also.

ALWAYS VERIFY BEFORE YOU INVEST AND BE SURE OF THE INVESTMENT

Don't get carried away by the huge returns.
---
3. PROTECTING ONESELF FROM PONZI/MLM SCHEMES
---
Run away from any investment scheme that tells you that your payment is partially or fully dependent on bringing referrals. They will crash along the way, when the 4th or 5th generation of your downlines can't bring in referrals anymore.
"With only 5 HBD, you can get 15,360 HBD in just 5 levels" blah blah blah!
That 5 level is an impossible mission, honestly.
Just avoid them... But if you love exploring things and if you love Ponzi and MLM, then fire on, but I don't give you my blessings.
---
4. PROTECTING ONESELF FROM RUG PULL ON A NEW PROJECT
---
Always verify a project before investing in it.
The rug pull may not be the fault of the owner, but in any case, try not to be a victim. Hence, always DYOR – DO YOUR OWN RESEARCH before you enter into a crypto project.
Assume all investments are fake till you are convinced that it isn't. This method is called the Cartesian doubt, from the Great Philospher, Rene Descartes.
However, remember that every crypto investment is a risk and always invests what you can afford to risk.
---
5. PROTECTING ONESELF FROM GIVEAWAY SCAMS
---
Well, I am not saying you should avoid giveaways oooo (lol), however, when you notice that there is a red card in the giveaway, please stay off. It is better to forgo that $10 giveaway, than to lose your crypto life savings of $875 just because of $10.

---
Finally, I believe we now understand a little of how these scammers operate, and this, in turn, will help us to guard our crypto assets and wallet fully and effectively.
Feel free to drop your feedback and more thoughts on this.
Feel free to read more about Cryptocurrency scam from techtarget.com and Not Your Keys, Not Your Crypto by @leoglossary
Designs created with Canva Mobile App
Screenshot taken from www.proofofbrain.io frontend
Links of some key terms from @leoglossary
---
Have you read these posts by me?
☆ DIARY OF A CONTENT CREATOR ON HIVE
☆ Did you know that there are more than 10 ways to Earn on Hive?
☆ SAY THANK YOU TO YOUR MENTOR ON HIVE
☆ Unravelling my Favourite Hive Author: The Story between the Storyline
---

---
I AM KSAM
---
I may not be your favourite author, but you can journey with me to help me develop my writing skills. I am always open to criticism, correction and learning 🥰.
Posted Using LeoFinance Beta
---
---