How Much Traffic Are YOU Driving to LeoFinance? | Profile & Post Analytics

Driving traffic to LeoFinance is key to the overall growth and success of the platform.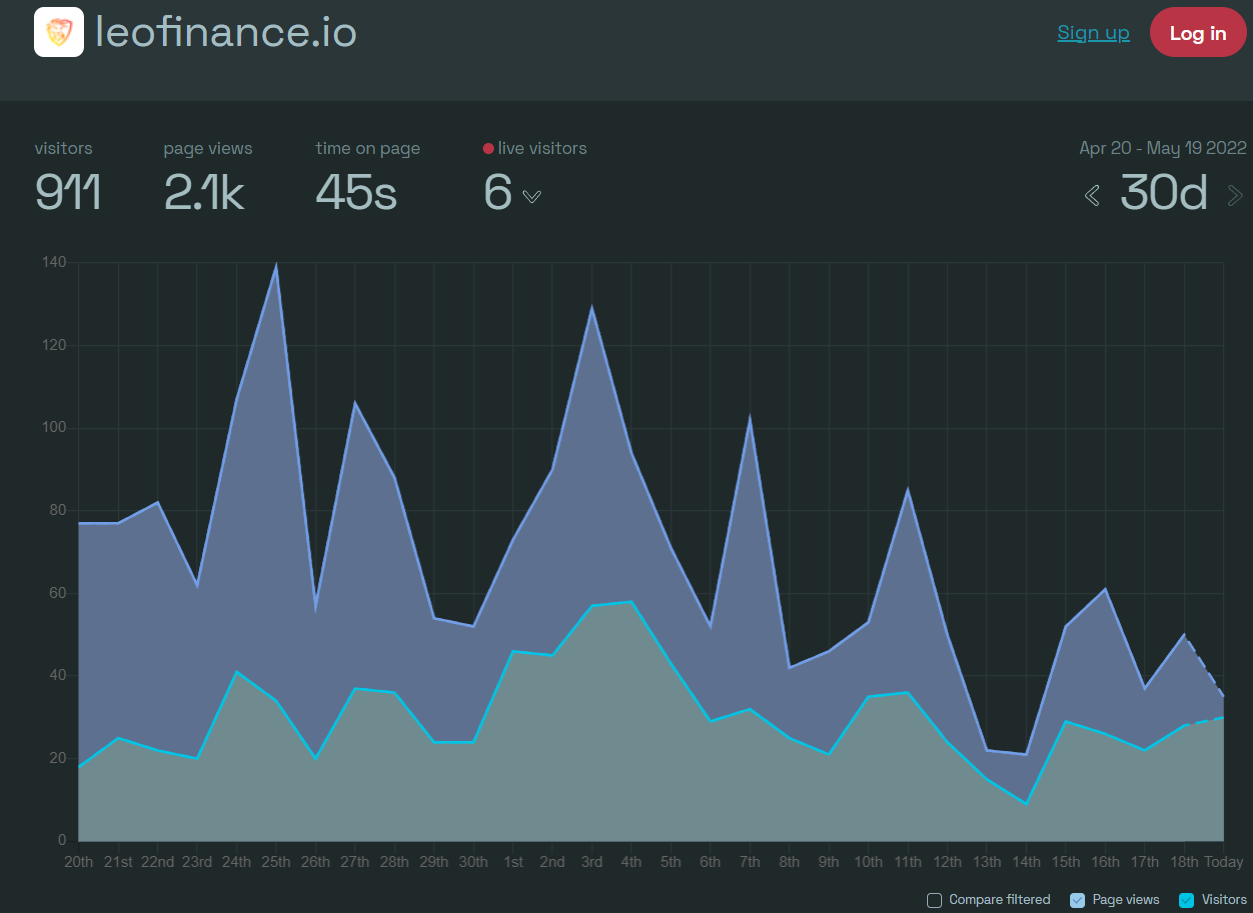 Ever wondered how much traffic you're driving to LeoFinance?
As a LeoFinance ambassador, I've shifted a lot of my focus to finding ways to increase the traffic I drive to the platform. @forexbrokr commented on one of my posts the other day and mentioned that I was "killing it on Google" and provided me a link to SimpleAnalytics. When I first looked at it I didn't really comprehend what I was looking at, probably because it was extremely late and I just glanced at it.
That tab has been open in my browser for a few days now and last night I decided to really dive into it. After doing some digging, I found out that I have steadily increased the amount of visitors to my content even though now I'm creating less content on a daily basis. I've done this based on a lot of tips from @hitmeasap and this post about how to make your post pop on search engines.
I never really realized how important keywords, formatting, and even the "alt text" of the images in your posts were. I mean, I've always heard people talk about search engine optimization but was never shown the results so I guess it didn't click with me.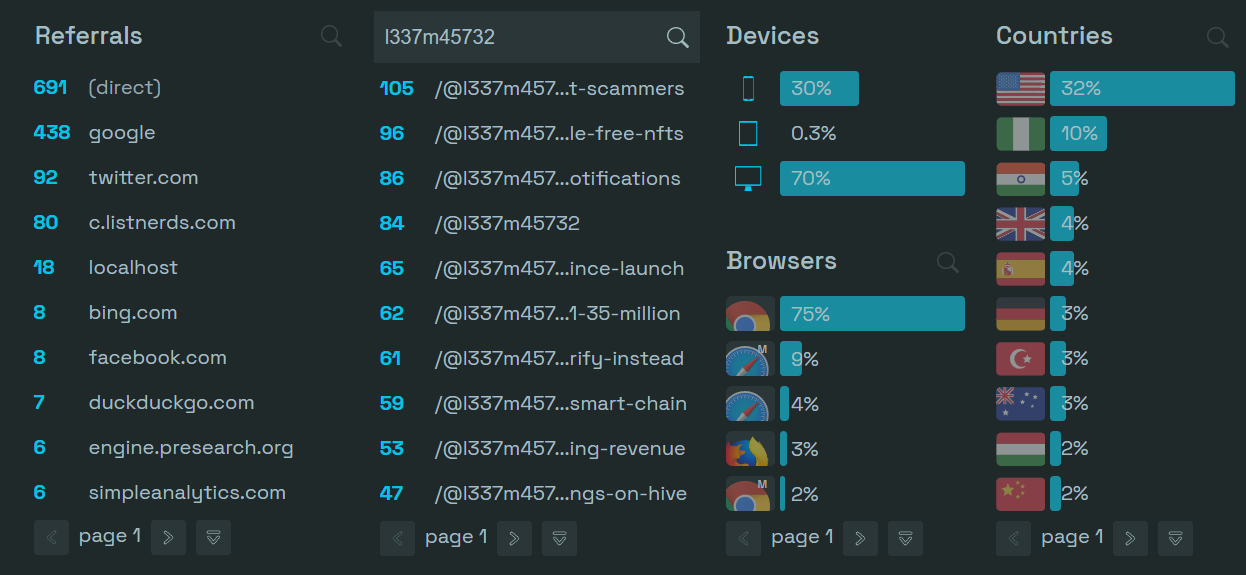 In the past 30 days, my profile and posts have gotten 2.1K views, and 911 unique visitors. While these numbers may sound small, they're actually pretty good. Those 911 unique viewers spent an average of about 45 seconds on whatever page they viewed. Considering how short most people's attention spans are, I'd say that's at least decent.
As you can see, my post Insane Web of NFT Scammers has brought in the most traffic in 30 days at 105 referrals. The second highest traffic post in the past 30 days is Engine Wallet - How to Get Multiple Free NFTs at 96 referrals. My audience is primarily in the US, with Nigeria being the second highest. I assume this is largely in part to the times that I make my posts, since time zones make a big difference on when someone will see a post.
The other important breakdown is to the left, that shows where the traffic is coming from. Obviouslty, the highest number here is going to be "direct" because these are people that are going straight to LeoFinance on a daily basis (at least, I think that's what it means lol). Right below that you can see I got 438 referrals from Google and 92 from Twitter!
Comparing these numbers to my numbers from January, you can see the massive growth.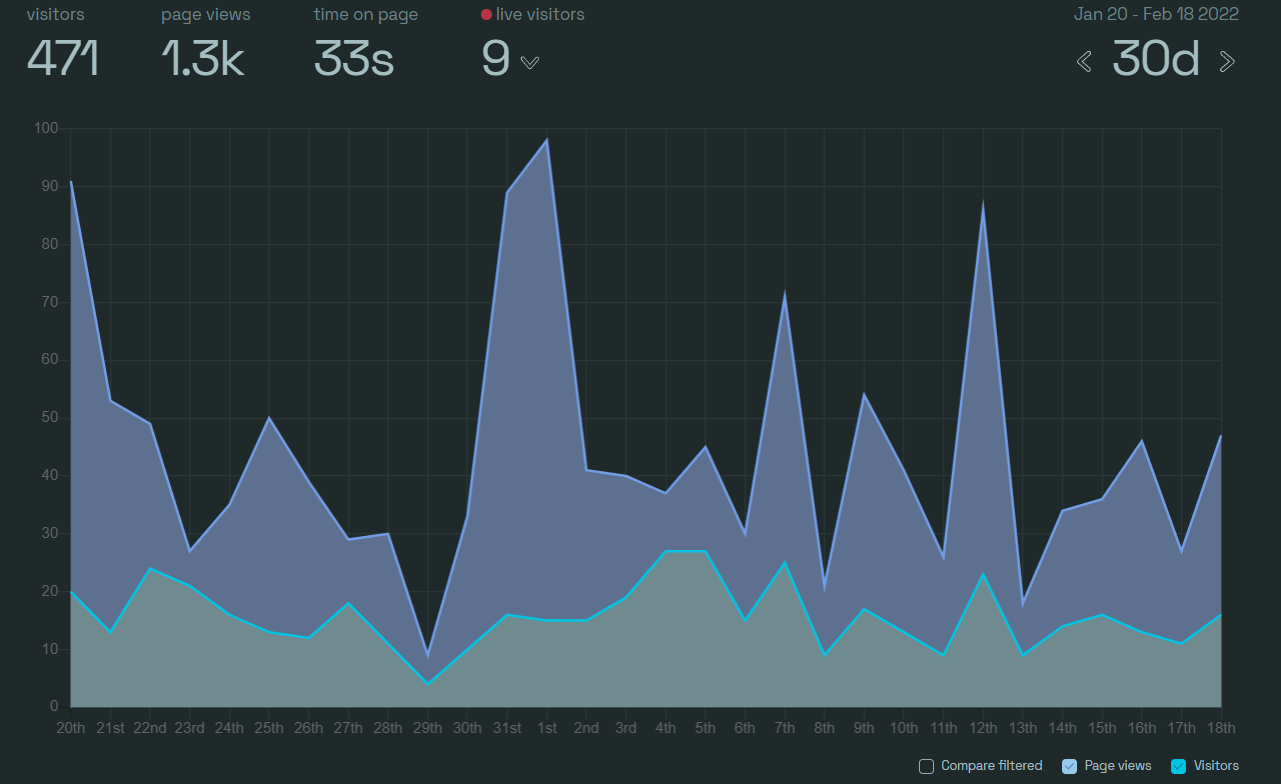 I've nearly doubled the amount of visitors and page views in just a few months. This is what focus can do for your content. Keep in mind too - the more traffic you're driving in, the more advertising revenue you're going to get a cut of based on your amount of LEO staked as LEO Power. So while you're optimizing your content, it's not a bad idea to grab some LEO tokens whenever you can to maximize your APR on LEO.
Again - I know these numbers sound small but I think they're pretty damn good. Let's look at LeoFinance as a whole now.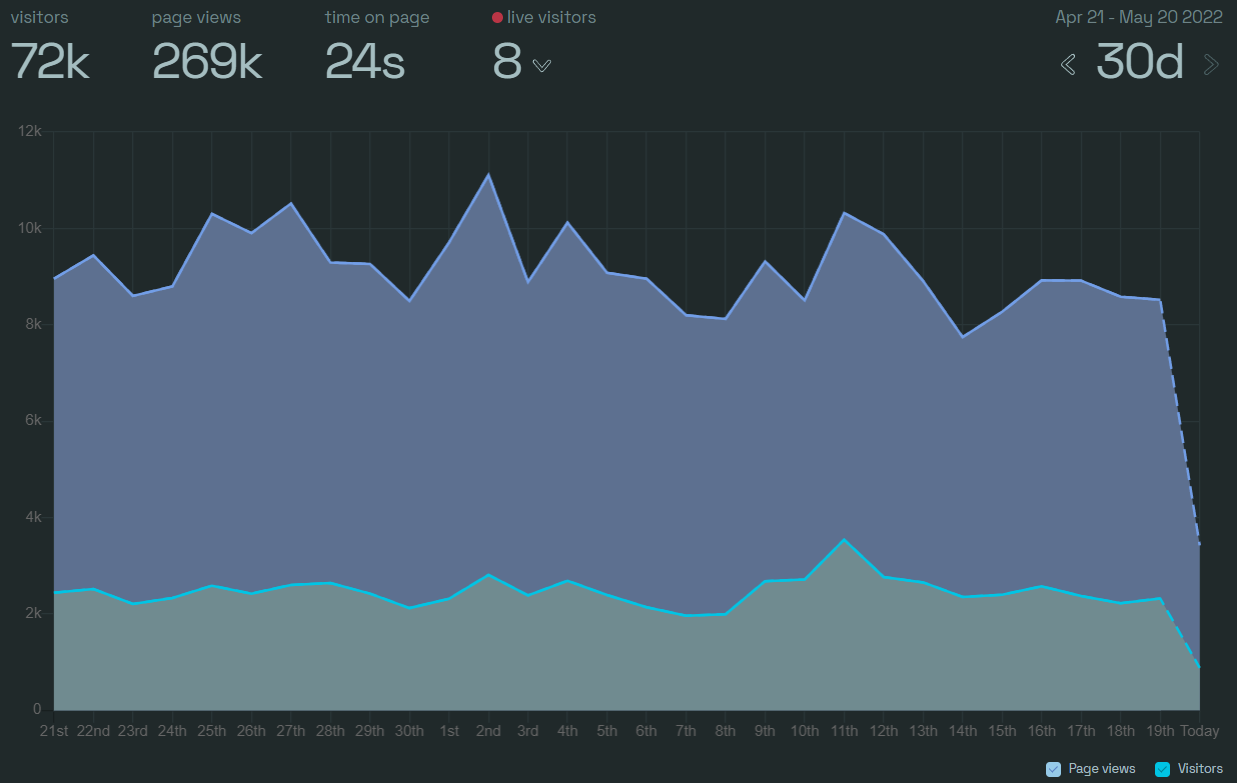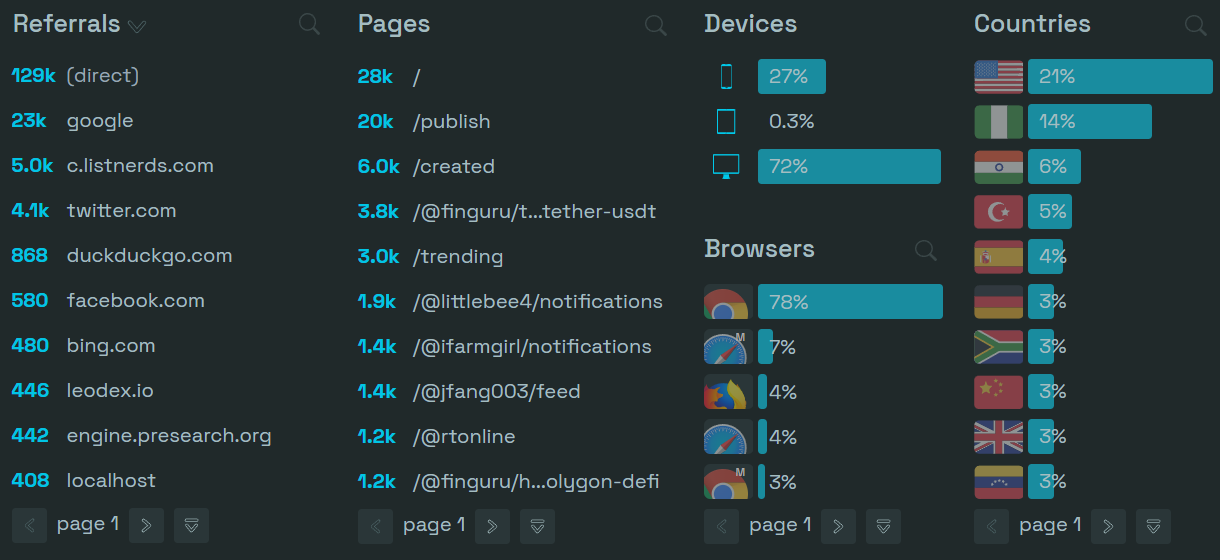 LeoFinance got 72k unique visitors and 269k page views. The US and Nigeria are at the top once again on the geographical analytics. 23k referrals from Google, 5k from ListNerds, and 4.1k from Twitter. I don't know that I would consider ListNerds traffic very important because it's primarily people already using Hive. However, that does not mean that all of those users use LeoFinance so you can't overlook it.
23k from Google is pretty solid. We definitely need to pump up those numbers though! There's a lot of very simple ways to increase your content's search engine rankings. We also need to keep the emphasis on sharing our content on Twitter. If it's written on LeoFinance, tag them on Twitter. If you're writing about a particular project, tag them in the Tweet. These are just a couple ways to keep that traffic coming in.
I highly recommend checking out the posts linked above for even more juicy tips. If you're curious about your numbers now, I suggest you check them out. You can use this as a tool to see how your different efforts are affecting your numbers on a daily, weekly, or monthly basis.
To see your own stats, replace (your username here) with your Hive username in this link - https://simpleanalytics.com/leofinance.io?search=paths%3A(your username here)
For example - mine is visibile here: https://simpleanalytics.com/leofinance.io?search=paths%3Al337m45732
So - what do your numbers look like?

Thanks for reading! Much love.
Posted Using LeoFinance Beta
---
---