Incentivized On-Chain Push Notifications for Ethereum/Polygon

I discovered a really interesting crypto project last night and couldn't help but take a deep dive into it. This project is doing something I've never seen before with Ethereum. I could see this being used in so many different ways by so many different projects.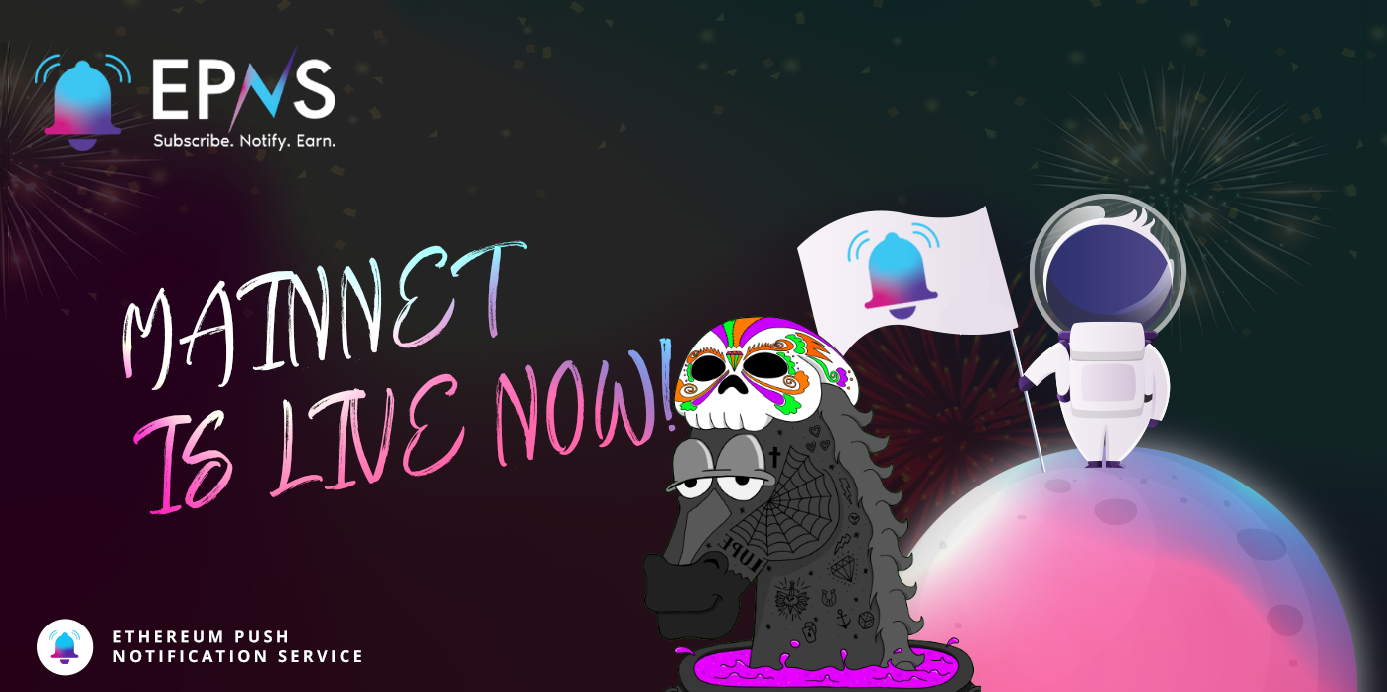 Ethereum Push Notification Service
The EPNS is a protocol for blockchain-based notifications that is chain agnostic, platform independent, and incentivized. The idea here is that Web3 applications, or dapps, do not notify their users of things that happen related to their wallet. For example - say you place a buy order on Uniswap for Ethereum at a specific price, and you walk away. You're never going to know if that order executed unless you physically go to Uniswap and check if the order filled. With a wallet that has integrated EPNS, you could get a push notification right in your wallet on your mobile phone that lets you know that the order has been filled or expired.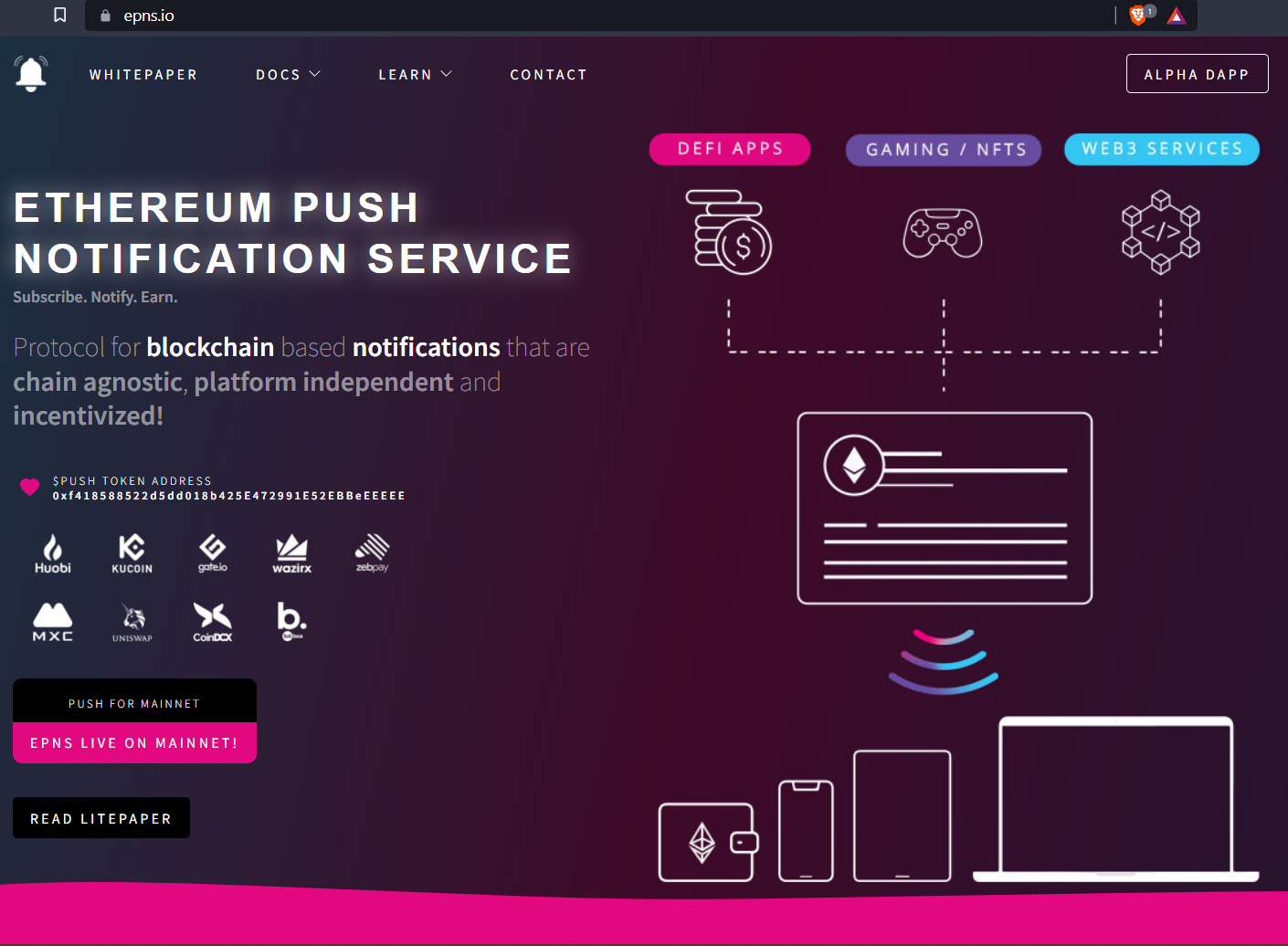 Push notifications are per dapp and are opt-in only. This means that each wallet can choose what notification channels it wants to subscribe to. In order for a dapp to create a notification Channel on EPNS, they must stake DAI. That DAI is lent out on Aave and generates interest, which is paid to users. Therefore - if you opt in to receive push notifications from CoinDesk, for example, you'll earn a little bit of crypto as well. These distributions to users will be paid in $PUSH which is the native governance token of the EPNS protocol.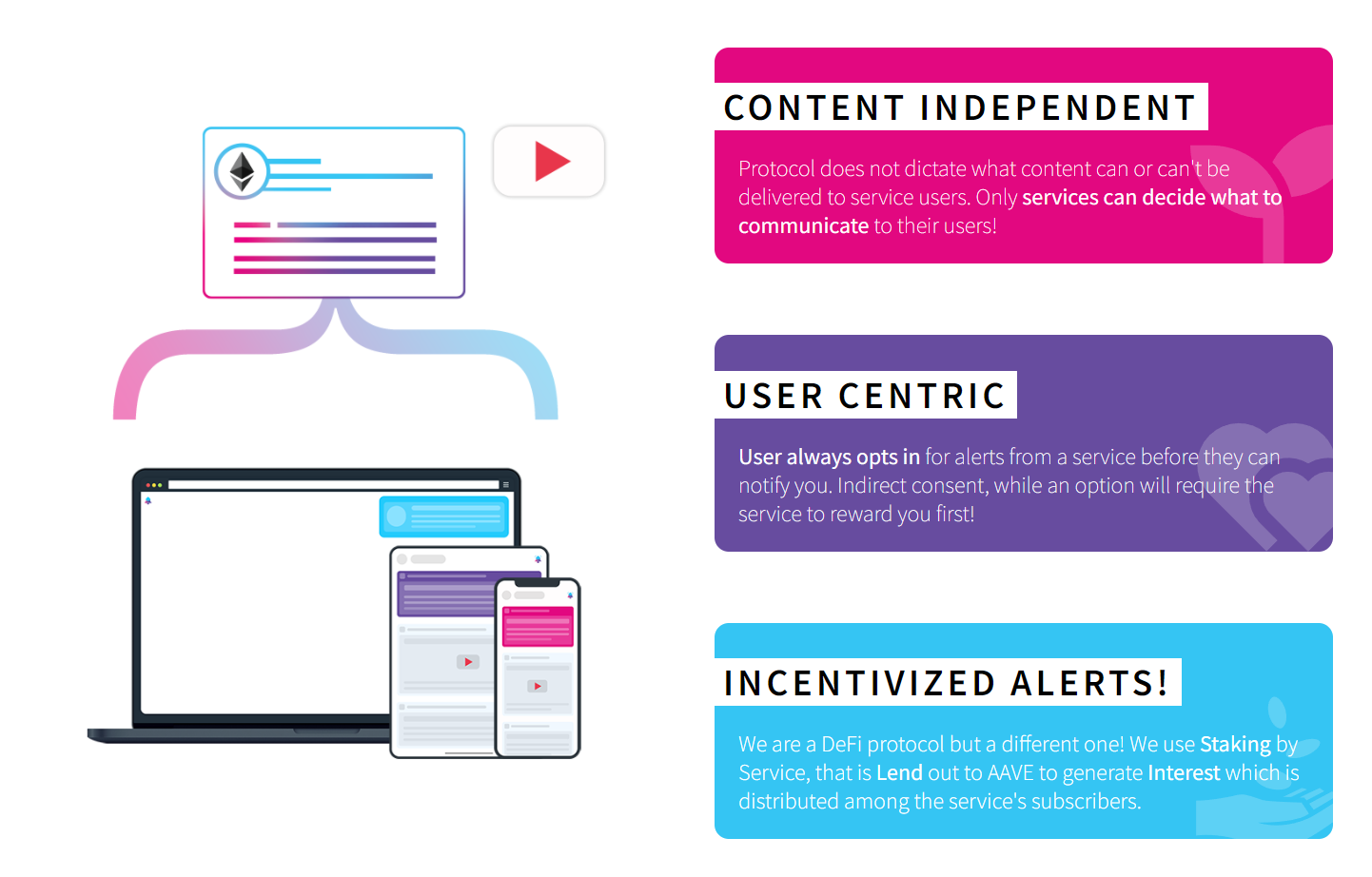 EPNS is still in alpha and went live on Ethereum's mainnet today. This means that users can use the dapp to go ahead and subscribe to a few different notification Channels right now. Businesses, dapps, and other projects are able to set up creator Channels and start allowing users to opt in to their notifications as well. Notifications are delivered to the Subscriber's Inbox on the EPNS app, which is available now on iOS and Android. I'm gunna go ahead and subscribe to a few so I can start earning. As always - please do your own research and remember this is not financial advice.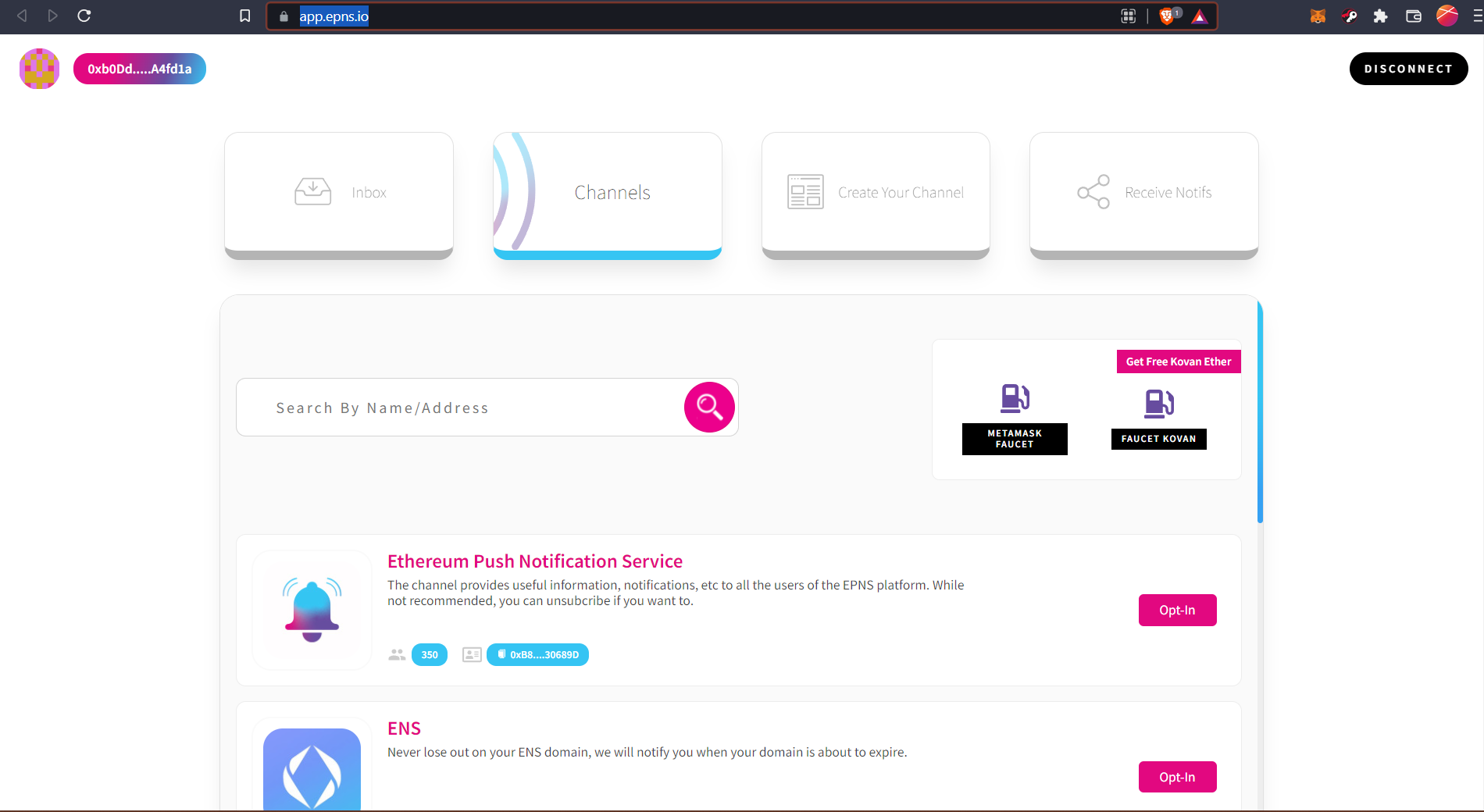 So this is your Dashboard, once you connect your wallet. The dapp is available for both Ethereum and Polygon right now. They will be adding more chains in the future. More than likely, all EVM chains will be supported. From your Dashboard, you're able to check out the list of available notification channels and Opt in to get notifications for each individual one. Let's subscribe to the Ethereum gas price one because it's nice to get a notification when gas prices aren't going to kill you.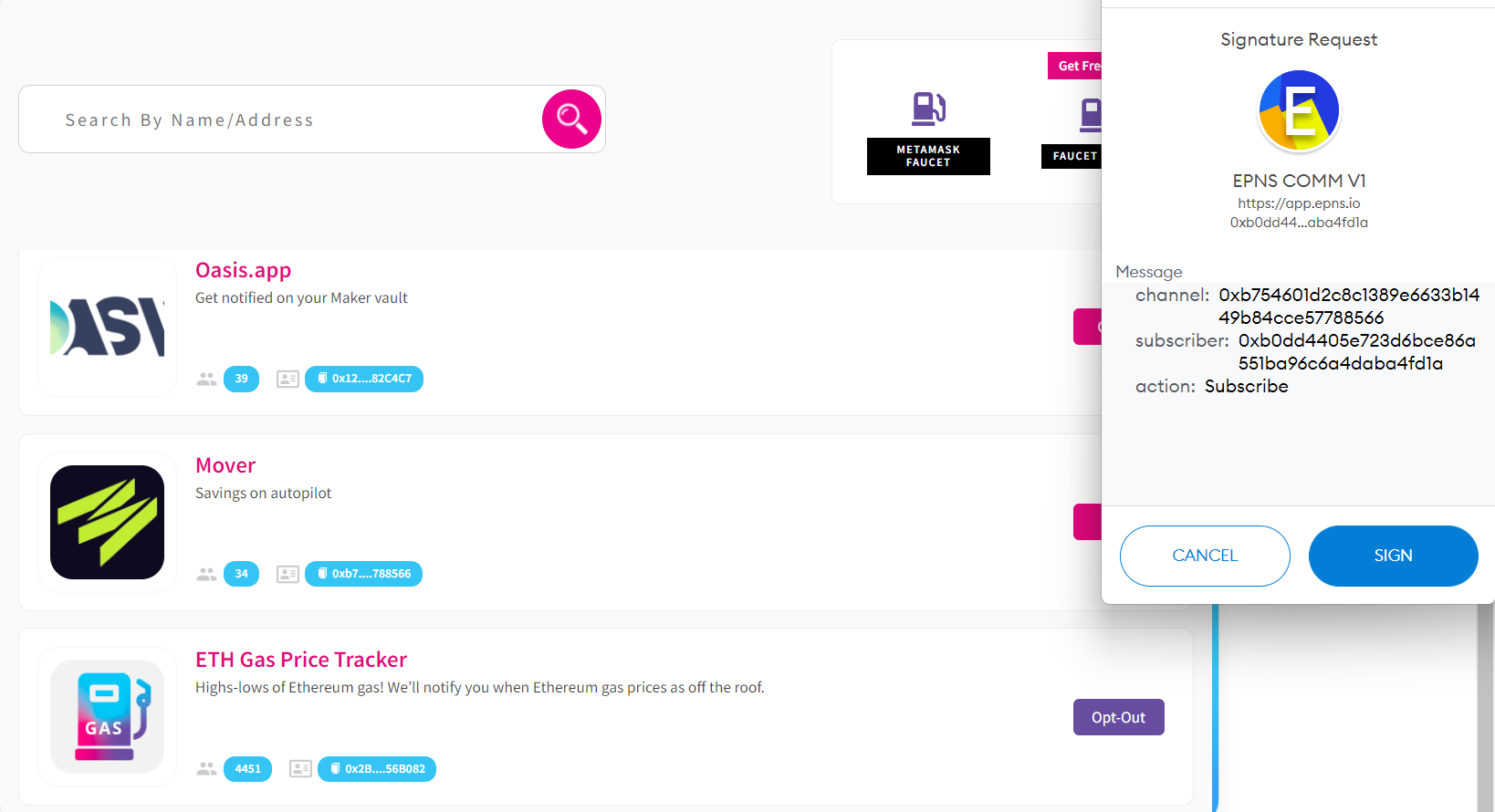 Very easy - Literally just click Opt in and then Sign the transaction with Metamask. There's no gas fee or anything like that as all you are doing is signing the transaction with your wallet. Once you've Opted in to your channels, you can get the browser extension or app to receive notifications.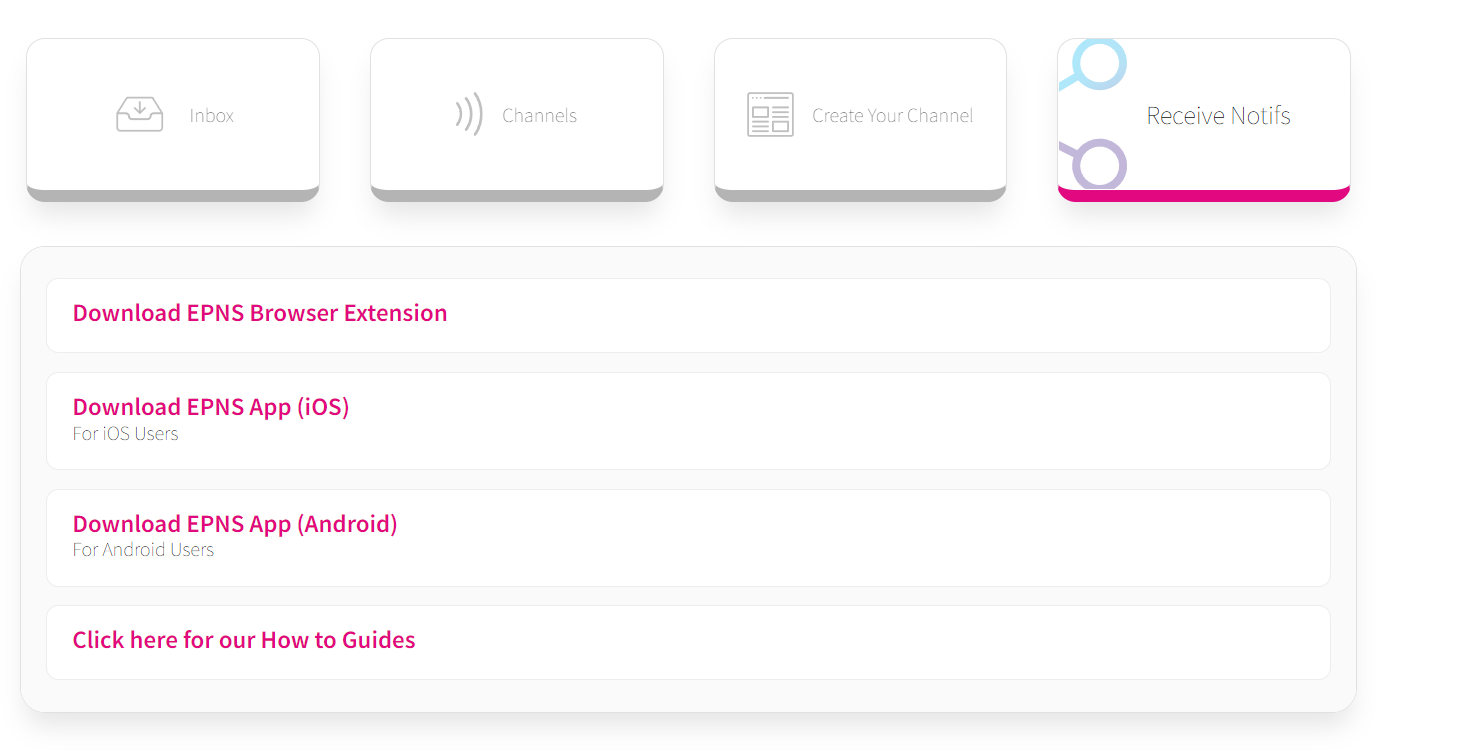 The amount of dapps and platforms that could use this is amazing. Imagine getting a push notification when your Bored Ape Yacht Club NFT gets a buy offer. What about getting a notification when your Ethereum Name Service address is about to expire? Maybe a notification that you have an airdrop to claim?
What other ways could this protocol be used?

Thanks for reading! Much love.
---
Links 'n Shit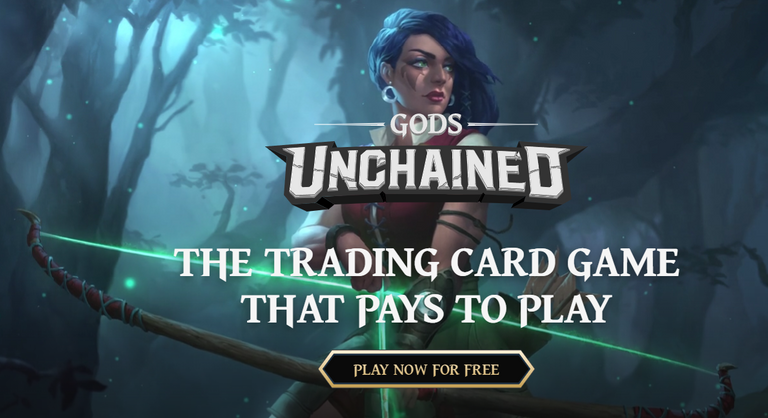 Posted Using LeoFinance Beta
---
---