Looking to Relocate? Arkansas Will Pay You $10,000 in BTC to Move There
It's not uncommon for towns or even states to offer incentives to relocate, at least here in the U.S. We've seen Tulsa, Oklahoma offer a similar incentive for people to move there in November 2020 and one family that received it stated that it was "the best decision we've ever made". It makes sense for a lot of reasons and I fully support it.

Northwest Arkansas
My brother often sends me crypto related articles and shit that he comes across. He's not hugely into it like I am, but he does have some crypto and understands it at the base layer. He's never really been super into it for whatever reason, but he does like to talk about it. He sent me this article about Arkansas offering $10,000 in BTC for people to move there. For a minute I thought he was trolling ,but nah. Turns out this is legit. Not only are they offering $10,000 worth of Bitcoin, but they are even offering new residents a free bike. This incentive is offered by a nonprofit in Northwest Arkansas known as the Northwest Arkansas Council in a broader push to try and turn it into a crypto hub. The focus is trying to attract tech workers and entrepreneurs that are interested in blockchain and cryptocurrencies. The applications are open to anyone though and I imagine they will see a massive amount of applications once this news gets spread. Hell, I'm going to apply just for funsies since I'm from Louisiana. Check out the website for all the details.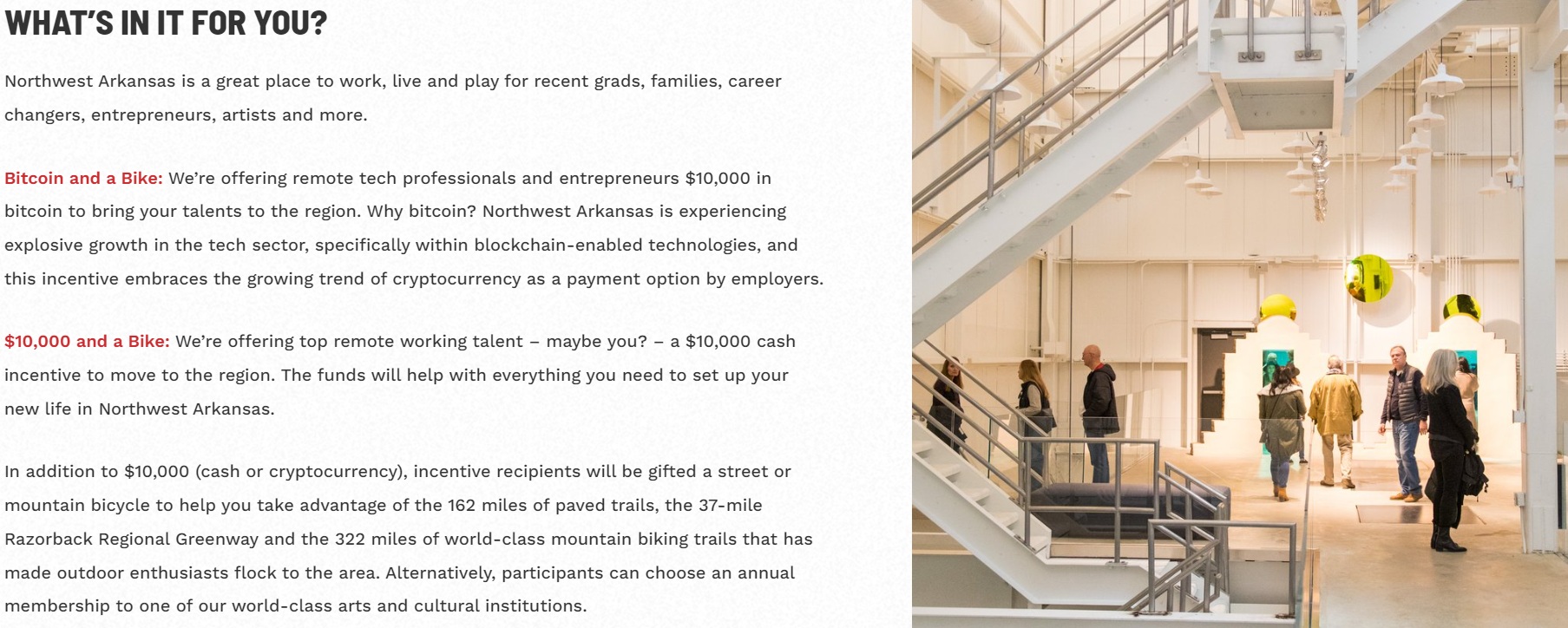 Recipients selected for the incentive are going to be offered $10,000 worth of Bitcoin or just $10,000 in cash. Why anyone would take the cash over the Bitcoin is beyond me, but hey... I support it either way. They are also offering either a mountain bicycle or an annual membership to one of their world-class arts and cultural institutions. Really giving people options here, which is a really good thing. They don't have to do that. They could have just said "take the BTC and the bike or leave it". The website really gives you everything you would need to consider before applying such as cost of living estimate and comparison based on where you would be relocating from. Looks like housing for me would be 25% cheaper, hot DAMN.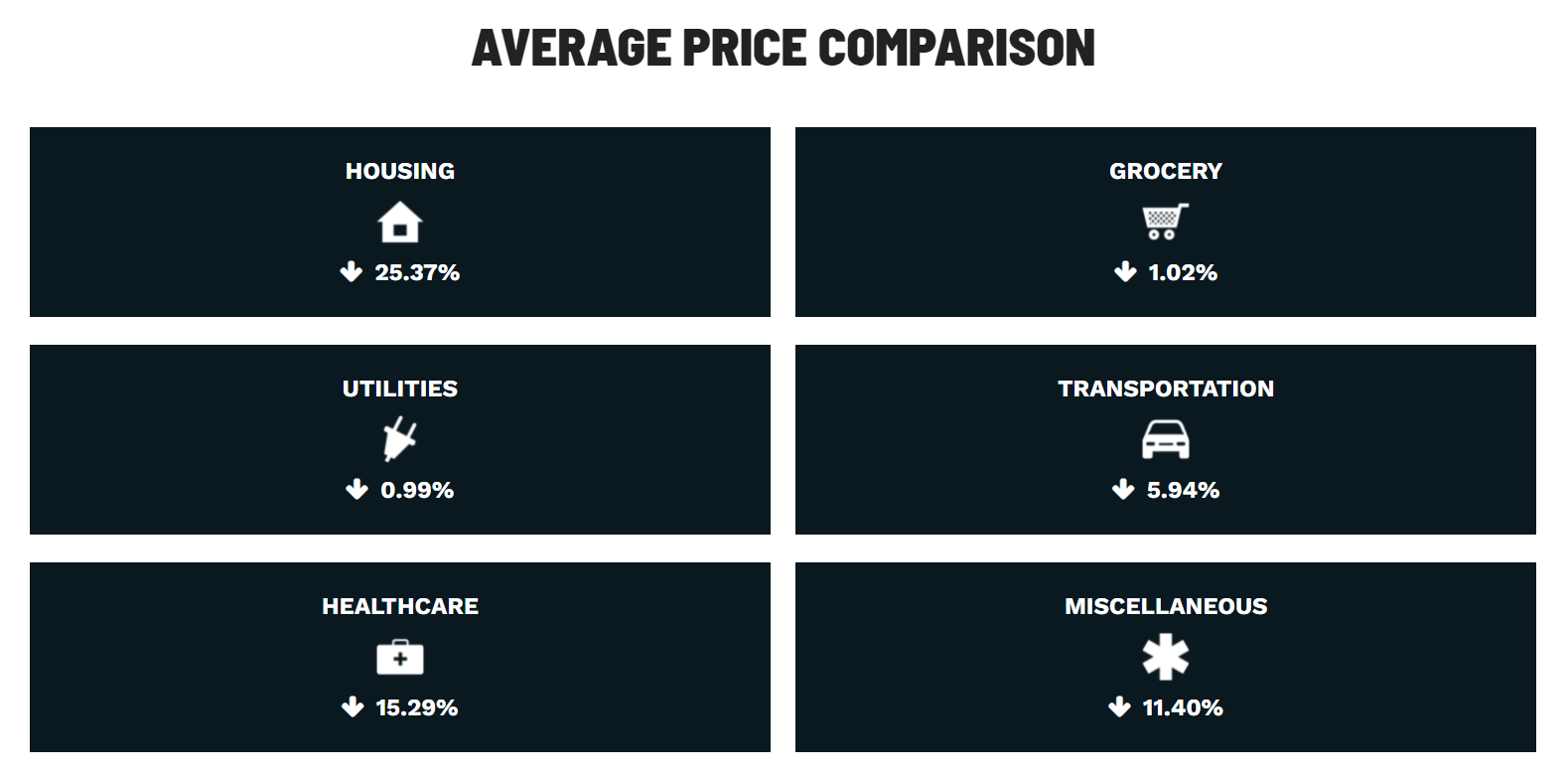 This is an incredible opportunity for really any remote tech workers or anyone self employed. You can move to one of 2 counties, Benton or Washington. Both of which seem to be great places to live. I've only been to north Arkansas once or twice but I remember how beautiful the mountains were. They are hoping to fill the 7,500 tech jobs that are going to be coming to the area in the next decade.
Northwest Arkansas also boasts a tech hub on the University of Arkansas campus known as the Blockchain Center of Excellence, which leads academic research on blockchain technologies.
Now this, I did not know. I often joke about the U.S. being a lame place to live in terms of tax and regulation, but it isn't that bad. I like it here, I just wish the crypto tax laws made any fucking sense.
Are you interested in moving?

Thanks for reading! Much love.
---
Links 'n Shit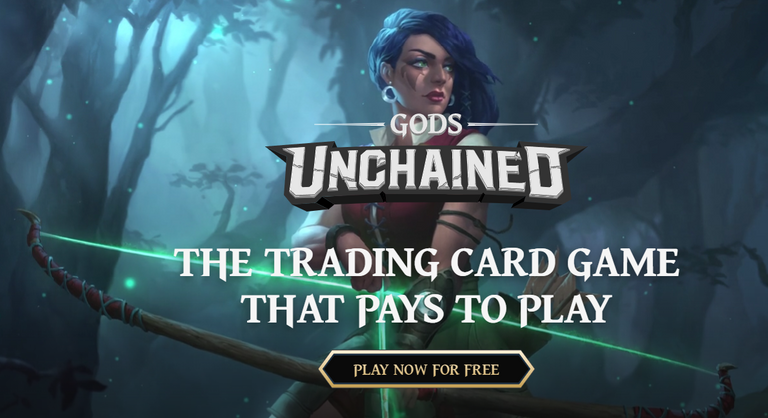 Posted Using LeoFinance Beta
---
---