A quick turn (LOH contest #135)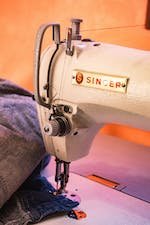 When I was little my mum took me to a tailoring shop close to our house which happens to belong to my aunty according to her we (all her children) were always quarreling and fighting so she decided to spilt us in learning different things during our holidays that was how I ended up in a tailoring shop.
I was still in primary school when I started going there my mum didn't have to pay anything because she (the owner of the shop) was a family member my own was just to go and stay till they close it was more like I go in the morning, during lunch time I go home and eat and return back to the shop.
I was still little and didn't even know much about what they were doing in the shop, I was just a little girl who was sent on little errands to get one or few things and my madam was fond of telling stories so I was much attracted to the shop I would never miss not coming for a day because I didn't want to miss any of her stories.
I would laugh and fall on the floor when anything funny would happen, just like everyone in the shop who had there agreed months of staying I wasn't like them I would watch other sets come and go but I was still coming to the shop I haven't started learning because I wasn't ready and I wasn't serious, I only viewed the shop as an entertainment joint or perhaps a place where gossip where been brought both by people bringing their clothes to sew and by the workers themselves.
It wasn't like I didn't know anything atall but I wasn't steady in the shop it was only during holidays that I went there and not even all holidays, I knew how to sew few things and patch some clothes but my hands weren't strong yet no doubt I could ride the sewing machine very well but I couldn't cut clothes well without much direction.
A TRICK THAT CHANGED MY LIFE
I started to pick interest in sewing when I was in secondary school during my Jss3 it took only one thing to motivate me and it was peers, my madam had this new set of workers who happened to be like me and my age grade who came only during holidays. She would give us an assignment which would make us be competitive around ourselves to see who is the best and the first to finish.
Just by mere seeing them would want to make me learn better, I was always mocked by my aunty and told that I was older (I was there before them) than every learner in that shop yet they would all still finish and leave me, though it hurts been disgraced like that Infront of everyone but I wasn't discouraged I wanted to graduate like others, I wanted to know how to sew and start sewing my own clothes.
HOW IT WORKED AND WHAT WAS NEEDED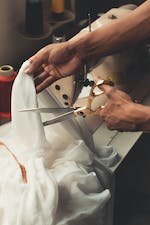 I started by mending my brothers and sister clothes, they would pack their torn clothes and give it to me to repair for them and I always started making baby dresses for my little cousin, I would watch my madam and see her sew clothes and if I want to practice I would just loose any of my clothes that am not using at home and start to practice with my cousin sister measurements.
The first cloth I sewed for her was made with a joint material (I pick piece of material that my madam would throw away and join it together for a bigger piece) after I was done with it I took it to her to wear it and her mother was laughing at the way I joint the material, the clothes needed some adjustments and I took it back to adjust before giving it to her.
I guess that was how i started sewing, that year Christmas I sewed my Christmas clothes but that was with alittle help of my madam, I wouldn't want to spoil the material my mum bought for me when I finished sewing I worn the cloth proudly around my area and told everyone who cared to listen that I sewed it myself. It did cost me my time and money but it was worth it though I didn't play much like other kids did but I did my whole week playing on Saturday and Sunday with my friends.
Right now I can sew not just for my self but for my mum and sister, I am luck and glad I took that life changing hack and trick that literally changed my life today I can now sew anything and everything I like to wear.
It was a pleasure having gone through this page of my lifetime experience, do drop your comments below the comments box and have a lovely weekend ahead much love from this side 😘😍.
---
---