CUBLIFE (CL) - Weekly report # 69
Authored by @silverstackeruk
Hello, LBIer's and CLer's. Welcome to this weeks CUBLIFE (CL) token update. We are going to look at this week's CUB harvests, reinvestment and weekly dividend APY. This update post is released weekly, dividends are paid in LEO every Friday at 9 pm UTC and new CUBLIFE (CL) tokens are issued once per month every 21st.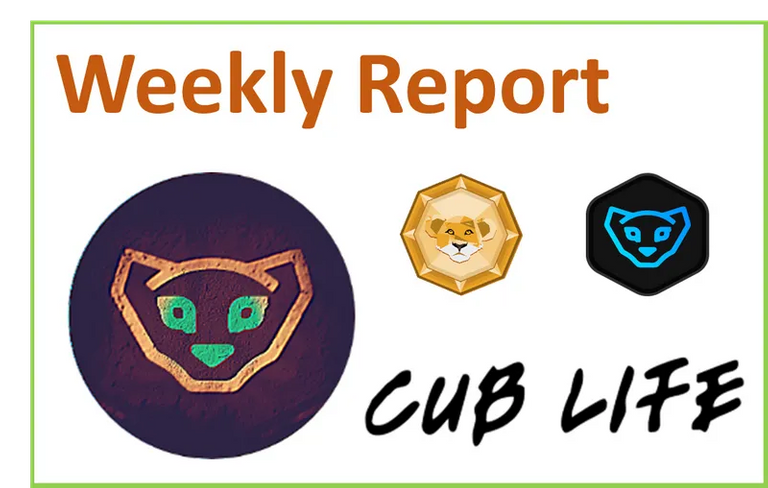 What is CUBLIFE?
CUBLIFE (CL) in a nutshell is a hive-engine token dedicated to investing in CUBfinance that pays out weekly dividends in the form of LEO. All LEO/HIVE raised from monthly token issues is invested in CUBfinance. 50% of weekly harvests are converted to LEO and issued to CL token holders, 40% is reinvested back into the platform and 10% goes to LBI as an operators fee for maintaining and actively managing the wallet.

Weekly Income
Earning down a touch on last week and im not really sure why, to be honest. CUB earning are down but not by that much. We finish with a div worth 17.95% this week so not bad, not great, it'll do. Not much progress with EMP in terms of peg recovery and its income is also down but this is mostly because the price of ETH dropping since the merge.

Blue = BSC
Orange = POLY
Black = Gas tokens

The market is down from last week so ouroverall holdings are down. CUB at 2.1 cent has become very stable and im actually turning bullish on it. Would not be hard to go from the 2.1-2.4 cent range it's been sat in for the past 6-7 weeks up to 4.5 cents to double your money. Im not sure of the current circulating supply so it might be harder than it appears. Anyways, CUB being pretty much stable is a good thing, better than going down and stable is consistent and that's good.
Im having to convert CUB harvests into LEO each week so this week, i converted our whole harvest and that will be enough LEO for 2-3 weeks of divs. I'll just 100% reinvest into a farm or kingdom until i run out of LEO.
Our 2 biggest holdings are worth the same amount which is nice, we can race them now and see which one ends up the better LP after 6 months. It could really go either way and i would not bet one against the other. Not much change else where.

This month's CL token issue
Every 21st of each month, new CL tokens are issued to those that have sent either HIVE or LEO to the @cublife before the end of the 20th. The month goes 21st-20th. If you send in funds on the 21st, you'll be waiting till next month. Conversions take place once per month on the 21st with new CL tokens being minted to the same value as the existing ones in circulation. There are 12 CL token issues per year.
You can transfer LEO/HIVE or HIVEp from hive-engine. If you send both LEO and HIVE, you will receive 2 token issues, 1 for each. You can confirm your funds have been received in the table below which are posted weekly and updated 2-3 times per week.

Roundup
Another decent week for us. The bear market can be a bitch, we get gotta could building and adding to our farms and kingdoms with the knowledge that one day, maybe 1000 days from now, we'll look back and think, damn crypto was cheap back then. Does anyone remember the 2016 prices? 🤤
I have plans to shill this project and give it the best chance to take advantage of the next cycle. When i guess the bottom is roundabout in and CL tokens are at their lowest $ value, i will shill CUBlife hard and try to issue lots of new tokens, i create some incentives maybe but the idea would be to sell lots and lots of new CL tokens when the market is doing really bad and it's all doom and gloom so that when the next bull run comes, we get the huge upswing with an almost guarantee of never dropping to below where you started from. In comparison, it would be like buying crypto in 2015 and waiting for 2017 to happen. Even with the huge drops in 2018, you'd still be in profit if you were holding solid cryptos. Timing when to launch during the cycle is important when it comes to building wealth longterm and you can give yourself an easy start. SPI did this when it launched in 2019, the bullrun came in 2021 and even with stuff down 60-80%, SPI is doing fine and still at 18x from its launch value in terms of dollars.
Why shill CUBlife? Because LBI makes a 10% cut of harvests from my operator's fee. Bringing in new investments will help to pump weekly harvests and increase LBI weekly earnings 😁
Anyways, divs will be shipped this evening. Thanks for checking out the report and have a great weekend.



Posted Using LeoFinance Beta
---
---