LBI earnings and holding REPORT - #12
Authored by @silverstackeruk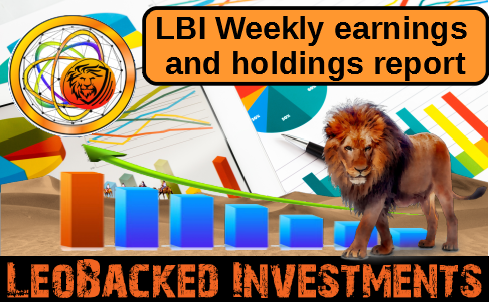 Hello LBIer's, it's been a good week. Im sure you are very aware of CUB finance and yes, LBI has a stake earning us some CUB which ic working for us nicely. This week's earnings are up a little on last week bout around 60 LEO which is great because the price of LEO has jumped from $.662 last to $1.113 today. This adds about $100k to our LEO wallet. Random FYI, every time LEO gains are loses 1 cent, LBI gains and loses $2300.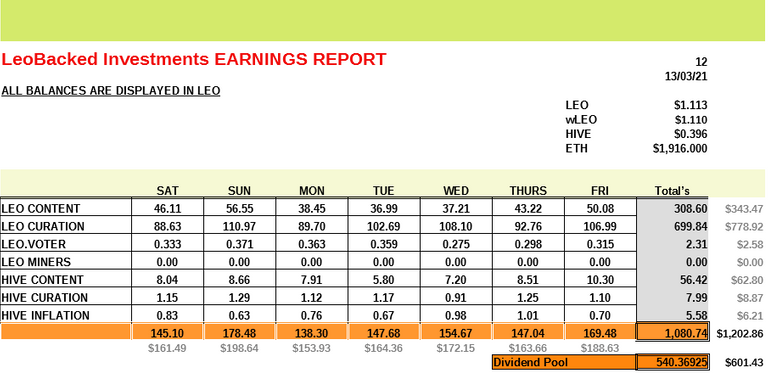 Once again, we earn just over 1000 LEO this week. It's nice to be consistent but it's starting to get boring and I'll be thinking up ways to improve this. The problem we or faced with is our powered up LEO balance is so massive, it's hard to compete with that.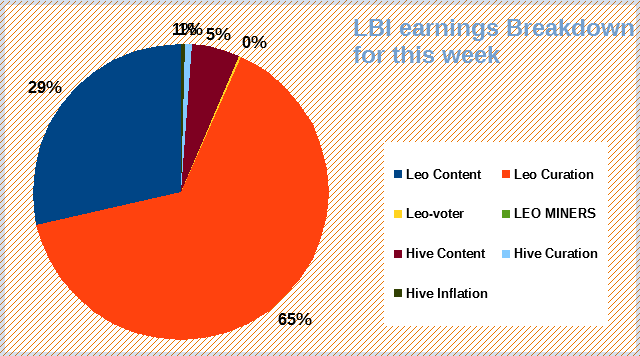 Curation earnings as a percentage are up by 45 on last week, LEO content down 1% and HIVE content down 3%. We will get leo.voter to 1% someday people, the @lbi-token account has a few token holders delegating HP to help us, if you have any HP free, we'll take it with open arms and use it for HIVE curation rewards that will be powered up and delegated to leo.voter to get us to 1%.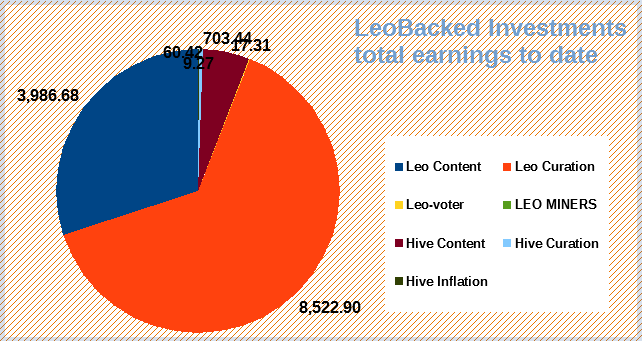 Total earnings to date have been 13,330. We have powered up 8,300 of that and allocated 5000 to the bLEO/BNB LP on CUB. $14,800 of LEO earned and reinvested but into the platform. How good are we? not even considered cash out for Tesla yet. Telsa taxi? passive income? thank you.
Our earnings chart is starting to resemble waves with a 3 week pattern. If you look from week 4 where it was a high earning week and then we earn lower amounts on weeks 5&6. Week 7 is higher than 5&7 and it followed by 2 lower earnings weeks in weeks 11&12. Week 13, this week is higher than 11&12, will the next 2 weeks be lower earnings?
Weeks
4-6, 7-9, 10-12
The first week is always higher than the previous 2 weeks
2nd and 3rd weeks are always lower than 1st week
Will earnings decrease for the next 2 weeks? How do we break the pattern? 100% upvoting and sharing any LBI post you think your followers would be an excellent start. Let's break the pattern!!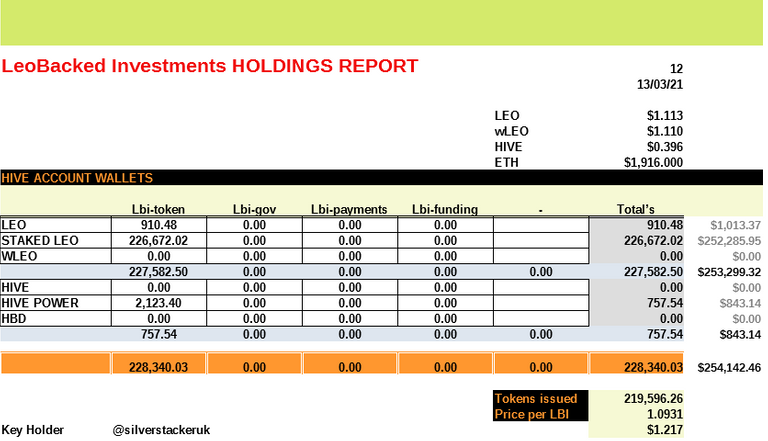 Oh look, we have a new bit this week. "Off Platform investments" have been added since we now have investments in CUB finance. I had planned to compound CUB until we had 1000 but we are earning the damn things so fast I got overwhelmed and decided to stick it out in the CUB den and aim for 1250 instead. This way when the price is $50 per CUB, we can sell 250 and still keep 1000. Oh yes, we can have our cake and eat it too. The stats above are around 5 hours old from the time of writing so i've included an up to date CUB holding snapshot below.
We have liquid LEO in the account, i am thinking power up 50% of this weeks earnings which is roughly 540 LEO and using the other 400 LEO to go a little harder into the bLEO/BNB LP. 400 LEO plus 400 LEO worth of CUB converted into BNB would be the plan.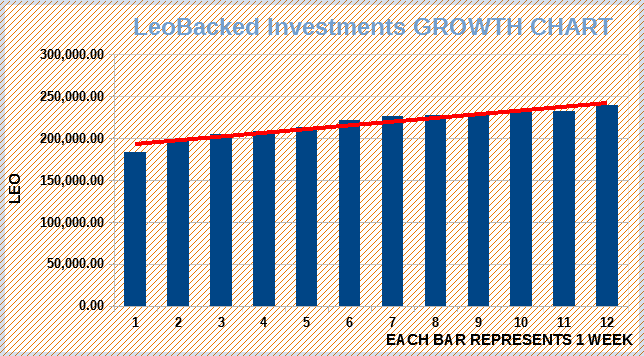 If you looked really closely you can just about see the jump for this week. The CUB airdrop worth $5000 hardly shows up. It's much better-represented int eh LBI token price below.
I have split the pice chart to try and better show our other investments but we have to much staked LEO. Our LEO is worth $240,000 so LP's worth $3-4000 dont hardly show up. Not a bad thing 😁 considering there are more airdrops coming.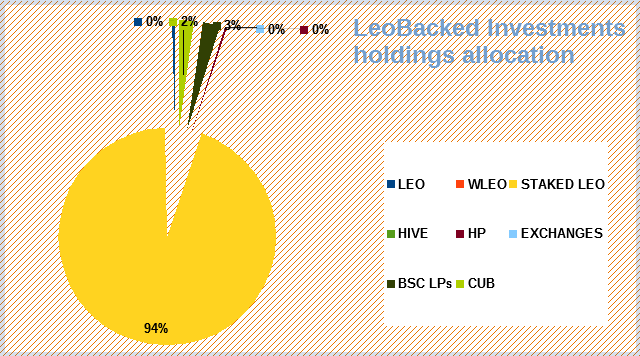 LBI token price
Total assets worth in LEO
240,030.78 LEO
Total LBI tokens circulating
219,596.26
LBI token price - 1.0931 LEO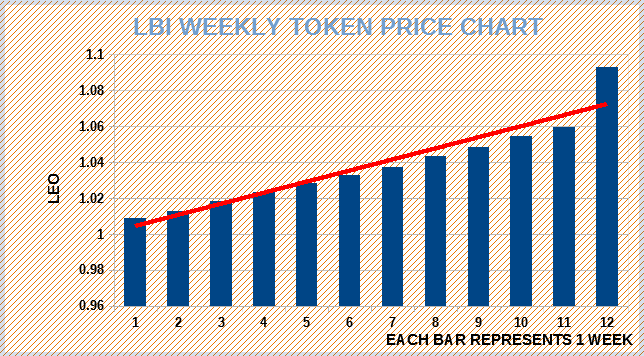 Thank you for taking the time to read through this week's earnings and holdings report. It has been a fantastic week for us, our bags are pumping, the LBI token price has increased and I think the days of 1.1 LEO per LBI are numbered and by that I mean, the price will likely increase within the next week to 1.15 LEO per LBI. Were not selling at discount rates 😆
Update to date CUB holdings

+$700 in 6 hours
Posted Using LeoFinance Beta
---
---