LBI earnings and holding REPORT - #13
Authored by @silverstackeruk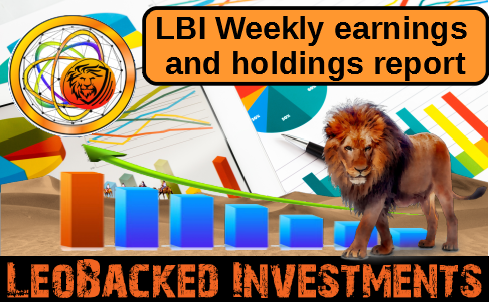 Hello LBIer's, week 13 for us has come and gone. Earnings this week are up compared to last week but sadly the overall fund is down a little. It was bound to happen at some point, introducing off-platform investment always mixes these up, so last week CUB was pumping and this week it's not. The free $5000 airdrop we got last week is worth $4500 this week so not really a loss at all. Let's jump into earnings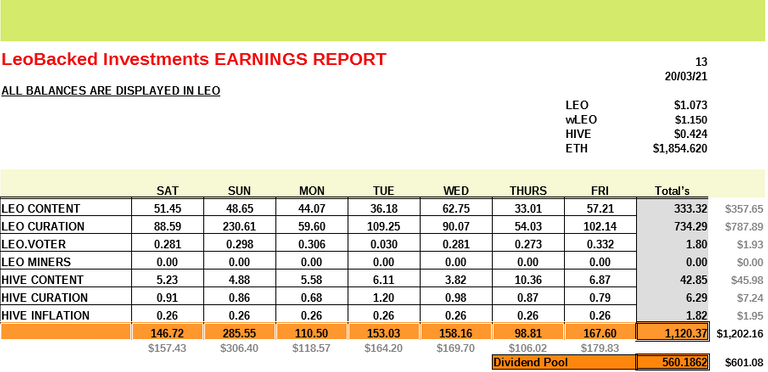 This week was one of the weeks in every 3 that we receive a double payout from contract_tokens, this has helped us earn 40 more LEO this week compared to last week. Nothing wrong with 1120 LEO when LEO is over $1 each 🤑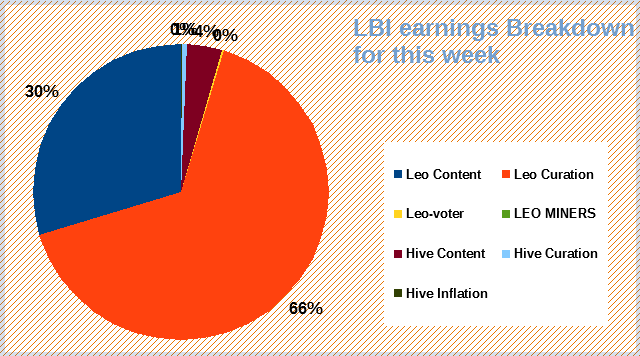 Earnings from this week as percentages are pretty much the exact same as last weeks. Nothing has changed this week.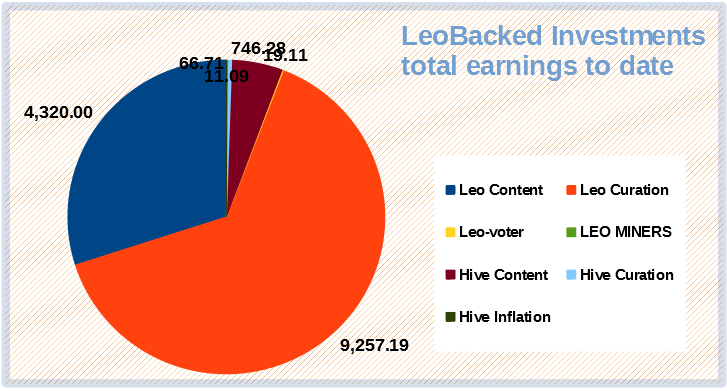 Total earnings for LBI to date are 14,420.39 LEO. It will not be long until we hit 20,000 and then we are ballers. At this moment we are stuck between investing into new sources of income or holding back and waiting for Project Blank are Leo Nodes are released. It's not just about funds, time has to be managed as well. For now and the next few weeks, i dont see much changing for our earnings as we wait for news.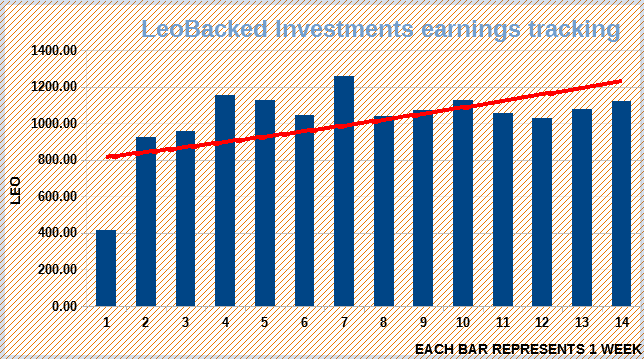 Well looks like the 3-week pattern I thought I spotted last week does not exist as this week's earnings were higher than last weeks. If i fell into a pool full of boobs, i'd come out sucking my thumb, that's what my luck is like for predictions, haha.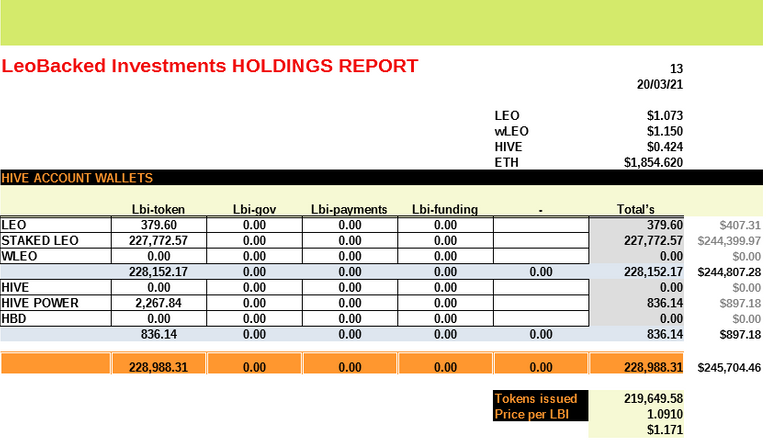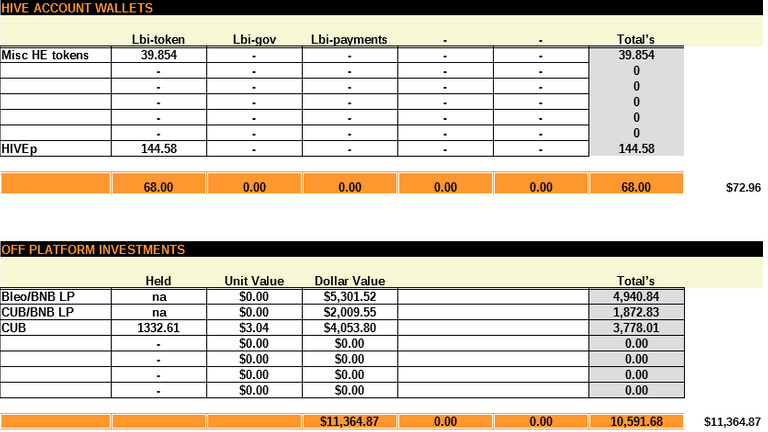 We had our fun last week with CUB so this week, I have powered up 50% of earnings to make sure that balance is always growing. The other 50% of this week's earnings, im thinking the bLEO/BNB LP on the same conditions as last week. CUB rewards will decline by 50% in a day are so and we gotta make hay when the sun is still shining.
We earn a small tiny amount of few tribe tokens every week, as these is not worth much and for free, we'll delegate them over to BroFi to see if we can earn a few BRO tokens. I dont see a great ROI on this but hey, it's a simple lease and forgets about it set up which is less effort them selling them every week.
We are all aware the CUB token price is down to $3 so it only expected our BSC wallet has dropped in value over the past week however we do own more CUB now so the decline in price is cushioned with juicy harvests.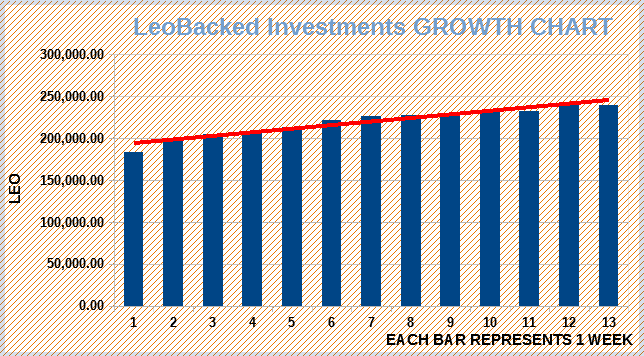 We can see this week, the total fund took a hit. This is the first time this has happened for LBI and it'll not be the last, in fact, it will become common as our non-LEO investments increase. Last week, we added $5000, this week we dropped by $500 plus 1-week earnings, not to bad, we're still winning. Annoying all the same when this happens for the first time.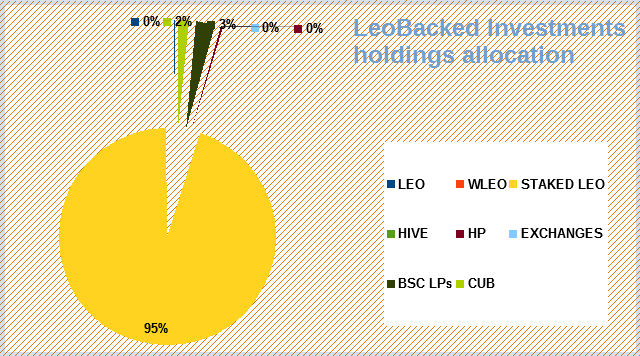 LBI token price
Total assets worth in LEO
239,647.99 LEO
Total LBI tokens circulating
219,649.58
LBI token price - 1.091 LEO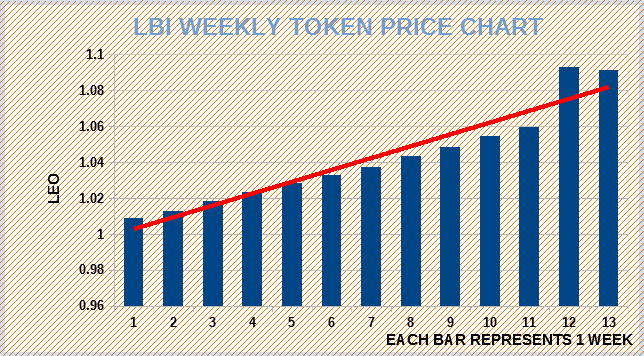 Thank you for taking the time to read through this weeks report. I would expect the price of the LBI to increase soon from 1.1 LEO to 1.15 LEO. Let's hope that the CUB market cap can increase and not too many people continue to dump are converted it out for other tokens.
Questions, feedback, comment welcome below :)
Posted Using LeoFinance Beta
---
---