LBI earnings and holding REPORT | Year 03 | Week 10
Welcome to this weeks LBI token earnings and holding post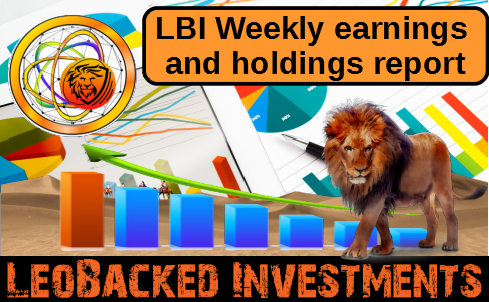 What is LBI?
The LeoBacked Investment (LBI) token is the first of its kind, the 1st token to be valued completely in LEO. Each LBI token represents a percentage ownership in the overall fund including all LEO, HIVE, off-chain and wallets operated by @lbi-token. The goal is to provide a community based and ran investment vehicle focused primarily on the LeoFinance community and LEO token. We provide a weekly LEO dividend payment to all token holders whilst also increasing the value of the LBI token slowly but consistently over the long term by only investing into things that will stand the test of time.
LBI is a long term HODL token based on SPI's model. Because these tokens are backed and valued in their primary assets, the value only increases. Think of it as putting $1000 in the bank and earning interest. In theory, you should never have fewer dollars. The $1000 is the LEO you give us to buy your LBI token and the interest is the earnings we produce with that LEO.
Earnings this week have been good and we've not been up at this level for a while. Most earnings came from HIVE content and because LEO dropped a little more than HIVE did over the past 7 days, our LEO earnings are boasted. Our leo.voter rewards are doing well and i'd like to see these increase in the future as more HIVE is powered up and delegated to that. On the LEO side of things, content and curation rewards are not great.
Based on a 205k LEO balance, 300 per week from curation is equal to a 7.5% APY which is no good against inflation that was over 45% during 2022. In comparison, our HP balance of 13k is equal to 125k LEO and yields 350 per week from leo.voter, this gives an APY of 14%. I think building the HP balance long-term is the best way to increase LEO income after LEO's inflation rate is factored in.
Earning have been good, we might see 2000 LEO weeks once again.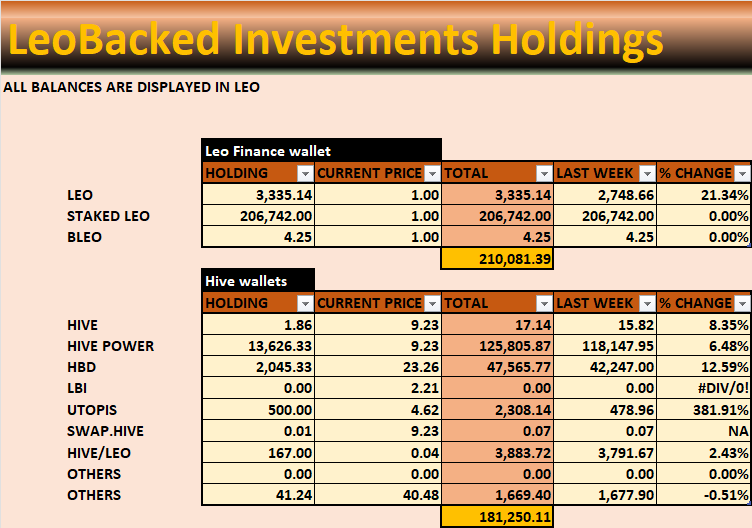 Liquid LEO balance is doing a little better these days grows by 600-800 per week. Most income is still coming in the form of HP and HBD. With LBI only producing 2-3 posts per week and that being are main source of income, both HIVE and HE wallets rarely change.


Our difi wallet has increased a bunch this week and for the first time has a higher value in terms of LEO than the actual LEO wallet. That's kinda crazy when we consider that our main investment into this wallet was the LEO side of the bLEO/BNB LP. Everything else has be got from harvesting and converting CUB tokens. Even look at our BTC balance of 0.019 BTC that i started to stack up 5-6 weeks ago, its worth 12k LEO already. Can you imagine of i'd compounded all those tens of thousands of CUB tokens over ther past 2 years.
This wallet has been providing a good hedge against LEO/HIVE and provides us with ok harvests, enough to buy a little BTC everyweek. There could be some fat cut here, the CUB/BNB, DEC/BUSD and BNB/BUSD could all go, they don't earn that much and maybe the funds could be better allocated.



I had to double check the numbers but yep, the LBI token price this week is 2.74 LEO which is a new time high. At this rate we will see 3 LEO soon.
Theres not much going on with LBI these days to be honest,
Have a great weekend everyone and thanks for checking out the report.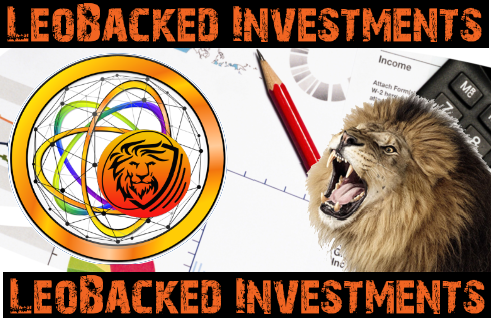 Get LBI on LeoDex - https://leodex.io/market/LBI
Get LBI on Hive-engine - https://hive-engine.com/?p=market&t=LBI
Posted Using LeoFinance Beta
---
---