LBI earnings and holding REPORT | Year 03 | Week 17
Welcome to this weeks LBI token earnings and holding post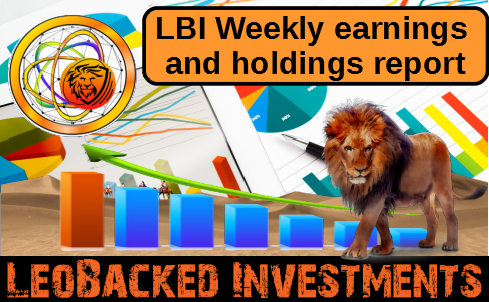 What is LBI?
The LeoBacked Investment (LBI) token is the first of its kind, the 1st token to be valued completely in LEO. Each LBI token represents a percentage ownership in the overall fund including all LEO, HIVE, off-chain and wallets operated by @lbi-token. The goal is to provide a community based and ran investment vehicle focused primarily on the LeoFinance community and LEO token. We provide a weekly LEO dividend payment to all token holders whilst also increasing the value of the LBI token slowly but consistently over the long term by only investing into things that will stand the test of time.
LBI is a long term HODL token based on SPI's model. Because these tokens are backed and valued in their primary assets, the value only increases. Think of it as putting $1000 in the bank and earning interest. In theory, you should never have fewer dollars. The $1000 is the LEO you give us to buy your LBI token and the interest is the earnings we produce with that LEO.
Earnings have been dipping the past few weeks as the price of LEO recovers against HIVE. I have upped our HP delegation to @leo.voter and even with the LEO price increase, we should be able to earn the same amount of LEO as a week. If the price of LEO drops back a little, we will earn more.
Earning from other sources is about the same as always, the main difference being HIVE converts into less LEO.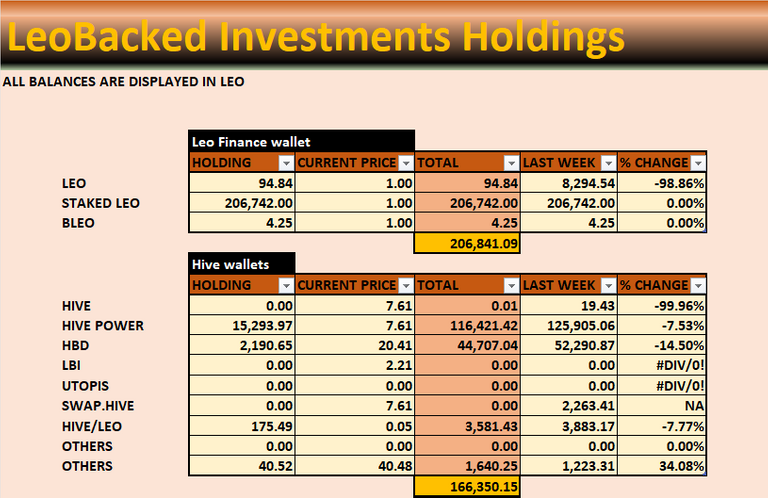 You'll notice that we are holding very little liquid LEO this week. I converted it all into HIVE POWER and we now have over 15k HP. With the price of LEOP increasing against HIVE by around 20%, we were able to get alot more HIVE.
We collected HBD interest this week and there are no changes with our hive-engine wallet.


You can see that everything this week is down against LEO. The market has gone sideways and LEO has increased 20% but this the result. Its looks nasty but it's actually a good thing because it means LEO is outperforming our other assets.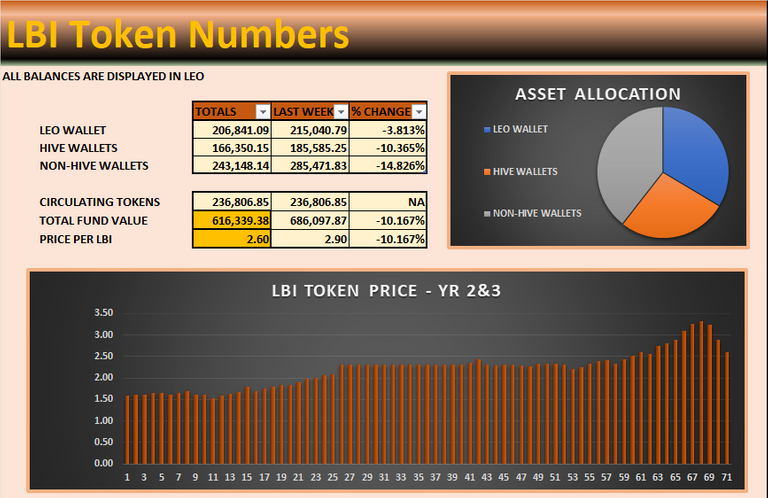 Big drop in LEO value for the LBI tokens this week. Down from 2.9 LEO to 2.6 LEO this week. Again, it looks bad but it's the result of LEO outperforming the rest of our holdings.
I'd like to save our LEO income for the next 5-6 weeks and see where the market is by then. It's not uncommon for things to pump for a few weeks and flatline. My main problem is that there is not much to do with LEO which earns more than the inflation of the current supply. Our LEO curation earnings are 4.3% so its hard to justify staking more. The bLEO/BNB LP could be a shout and worth topping up.
We keep trooping on and if LEO moons again, thats great. Thanks for takingthe time to check out this week report.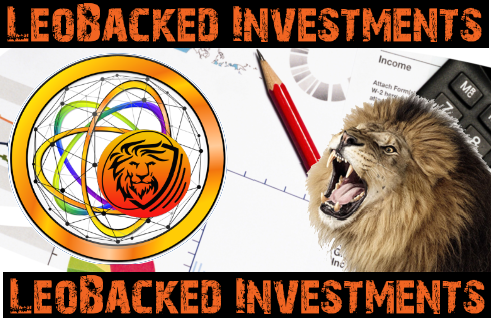 Get LBI on LeoDex - https://leodex.io/market/LBI
Get LBI on Hive-engine - https://hive-engine.com/?p=market&t=LBI
---
---