Let's get swinging with the Bollinger Bands

Authored by: @hetty-rowan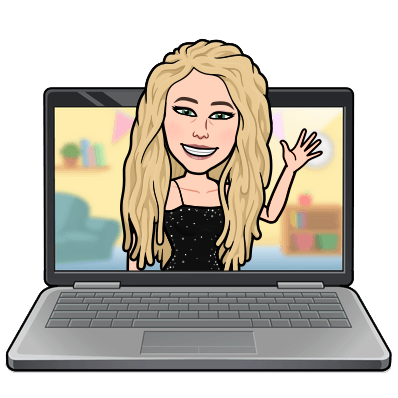 Time for a new technical indicator
Wow what a week this was, trading has become very low on my side in the past week. I was too busy farming on #cubfinance. Did you get any of that? Lol, I guess… I suspect that everyone has suddenly turned into a farmer, and that people who have never been able to start the #defi adventure before have now jumped headlong into it. Just like me… Via the #ethereum blockchain, the defi was always far out of my reach with the insane gas fees that are required for this. But with the #binancesmartchain and #cubfinance together, the defi has suddenly become within reach for the less fortunate among us. And of course I don't make the big mega profits that I see others making, but for a few days now I can say at least… I FARM CUBS. The excitement of that has put trading on the back burner… because the little bet I could make is entirely in the farm!
But once the excitement subsided, amazing how quickly you can get used to farming, I did dive back into the indicators. Because now that I am farming crypto / money, now that I have come to the point where my money works for me ... Now I want to learn more about trading indicators again. When I am ready to bet again and start trading again, then of course I want to control and understand more indicators in order to be able to hitch a ride on the waves faster and even better and have even better insight into what the price can do. .
Because I was in a happy mood after all that farming, I decided to check out a swinging indicator.
The Bollinger Bands.
I have often read comments that traders make the most profits with this indicator, and if you have ever looked at trading bots, you will see that you can also set them on the Bollinger Bands. I have only tested a trading bot once for a few days. 3 days of free Tradesanta to try, and even though the bot had made some profit… after those 3 free days of trying, I had to pay, and that was impossible for me. The bots are not cheap, and I still lack the technical knowledge to properly set up a free bot. In addition, after reading many reviews, I did not have much confidence in the free trading bots, and I noticed in those few days that I could take more profit myself with manual trading. The only difference with a bot is that I no longer have to sit and stare at my screen. Anyway, to manage my money I like to stare at my screen myself. That way I can also keep much better control of what is happening, and since I discovered the Stop-Loss there was already a big worry away.
Nevertheless, I thought it was advisable to continue learning while farming. Are you ready too? The farms work without you having to do anything, so time for you to learn something again, right?
Whether you are a beginner or an advanced trader in the field of Technical Analysis, the Bollinger Bands has the potential to become your best friend!
The Bollinger Bands simply ensure that you learn to recognize trends and that you can easily determine dynamic support and resistance levels. And you can also determine when it is likely that a course will reverse through a band. Or even that, if he breaks through a tire, he may end up in a free fall or free ascent!
Based on this, you will in any case receive a signal of what could be a favorable buying or selling moment for you. Still, it probably gives you a calmer feeling if you do not start with just one crypto trading indicator, but that you look for one or two more trading indicators to complement your personal trading strategy in addition to the Bollinger Bands!
But how?
We need some technical information for that. But don't worry, I'll try to explain it simply!
What is the Bollinger Bands (BB Bands)?
The simple answer: the Bollinger Bands is a trading indicator. The slightly more complex answer: Bollinger Bands, developed by John Bollinger, is a technical trading indicator. The upper and lower Bollinger Band are calculated using a standard deviation.
These two lines (bands) are placed on the price and create a dynamic trend around the price. In volatile times, the distance between the Bollinger Bands and the price is much greater than in quiet times.
No doubt you think, standard deviation? What are you talking about now? The good news of this week is that you don't have to worry at all about how this is calculated, because that is of course an automatic thing in our modern internet age. If you don't want to think about it any further, that's a great option. You choose the indicator in your trading view, place it on p your card and… 'you're good to go! " But as usual I want to know how something is calculated. And why I want to know that is just because I really want to understand what I'm looking at, how it comes about so that I really understand what it is and what it can tell me. If I do not know, do not understand the calculation behind the indicator… then I feel that the indicator is of no use to me, because then I will never be able to interpret it. So that's why I went deeper into it instead of making it easy for myself and thinking… click click click done!


If you also want to know what it is then read on here, if you are not interested in it, feel free to scroll on to the part what you can do with the Bollinger Bands ...


How are the Bollinger Bands calculated?
Bollinger Bands are calculated by placing three lines on a price chart. The first line is the SMA of the price of a security, normally over a 20-day period. The top channel is the SMA plus two standard deviations, while the bottom channel is the SMA minus two standard deviations.
To calculate the SMA (Simple Moving Average), take the closing prices for the number of days you are viewing (normally 20 days) and add them together. Then divide the total by the number of days.
Once you have calculated the SMA, you can calculate the top and bottom channel.
Upper channel formula: 20-day moving average + (20-day standard deviation x 2)
Lower channel formula: 20-day moving average - (20-day standard deviation x 2)
On most trading platforms the Bollinger Bands are automatically calculated for you, but it is always useful for investors to know what the different channels are and what information can be extracted.
Standard Deviation
Oh dang, now the standard deviation is back… okay, let's dive into that too. What is that anyway? The standard deviation is an arithmetic measure of the spread of the numbers around the mean. If there is little spread, the numbers are all close together in a pile. The disadvantage of a variable with little variation is that it does not vary much and you will also find few statistically significant differences or relationships. The formula for calculating the standard deviation is the following: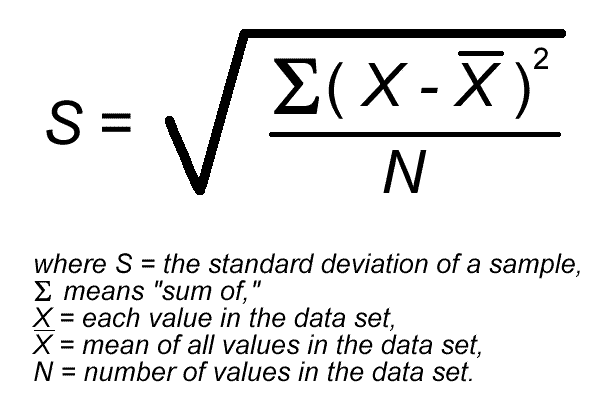 If there is no variation in the number sequence at all, the result is 0 (zero). All numbers then correspond to the mean. Furthermore, the standard deviation can in theory go up to plus infinity. In practice, the magnitude of the standard deviation depends on the range (the lowest minus the highest number). If the range is large, one also has a large standard deviation.
The standard deviation can be used as an indicator for the normal distribution of the variable. As a rule of thumb, the interval determined by the mean plus one time the standard deviation (the upper limit) and the mean minus one time the standard deviation (the lower limit) should contain about 69% of all values. At plus or minus two times the standard deviation is about 95%, and at plus or minus three times the standard deviation is 99%. If this is not the case, the distribution is different.
With the aid of the standard deviation, outliers (i.e. data that deviate considerably from the rest) can also be identified. You can remove them by stating that outliers should not exceed 4 or 5 times the standard deviation plus or minus the mean. If an outlier is omitted, the mean and spread must of course be recalculated afterwards.
Well, now we've had this… then it's time to get back to the Bollinger Bands.
What can you do with Bollinger Bands?
We have now covered the formula for the Standard Deviation, we know how to calculate the Bollinger Bands.
If you are still there… now is the time for the part we are all waiting for. Because what can you read from these Bollinger Bands?
Volatility
Bollinger Bands are a good measure of a market's volatility according to many investors. When the channels are far apart, a market is more volatile. When they are close together, the market is more stable.
In addition, investors are looking for so-called Bollinger "squeezes" and "bounces". They use this as an indicator for the support level and the resistance level.
Squeezes
Squeezes are situations in which the top and bottom channels are moving closer to the moving average and can be a sign on the wall that the value's course is about to break.
Bounces
Bounces, on the other hand, are situations where the price hits the upper channel and then falls back. This could be an indication that a retracement is on the way.
However, like other indicators, Bollinger Bands are not always 100% reliable. The information you get from this should be combined with other types of analysis.
Advantages of Bollinger Bands
Bollinger Bands can be a useful indicator of market trends. Strong trends cause volatility, which is easy to see in the Bollinger Bands, which expand and contract in response.
There are trading platforms that automatically chart the Bollinger Bands. In that case, they are a very user-friendly way for investors to take their chart analysis to the next level.
Disadvantages of Bollinger Bands
Bollinger Bands are a trailing indicator: they purely follow current market movements and therefore cannot be used to predict price patterns. That is why investors may not receive a signal until the price movement is already underway.
Also important: according to John Bollinger himself, the inventor of the Bollinger Bands, this indicator should be used in conjunction with other types of technical analysis. In addition, according to him, the Bollinger Bands are not an infallible instrument with which market trends can be found guaranteed.
As I already mentioned, my trading activity has come to a complete standstill because I have put my little capital to farm. But if I have the opportunity to trade again, I will certainly use the Bollinger Bands to analyze. To look at in combination with the other indicators ... and by learning about what indicators there are, what they do and how to use them, I hope to arrive at a trading strategy that is pleasant for me that will eventually bring me more profits. .
As you know by now…
DO YOUR OWN RESEARCH. I AM NOT A FINANCIAL ADVISER.
Happy Sunday!

Posted Using LeoFinance Beta
---
---