Should LBI Limit Off-Chain Investments
Good day all. Today we are going to cover a topic that hopefully will elicit a great deal of discussion. This is something that is very important and should be considered by each individual who holds LBI tokens.
LBI is a token that is based upon the Leofinance platform. Obviously, the Proof-of-Brain use case is the foundation for our earnings as evidenced by the weekly LBI reports put out each Saturday.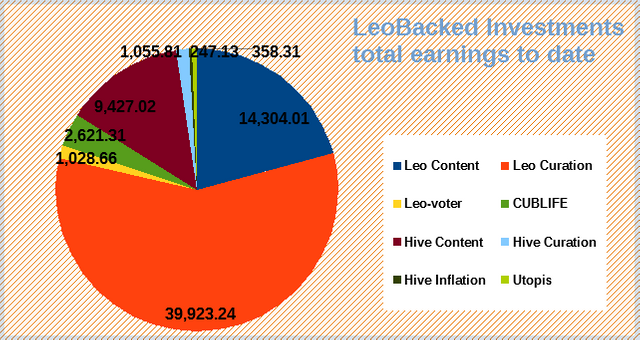 We also know that the purchase of LBI was done by using LEO. Also, the value of each token is priced weekly in LEO.
LBI token price - 1.62 LEO
Naturally, we could price this in anything we wanted. It could be converted to EURO, YEN, BTC, or Shiba Inu. However, what none of this would change a central fact.
People purchased the LBI token using LEO. This is the unit of measure that was used from the beginning.
So far, there is nothing detrimental taking place. All of this is an accounting situation.
The challenge arises when we start dealing with ROI. Ultimately, this is what every LBI token holder is after. If the initial buy in was one LEO per LBI, that person wants the token to be worth 8 LEO; or 10 LEO, or 20 LEO. In other words, the persons wants maximum growth.
As I write this article, the crypto markets are in the middle of a multi-day bloodbath (other than HIVE, go figure). Nevertheless, the long-term outlook for Leofinance, in many of our minds, is much higher levels will be achieved. Thus, it only stands to reason that the price of LEO, over the long-term, will appreciate.
Here is where the problem enters the picture. Off-chain investments decrease in value, as priced in LEO, if the later skyrockets. The only way this is countered is if the off-chain invest appreciates at a much higher rate. Sans that, the value of that holding, as priced in LEO, goes down.
Now there is the temptation to perhaps price it all in USD. That does not solve the problem. People who bought LBI are not likely going to sell it all the way through to USD. I think it is safe to say, LEO in, LEO out.
While it is certainly true that we could find some off-chain investments that moon, is that what this is really about? That are projects such as @SPInvest that exist for that. Ultimately, the odds are we are limiting our return by holding too much of our value in off-chain stuff.
Does this mean we should never engage in off-chain projects? Not at all. What I am alluding to is the fact they should be either short term or pouring more back into LEO. This is what our core focus should be. LBI was set up as a Leofinance-based project and we should not deviate from that by trying to be a catchall fund.
It could be said that using the term "off-chain" is a bit misleading when it really should say "Non-LEO". For example, it is the practice to sell a lot of the Hive Engine tokens as soon as they come in. This is a smart practice since that is not the focus. Take the rewards, convert them to LEO (after hive.swap) and move on. The financial gain is there and we are back to our core basis.
Here is another example:
Look at the earnings in the last week.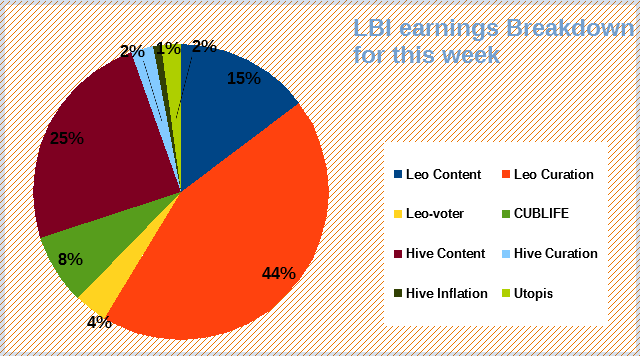 We received 4% of the payout from LeoVoter. This is a result of holding Hive Power and delegating it to that account. Here we see direct payouts in LEO that grow our balance.
LEO in, LEO out.
Sure, the price of LEO could appreciate at a great pace than HIVE, causing us to suffer a bit of a drawdown in value. However, the fact that each day, that holding is putting LEO in the LBI-token wallet helps to offset that.
We could say the same about Cubfinance. While this is Leofinance-related, it is a separate project. Thus, we know that when the value of CUB goes up, it will have less value in LEO.
Here are the holdings:

The first thing that jumps out is the fact that a significant portion is in the bLEO/BNB pool. This is a valid option since it is providing liquidity to the ecosystem. There are also a variety of other holdings there which help to generate a return, yet are all off-chain. If there is a major run up in the price of LEO, these will fall in value.
Looking at latest CUBLIFE report, we see the dividends is back over 50%. We do not know how long that will last. But we can foresee a time when it will be a bit lower. However, even a 30% annual return is a very good percentage.
The point is perhaps LBI opts to play the off-chain route that way. Buy adding more CUBLIFE, we can increase the amount of LEO that comes into the account every Friday from that project. For now, I believe, the entire portion is the 10% management fee. Why not add to it by holding some CUBLIFE? Yes we are still exposed to the potential of LEO running, yet that is actually recouped in the value of CUBLIFE. Thus, the loss is basically negated as it is captured in the asset base value.
This is something worthy of discussion since, my view is that, if we get spread to much, we will see our returns affected. Too many investments not related to LEO could end up weighing one the value of LBI as priced in LEO.
Let us know what you think in the comment section.
All opinion expressed here are solely my own and are not a reflection of the LBI-token project.
Article written by @taskmaster4450le
Posted Using LeoFinance Beta
---
---