Hive Price - Will The Rise Trend Continue? - Keep An Eye On It


Pic ; https://pixabay.com/photos/cyclops-an-eye-smartphone-hand-3014156/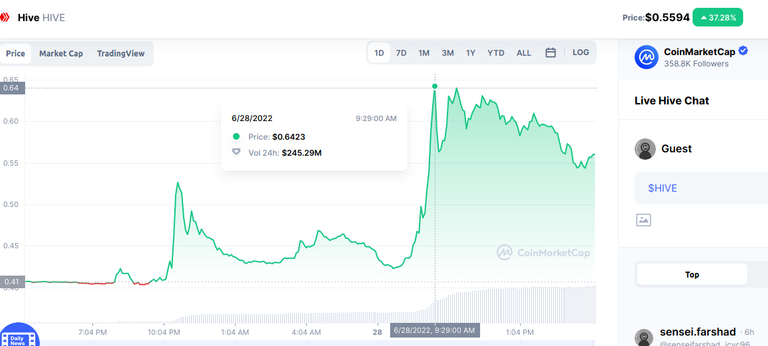 Hive price has made a breakthrough since it was down to $0.33. The change in 24 hours is up to 37%. That is a big move while bitcoin stands at $21K. The Bitcoin price shows a red mark, but Hive is green.
What a trend that makes the HIVE price surge so fast in 24 hours. In this situation, you should keep an eye on the price movement. Yes, If you have more Hive in your wallet, keep it until Hive reaches the third ATH.
I hope the surge will continue to $1 in the next few days because Hive is the true social money. No gas fees, transparent, and auditable are great features of Hive blockchain.
Hive also gives an opportunity for all holders to earn passive income by saving HBD. Staking Hive is another way to make more Hive in this platform. I think Hive will be a widely used social media tool in the future. The integration with trading platforms in hive-engine, smart contracts, gaming apps, and other features will be beneficial for all users.
Moving the price up in 24 hours was a sign of to the moon.oh no, Finally, I'm using this word.I do not really like this word, but I can not describe it in other ways. I apologize for that.
It is a normal situation when the Hive price increases. There will be massive selling of hive-engine tokens. It is time to collect some undervalued tokens in the hive-engine. The last time Hive was going to climb to $3, the withdrawal in tribaldex was pending for about 24 hours. It means that there were many users who witdraw Hive. How about the green mark today? Keep an eye on it!**
---
---