$ 125 Hive This Month Earning - Going To 1000 HP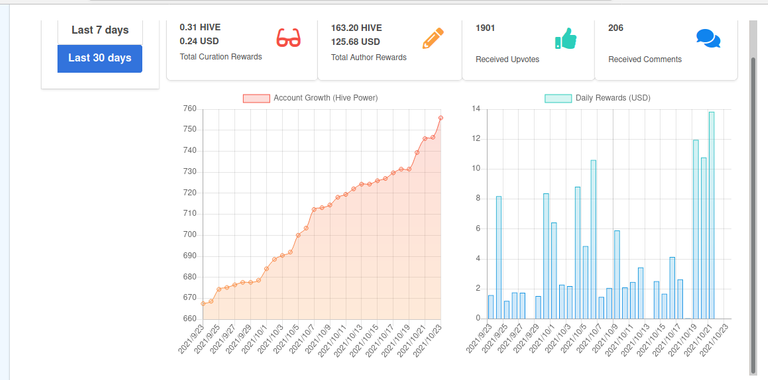 I tried to analyse my hive growth. In the last few weeks, I have changed my strategy for Hive blogging. I find the result is good. I will always learn how to improve all aspects of hive blogging.
My Hive Growth Analysis
I use hivestats.io for the data analysis. You need to visit https://hivestats.io/ and enter your account name.
Then click the Analytics page. You will see the result of your account summary.
Growth in October
With My Son
From the data, I found a sharp growth in October 2021. My Hive earnings began to rise gradually on October 1st.The sharpest growth is in the mid of October 2021.My daily hive earnings since October 15 have been around $5.It is higher than a month ago.
What alterations did I make in October 2021?
I've modified some of my article-posting strategies.I made a daily post. I sometimes make 2 posts a day if I have an idea that I should post, because if I delay posting, I may lose the idea.
I use ecency
Ecency is a great front end. I can interact with all the Hive communities from the front end. The ecency reward system is a factor that has increased my earnings. I use ecency points to promote and boost my content.
I joined some Hive communities. I joined photography lovers, Love the Cloud, Cross Cultures, and Asean Hive Communities. All the community admins and members are very welcome to me. I am very active in the engagement so I know more members personally. I also delegated 400 HP to the @asean.hive account. I plan to increase my power delegation.
Posting about culture, photography, and games. My postings about culture, photography, and games usually earn a good response. Some of them get high upvotes.
Active in engagement
I am very active in giving comments, mainly on Hive Asean Communities. It can be because I have the sameness with other members.
Tribes
I am active in some potential tribes that reward tokens. I also staked the tokens for the future result. The tokens have low value today, but I hope the price will make me good money in the future.
Important lesson to learn
I have to be open minded and make myself compliant with the Hive ecosystem. I have tried to join a community that needs certain requirements, but the community stakeholders have conflicts with the majority of Hive stakeholders. I finally quit the community and make myself compliant with the Hive ecosystem in general. I should also respect the tribes in Hive. I used to use hashtags for personal benefit without respecting the tribes, but today, respect gives me a better outcome.
I should build my portfolio for larger audiences. Hive is a great platform. It welcomes everyone to get an opportunity to do successful blogging and earn money in cryptocurrency. I hope in one or two months I will achieve the milestone of 1000 Hive Power. Thanks for reading I hope you enjoy it.


---
---