Nigeria produces the best fighters; Proves from Muhammed Ali and a whole lot of fighters
Fighting has been one thing citizens of Nigeria have been doing for the most part of their lives and it's safe to say that Nigeria fights best. Although most of us do our fighting outside of the ring, unlike the boxers and performer. Living in a country called Nigeria requires a whole lot of strength and it's not easy to go by in a day without fighting for survival.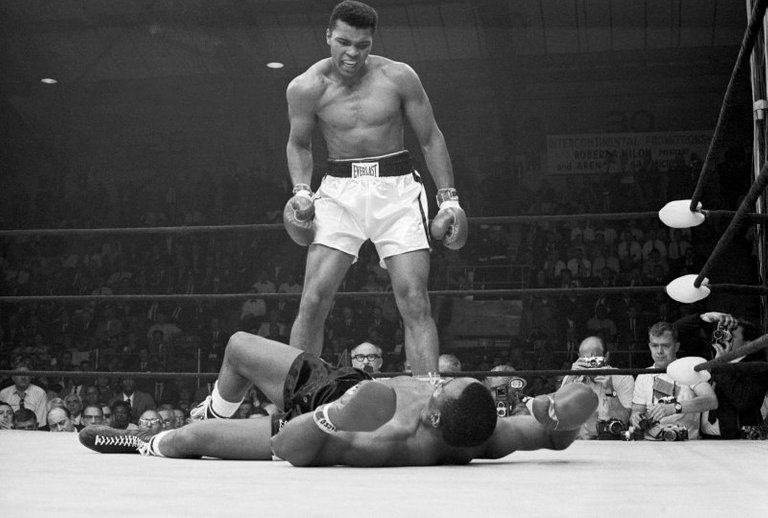 source
Each day we fight for survival either from the government, police or even against one another. The popular slang of Nigeria is not for the weak is evident in all our dealings and that has transcended into our way of life. Although it is not the best way to live life, but this is the way of life for most, if not all. The spirit has transcended into the body of fighters who represents Nigeria on a global scale.
The popular boxer which is mostly regarded as the best of all time has his root traced to Nigerian and although he was born in America, he never forgets his root. The person in question was Muhammad Ali and to this day, Nigerians adore him for his contribution to the boxing game. While Muhammad might be late, a whole lot of Nigerians have grown in other fighting sports.
With lots of fighting sports in this new age, that has resulted in Nigerians flexing their muscles in a whole lot of them and examples has been in UFC, BOXING and WWE. Nigerians have representatives in a whole lot more and the good thing is that they have all been striving well in their respective corners and making the country proud.
source
With reference to the Boxing world, Anthony Joshua who is a Nigerian currently hold three of the four heavyweights' belt in the division. The belts on holds now are the World Boxing Association (WBA), the International Boxing Federation (IBF) and the World Boxing Organization (WBO). Anthony Joshua was birthed at Abeokuta, Ogun State in Nigeria before he moved abroad to become a superstar.
He has always said that the rough childhood in Nigeria contributed to his success of today as it makes him stronger. Although he was overlooked at one point in time when he requested to represent Nigeria at the Olympic tournament's years ago. He later turned out for Great Britain and strike gold for them. He remains a national treasure to this day despite the harsh treatment and he still comes often to Nigeria.
Also, the kickboxing sport with which UFC has been the most popular continues to see more Nigerians strive. Israel Adesanya who is another Nigerian putting the country on the map due to his playing nature and deadly skills. His style remains unmatched in the octagon and he has a great amount of strength while fighting in the ring. He is being nicked name the last style bender due to the numerous amounts of skills he possesses in the octagon.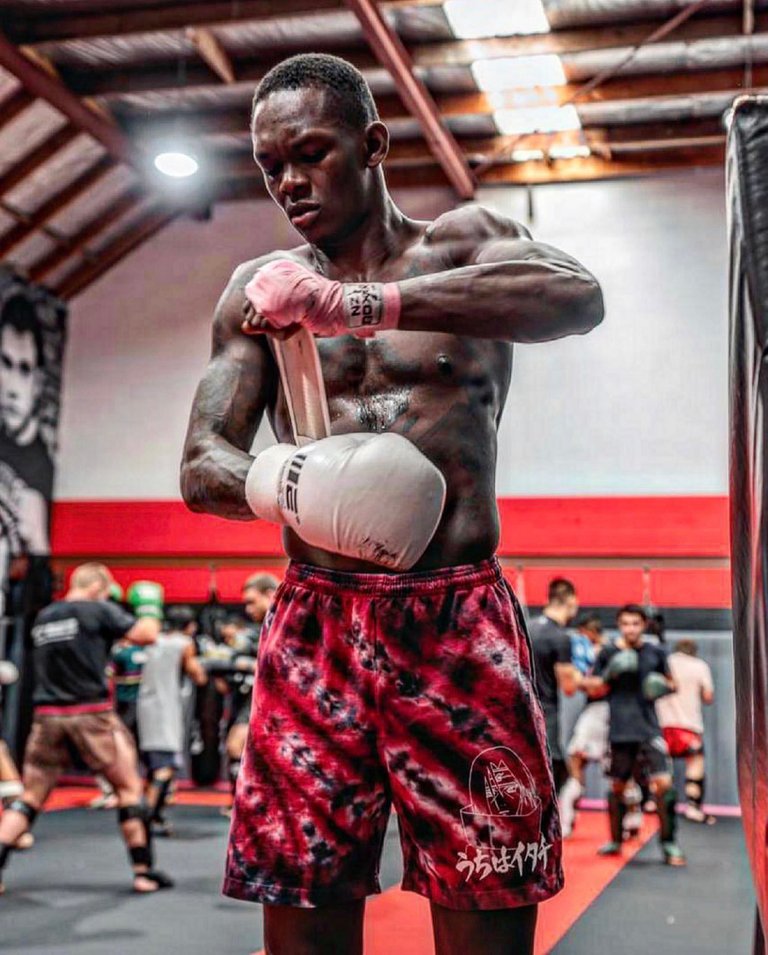 source
Israel success in the UFC sports talk for him and him not forgetting his days of humble beginning has been a huge blessing to all associated with the country. He is currently the champion in the middleweight division, and he remains undefeated in that division. Although he lost the last time out in his fight that happened in the Light-heavyweight division.
Although he is based in New Zealand, Israel has been to Nigeria on numerous occasions and Lagos has been his most preferred location as that was his place of birth. Israel has never shied away from being a Nigerian and in fact, he rocks it like a crown on his head. He has Nigeria tattooed on him. Israel parent is both from Nigeria and his dad is a charted accountant and mum is a registered nurse.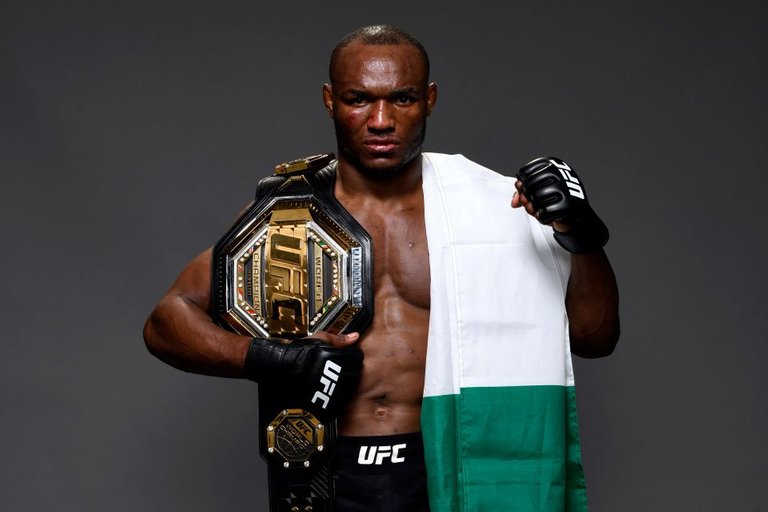 source
The Nigerian nightmare as Kamarudeen Usman is popularly called also plies his trade in the UFC sport but at the Welterweight division. Usman was born in Benin city in Nigeria, but his parent relocated to the United States of America while he was just 8 years of age.
Usman has been a fighter for most of his career as his father was in the military for Nigeria. He grew up fighting for each school he has ever been to. Right from high school to college and now, he currently holds the belt for the UFC Welterweight. A belt he won in 2019 and still retains to this day. Usman further illustrates the fact that Nigerians are fighters with his success in that sport.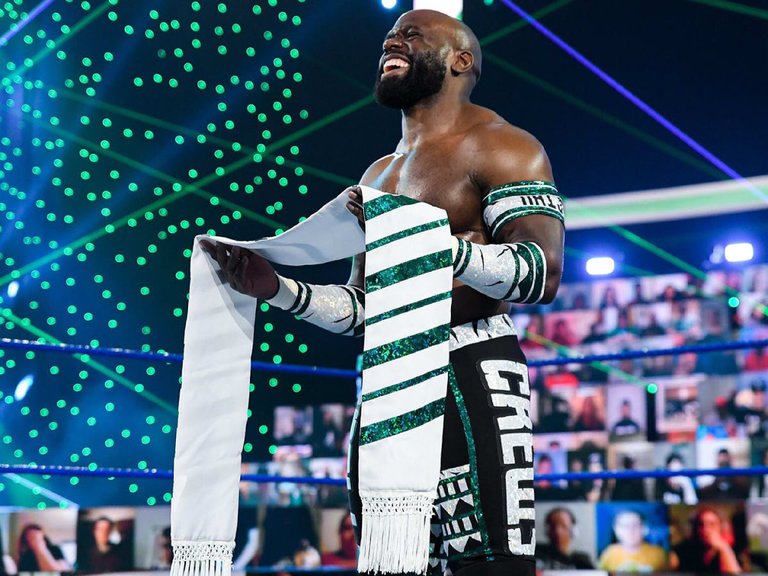 source
And just last night, Sesugh Uhaa popularly known as Apollo crew made Nigerians proud in the WWE. The wrestler became the intercontinental champion in the #wrestlemania which just concluded. He said beforehand that he will make Nigeria proud, and he delivered on that promise as he defeated his opponent.
Although Apollo crew is based in America, everything about him still denotes Nigeria and the way he was dressed to the wrestling ring shows that Nigeria is still at heart. His victory was widely celebrated as he became a champion for the very first time in his beautiful career. All over Twitter, he continues to receive praises and that went a long way in encouraging other Nigerians.
One thing which is evident among all this fighter has been their courage, strength and belief in their own ability and of course the Nigerian spirit in them although they reside far away. The confidence they all exhibit despite not being the biggest man in the ring is applaudable and appealing and that has been one of their secret weapons of thriving despite the huge challenges been faced while in the ring.
Of course, the ones which started and made it while being in Nigeria has been the likes of Bash Ali with which many still regards as the greatest Africa boxer of all time and the likes of Samuel peters and Efe Ajagba. While Bash Ali is old and retired peter is also retired but Efe Ajagba has been the torch for this new age.
source
Efe Ajagba who was born in Nigeria holds the record for the fastest victory in the history of boxing. He formerly worked in a bakery before becoming a footballer then he made the switch to boxing. Since the switch, he has never backed down. Winning medals at all the tournament he was engaged in during his formative years in the sport and that started in 2011.
Efe Ajagba remains undefeated in his professional career as a boxer and his records stand at an impressive 15 fights which yield 15 wins. He won 12 of those by knockouts while 2 by decision and one by disqualification.
In a nutshell, when it comes to the sport of throwing punches and kicks, Nigeria as a nation ranks among the best and will forever be among due to the rich history of survival and strength
---
---