What to expect from the upcoming premier league matches?
The post was written in Spanish and English to reach a wider audience
El post fue escrito en español e inglés para llegar a un público más amplio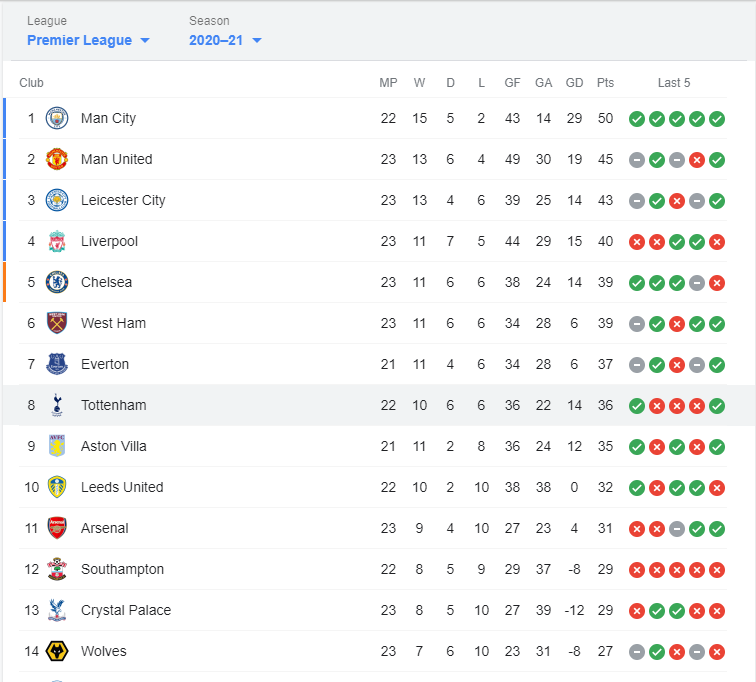 source
Before I dive into the topic of today, I want to say thank you to everyone who took their time to read my last post and I appreciate the nice things said and of course the advice and motivation dished out. It further cements the fact that people on the platform are closely watching. I promise to dish out more quality posts in the future.
To the business of the day. The English football league is back and that means unlimited fun and entertainment for the weekend and it doesn't matter if your team wins or losses, just enjoy. A snapshot of what these articles entail are;
Introduction to the teams playing today
Possible outcomes of the match
Predictions on each match scoreline
Likely players to shine in the fantasy premier league (FPL)
Introductions to the teams playing today
| home team | away team | time | venue |
| --- | --- | --- | --- |
| Leicester City | Liverpool | 13:30 | king power stadium |
| Crystal Palace | Burnley | 16:00 | Selhurst Park Stadium |
| Manchester City | Tottenham Hotspur | 18:30 | Etihad stadium |
| Brighton & Hove Albion | Aston Villa | 21:00 | American Express Community Stadium |
Leicester City versus Liverpool
both teams will be looking to bounce back from a rather disappointing result they had the last time out. with Liverpool losing at home to current table-toppers Manchester City at Anfield, they will be looking to get back to winning ways. Leicester City also had a rather disappointing evening in their last visit as they were held to a goalless draw match by wolves. just three points separate both teams which occupy the third and fourth position on the premier league table log.
Leicester City will hope to extend their three-point gap over Liverpool and a win also will be a big push towards relishing their premier league title hopes. the Fox has been playing great under the management of Rogers and they were unlucky not to qualify for the champions league the last time out. this season, they have further strengthened their credentials and their ranks and qualifying will be a result of their handwork and not luck if they continue playing the way they have been all season.
The biggest news in the Leicester camp is to see their captain and highest goal scorer Vardy back In contention for selection. he has been down and out from an injury and he was given a few minutes against wolves the last time out. the fox has no major injury worries and they will fancy their chance in beating Liverpool who has been having a bad season themselves.
Liverpool has a rather rough year as they have won just two premier league matches in 2021 and that seen them lost their number log on the league table and slip to fourth. while qualifying for the champions league will be what KLOPP and the KOPS will be setting their eyes on due to the wide range of injuries to key men at their backline. they currently trail league toppers with a whopping 10 points and that's proof of how bad the Liverpool campaign has been in 2021.
All eyes will be Liverpool on Allison as his two errors in his 5 minutes of madness gifted manchester city the win in their last match. injuries have been one of Liverpool's greatest worries this season and they have seen the majority of their players out. they have been without VVD for the majority of the season and it's unlikely he will be back this season. the list of their injury continues to grow as fabinho who has played the majority of the 2021 season as a defender as also been ruled out of this game due to injury.
at the moment, Liverpool will have to rely on some of his experienced players to effectively fill out space at the back. players such as Henderson and Milner have played as a centre-back this season and seem like they will retain that spot in the match against Leicester City. Diego jota is also out and the main threat remains both salah and mane who co continue to look uninterested in playing with each other.
match score prediction: the game will be a difficult one for both sides and it's expected for both teams to play for the win. the match will probably end in a 1-1 draw as both teams will likely share the spoils
fantasy premier league to select from each team; for Liverpool, salah, Arnold and Robertson.
for Leicester city, Vardy, Perez and Maddison.
Manchester City versus Tottenham Hotspur
both teams have the best league coaches in their ranks and yet on the team have outperformed the other by a mile. manchester city has won their last five games in the league and currently tops the division with five points while also having a game in hand. Tottenham, on the other hand, had lost three games in their last five matches in the premier league. manchester city will be looking to extend their lead on the table while Tottenham will looking to change their fortunes and win this game.
manchester city has been able to turn the tides in their favour this season as they look out of sorts earlier this season. they are currently on 15 games winning run and it's unlikely they could be stopped by any team at the moment despite not having two of their finest available for some time. KDB and Kun will definitely be out of the match and still, yet they appeared not to be missed. the array of talents in then Machester city ranks have all performed when called upon.
while manchester city continues to outscore teams, the biggest and most influential part of the team has been their defence. for the first time in Pep's career, he can boost a defence worth challenging for any title and they have conceded the least goals in the league while trailing their city rival manchester united in the record for most goals scored. sterling has been the team captain in the absence of Kelvin and so far under his guidance, the team has won all matches and he is yet to play a bad game. he has done fantastic well as a captain and he became the third player to score 100 goals under Pep Guardiola management with the 2 others being Kun and Messi.
Mourinho has a had difficult season so far with Tottenham and he appeared to be out of plans to carry the team forward. while spurs boast world-class players in their ranks, their lack of team depth has been their major issue and it has affected them in a big way. also, on numerous occasions, players have let him down while some players have been out of form. Mourinho himself carries some part of the blame as his conversation approach to games has made the team timid and being prone to attacks.
Tottenham has been on a winless streak in their last five premier league games and they will be looking to halt their run but manchester city offers the most time difficult route in achieving that. the fact that Tailsman Kane is back in the squad will be one reason to bring a smile to the Spurs faithful. he has scored in more matches than he has played against them and they will hope he does the same today. their last outing resulted in a loss in the cup game against Everton. the 5-4 loss will be ginger to propel this team to victory and its likely to be the start of a turn around for the Spurs team
match score prediction: high flying manchester city will be looking to add to their record while Spurs will be looking to at least take a point off city while also doing some damages. Kane back in the starting lineup will be a welcome boost and also a headache for the manchester city defence to worry about. the game will likely end in a 2-1 victory for the pep side and mark a frustrating putting for Mourinho once more.
fantasy premier league to select from each team; with man city having a double game win, selecting three players from their ranks is a great move, on that note, Foden, Diaz, and sterling should be selected. for spurs, the usual due of Kane and Son should be considered.
Brighton & Hove Albion versus Aston Villa
Talk about two teams who have played really well this season then Brighton and Villa's names will be mentioned. unfortunately for Brighton, they have struggled to depict their lovely gameplay into a win and this has seen them losing matches they deserve to win. villa, on the other hand, has been impressive on all front but with the style of play and the results and that's what will make the game impressive to watch and analysis
Currently sitting at fifteen, Brighton has been able to turn to get little from the kind of performance they dish out on weekly basis. although their recent run has been impressive result-wise as they have always played well in their games. they have been set up to hold the game and be confident in passing it around. their run of three wins in their last five games shows that their finishing has improved and the midfield players are beginning to contribute more in the attacking areas and that's a good team for the team. attackers such as Welbeck, Connelly have not really offered a tangible input in the team but they are room for improvement definitely.
Aston Villa, on the other hand, has been impressive on all front this season and it will take constituency for them to qualify for this next year's champions league draw. they possess the team and the manager to make that happen and art the end of the season, they will be a thorough evaluation of the team performance. their last game in a victory for them as their early goal saw them through and it also marks the first league double victory over arsenal in their history. all players in Villa squad has managed to dish value in all positions they occupy and that has seen them produce more than expected. they have played really well against top six and gotten wins on more than two separate occasions.
while villa attacking players have done excellently well in scoring teams, it has been a team effort towards ensuring their backline is safe and free from conceding goals. defenders such as Cash and Trezeguet as provided and assisted on numerous occasions and that show how team efforts optimally work. this season indeed marks a great turn around in the team that struggled last season and it remains to be whether their form and style of play will win their a champions league spot.
match score prediction: both team posses similar gameplay but results have been different for the team has one team carry high morale and momentum than the other. both teams seem to be in form of late and that will make this game very difficult for both party. so 2-0 in favour of Aston villa is the predicted score for this match.
fantasy premier league to select from each team; for Aston villa, they have lots of players to choose from as all has performed when called upon to play. so [players such as Watkins, Grealish, cash, Martinez, Traore, Trezeguet should be considered for selection. for Brighton, players such as Maupay, Trossard and Match should be selected.
---
---
Antes de entrar en el tema de hoy, quiero dar las gracias a todos los que se tomaron su tiempo para leer mi último post y aprecio las cosas buenas que se dijeron y, por supuesto, los consejos y la motivación que se repartieron. Esto consolida aún más el hecho de que la gente en la plataforma está observando de cerca. Prometo publicar más posts de calidad en el futuro.
Al asunto del día. La liga de fútbol inglesa está de vuelta y eso significa diversión y entretenimiento ilimitado para el fin de semana y no importa si tu equipo gana o pierde, simplemente disfruta. Un resumen de lo que suponen estos artículos son;
Presentación de los equipos que juegan hoy
Posibles resultados del partido
Pronósticos sobre el marcador de cada partido
Jugadores que probablemente brillarán en la liga premier de fantasía (FPL)
Presentación de los equipos que juegan hoy
| Equipo local | equipo visitante | hora | lugar |
| --- | --- | --- | --- |
| Leicester City | Liverpool | 13:30 | king power stadium |
| Crystal Palace | Burnley | 16:00 | Estadio Selhurst Park |
| Manchester City | Tottenham Hotspur | 18:30 | Estadio Etihad |
| Brighton & Hove Albion | Aston Villa | 21:00 | American Express Community Stadium |
Leicester City contra Liverpool
Ambos equipos intentarán recuperarse de un resultado bastante decepcionante en la última jornada. El Liverpool perdió en casa ante el actual líder de la tabla, el Manchester City, en Anfield, y quiere volver a la senda de la victoria. El Leicester City también tuvo una noche bastante decepcionante en su última visita, ya que no pudo pasar del empate sin goles ante el Wolf. Sólo tres puntos separan a ambos equipos, que ocupan la tercera y la cuarta posición en la tabla de la Premier League.
El Leicester City espera ampliar su diferencia de tres puntos con respecto al Liverpool, y una victoria también supondría un gran empujón hacia sus aspiraciones al título de la Premier League. los Zorros han jugado muy bien bajo la dirección de Rogers y tuvieron la mala suerte de no clasificarse para la Liga de Campeones la última vez. esta temporada han reforzado aún más sus credenciales y sus filas, y la clasificación será fruto de su trabajo manual y no de la suerte si siguen jugando como lo han hecho toda la temporada.
La mayor noticia en el campo del Leicester es ver a su capitán y máximo goleador, Vardy, de vuelta a la selección. ha estado de baja por una lesión y se le dio unos minutos contra los lobos la última vez. el zorro no tiene grandes preocupaciones por las lesiones y les gustará su oportunidad de vencer al Liverpool, que ha estado teniendo una mala temporada.
El Liverpool ha tenido un año bastante duro, ya que sólo ha ganado dos partidos de la Premier League en 2021, lo que le ha hecho perder su número de registro en la tabla de la liga y caer al cuarto lugar. mientras que la clasificación para la Liga de Campeones será lo que KLOPP y el KOPS pondrán sus ojos en la amplia gama de lesiones de los hombres clave en su línea de fondo. actualmente están por detrás de los líderes de la liga con la friolera de 10 puntos y eso es una prueba de lo mala que ha sido la campaña del Liverpool en 2021.
Todos los ojos del Liverpool estarán puestos en Allison, ya que sus dos errores en sus 5 minutos de locura le dieron la victoria al Manchester City en su último partido. las lesiones han sido una de las mayores preocupaciones del Liverpool esta temporada y han visto a la mayoría de sus jugadores fuera. han estado sin VVD durante la mayor parte de la temporada y es poco probable que vuelva esta temporada. la lista de sus lesiones sigue creciendo, ya que Fabinho, que ha jugado la mayor parte de la temporada 2021 como defensa, también ha sido descartado para este partido por lesión.
por el momento, el Liverpool tendrá que recurrir a algunos de sus jugadores experimentados para cubrir eficazmente el espacio en la zaga. jugadores como Henderson y Milner han jugado como centrales esta temporada y parece que mantendrán ese puesto en el partido contra el Leicester City. Diego jota también está fuera y la principal amenaza sigue siendo tanto salah como mane que co siguen sin parecer interesados en jugar entre ellos.
Predicción del resultado del partido: el partido será difícil para ambos equipos y se espera que ambos equipos jueguen por la victoria. el partido probablemente terminará en un empate 1-1 ya que ambos equipos probablemente compartirán el botín
fantasy premier league para seleccionar de cada equipo; para el Liverpool, salah, Arnold y Robertson.
para el Leicester city, Vardy, Pérez y Maddison.
Manchester City contra Tottenham Hotspur
ambos equipos cuentan con los mejores entrenadores de la liga en sus filas y, sin embargo, el equipo ha superado al otro con creces. el manchester city ha ganado sus últimos cinco partidos en la liga y actualmente es líder de la división con cinco puntos, además de tener un partido menos. El Tottenham, por su parte, ha perdido tres partidos en sus últimos cinco encuentros en la Premier League. El Manchester City tratará de ampliar su ventaja en la tabla, mientras que el Tottenham buscará cambiar su suerte y ganar este partido.
el manchester city ha sido capaz de cambiar las tornas a su favor esta temporada, ya que a principios de la misma parecían estar fuera de juego. actualmente llevan una racha de 15 partidos ganados y es poco probable que puedan ser parados por ningún equipo en este momento, a pesar de no tener a dos de sus mejores jugadores disponibles desde hace tiempo. KDB y Kun estarán definitivamente fuera del partido y, sin embargo, parece que no se les echa de menos. el conjunto de talentos en las filas del manchester city ha rendido cuando se les ha requerido.
mientras el manchester city sigue superando a los equipos, la parte más importante e influyente del equipo ha sido su defensa. por primera vez en la carrera de Pep, puede potenciar una defensa digna de disputar cualquier título y han encajado el menor número de goles de la liga, mientras que están por detrás de su rival del manchester united en el récord de goles marcados. Sterling ha sido el capitán del equipo en ausencia de Kelvin y hasta ahora, bajo su dirección, el equipo ha ganado todos los partidos y todavía no ha jugado un mal partido. lo ha hecho fantásticamente bien como capitán y se convirtió en el tercer jugador en marcar 100 goles bajo la dirección de Pep Guardiola, siendo los otros dos el Kun y Messi.
Mourinho ha tenido una temporada difícil hasta ahora con el Tottenham y parecía estar fuera de los planes para llevar al equipo hacia adelante. mientras que los Spurs cuentan con jugadores de clase mundial en sus filas, su falta de profundidad del equipo ha sido su principal problema y les ha afectado de una manera grande. también, en numerosas ocasiones, los jugadores le han decepcionado, mientras que algunos jugadores han estado fuera de forma. El propio Mourinho tiene parte de la culpa, ya que su enfoque de conversación en los partidos ha hecho que el equipo sea tímido y propenso a los ataques.
El Tottenham lleva una racha sin ganar en sus últimos cinco partidos de la Premier League y tratará de frenar su racha, pero el Manchester City ofrece la vía más difícil para conseguirlo. el hecho de que Tailsman Kane esté de vuelta en el equipo será una de las razones para hacer sonreír a los fieles de los Spurs. Ha marcado en más partidos de los que ha jugado contra ellos y esperarán que haga lo mismo hoy. su última salida se saldó con una derrota en el partido de copa contra el Everton. la derrota por 5-4 será el jengibre que impulse a este equipo a la victoria y es probable que sea el comienzo de un giro para el equipo de los Spurs
predicción del resultado del partido: el manchester city, de altos vuelos, buscará aumentar su récord, mientras que los Spurs buscarán al menos quitarle un punto al city, al mismo tiempo que hacen algunos daños. Kane de vuelta en la alineación inicial será un impulso de bienvenida y también un dolor de cabeza para la defensa de manchester city para preocuparse. el juego probablemente terminará en una victoria de 2-1 para el lado de pep y marcar una puesta frustrante para Mourinho una vez más.
fantasy premier league para seleccionar de cada equipo; con el man city teniendo una victoria de doble juego, la selección de tres jugadores de sus filas es un gran movimiento, en esa nota, Foden, Díaz, y sterling debe ser seleccionado. para los spurs, el debido habitual de Kane y Son debe ser considerado.
Brighton & Hove Albion contra Aston Villa
Hablar de dos equipos que han jugado muy bien esta temporada, entonces los nombres de Brighton y Villa será mencionado. por desgracia para el Brighton, han luchado para representar su hermoso juego en una victoria y esto ha visto perder partidos que merecen ganar. villa, por otro lado, ha sido impresionante en todos los frentes, pero con el estilo de juego y los resultados y eso es lo que hará que el juego impresionante para ver y analizar
aunque su reciente racha ha sido impresionante en cuanto a resultados, ya que siempre han jugado bien en sus partidos. se han puesto en marcha para mantener el juego y estar seguros de pasarlo. su racha de tres victorias en sus últimos cinco partidos muestra que su acabado ha mejorado y los jugadores del centro del campo están empezando a contribuir más en las áreas de ataque y eso es un buen equipo para el equipo. atacantes como Welbeck, Connelly no han ofrecido realmente una aportación tangible en el equipo, pero son margen de mejora definitivamente.
El Aston Villa, por otra parte, ha sido impresionante en todos los frentes esta temporada y se necesitará la circunscripción para que se clasifiquen para el sorteo de la liga de campeones de este año que viene. poseen el equipo y el gerente para hacer que eso suceda y arte el final de la temporada, que será una evaluación exhaustiva del rendimiento del equipo. su último partido fue una victoria para ellos, ya que su gol tempranero les dio el pase y también marca la primera doble victoria en la liga contra el arsenal en su historia. todos los jugadores de la plantilla del villa han conseguido aportar valor en todas las posiciones que ocupan y eso les ha hecho producir más de lo esperado. han jugado muy bien contra los seis primeros y han conseguido victorias en más de dos ocasiones distintas.
mientras que los jugadores de ataque de villa han hecho excelente en equipos de puntuación, ha sido un esfuerzo de equipo para garantizar su línea de fondo es seguro y libre de encajar goles. defensores como Cash y Trezeguet como proporcionado y asistido en numerosas ocasiones y que muestran cómo los esfuerzos del equipo de manera óptima. esta temporada, de hecho, marca un gran cambio en el equipo que luchó la temporada pasada y queda por ver si su forma y estilo de juego va a ganar su un lugar de la liga de campeones.
**predicción de la puntuación del partido: ambos equipos poseen un juego similar, pero los resultados han sido diferentes para el equipo tiene un equipo de llevar la moral alta y el impulso que el otro. ambos equipos parecen estar en forma últimamente y que hará que este juego muy difícil para ambas partes. así que 2-0 a favor de Aston villa es la puntuación prevista para este partido.
**Para el Aston Villa, tienen un montón de jugadores para elegir, ya que todos han actuado cuando fueron llamados a jugar. así que [jugadores como Watkins, Grealish, efectivo, Martínez, Traore, Trezeguet deben ser considerados para la selección. para el Brighton, jugadores como Maupay, Trossard y Match deben ser seleccionados.
---
---