Wining is in your hand
Post written in both Spanish and English || Puesto escrito en español e inglés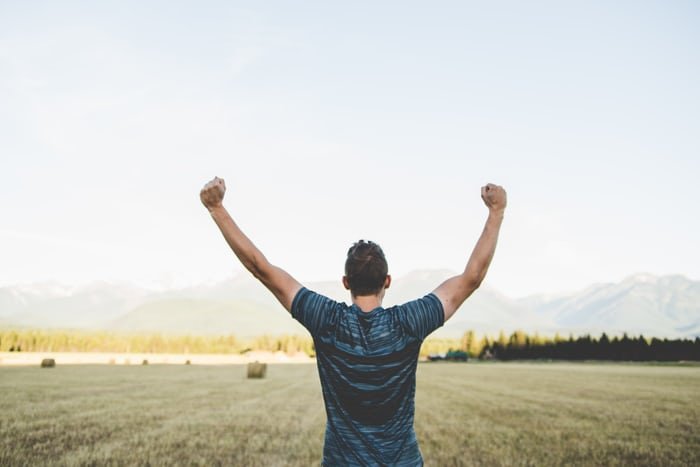 source
The power to win is embedded right within you. The power to win is within and as such you are charged with the sole responsibility of making that happen. While making make effort is key, believing in yourself in the first place is the driver towards success attainment.
Using Ronaldo's case as an example, he had always believed that he is the best even when he was still a nobody. The act of self acclaiming the best tag will always be a major boost. Although he had to put in the work to achieve his position, his drive was believing at first.
Remember Anthony Joshua, the heavyweight champion of the world, he was once rejected for a chance to box for his country of origin Nigeria in the Olympics tournament. The rejection didn't damp his feeling about he felt about himself. He still believed that he was the best and auctioned to box for England in the same Olympic tournament. He won the tournament and much to the loss of his native country Nigeria.
Regardless of whatever you might be doing or which area areas of life you are in, believing in yourself or the plan is a step closer to achieving your set objectives. Before anyone will buy into your dreams, they must see a certain level of belief you have towards your project before they would drop cash to show commitment.
Truth is believing makes it hard for one to stop regardless of how many times you fail. The failures will be seen as valuable experience and upgrades or corrections will be integrated into the next model or plan. Actions taken to support the dream and keep the dream alive must be well planned and carefully implemented.
Take a look at pep during his first season as a Manchester city coach. He flopped terribly and yet he failed to quit. He said that he understands how tough the English league is and then he implements another approach towards the achievement of his goals. It paid off handsomely as he won the English league twice in a row.
Let's take a look at the Sports tokens, for instance, the project wasn't working out for a long time but lots of pushers contributed their quota to drive the price token up. People such as @cryptoandcoffee, @botefarm @botefarm.sport, and of course @uyobong.sports constantly pushing and talk regarding the coin is paying off. It shows that success is not just an outcome of so much hard work but the will and belief to start in the first place.
---
---
El poder de ganar está dentro de ti. El poder de ganar está en tu interior y, como tal, tienes la única responsabilidad de hacerlo realidad. Aunque esforzarse es la clave, creer en uno mismo es el motor para alcanzar el éxito.
Utilizando el caso de Ronaldo como ejemplo, él siempre ha creído que es el mejor incluso cuando todavía no era nadie. El hecho de autoconvencerse de ser el mejor siempre será un gran impulso. Aunque tuvo que esforzarse para alcanzar su posición, su empuje fue creyente al principio.
Recordemos que Anthony Joshua, el campeón del mundo de los pesos pesados, fue rechazado en una ocasión para boxear por su país de origen, Nigeria, en el torneo olímpico. El rechazo no empañó el sentimiento que tenía de sí mismo. Seguía creyendo que era el mejor y se subastó para boxear por Inglaterra en el mismo torneo olímpico. Ganó el torneo, con la consiguiente pérdida para su país natal, Nigeria.
Independientemente de lo que estés haciendo o de las áreas de la vida en las que te encuentres, creer en ti mismo o en el plan es un paso más hacia la consecución de los objetivos marcados. Antes de que alguien compre tus sueños, debe ver un cierto nivel de creencia que tienes hacia tu proyecto antes de que suelte dinero para mostrar su compromiso.
La verdad es que creer hace que sea difícil detenerse, independientemente de las veces que se fracase. Los fracasos se verán como una experiencia valiosa y las mejoras o correcciones se integrarán en el siguiente modelo o plan. Las acciones que se lleven a cabo para apoyar el sueño y mantenerlo vivo deben estar bien planificadas y aplicarse cuidadosamente.
Fíjate en Pep durante su primera temporada como entrenador del Manchester City. Tuvo un terrible fracaso y, sin embargo, no renunció. Dijo que entendía lo dura que es la liga inglesa y entonces puso en práctica otro enfoque hacia la consecución de sus objetivos. Dio sus frutos, ya que ganó la liga inglesa dos veces consecutivas.
Echemos un vistazo a los tokens de deportes, por ejemplo, el proyecto no estaba funcionando durante mucho tiempo, pero muchos empujadores contribuyeron con su cuota para impulsar el precio token. Gente como @cryptoandcoffee, @botefarm @botefarm.sport, y por supuesto @uyobong.sports empujando constantemente y hablando sobre la moneda está dando sus frutos. Esto demuestra que el éxito no es sólo el resultado de tanto trabajo duro, sino la voluntad y la creencia de empezar en primer lugar.
---
---