[Splinterlands][ENG/PT-BR] S69 Bronze to Silver Deck List - Life Element #Legaliza's Report

Hello everyone, have you played Splinterlands today?
Olá a todos, vocês já jogaram Splinterlands hoje?
In this post i will release another deck comp to rush bronze to silver league. This time i will show a Life Deck composition, to survive and pass Bronze League.
Neste post vou lançar mais uma composição de deck para levar bronze para a liga prata. Desta vez vou mostrar uma composição do Life Deck, para sobreviver e passar a Liga Bronze.
Also, i already did the same kind of post for another comps:
Além disso, eu já fiz o mesmo tipo de post para outras composições:
Earth Element Deck Comp - Bronze to Silver S68
Fire Element Deck Comp - Bronze to Silver S68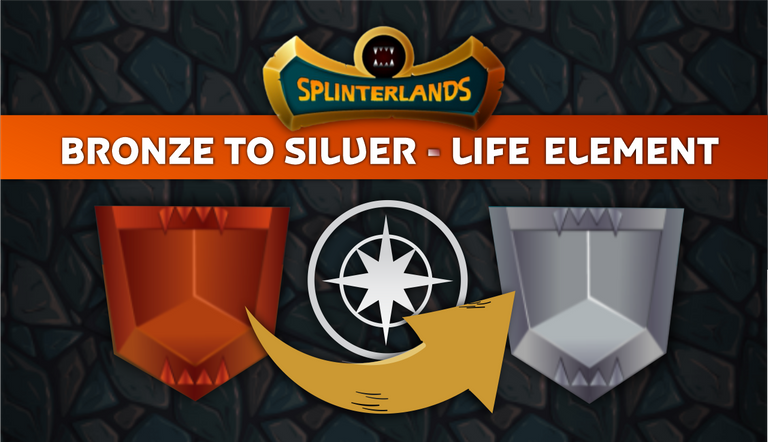 Img Sources: Splinterland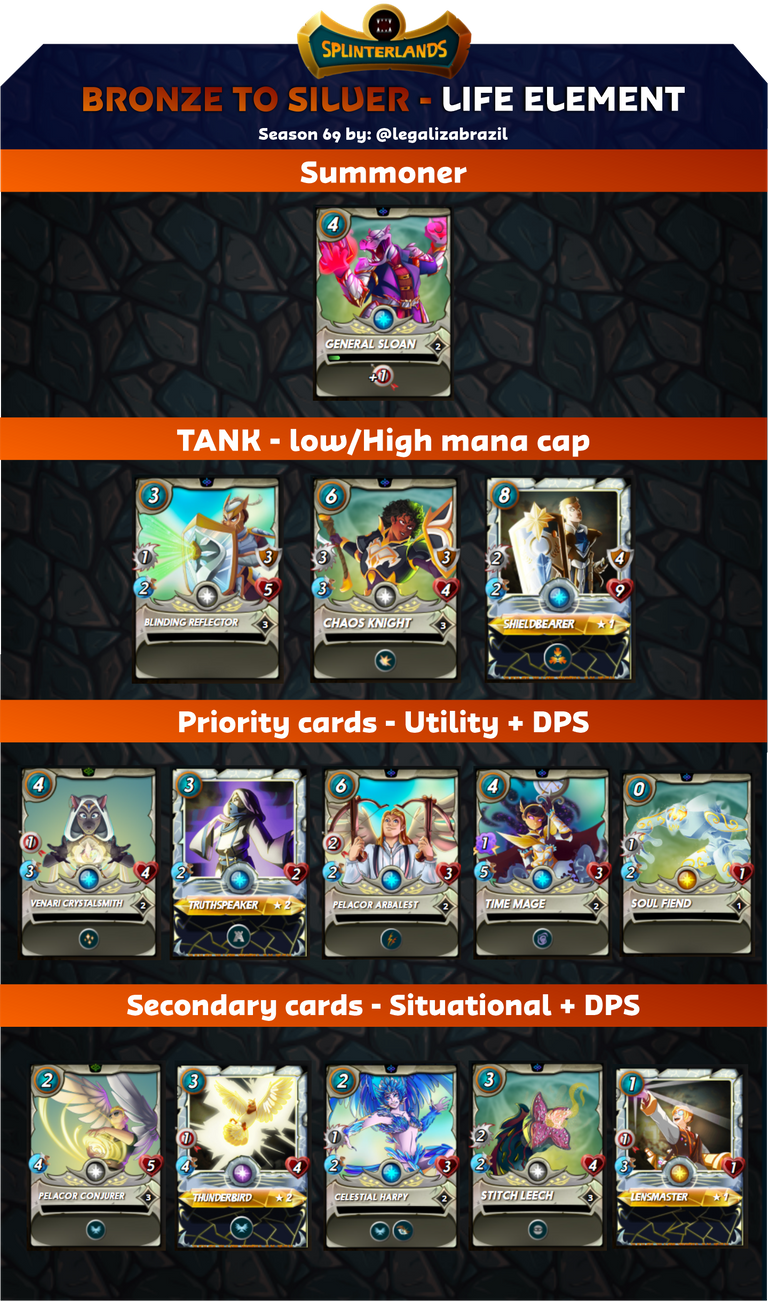 Always rent a Creeping Ooze! This card has a huge value and win rate, the "slow skill" can turn the battle to you.
Sempre alugue um Creeping Ooze! Esta carta tem um enorme valor e taxa de vitórias, a "habilidade lenta" pode virar a batalha para você.

GAME PLAY
• For this composition we're going to use General Sloan as our Summoner, with his ability he can give to our Ranged monsters + 1 attack. So we're going to prioritize ranged monsters.
Para esta composição vamos usar General Sloan como nosso Summoner, com sua habilidade que ele pode dar aos nossos Monstros à distância + 1 ataque. Então, vamos priorizar monstros à distância.
---
• As at this point we already know, we need to have at least 2 tanks. One tank for low mana cap battles (Blinding Reflector) and another to high mana cap (Chaos Knight) and/or (Shieldbearer).
Como neste momento já sabemos, precisamos ter pelo menos 2 tanques. Um tanque para batalhas com baixo limite de mana (Blinding Reflector) e outro para alto limite de mana (Chaos Knight) e/ou (Shieldbearer)!
---
• Priority cards is the one that you want always to have, in this comp we need utility and DPS in order to optimize the board.
Truthspeaker brings a lot of value with his Fortify ability.
Venari Crystalsmith brings DPS + Heal and Pelacor Arbalest came with a high Dps.
Cartas de prioridade é aquela que você quer ter sempre, neste comp precisamos de utilidade e DPS para otimizar a placa.Truthspeaker agrega muito valor com sua habilidade Fortify.Venari Crystalsmith traz DPS + Heal e Pelacor Arbalest veio com um Dps alto.
---
Secondary cards are the ones that you will use to fill the board or use in a situational match. I choose those cards because Life element can be almost undefeated in a Earthquake rule because of his nice flying monsters. Also Pelacor Conjurer Can work well as a off tank.
As cartas secundárias são aquelas que você usará para preencher o tabuleiro ou usar em uma partida situacional. Eu escolho essas cartas porque o elemento Vida pode ser quase invicto em uma regra de terremoto por causa de seus bons monstros voadores. Também Pelacor Conjurer Pode funcionar bem como um tanque off.

• REPLAYS •
https://splinterlands.com?p=battle&id=sl_17318c98a496beab3aa0a4797bb60f05
https://splinterlands.com?p=battle&id=sl_9faaf0199595c14e77341f9a5b31001d
https://splinterlands.com?p=battle&id=sl_99fd29a4c366baef49ed38270370f7e

EXTRA TIPS:
• RENT GOLD FOIL CARDS: To reach Silver league CP(15,000) you may need to rent GOLD FOIL CARDS not all of them but for sure a few, so during you research try to find god deals renting gold cards. Don't forget that with gold foil you can earn more DEC by 10% for battle on each gold foil you used on board.
ALUGUE GOLD FOIL CARDS: Para alcançar o Silver league CP(15.000) você pode precisar alugar GOLD FOIL CARDS não todos, mas com certeza alguns, então durante sua pesquisa tente encontrar ofertas de aluguel de gold cards. Não se esqueça que com a folha de ouro você pode ganhar mais DEC em 10% para a batalha em cada folha de ouro que você usou a bordo.
---
• RENT BRONZE CAP LVL: In order to "rush" your elo you will need to rent cards for the lvl of the league, this deck is to reach Silver, so we will fight at the bronze league. So Commom lvl 3, Rare lvl 2, Epic lvl 2 and Legendary lvl 1.
ALUGUE BRONZE CAP LVL: Para "apressar" seu elo você precisará alugar cartas para o lvl da liga, este deck é para chegar a Silver, então vamos lutar na liga bronze. Então Commom lvl 3, Rare lvl 2, Epic lvl 2 e Legendary lvl 1.
---
• POWER : For sure only this cards can't get you to the power needed to achieve Silver, also isn't good to run a single deck comp. So, i strongly recommend that you build not only this deck comp. Stay tuned for more compositions.
• POWER : Com certeza, apenas essas cartas não podem levar você ao poder necessário para alcançar Silver, também não é bom executar uma composição de um único deck. Então, eu recomendo fortemente que você construa não apenas esta composição de deck. Fique ligado para mais composições.

That's all for today. Stay tuned to more deck compositions.
Isso é tudo por hoje. Fique ligado para mais composições de deck.
If you want to play @splinterlands just sign up.
---
---