How about a worldwide "Splinterlands" tournament to decide who is the "King of the Splinters"? [EN-ES]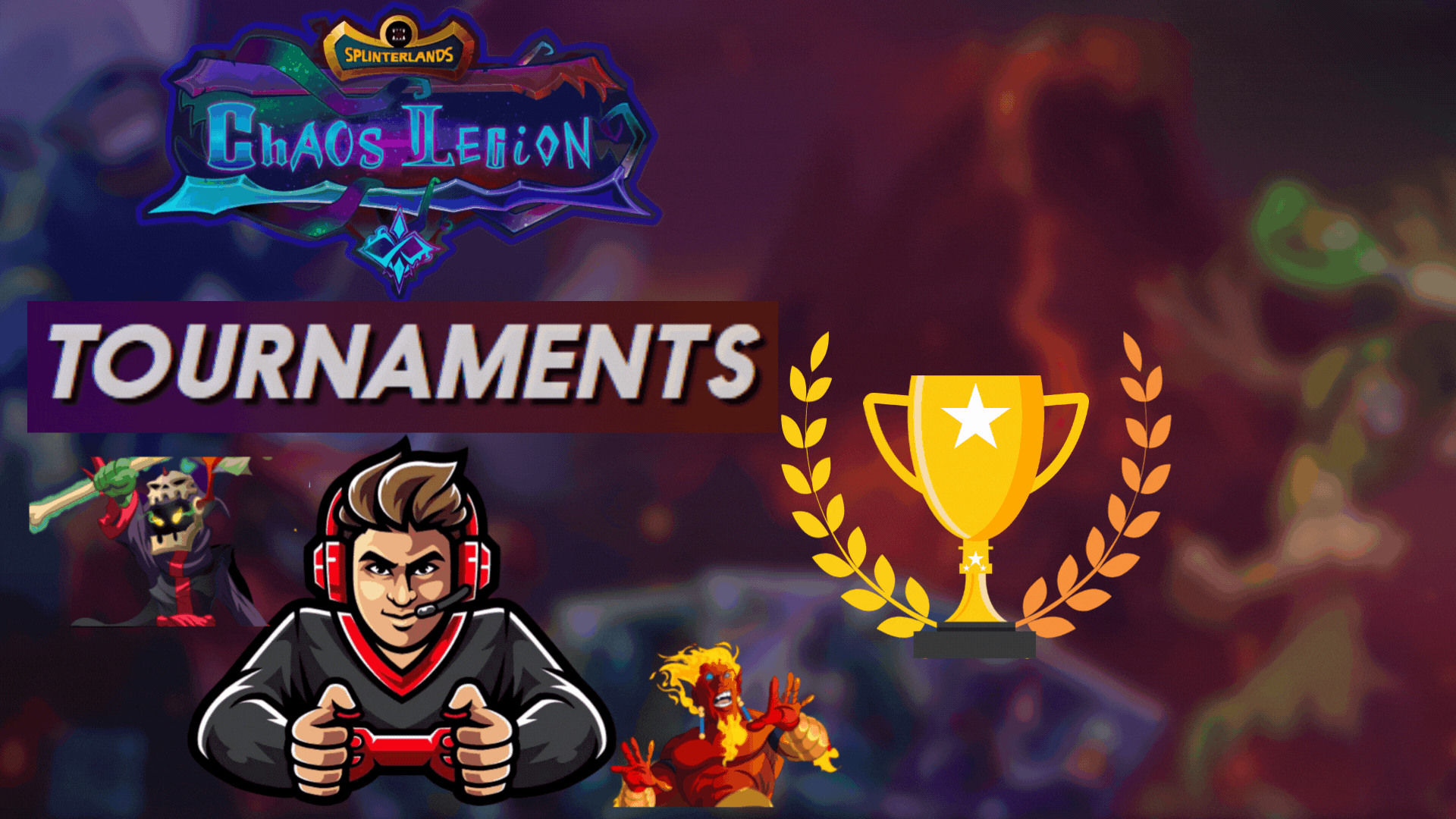 Cover created in Canva

Hace tiempo que algo como lo que pueden leer en el titulo de esta publicación ronda mi cabeza, sin embargo, por alguna razón que desconozco nunca habia intentado tan siquiera intentar plasmarla de alguna manera, pero, hoy han pasado algunos acontecimientos que me han hecho replantearme la idea (No se preocupen, les describiré el contexto de todo esto, en el transcurso de la publicación), entonces, es por eso que estoy escribiendo algo muy diferente a lo que suelo traerles, donde siempre estoy hablando de estrategias de batalla, de plataformas relacionadas con "Splinterlands", algunos tutoriales de interés etc.
En esta oportunidad hablare de una idea muy interesante, acerca de lo que todos conocemos como "Torneo", pero, este no será cualquier torneo, ya que mi idea vas allá de los torneos normales que suelen celebrarse, ojo, no estoy menospreciando ninguno de estos eventos, al contrario, el que estén allí día tras día, hace que el juego sea mucho más atractivo de lo que se imaginan, ya que incursionamos en lo que serian los "eSports", los famosos deportes electrónicos, algo muy necesario para este tipo de juegos que tanto nos gusta, solo investiguen de juegos tipo TCG, como "Magic the Gathering o Yugioh.

Contexto detrás de la idea

Hoy leyendo algunas publicaciones en la plataforma, me encontré con una que compartió mi compañero de equipo y gremio llamado @schnapoon, en el cual hablaba de una seria de torneos, en donde algunos jugadores de "Indonesia y Japón" se enfrentarían entre sí, aunque la idea de la organización de este torneo que el describió, es que, jugadores de varios países se enfrenten en un 5 vs 5, lo que suena en realidad muy emocionante y extremadamente divertido, ademas de competitivo.
Cuando leí esto, inmediatamente me voló la cabeza, ya que me encontré practicamente con la idea que me habia estado planteando hace mucho tiempo, ademas, para agregar mas cerezas al pastel, mi otro compañero de equipo llamado @ducecrypto, le comento que también habia tenido una idea acerca de un torneo de clase mundial por regiones, lo que se acerco aun mas a la idea que tenia en mente, entonces, una vez leí esto, mi mente se puso a trabajar para poder comentarles lo que he venido pensando.
Para ponerlos mas en contexto, les dejare una imagen del comentario de @ducecrypto y por supuesto, el que yo mismo realice a @schnapoon acerca del torneo que están organizando, el cual es sumamente genial.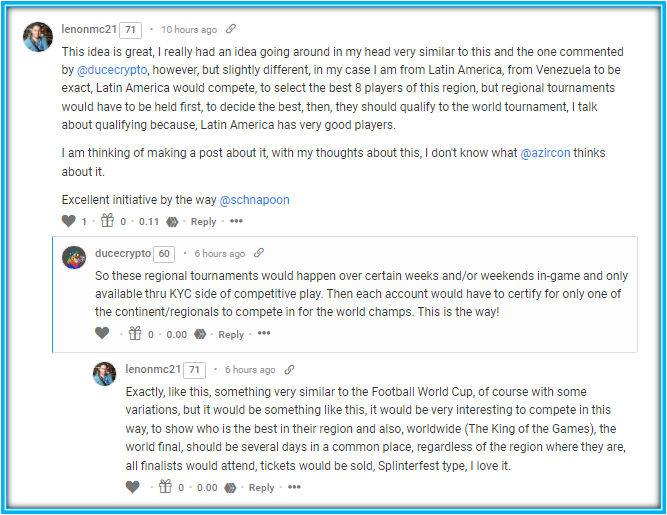 Enlace de la Publicación de @schnapoon

Introducción a lo que podría ser un "Torneo mundial en "Splinterlands"

Tratare de ser lo mas claro posible para que todos me puedan entender, sin embargo, antes de iniciar, debo aclarar que, esto es solo una idea y puede que en varios aspectos este equivocado o en su defecto puedan mejorarse, para esto, dejare que debatamos sobre el tema en los comentarios de este post y de esta manera poder construir una idea mas solida acerca de un torneo Mundial, así que no duden en comentar por favor.
En esta parte, quiero de cierta manera estructurar lo que serán las bases de la creación de un torneo de "Clase Mundial" en "Splinterlands", así que, en este mismo orden iré explicando todo para no saturarlos:
1.Torneos Regionales
2.Campeones Regionales
3.Torneo Mundial
4.Detalles faltantes
---
1) Torneos Regionales
Comienzo con esto porque, para poder llevar a cabo un torneo de clase mundial en "Splinterlands", lo ideal es que todas las regiones del mundo participen, en este sentido, la idea es que en todos los continentes donde existan jugadores que jueguen "Splinterlands", tengan la oportunidad de demostrar que merecen un puesto en una final para demostrar quién es el "Rey de los juegos" a nivel mundial, esto quiere decir que, en primera instancia se deben realizar "Torneos Regionales", para poder clasificarse al "Torneo Mundial".
Por ejemplo, yo soy de "Latinoamérica", competiría con el objetivo de representar al "Continente Americano" en un torneo de clase mundial, lo que quiere decir que, en mi región me enfrentaría a jugadores, de países como: Perú, Chile, Colombia, Venezuela, Estados Unidos, Brasil, etc, para elegir a los mejores jugadores que se clasificarían a las "Finales Mundiales".
---
1) Campeones Regionales
Se realizaran torneos durante semanas o fines de semana, con el objetivo de seleccionar a los mejores jugadores de cada región y/o continente, estos jugadores que logren vencer en cada instancia de estos torneos, serán llamados "Campeones Regionales", podrían ser clasificados por medio de los títulos que se otorgan en "Splinterlands", lo que quiere decir que, podrían llevar un título de "Campeón Regional", es solo una idea, sin embargo, existen otras opciones para poder llevar a cabo el orden del torneo como tal, espero se entienda hasta este punto.
Así mismo, aunque no lo mencione antes, los continentes, asiático, europeo y africano, tendrán que hacer lo mismo, luchar hasta clasificarse al torneo mundial, por lo que, si logran vencer, podrán ser llamados "Campeones Regionales" y deberán ser reconocidos como los mejores jugadores de su continente, díganme, ¿suena muy interesante y divertido o no?
---
1) Torneo Mundial
Llegamos a la instancia mas importante de todas, el torneo mundial que decidirá quien es el verdadero "Rey de los Splinters" el dueño y señor de toda "Praetoria", super genial cierto, pero bueno, continuando con esto, este torneo mundial será especial, será el mejor torneo que se lleve a cabo en la historia del juego "Splinterlands", miles de televidentes deberán presenciar en todo el mundo, la mejor competición de todas en torno a un juego de cartas basado en la tecnología Blockchain, algo nunca antes visto, así que es el momento de hacer sus apuestas y luchar para ser el mejor.
Por supuesto, algo de dicha, magnitud requiere bastante logística, sin embargo, en mi opinión creo que es posible llevarlo a cabo, ademas, por supuesto habrá una bolsa de premios, para los 3 primeros lugares, así que esto será genial.
---
1) Detalles faltantes
En este punto ya no hay mucho que decir, pero puede que me hayan faltado varias cosas por aclarar, así que en esta sección tratare de enumerarlas, puede que, en varios dias, pueda plasmar algo mucho más completo, pero estoy plasmando lo que tengo en mi cabeza en este momento:
Cualquier persona podría participar en los torneos regionales, quizás un requisito es tener cierta cantidad de "SPS en Staking", es solo una opción, no debería ser mucha cantidad, pero es necesario para que sean cuestas reales y que verdaderamente jueguen a nuestro juego.

Por región y/ o continente, no deberían de haber más de 10 campeones, me parece un buen número de clasificados, pero no sé qué opinen ustedes.

Como comenté, se les pudiera otorgar a los campeones regiones un título que diga campeón regional y el año en el que participo, ya que pienso que este podría ser un torneo que se puede llevar a cabo quizás cada año, o cada 2 años maximo.

Los torneos deben tener premios, especialmente para todos los campeones regionales y para los 3 primeros lugares de las "Finales Mundiales".

Las finales mundiales se pueden llevar a cabo en un lugar físico, donde para poder asistir al magno evento, se tendrían que vender boletos, algo muy parecido al #splinterfest, seria genial presenciar a los mejores competir en vivo y en directo por el titulo del "Rey de los Splinters", algo que se me acaba de ocurrir jaja.

Conclusión

Por ahora he llegado al final de este post, es algo que he venido pensando hace tiempo como ya comenté, sin embargo, gracias a mis compañeros @schnapoon y @ducecrypto pude aclarar bastante mis ideas, de hecho ¿A quien no le gustaría competir para ser el mejor? Esto es natural en este tipo de juegos, así que de verdad me encantaría que algo como esto se pudiera llevar a cabo, sin duda participaría, aunque si llega a realizarse, tendré que trabajar muy duro para mejorar mi mazo de cartas, aunque existe la posibilidad de alquilar, realmente me gusta mucho mas la propiedad de las tarjetas, pero ya esto es otro tema, tendría que buscar el capital, pero como dicen por allí el que quiere puede.
Espero que esta idea les haya gustado, por favor espero que comenten y dejen sus ideas para poder complementar la misma de una forma mucho más sólida, los espero.
Sin más por el momento, nos vemos en la próxima guerreros.

It's been a while that something like what you can read in the title of this post has been in my head, however, for some reason that I don't know, I had never even tried to shape it in some way, but, today some events have happened that have made me rethink the idea (Don't worry, I will describe the context of all this, in the course of the post), then, that's why I am writing something very different to what I usually bring you, where I am always talking about battle strategies, platforms related to "Splinterlands", some interesting tutorials etc.
In this opportunity I will talk about a very interesting idea, about what we all know as "Tournament", but, this will not be just any tournament, since my idea goes beyond the normal tournaments that are usually held, mind you, I am not belittling any of these events, on the contrary, the fact that they are there day after day, makes the game much more attractive than you can imagine, since we are entering into what would be the "eSports", the famous electronic sports, something very necessary for this type of games that we like so much, just look into TCG type games, such as "Magic the Gathering or Yugioh.

Context behind the idea

Today reading some posts on the platform, I came across one shared by my teammate and guildmate named @schnapoon, in which he talked about a series of tournaments, where some players from "Indonesia and Japan" would face each other, although the idea of the organization of this tournament that he described, is that players from various countries will face each other in a 5 vs 5, which sounds really exciting and extremely fun, as well as competitive.
When I read this, it immediately blew my mind, since I found myself practically with the idea that I had been thinking about for a long time, plus, to add more icing on the cake, my other teammate named @ducecrypto, told him that he had also had an idea about a world class tournament by regions, which was even closer to the idea I had in mind, then, once I read this, my mind went to work to tell you what I've been thinking.
To put you more in context, I'll leave you an image of @ducecrypto's comment and of course, the one I myself made to @schnapoon about the tournament they are organizing, which is extremely cool.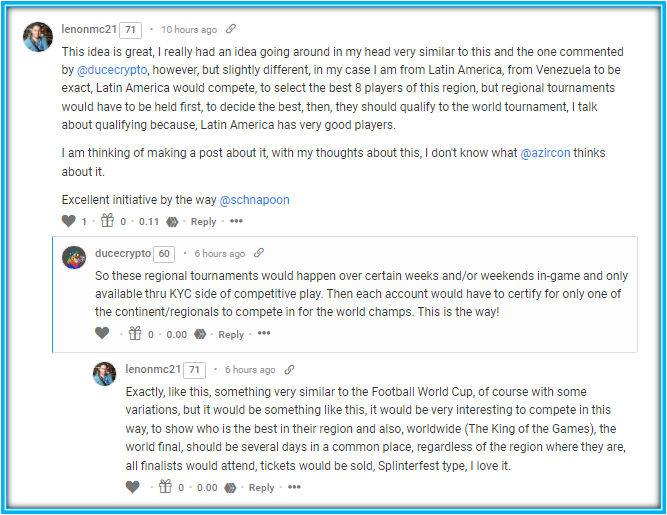 Introduction to what could be a "Splinterlands" World Tournament

I will try to be as clear as possible so that everyone can understand me, however, before starting, I must clarify that this is just an idea and may be wrong in several aspects or can be improved, for this, I will let us debate on the subject in the comments of this post and thus to build a more solid idea about a World tournament, so do not hesitate to comment please.
In this part, I want to structure in a certain way what will be the bases of the creation of a "World Class" tournament in "Splinterlands", so, in this same order I will explain everything in order not to saturate you:
1.Regional Tournaments
2.Regional Champions
3.World Tournament
4.Missing Details
---
1) Regional Tournaments
I start with this because, in order to carry out a world class tournament in "Splinterlands", the ideal is that all regions of the world participate, in this sense, the idea is that in all continents where there are players who play "Splinterlands", have the opportunity to demonstrate that they deserve a place in a final to show who is the "King of the games" worldwide, this means that, in the first instance "Regional Tournaments" must be held, in order to qualify for the "World Tournament".
For example, I am from "Latin America", I would compete with the objective of representing the "American Continent" in a world class tournament, which means that, in my region I would face players from countries such as: Peru, Chile, Colombia, Venezuela, United States, Brazil, etc, to choose the best players that would qualify to the "World Finals".
---
2) Regional Champions
Tournaments will be held during weeks or weekends, with the objective of selecting the best players of each region and/or continent, these players who manage to win in each instance of these tournaments, will be called "Regional Champions", they could be classified through the titles that are awarded in "Splinterlands", which means that, they could carry a title of "Regional Champion", it is just an idea, however, there are other options to carry out the order of the tournament as such, I hope it is understood up to this point.
Likewise, although I did not mention it before, the Asian, European and African continents will have to do the same, fight until they qualify for the world tournament, so if they manage to win, they could be called "Regional Champions" and should be recognized as the best players of their continent, tell me, does it sound very interesting and fun or not?
---
3) World Tournament
We arrived at the most important of all, the world tournament that will decide who is the true "King of the Splinters" the owner and lord of all "Praetoria", super cool right, but well, continuing with this, this world tournament will be special, it will be the best tournament ever held in the history of the game "Splinterlands", thousands of viewers will have to witness worldwide, the best competition of all around a card game based on Blockchain technology, something never seen before, so it's time to place your bets and fight to be the best.
Of course, some bliss, magnitude requires quite a lot of logistics, however, in my opinion I think it is possible to pull it off, plus of course there will be a prize pool, for the top 3 places, so this will be great.
---
4) Missing Details
At this point there is not much to say, but I may have missed several things to clarify, so in this section I will try to list them, maybe, in several days, I can capture something much more complete, but I am capturing what I have in my head at the moment:
Anyone could participate in regional tournaments, maybe a requirement is to have a certain amount of "SPS in Staking", it is just an option, it should not be much amount, but it is necessary for them to be real slopes and truly play our game.

Per region and/or continent, there should not be more than 10 champions, it seems to me a good number of classifieds, but I don't know what you think.

As I said, the regional champions could be given a title that says regional champion and the year in which I participate, since I think that this could be a tournament that can be carried out perhaps every year, or every 2 years maximum.

The tournaments should have prizes, especially for all regional champions and for the first 3 places of the "World Finals".

World Finals can be held in a physical location, where in order to attend the great event, tickets would have to be sold, something very similar to #splinterfest, it would be great to witness the best compete live and direct for the title of "King of the Splinters", something that just occurred to me haha.

Conclusion

For now I have reached the end of this post, it is something I have been thinking for a long time as I already mentioned, however, thanks to my colleagues @schnapoon and @ducecrypto I was able to clarify my ideas, in fact who would not like to compete to be the best? This is natural in this kind of games, so I would really love that something like this could be carried out, I would certainly participate, although if it comes to fruition, I will have to work very hard to improve my deck of cards, although there is the possibility of renting, I really like much more the ownership of the cards, but this is another topic, I would have to look for the capital, but as they say over there he who wants can.
***I hope you liked this idea, please I hope you comment and leave your ideas to complement it in a much more solid way, I wait for you. ***
Without further ado, see you next time warriors.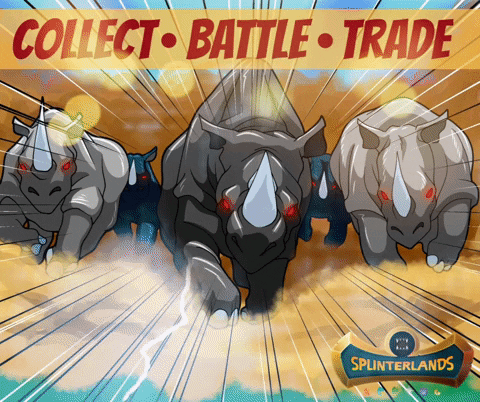 If you are new, I invite you to register in this LINK
---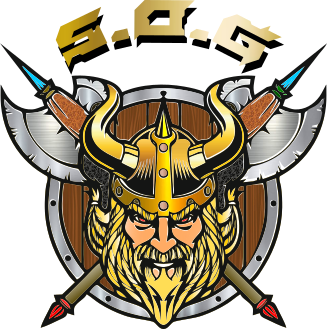 Proud Member of "Shield of Glory".
---

Join the Discord Official community server in English
---
---