My rewards in season 100 of "Splinterlands" [ES-EN]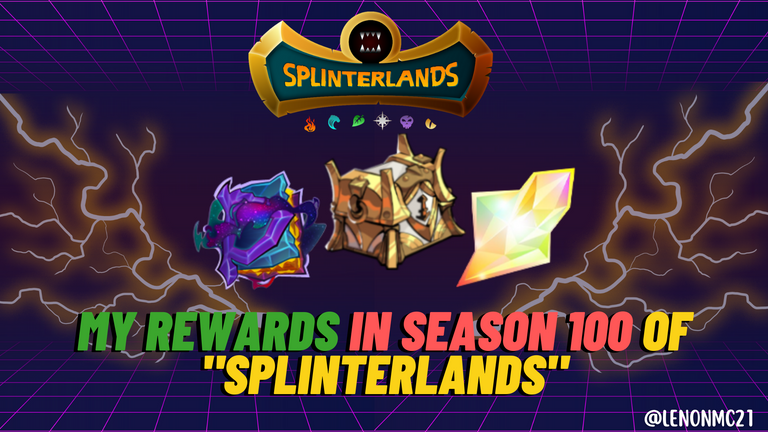 Cover created in Canva

Este es mi 4to reporte de recompensas desde que decidí compartir con ustedes las ganancias que obtengo por jugar en la liga de "Oro", este reporte se diferencia de los demás porque corresponden a la temporada número 100 de est grandioso juego, así que vale la pena resultar el hecho que, desde hace 4 años y un poco más, había iniciado este juego con muchos objetivos que hasta ahora se han hecho realidad.
Por otra parte, este reporte de recompensas es especial, ya que por primera vez en mucho tiempo logré entrar entre los 50 mejores jugadores de la liga "Oro", algo de lo que estoy orgulloso, porque entre tantos buenos jugadores y con la competencia más fuerte que nunca, logré entrar en este top, además mis recompensas mejoraron con respecto a la última, así que fue una temporada sublime para mí.
Cómo siempre, agregaré valor a este reporte comentando, como jugué y que hice para poder llegar a este top.

Totalidad de cofres ganados y recomendaciones

Está temporada logré ganar un total de 128 cofres de "Oro" y 16 de plata, por lo que logré realizar 20 cofres más de "Oro" y 12 menos de plata, así que estoy muy contento con mi desempeño, logré superarme en comparación con la temporada anterior en todos los aspectos, incluidas las ganancias, puesto que, el ganar menos cofres de "Plata", quiere decir que, avance a "Oro" muy rápido, todo esto se traduce en que también pude mejorar en cuanto a batallas ganadas, así que también tuve mejor efectividad al enviar mis equipos al campo de batalla.
Siguiendo el mismo orden de ideas, los recompensas globales de la temporada 100 son las siguientes: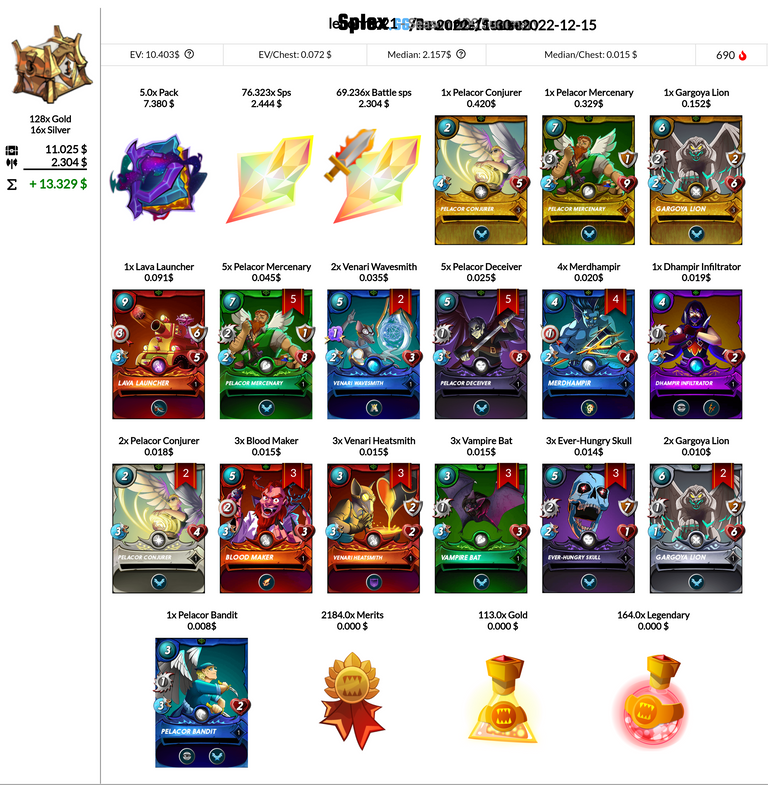 En la imagen anterior se observa como logré obtener un total de $13.129, los cuales se clasifican en $11.025 ganados en los cofres de recompensas diarios y de temporada, adicional $2.304 ganados por cada batalla clasificada ganada, la diferencia es que logré jugar casi todo los 15 días de la temporada, así que mi desempeño fue mayor.
---
Recomendaciones
Administrando correctamente el ECR nos aseguramos de obtener mayores recompensas a lo largo de la temporada, la prueba de esto fue mi desempeño en la liga "Oro", logrando estar inclusive dentro de los primeros 30 jugadores de dicha liga y aunque al final perdí 2 batallas y me bajaron al top 50, logré estar incluso muy cerca de ganar las recompensas.

Para jugar en "Oro" y en cualquier otra liga, debemos elegir bien nuestras cartas, si son de los que alquilan, deben saber que no todas las cartas son útiles, aquellas que posean buenas habilidades en el nivel que las necesitan para cada liga, son la prioridad para poder amar buenos equipos.

La clave para obtener mayores recompensas está en el ECR, la idea es mantenerlo por encima del 60% como mínimo umbral, esto ayudará a que puedas obtener de 8 a 11 cofres diarios como recompensas, mientras tú ECR no sufre prácticamente nada, la única forma es que se pierda muchos pero, debemos jugar bien nuestras cartas y pensar en cada movimiento.

Piensa bien antes de mandar una alineación, observa bien las reglas y algunos de los últimos juegos de tu oponente con respecto a los splinters que se pueden jugar, de esta forma será mucho más fácil elegir cartas correctas, que solo ir con fuerza bruta sin lograr nada.

Detalles generales de las recompensas

Lamentablemente por estar trabajando directamente desde mi móvil y no desde un ordenador,no puedo enseñarles el detalle al que los tengo acostumbrados en este reporte, ya que la plataforma no me genera los datos, pero, lo que si puede hacer, es sacar la cuenta general de los activos que gane, con el objetivo de conocer su valor en "dólares".
Así que, a continuación, en el siguiente cuadro observarán, el.valor de quema de todas las cartas que gane, más la totalidad de SPS ganados en las batallas y los cofres, y por último,pero no menos importantes, los packs de Chaos Legion ganados:
---
| Moneda | Total |
| --- | --- |
| DEC | DEC 690 x $0.00068 = $0.47 |
| SPS | SPS 145.559 x $0.02791= $4.06 |
| PACKS | PACKS 5 x 1.40= $7.00 |
| TOTAL | $11.53 |
---

Consideraciones Finales

Este reporte fue claramente más corto que los anteriores, sin embargo, espero que la información que les brinde, les sirva para poder ganar más recompensas, recuerden que mi intención no es mostrar solo mis ganancias, sino la realidad de estás en determinadas ligas, además de consejos y/o recomendaciones para mejorar, espero que las tomen en cuenta, estoy seguro que les será muy útil.
Sin más por el momento, nos vemos en la próxima guerreros.

This is my 4th rewards report since I decided to share with you the earnings I get for playing in the "Gold" league, this report is different from the others because it corresponds to the 100th season of this great game, so it is worth noting the fact that, since 4 years ago and a little more, I had started this game with many goals that so far have come true.
On the other hand, this rewards report is special, because for the first time in a long time I managed to get into the top 50 players of the "Gold" league, something I am proud of, because among so many good players and with the competition stronger than ever, I managed to get into this top, also my rewards improved compared to the last one, so it was a sublime season for me.
As always, I will add value to this report by commenting on how I played and what I did to reach this top.

Total number of chests won and recommendations

This season I managed to win a total of 128 chests of "Gold" and 16 of silver, so I managed to make 20 more chests of "Gold" and 12 less of silver, so I am very happy with my performance, I managed to surpass myself compared to the previous season in all aspects, including earnings, since, winning fewer chests of "Silver", means that, I advance to "Gold" very fast, all this translates into that I could also improve in terms of battles won, so I also had better effectiveness in sending my teams to the battlefield.
Following the same order of ideas, the global rewards for the 100th season are as follows: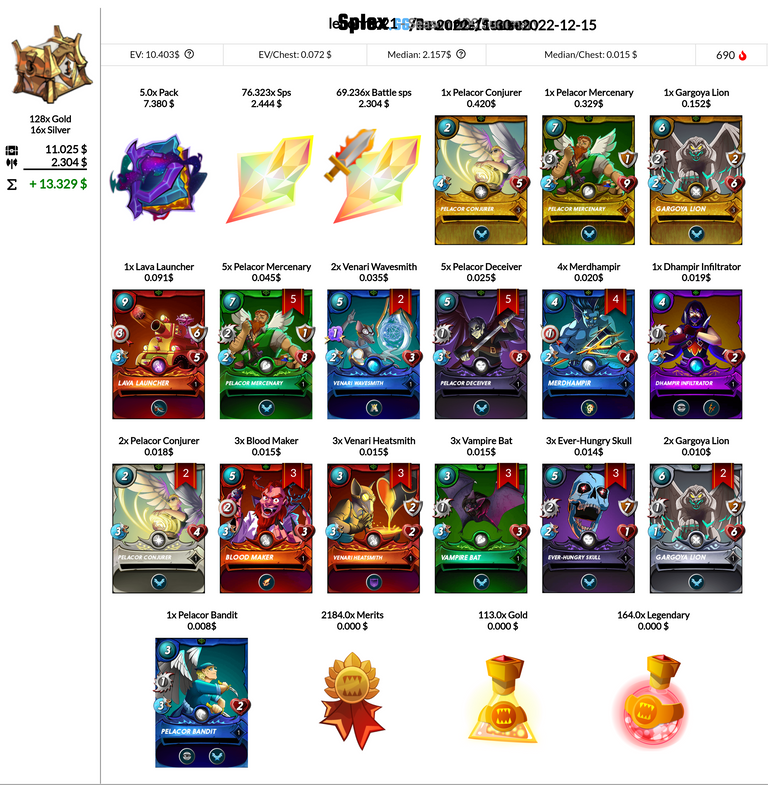 In the image above you can see how I managed to get a total of $13,129, which is classified as $11,025 earned in the daily and seasonal reward chests, plus $2,304 earned for each ranked battle won, the difference is that I managed to play almost all the 15 days of the season, so my performance was higher.
---
Recommendations
The proof of this was my performance in the "Gold" league, managing to be even in the top 30 players of the league and although in the end I lost 2 battles and was relegated to the top 50, I managed to be even very close to winning the rewards.

To play in "Gold" and in any other league, we must choose our cards well, if you are one of those who rent, you should know that not all cards are useful, those that have good skills at the level they need for each league, are the priority to be able to love good teams..

The key to obtain higher rewards is in the ECR, the idea is to keep it above 60% as a minimum threshold, this will help you get 8 to 11 daily chests as rewards, while your ECR suffers practically nothing, the only way is to lose many but, we must play our cards right and think about every move.

Think well before sending a lineup, look at the rules and some of your opponent's last games regarding the splinters that can be played, this way it will be much easier to choose the right cards, than just going with brute force without achieving anything.

General details of rewards

Unfortunately, since I am working directly from my cell phone and not from a computer, I cannot show you the detail to which I am accustomed in this report, since the platform does not generate the data, but what it can do, is to take the general account of the assets that I earn, with the objective of knowing their value in "dollars".
So, in the following table you will see the burning value of all the cards you win, plus the total SPS won in battles and chests, and last but not least, the Chaos Legion packs won:
---
| Coin | Total |
| --- | --- |
| DEC | DEC 690 x $0.00068 = $0.47 |
| SPS | SPS 145.559 x $0.02791= $4.06 |
| PACKS | PACKS 5 x 1.40= $7.00 |
| TOTAL | $11.53 |
---

Final Considerations

This report was clearly shorter than the previous ones, however, I hope that the information provided will be useful to earn more rewards, remember that my intention is not only to show my earnings, but the reality of you in certain leagues, plus tips and / or recommendations for improvement, I hope you take them into account, I'm sure it will be very useful.
Without further ado, see you next time warriors.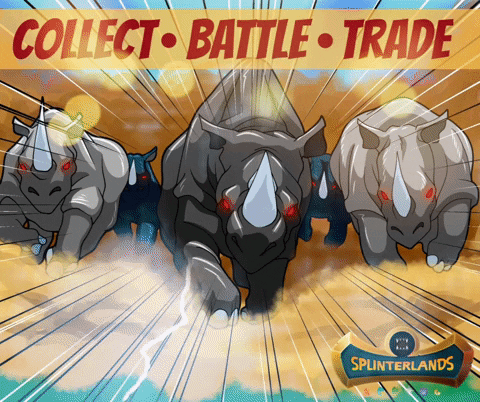 If you are new, I invite you to register in this LINK
---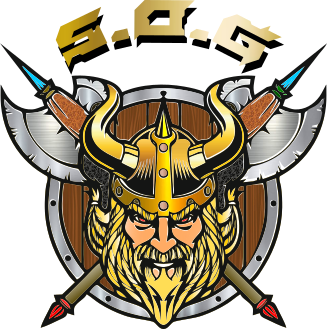 Proud Member of "Shield of Glory".
---

Join the Discord Official community server in English
---
---